If you are looking for the next big business opportunity, we are sure you would have noticed the recent popularity of on-demand service apps.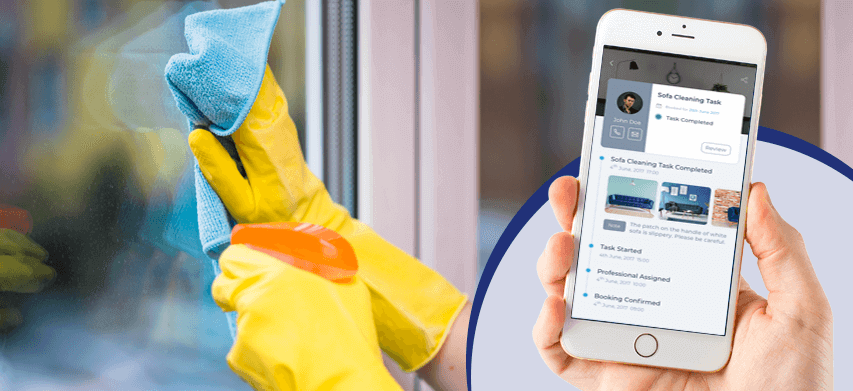 On-demand has become the hottest trend in the current marketplace. It is the fusion of convenience, variation, and availability. Uber has become synonymous with the word on-demand. Uber-like apps are meant to be reliable and affordable. There is n number of Uber-like apps and services including on-demand handyman, massage, and movers.
There is a whole world to explore when it comes to the possibilities created by on-demand apps – and one of them can be coming out with the next innovation is home cleaning app.
It's a great way to increase customer acquisition- by providing accessibility of effective and efficient services to a large number of people at low prices.
An On-demand House Cleaning App – How Does It Help?
An on-demand app that specializes in cleaning services and maids-for-hire may just be the next big thing you would want to tap into.
House cleaning is a time consuming, exhausting and a physically tasking chore.
A thorough cleaning of the entire house might take up a whole day, if not more.
With the help of the on-demand service apps, you can simply delegate these arduous tasks to hired freelance maids and servicemen, whose services come with company assurances and are testified for by several previous clients.
Uber for house cleaning and similar services might be the next big hit- mutually beneficial for both clients and service workers and a lucrative business endeavor for developers and investors.
Understanding the Market Potential
The market opportunity for an on-demand cleaning service is huge – people are constantly looking for new and innovative ways to save time by delegating chores to hired professionals.
Not only this allows you to spend your free time with family and friends, but also getting something as important as house cleaning and maintenance are done by professionals, that will ensure you to get the best quality service at the minimal possible rates.
So how does an on-demand home cleaning service work, exactly?
The service model is fairly simple.
Signing up as a Service Provider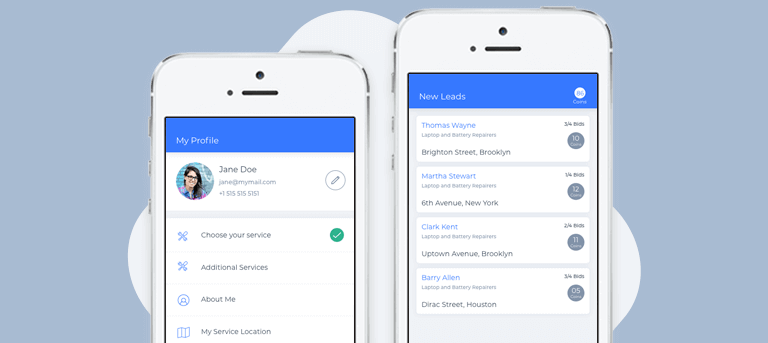 You can sign up as a service provider- either individually or as a company and make your services available to thousands of people in your area.
You can set and manage your available timings and services from the app.
You can receive customer requirements, respond with suitable quotes, update task status, track payments, and a lot more.
Signing up as a Customer

As a customer, you simply have to fill in your details and hire personal maids and cleaners.
Then, opt for the type of service you require from a wide range of services offered like full home-cleaning, or office cleaning.
You can also specify any needs and requests that you have.

You can select a time that is convenient for you, and that's it!
You're booked for a thorough cleaning session of your home or office according to your specifications. The cleaning company will take care of the rest for you.
If you are a private cleaning company or a freelancer looking for job opportunities- look no further!
The Benefits and Features of a Maid On-demand App
By signing up for an on-demand service app as a provider, you can expand your network and make your services available to thousands of people in the locality.
You only have to create a profile specifying what kind of services you offer and your charges, as well as the areas where you can provide service, and the app will do the rest to put you in touch with the interested clients.
Once you have completed the order, customers can leave with glowing reviews and ratings on your profile. As a result, it increases your visibility to other potential clients and you can also provide feedback through the app regarding your experience with the client.
There are several attractive features offered by on-demand service apps that might interest customers as well as service providers to sign up. We have discussed some of these features below:
Features for Service Requesters and Customers:
Not only will customers have access to a wide range of services provided by companies and freelancers in their locality, but also will get competitive prices for these services. Also, many on-demand service apps offer perks, discounts, and brownie points to their new customers as well as loyalty points to their long-term customers.
Customers can rest easy with the assurance that the services they hire are verified by the Admins of the on-demand cleaning service app as well as spoken for by the past customers who have left reviews on the company or individual's profile.
Features for Service Providers:
Cleaning companies and similar service providers such as maids-for-hire will find new and efficient ways of building their reputation and brand as well as to bring their services to a wider pool of potential customers.
Since the entire process of booking and hiring to complete a task, as well as deciding the price for the services is online, customers won't have to worry about fraud. And service providers won't have to think about customers trying to get away with paying less than the prices they agreed on or demanding services they have not paid for.
The Top 3 Popular Uber for House Cleaning Apps Today
Here are the top 3 most popular, user-recommended Uber for house cleaning services apps you need to try:
Merry Maids

Merry Maids is a very well-reputed, professional online cleaning service. You can hire their services anywhere in the States simply by placing a phone-call to their nearest location or by putting in an online request on their website. They offer customized cleaning, according to your needs and all of their employees are screened, trained, and verified.

You don't have to worry about cleaning supplies because they will provide their own to the maids. They offer various types of house cleaning, apartment cleaning, and holiday cleaning services with a guarantee for 100% customer satisfaction. They often offer free consultations, gift cards, and special offers to their customers.

TaskRabbit:

TaskRabbit has a website as well as a mobile platform where you can sign up either as a service provider or a customer. It aims to match freelance service providers with customers in and around their area.

Along with cleaning services, you can also find movers, handymen and similar labor services on the app. It is one of the most popular apps in the on-demand service market and almost a household name all over the country. It is the go-to solution for day to day small tasks and chores in America.

Maidsapp



Maidsapp is an on-demand cleaning service app based out of California that allows you to book professional maids and cleaners in your locality. Once you have downloaded and signed up for the app, you can easily find maids who are available nearby and can be immediately hired or booked for a later session.

The rates will be decided according to the services required and the amount of time that needed to complete the task. They assure quality service and you can pick from their basic, quick or deep cleaning models available, according to your convenience. The app has received glowing reviews and is recommended by Forbes as well as Techcrunch.
So, What are the Challenges?
There are some challenges in adopting such a system and many people will be hesitant to fully embrace such pivotal changes in their service model.
Security
In regard to putting your services and information online, there is, of course, the ever-present and looming question of security. Not only does your personal information like name, and address be vulnerable to being leaked, most apps will also ask for your banking details for their subscriptions and other online payment methods.
Also, there is the security issue of potential theft or damages that might be caused by inviting strangers into your home and leaving them unsupervised while they complete their tasks.
Do note that the problems can be dealt with simply by due diligence and running proper tests. If you hire a reliable on-demand housekeeping app development company, you don't have to worry about this.
Some apps will also make it easier to pursue legal action or financial reimbursement in case of any damages caused because service providers will often be required to agree to the terms and conditions of the app developers and admins.
Service providers are safe from being cheated out of their hard-earned money as the payment will often be processed through the app.
Service Quality:
Customers might harbor some reservations about the service quality offered on online apps and the reliability of such new, never-seen-before endeavors.
Of course, they might encounter some incompetent service providers but it will soon be easy to avoid such frauds and hacks due to the reviews and rating system of the app.
Once you have discovered a service provider as per your preferences, you can establish a long-term service agreement with the company or the individual and never have to worry about quality again.
Making the Right Choice
While there might be some bumps and hiccups along the way, in the end, on-demand service apps are one of the more sound business models today. And it is one that your local market still has need of – so why not become the game changer with your own house cleaning services platform?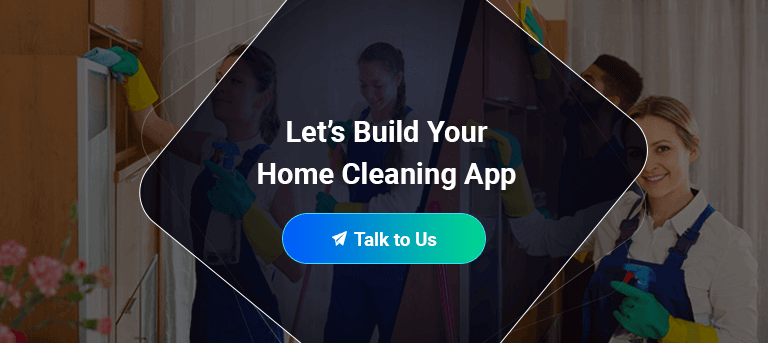 Author's Bio

Nitin Lahoti is the Co-Founder and Director at Mobisoft Infotech. He has 15 years of experience in Design, Business Development and Startups. His expertise is in Product Ideation, UX/UI design, Startup consulting and mentoring. He prefers business readings and loves traveling.