Believe it or not, a new mobility system is reshaping university transportation along with urban public transit. Connectivity, robust technology platforms, and smart devices have dramatically paved the way to better mobility solutions for universities. Contemplating underlying opportunities for university transportation, today, we are going to discuss one of the essential mobility solutions, on-demand university shuttle service.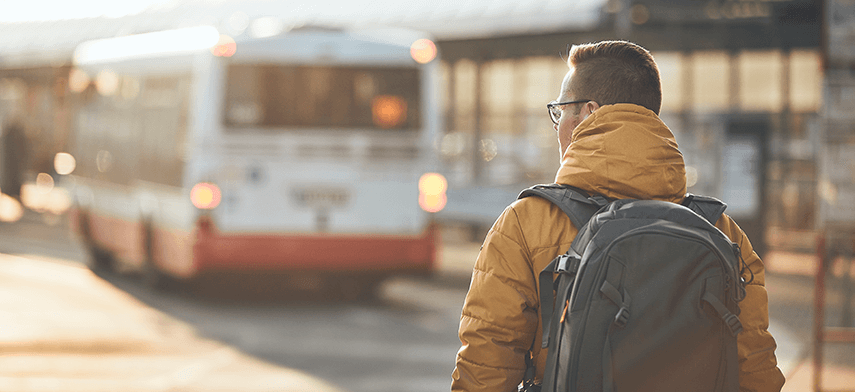 All About Smart Universities
A picture of 21st-century universities is different compared to what they used to be earlier. Universities are evolving due to technological advancements, for instance, tech-savvy buildings, skill-based classrooms, facilities, infrastructure, and interactive training methods, tools to stay competitive in the market. Moreover, today's learners demand value for money; therefore, universities have to make sure to accommodate all their needs along with providing quality higher education.
A university has multiple buildings, college campuses, housing options for the communities, such as students, staff, and thousands of people moving in and around the university. Many campuses are venerable, and connectivity among them is a critical issue for the university communities. This type of situation demands sustainable mobility solutions. In fact, the number of students studying abroad has increased nowadays. Prospective international students also pay special attention to the transportation facilities or the modes of getting around the campus while selecting the universities. So, let us discuss the mobility options for the university communities.
Campus Mobility
Many universities and colleges have started providing inter-campus as well as intra-campus transportation facilities for their students and staff as a useful model to meet the campus mobility needs. By ensuring hassle-free mobility to and from the campus, maintaining parking systems, effectively managing the campus population, and integrating smart technology tools, universities can provide safe and reliable transportation for the communities. And this requires proper planning, user preferences, system design, coordination, management, and control to run it successfully.
But, Why Transportation @Universities?
Yes, that question may pop up in your mind!
Why is providing transportation so important at universities nowadays?
Why should universities offer transportation services?
Why should they modernize the campus transportation?
Even communities can commute with their own private vehicles. Then, what is the need to provide transportation for university campuses?
Well, here is the answer to your queries. Appropriate use of transportation modes on university and college campuses has a profound impact on campus parking, land usage, traffic, pollution, and campus sustainability. Promoting efficient mobility solutions in and around the campuses will address two main contemporary issues – one is Congestion, and the other is Parking Management.
Congestion Due to Various Reasons Such as,
Movement of university communities – students, academic and non-academic staff, residents of the housing facilities, independent researchers, or it can be an informal visit by somebody to campus.

To serve the campus community's needs for the long term, various commercial development such as academic and residential buildings on the campus increases the congestion.

Several visitors visit the campus because the universities organize various events on and off the season, such as seminars, workshops, exhibitions, and other activities in campus settings.
Inefficient Parking Management
In such a densely populated area, one of the on-going problems that commuters and university management face is the inefficiency of parking management.

The rapid increase in private vehicles by the communities and limited parking lots creates more parking issues, which results in infrequent parking of vehicles, higher congestion, traffic accidents, and environmental pollution. Apart from this, the inefficient usage of campus land exacerbates the parking problem.
Decreased Campus Mobility and What Not?
The factors, as mentioned above, have an adverse impact on the environment and society along with on-going campus mobility issues. As the population on the campus and surrounding areas increases, it weakens the entire mobility system, making it risky for the commuters because of various traffic modes – vehicle transit, pedestrians, bikes, bicycles. The higher level of automobile usage has a direct ramification on the health of the environment, such as CO2 emission, air, and noise pollution, as well as energy consumption. Such circumstances also result in societal issues, especially an increased number of accidents, disturbance in the – study, work and living, mental health-related issues, and ultimately decreased mobility in and around the campuses. In short, the transportation-related problems that universities and colleges face are complex.
So, What's the Option?
It is crucial to integrate all the commuters, pedestrians, on-going transit, and vehicle traffic into a unified, organized system to ensure a well-managed mobility system for university communities. While designing the system, the decision authorities usually face challenges such as how to adopt a sustainable transportation model, understanding the potential of mobility options universities can implement, demand and supply gap for mobility purpose, and usage of emerging technologies. Additionally, it is not always easy to provide convenient parking facilities for thousands of people. Hence, the ideal solution, universities can implement is a "single source transit solution" for all the campus communities to move on and around the campus.
Because one of the goals of the universities is also to present environmental stewardship that facilitates better environment, academics, health benefits and provides reassurance for the future generation of students to attend a campus without a substantial amount of environmental degradation.
Therefore, the systematic approach that I am suggesting is an innovative smart mobility solution to resolve the various problems associated with universities – Shuttle Service for sustainable, reliable, and safe mobility solutions for university communities.
A New Ecosystem to Simplify Mobility on Campus – Shuttle Service
It is one of the types of transit service that is intended to shuttle passengers for either short or medium distance fixed route. It may be a bus, or a cab, or a coach operated vehicle service. Shuttle service is not only more reliable but also a cost-effective solution for commuters. The universities can rely on university-operated shuttle buses for the communities that connect all their multiple campuses. With strategically planned routes and stops, university shuttle service enables the commuters to move quickly. It makes the campus commuting smart, convenient, and reliable. It can be a determining factor for college students also to attend university or college.
Main Goal of the Shuttle Bus Service is,
To provide easy accessibility to the university buildings

To make the campus – surroundings active and live

To offer healthy and enjoyable moments on the campus
Shuttle service is nothing but one of the coordinated efforts by the deciding authorities to improve university transportation. This cost-effective solution provides mobility for non-drivers or someone who uses other modes of transportation to commute.
The shuttle service can overcome a few challenges faced by the universities and colleges as mentioned hereunder:
Higher Parking demand and lesser parking lots

No parking management in neighboring areas

Limited access to the multiple buildings

Traffic flow and control in and off the campus

No pedestrian-friendly mobility management

No restrictions on the usage of personal vehicles

No transit planning for the commuters
Exploring the Feasibility of Shuttle Service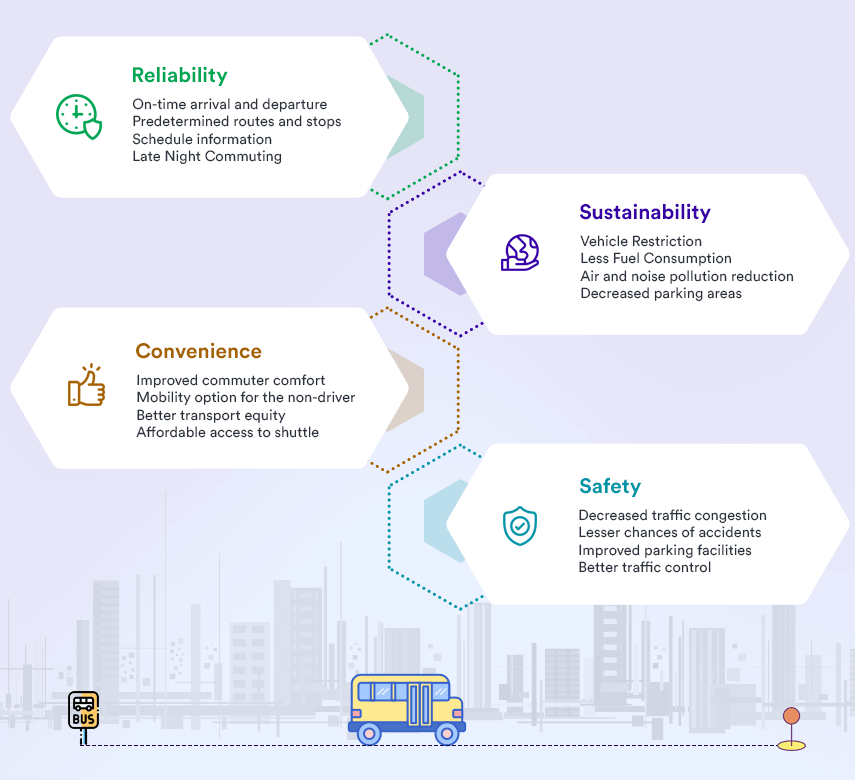 The shuttle service on the campus helps to plan, maintain, and expand mobility effectively. It is relatively available at an affordable rate for the communities. Let us have a look on the top attributes of the campus shuttle:
With an efficient shuttle service, communities can have easy access to campus. Many universities around the world have the largest campuses, and walking can not be the option for students or staff when there is a restriction of personal vehicle usage. Shuttles are great to help them move within the campus efficiently as soon as possible.
Role of Technology for Smart Mobility
The rapid growth of technological trends and diverse high-tech mobility alternatives facilitate more convenient, reliable, and affordable travel to campus communities. Digital mobility solutions enable university management and transport authorities to simplify the entire transit process. By exploring transportation technologies, universities can
Advance the campus transportation system

Develop a sustainable campus transport ecosystem

Equip commuter with better mobility experience

Track, collect and analyze live data

Set up and manage routes

Increase the ridership
To manage the campus shuttle adequately, leveraging technologies such as GPS or telematics technology or digital mobility solutions can revolutionize the university transit. Commuters can have access to the real-time location, arrival/departure time of the shuttle. This helps them to save time by cutting down their waiting time on the stops. On the whole, technology contributes a significant role in improving the campus transportation system.
How Shuttle Works?
Step 1 – Explore Routes
Enter your pick up/drop off point. Discover your routes.
Step 2 – Select Timing & Seat
Reserve your seat by selecting a suitable time slot for your route.
Step 3 – Track and Go
Get the details of your shuttle – arrival/departure time and track.

Benefits
The shuttle service boosts community safety, proposes hassle-free commuting, and better mobility experience. However, there are other advantages too, which universities and colleges can enjoy by incorporating this on-demand solution.
1
Less Congestion
By encouraging the usage of shuttle service, the campus can overcome the issues-related to congestion. Moreover, the restriction of private vehicles reduces vehicular traffic and parking woes. Universities can benefit by reducing parking demand and better utilization of campus resources. In fact, pedestrians and other visitors can efficiently commute on and off the campus, when fewer vehicles are competing for road space.
2
Reduce Emissions
Discouraging the use of single-occupancy vehicles, the campus can benefit from reduced fuel consumption, Co2 emissions, air pollution, and conserve energy. To let the communities think about greening the campus, the shuttle service is an efficient way for campus transportation.
3
Enhance Utilization, Visibility, and Visits to Multiple Sites
Community-oriented transportation modes like shuttle service enables the commuters to visit the campus as and when needed for any social activities or academic purposes. Well-planned routes and real-time tracking of the shuttle boost the accessibility to multiple sites, which results in enhanced utilization of the campus resources and visibility.
4
Convenience and Safety
Amalgamation of technology and transportation management enables the commuters to commute at their convenience, as they can view the live status of the shuttle, arrival and departure time, scheduled pick up and drop off location. A single and affordable transportation approach reduces congestion and offers community safety.
5
Other Benefits
such as improving community health, fitness due to less vehicular traffic, and congestion. The extensive coordination, management, and governance of campus transport solutions foster the sustainable mobility options that meet the needs of the campus communities. Also, the cost-effective mobility solution provides safe transit for persons with disabilities to commute from one site to another. By optimal usage of university resources, addressing the transportation issues and emphasizing technology enhances the future of the universities and colleges.
Wrapping it up
Implementing a whole new mobility eco-system for university transportation may seem a little bit thrilling. Efficient campus land usage, traffic control, and management system, single-vehicle restriction, and centralized university transportation policy foster more sustainable transportation. The shuttle service enables the campus communities to commute effectively on and around the neighboring areas of the campus. Hence, each university and college should analyze the underlying opportunity of emerging mobility solutions like shuttle service and its future impact on campus sustainability. More considerable efforts need to be made to provide unlimited and convenient transit access to the communities.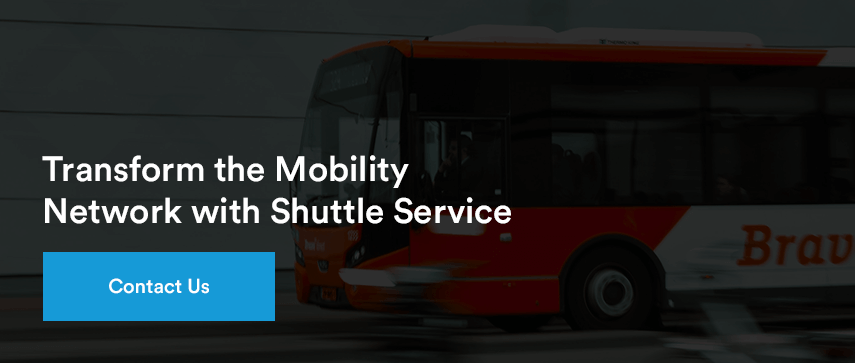 Author's Bio

Shailendra Sinhasane (Shail) is the co-founder and CEO of Mobisoft Infotech. He has been focused on cloud solutions, mobile strategy, cross-platform development, IoT innovations and advising healthcare startups in building scalable products.