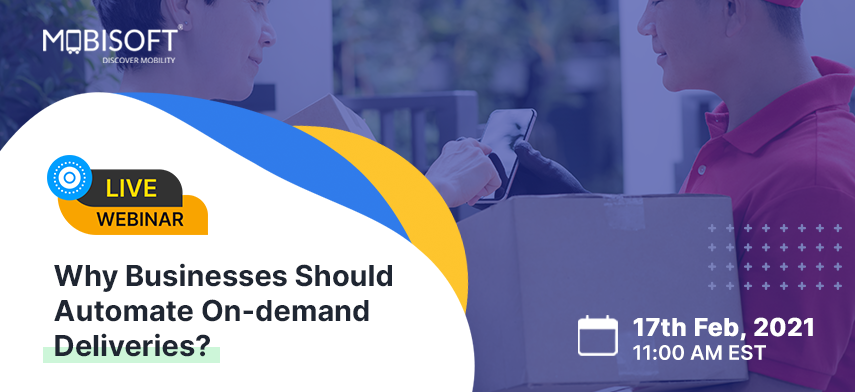 Hosting a webinar on automating on-demand delivery management operations and helping businesses understand its importance in this digital era.
Pune, India, February 11, 2021: Mobisoft Infotech, a Texas-based digital product development company is introducing a webinar to help businesses understand that automating the delivery operations is the need of the hour. The online webinar is to be conducted on Wednesday, February 17 at 11:00 am EST, by Pankaj Zarekar, BDO at Mobisoft Infotech. The webinar aims to target key aspects of the delivery management system alongside suggesting strategies to overcome the challenges put forth by the current pandemic situation.
The onset of COVID-19 has made a huge impact on the delivery businesses. However, businesses are constantly adapting to overcome these consequences but facing challenges to manage deliveries manually. It's time that businesses understand the significance of online delivery management and streamline their on-demand delivery business with a comprehensive delivery solution. Attendees will learn techniques on automating deliveries that shall simplify business operations and increase ROI in the longer run.
The webinar will cover new strategies and solutions that businesses can implement to withstand the complexities of delivery workflows. It shall shed light on a complete delivery management platform that has the potential to control end to end delivery processes. The live session will focus on assisting businesses to adopt an automated delivery network to enhance productivity and customer experience at the same time. Detailed discussion shall involve key understandings representing the control of entire on-demand delivery management via mobile apps.
You can register for the webinar by clicking here.
About Mobisoft:
Mobisoft Infotech leverages digital innovation and technology capabilities to offer businesses with next-gen solutions promoting digital transformation. The company stands tall in resonating quality products and services to accelerate business growth. To know more click here.