Mobisoft in collaboration with TDS organization and Texas A&M transportation institute has started an MVP project for safety of teens while driving. TDS App encourages users not to be distracted while driving. To earn the points based on mileage when you do not use your phone while the trip is running, you need to activate the app before you begin driving then end the trip when you safely arrive at your destination Points are accumulated and rewards can be claimed when you reach set point levels.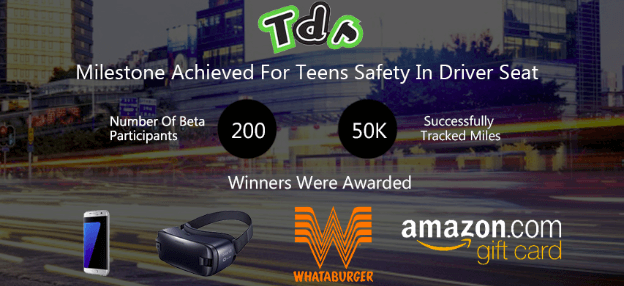 The beta test was organized and beta participants were chosen from the annual conference in May 2016. About 200 people participated and the app has tracked 50k safe miles driven by beta participants. Top winners were awarded, Samsung Galaxy S7, Samsung gear VR, 1 year worth of Whataburger and many Amazon gift cards based on safe miles reward points.
Moreover, we are looking forward to implementing it at 1100 schools across the USA under T-driver program. This is more than just delivering a project work. This is the positive impact we make through delivering effective mobile solutions.