Why Mobisoft Infotech?
We are global technology service company, with the blended experience of working with startups to large enterprises. We offer flexible engagement models such as extended-teams, onsite development and resource staffing, remote developers, offshore development center for short and long duration.

Mobisoft offers unique contract IT staffing service from its in-house software professionals. Our software development practice contributes to its staffing business through multi-skilling and technology enablement for employees across business divisions. With multiple growth options, Mobisoft aims to allure talents and boasts of lower than industry attrition standards.

Get on-demand access to experienced professionals in areas of emerging technologies with monthly contracts.This eliminates the search for and expense of an unnecessary full time employee when you need one.

Mobisoft provides onsite staff augmentation service with team of expertise that helps enhance the business strategy, development, design, testing, implementation and maintenance, indeed a team that can augment your staff for short or long run. This will let your existing resources to focus on scalable initiatives.
Services We Offer
Contract IT Staffing Services
Offshore Staff Augmentation (Remote Staffing)
Onsite/Onshore Staffing Services
Offshore Development Center (ODC)
150+
Loyal Clients
We have a consistent client satisfaction rate and always provide the ideal team for your enterprise software development needs.
200+
Full-Time Developers
We do not outsource. We employ full-time in-house developers to maintain the highest levels of quality resources and integrity.
10+
Years in Business
We evolved alongside all the software, business and technology over the period of 7 years.
3
Offices in 2 Countries
We are located in Houston (Texas) USA, and Pune, India
Team Of Top Engineers
Here at Mobisoft, we source only the best engineers. Over 70% of our in-house developers are graduated in computer engineering that can serve the needs of the tech industry that is constantly evolving.
Resource Skills Matrix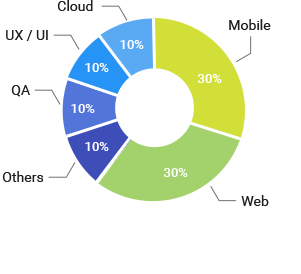 Verticals Matrix