The launch of COVID-19 vaccines has inflicted necessary stability amongst the global population. We have witnessed the incredible efforts into developing the COVID-19 vaccines by various pharmaceutical companies all over the world. The covid vaccine development procedure enabled scientists and researchers to embark on a journey of producing effective vaccines in 2020.
At the beginning of 2021, the Pfizer/BioNTech and Moderna vaccines were being fully administered to frontline workers, while eight vaccines were approved and used only for emergency use required for immunization. The two vaccines being used require cold chain management, as they require a certain temperature when in transit. Non-emergency medical transportation services became one of the mandated forms of transportation for covid vaccine distribution.
The main problem started arising when the vaccines reached the designated healthcare organizations, but older adults, people from rural communities, people of color from poor backgrounds were unable to reach these locations, due to the lack of transportation. Non-emergency medical transportation services began to take action to provide better access to transportation during the vaccination drive.
Let us delve deeper into the understanding of how NEMT providers are enhancing transportation management services to provide safe rides to people and for transporting vaccines.
Understanding the Barriers in Correspondence to Safe Transportation
While the vaccines had reached the designated sites to be administered, it became difficult to avail transportation that needed to be COVID safe. Older adults and people from inaccessible areas were unable to reach the vaccination site and centers due to long-distance traveling. As people are gearing up to distribute vaccines, many are leaving out the main criteria of receiving the vaccines; The transportation services required for people for whom the sites are inaccessible. Let us take a closer look at these barriers.
Lack of transportation access

Several million people, including the older adult and low-income populace, who are at a higher risk of contracting the coronavirus, do not own personal vehicles or have immediate access to any public transportation. These people are homebound or living from the vaccination centers. The lack of transportation access during this pandemic only infused chaos amongst the people, hence, a large section of people remain unvaccinated.

Overlooking transit requirements for senior citizens

There have been no senior transportation services dispatched for older adults to receive on-time vaccination. The necessary transportation requirements were overlooked, which resulted in a panic amongst people who were unable to get their vaccine shot. What organizations and companies failed to realize is how the vaccines can reach the people. Overlooking senior transportation and lack of coordination on how to provide the vaccine to the mass, resulted in negligence and improper vaccine distribution.

Shortage in vaccine supply, higher the demand

The large rollout of the vaccine is leaving a shortage in supply, while governments are trying to keep up with the increasing demand since transportation was not prioritized beforehand. The implementation of long-distance non-emergency medical transportation was neglected. Thus, often creating one of the biggest barriers for healthcare.

Less transportation for cold chain management of vaccines

Both Pfizer/BioNTech and Moderna have specific temperature requirements when in transit. The initial temperature requirements for both the vaccines were estimated at -80°C and -20°C, respectively. In 2021, the required temperature control is between 2°C and 8°C. For healthcare providers, caregivers, nurses, medical professionals, are required to carry cooling storage units whenever homebound visits are necessary.

These challenges had insurers and providers realize the importance of NEMT dispatch software necessary for safe delivery of vaccinations and enhancing safe traveling for the mass for receiving on-time COVID-19 immunity shots.
NEMT Solutions Simplifying Safe Travel Requirements for On-time Immunization
Non-emergency medical transportation services are offering ridesharing options, building routes, and easy access to vaccine centers. These areas may not always be accessible to those who rely on taxis, public conveyance, or are unable to drive. NEMT dispatch software enables providers to offer rides to customers in dire need of transportation options. NEMT services are considerably effective in driving large-scale people towards COVID vaccine sites. According to a report by the Center of Medicare and Medicaid Services, Lyft has potentially increased the number of vaccinations offered in a day with these mass vaccination centers.
Several healthcare organizations and companies have tied with NEMT service providers for ensuring better accessibility to vaccine sites while incorporating safe transportation. Mobisoft's NEMT dispatch software solution is offering safe transportation management services, ensuring that people in need of the COVID vaccination are reaching the centers on time.
The NEMT scheduling software enables users to schedule rides at their convenience. With the vaccinations being at an all-time high for people above the age of 60+, they are looking for safe rides to the vaccination centers to avoid availing any public transit. The non-emergency medical transportation services are also enabling delivery services to recover the shortage in vaccine supply, thus incurring a balance between demand for the same.
Although, the drive-thru strategy that has been implemented possesses a significant challenge for those who are not able to drive, or have ride options. For high-risk populations including people with disabilities and seniors, it is easier to avail long-distance non-emergency medical transportation, hence, avoiding any crucial transportation challenges. Therefore, people can reach their destination and evade missing out on appointments that are rendered critical.
With NEMT dispatch software solutions, Medicaid and Medicare beneficiaries can avail these supplementary services that reduce the cost of traveling, in-line wait time, and patient monitoring post-vaccination. Separate taxis and ridesharing options enhance efficiency in providing safe ride options, for both care providers and members.
Using the appointment scheduling feature available on NEMT services eases the process of traveling to the vaccine center. Pre-scheduling the vaccination appointment seamlessly streamlines the process of assisting people in maintaining the appointment attendance for their COVID shots.

Coordination Between Healthcare Organizations and NEMT Services
NEMT uses various technological and digital tools that assist in better coordination and communication with healthcare organizations, care providers, and members. For organizations, it is easier to schedule appointments with the NEMT scheduling software, which decreases the amount of appointment cancellation due to the unavailability of proper and safe conveyance.
To ensure safe access to vaccination sites and centers, healthcare organizations have been asked to arrange for requirements and accommodation for senior citizens, mobility-impaired persons, access for wheelchair, stretcher availability, etc. Accessibility accommodations are also arranged in the areas where patients are monitored for any adverse effects or reactions. The access to non-emergency medical transportation services at healthcare organizations, vaccination site, and centers ensure health equity in creating a proper distribution process of vaccines.
A streamlined process of coordination and communication between healthcare organizations and NEMT services creates a space for providers and patients to gain better accessibility and understanding of the COVID-19 vaccines. Mobisoft's NEMT dispatch solution software has been helping older adults and chronically ill patients get better access to care delivery. The COVID vaccine development has undoubtedly increased the effectiveness of non-emergency transportation services. Therefore, senior transportation services are becoming more seamless with each passing day.
Final Thoughts,
Mobisoft's NEMT dispatch software solution has been helping care providers and healthcare organizations with genuine vaccination attendance. Older adults, who are not self-sufficient to drive are easily able to reach their designated destination to get their immunity shots on time. People with low income and of color, residing in rural areas, are availing long-distance non-emergency medical transportation services to reach their appointments through access to better care delivery at reduced costs.
NEMT scheduling software is enabling providers and patients to schedule proper appointments, decreasing the amount of missed appointments. And with non-emergency medical transportation services, ensuring health equity to become more modernized and effective. With such genuine and excellent transportation management services, healthcare providers, insurers, and organizations can replenish the supply shortages in vaccines. NEMT dispatch software solutions assist in amplifying the distribution of COVID-19 vaccines through safe non-emergency medical transportation services and boosts access to care delivery.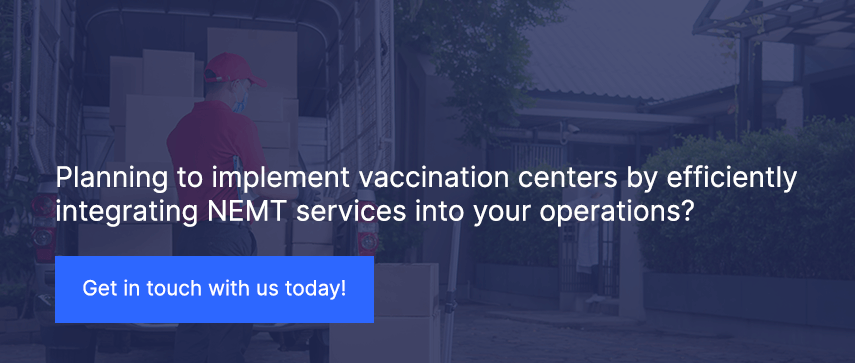 Author's Bio

Nitin Lahoti is the Co-Founder and Director at Mobisoft Infotech. He has 15 years of experience in Design, Business Development and Startups. His expertise is in Product Ideation, UX/UI design, Startup consulting and mentoring. He prefers business readings and loves traveling.