Artificial Intelligence (AI) and Machine Learning (ML) are the most frequently used terms in every industry today. They have tremendous utility as tools simplifying complex and time-consuming processes. They also enhance the efficiency of pivotal business functions; both basic and advanced. For instance, AI is utilized to increase the time and cost efficiency of the HR function by delegating the application screening and query resolution processes to it.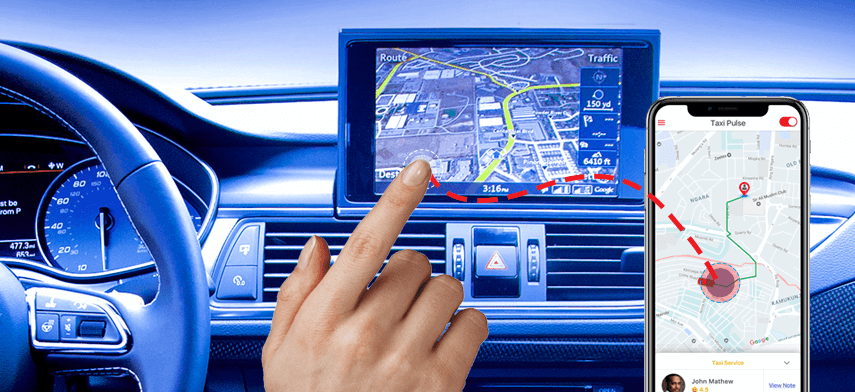 The technology has also found application in medicine for designing treatment plans and even for predicting the probability of death during surgical procedures. Commercial airlines use AI as an autopilot on their flights. The utility and application of AI and Machine Learning have now transcended any realm of doubt. And considering the technology-driven nature of on-demand taxi businesses, it was only a matter of time before AI was pressed into service in this business.
AI in Taxi Apps on Mobile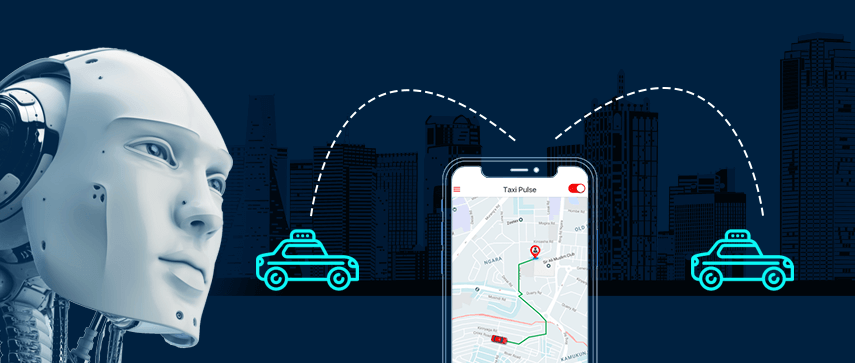 Through the use of its subfields such as Machine Learning, Deep Learning, and Predictive Analysis, AI has enabled mobile taxi businesses to enhance the efficiency and degree of personalization of their businesses. It is through AI that ride-sharing apps such as Uber and Lyft determine the price of your ride and minimize the waiting time after a cab has been booked. And in case you were wondering how Uber sends you a discount message just around the time you usually hire a cab, you now know the answer.
Apart from these existing applications of AI in taxi business, the recent development of an AI-based taxi dispatch support system has got the whole on-demand taxi industry buzzing. This system promises to automate and improve taxi app functions and processes in order to keep the app in line with the demands of both the passengers and drivers. It helps you make your taxi app up-to-date with the current technological standards and would most likely keep it relevant in the future transportation market.
Benefits of AI Driven On-demand Services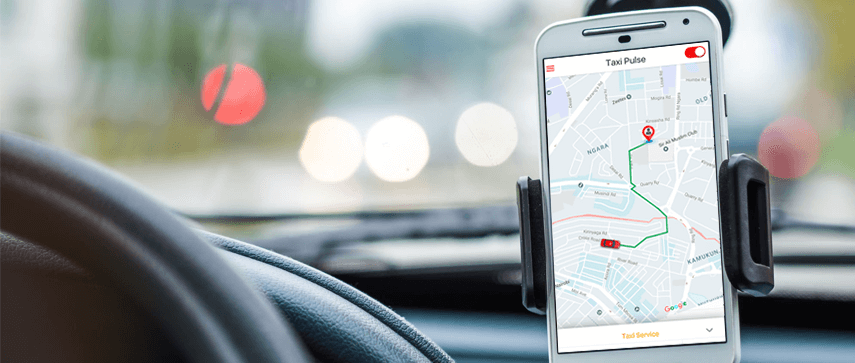 Integration of AI in the processes of on-demand services brings a fair share of benefits to the service providers.
Make Smarter, Informed Decisions

Data-driven analytics help business operators make smarter and well-informed decisions. Through a speedy, rigorous and in-depth analysis of historical patterns pertaining to consumer behavior and demand for services, AI technology enables business operators to factor in historical trends while taking a business decision. Predictive Analysis also helps you provide recommendations to your users; a major revenue stream for on-demand service apps.

Personalize the App for Improved User Experience

The degree of personalization is what that differentiates an ordinary on-demand service app from a highly successful one. Your app users like to receive information, content and special offers that are specifically designed for them. A major benefit of integrating AI in your mobile app is that you get complete access to the user location, their peak activity time and platforms they frequently visit. You can then design special offers for them, at a time when they are most active and increase user interaction with the app. AI lets you take personalization to a level that was previously unattainable.

Decoding App Sentiments

AI's Sentiment Analysis feature lets you know when, where, how, and in what light is your app being discussed. Be it on social media, forums or across messaging platforms, you get an insight into what competitors are you most frequently compared to, how your users interact with your app and a load of vital user feedback from external platforms. This data is invaluable; particularly when you are reviewing your app features, launching a new service or modifying user policy.
Benefits of AI-powered Taxi Management System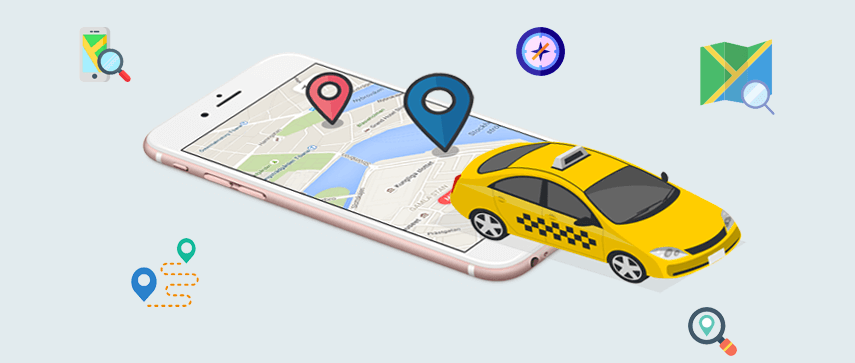 The benefits of an AI-based taxi management system are manifold for all 3 concerned parties; the business operators, the passengers, and the drivers. The most prominent ones include the following:
Demand Prediction

Data-driven analysis and Predictive Analysis together increase the accuracy levels of demand prediction. AI's efficacy in Data mining is utilized to retrieve historical data pertaining to the correlation between demand for taxis and time. The data is then analyzed using Predictive Analysis to provide highly accurate demand predictions. This helps the business operator mobilize resources efficiently.

Route Optimization

Logical Reasoning, a key component of AI, could be used to optimize drivers' routes. The reasoning algorithm studies data sourced from the drivers who have traveled on the routes. The data is then analyzed with respect to 2 considerations, time and direction, and then optimizes the routes to assist the drivers to reach their destination in the shortest possible time.

Autonomous Dispatch

Data mining and pattern recognition help transform and give a structure to unorganized and unstructured data. This function simplifies data analysis which in turn helps solve some of the most pertinent problems plaguing the dispatch system. Human error, a common problem that arises in a taxi dispatch system, could be eliminated by incorporating AI in taxi business.
A Recent Case Study – The Quadrilateral Collaboration in Japan
Toyota, JapanTaxi, KDDI Corporation and Accenture have together formed a four-way collaboration in Japan with the objective of integrating AI in taxi business. The venture has resulted in successful development of a taxi dispatch support system which predicts taxi service demand. The system combines data sourced from taxi service logs with demographic predictions made by location-based data along with other factors affecting taxi demand including weather conditions, availability of public transport, etc. The system utilizes AI for predicting the number of occupied taxis in Tokyo. Recent trials have suggested a 94.1% accuracy in predictions.
Each company performs a specific role. Toyota collects and analyzes all relevant data and provides taxi demand prediction data to JapanTaxi. JapanTaxi develops the app which provides this data to the drivers. It also collects information pertaining to the location of unoccupied taxis, service logs, and the likeliest routes to find a passenger. KDDI develops a demographic prediction technology that considers and studies people's movements on the basis of KDDI's location-based big data. Accenture is tasked with developing the AI's analytics algorithm that powers the demand prediction engine. This synergy of resources and knowledge has created a largely accurate taxi dispatch support system by applying AI in taxi business.
With an AI-based taxi dispatch support system, the ease of making accurate predictions for your taxi business is increased exponentially. AI and Machine Learning are about to become indispensable components of a taxi app business. The sooner you adopt and integrate them into your business, the greater the advantage you hold over your competitors.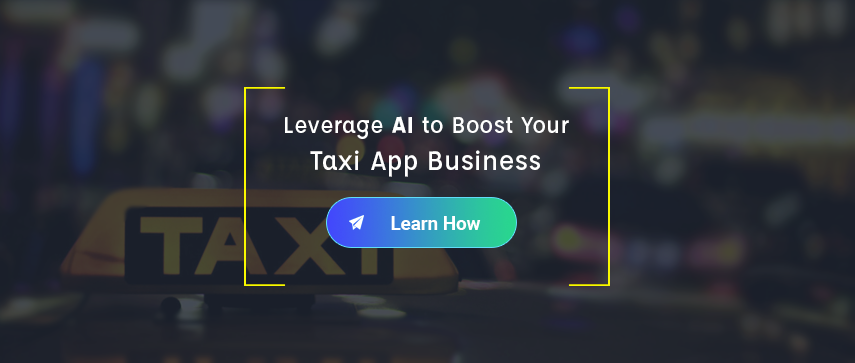 Author's Bio

Nitin Lahoti is the Co-Founder and Director at Mobisoft Infotech. He has 15 years of experience in Design, Business Development and Startups. His expertise is in Product Ideation, UX/UI design, Startup consulting and mentoring. He prefers business readings and loves traveling.