Be it traveling nationally or internationally, the stress experienced during a journey can be due to multiple facets. The lack of proper conveyance is one of the many factors which results in unpleasant traveling encounters. Thanks to the authorities introducing airport taxi transportation solutions, availing proper conveyance has become simpler.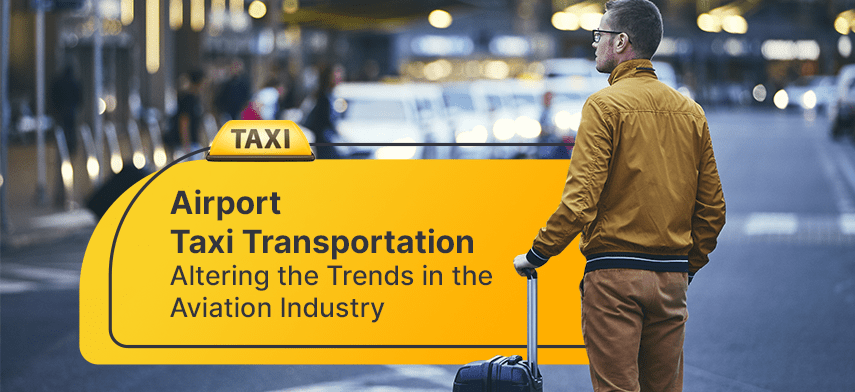 Whether you're traveling for a business purpose or a family vacation, hiring an airport taxi transfer service for your journey is certainly a good idea. Considering the current COVID-19 pandemic, trusting a reliable, efficient, and authorized airport taxi company ticks off both the need and budget while ensuring maximum safety protocols.
In this post, you will get a detailed insight into why airport taxi transportation services have become the current trend, and choosing this service is the best traveling option.
Is the Global Aviation Industry Ready to Tackle COVID-19 Pandemic Situation?
The COVID-19 pandemic has led to the freezing of airline operations globally. To avert the virus spread, passenger movements are restricted and many flights have been canceled. As a result, the revenue of the global aviation industry has been seriously affected. Reports are suggesting an estimated revenue loss of around USD 314 billion for the aviation industry worldwide due to the COVID-19 pandemic.
Though the airline industry will need some time to revive post-COVID-19, the industry experts have already started their initiatives towards this path.
Here's a list of initiatives implemented by the airline authorities:
Additional layers have been put in place to ensure and enhance maximum safety measures.
Ensuring quality testing in assistance with experts at airports.
Adopting contactless and automated methods while maintaining safety protocols at airports when boarding, check-ins, baggage management, and other procedures.
Planning to set up institutional mechanisms paired with private entities, delivering better safety measures throughout the journey.
In short, they are making sure the passengers travel to and from the airport through their transportation solutions, approved by safety standards. This is important to regain passengers' confidence and trust for the revival of the aviation industry.
During the COVID-19 pandemic, dependence on reliable and safe airport taxi transportation services has increased. However, even before COVID-19, travelers found airport transfer options more convenient due to common problems faced by booking usual cab services.

Let's have a look at the major problems faced by travelers when booking a cab to/from an airport.
Problems Faced by Travelers When Booking a Cab to/from Airport
Finding a cab to reach the airport or the destination at the right time after landing can often be stressful for frequent travelers. Here are five common problems faced by travelers when booking a cab at the last minute to/from an airport:
Searching for the Cab

If a cab is pre-booked, searching for the car after landing at the airport often seems problematic for many travelers. Drivers do not wait if the flight is delayed, and as a result, one has to book another cab.

Errors due to Network Connection

Some cab service providers send ride details via text message or notification to their customers' phones. But many times, people fail to receive such vital details after booking a cab, mostly due to facing connection issues or not having a roaming facility on the phone during the journey or just after landing.

Unnecessary Wastage of Money and Time

Booking a private cab at the last minute can be expensive. Moreover, the passenger may need to wait in a long queue to reach the cab. Sometimes after landing in a new country, many travelers pay more than usual taxi charges due to their unawareness of the place's language, routes, and transportation charges.

Lack of Transparency

Many travelers often pay extra for their luggage as their final booking amount does not include the additional baggage charge. After reaching a destination, many cab service providers ask for extra money.

Lack of Reliability and Safety

People are always apprehensive about their safety when traveling to a new place. Not all cab operators are reliable. Also, not all cab service providers follow essential safety measures to ensuring protection for drivers and passengers during the current pandemic situation.

Unprofessionalism

Passengers often forget to mention the time of arrival to their cab operator. Many professional cab drivers don't come to the pickup point at the right time or can't manage time in case of sudden traffic jams or any other issues.
To avoid these airport taxi transportation problems, trusting the airport transfer solution is the best idea. Let's discuss in detail airport transfer services.
What is Airport Taxi Transportation?
The best way to experience a seamless journey from the airport to your destination and back is by booking an airport taxi transportation service. Airports around the world provide transport solutions to all air travelers. It can be booked online and fit an individual's requirements. Passengers can schedule a time and pickup point while booking an airport transfer. They can also get the chance to select the type of vehicle. The booking amount gets pre-decided; there are no hidden or extra costs associated after ride completion.
Various Airport Transport Service Options Considering Passenger Requirements
Depending on the traveler's need, airport authorities offer various transfer options. Here are some of the commonly available airport transfer options as per passenger requirements:
1
Shared Ride Shuttle
In a shared-ride shuttle, you get to travel with other people heading to the same airport or destination This is a budget-friendly transfer option, good for especially leisure travelers who don't mind spending extra time traveling from one place to another.
2
Non-Stop Express Ride
The express ride offers you a non-stop transport service straight from your place to an airport. You can book this service from an airport to your destination without sharing your ride with other people or stop between multiple places till the destination is reached.
3
Luxury Car Service
Enjoying a luxurious airport transfer is possible with a luxury car service. By booking this service, a luxurious car with a private chauffeur will attend to your luggage and requirements. There are executive sedan cars, limousines, private SUVs to choose from while booking this service. This works as a great corporate airport transfer for corporate executives heading on a business tour to attend an event or meeting.
4
Taxi Cabs
When you want to reach your destination on time with budget comfort, booking an airport taxi cab service can never fail you. By scheduling a ride option, you can book the ride in advance. After arriving at the airport, you can reach the booking counter to book a ride to your destination.
5
Charter Bus
If you are traveling with a big group, this airport transfer option is best for you. Charter buses help every member of your group reach the airport or your selected dropoff location at the same time, which can minimize the overall expense remarkably.
No matter which airport transfer option you choose, you get prior notifications guiding you to check-in at the pickup location for you to stay ahead of your expected time of arrival. To make the most of this service, you should know how an airport transfer option works.
How Does an Airport Transfer Work?
Here is a step-by-step guide showing simple ways to book an airport transfer :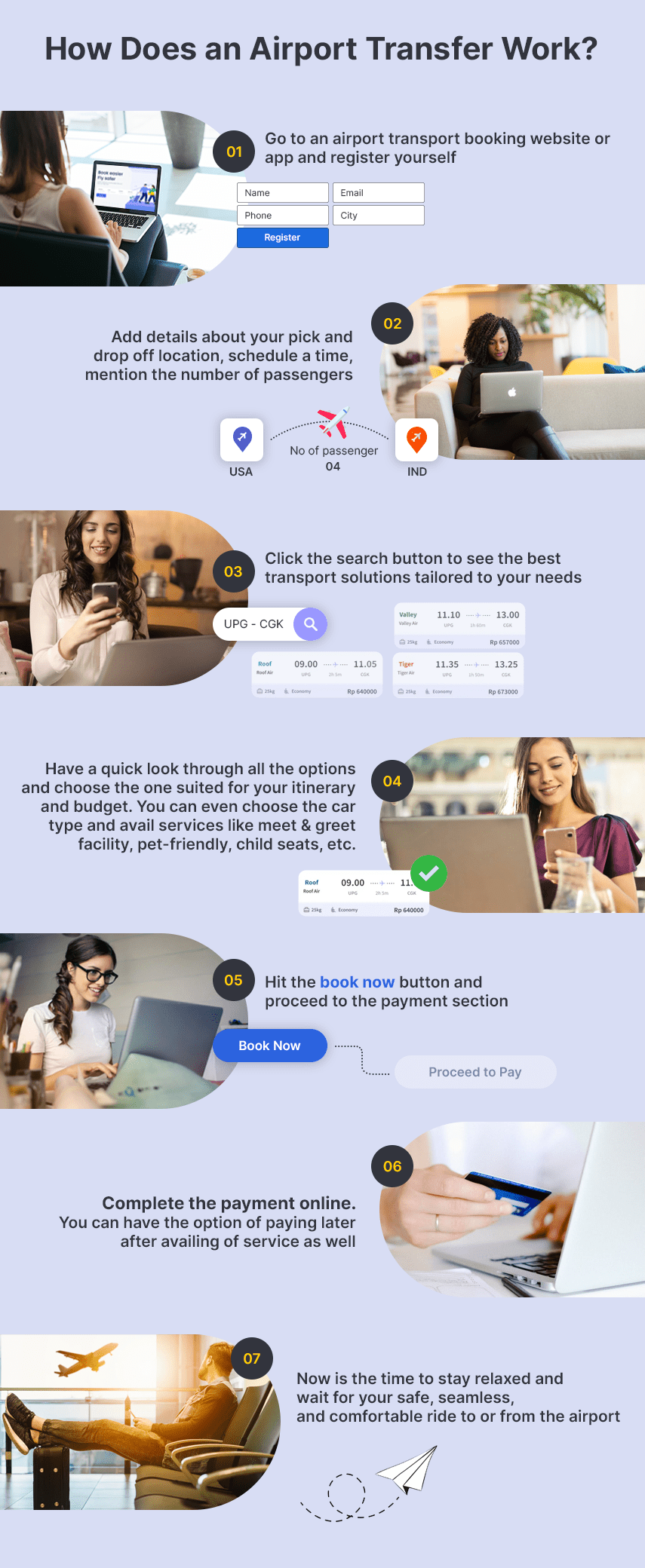 Why Do Travelers Prefer Airport Transport Services?
When it comes to hiring a transport service for reaching an airport or a place from the airport at the right time in a hassle-free way, you may shuffle between taking a usual cab service or airport transportation service. Usual taxi cab service certainly plays an important role when you need a quick ride. But if you plan, booking an airport transfer option is much more reliable.
Here are a few reasons why travelers prefer airport transport service over the usual cab service:
Whether one pre-books a cab or not, getting the car as per the required schedule is not always possible due to cabs' unavailability, unprofessionalism, and lack of reliability. Scheduling a ride with an airport transport service guarantees travelers to pick a car of their choice with the on-time drop-off. The airport transfer providers also track the ETA or ETD of the flights, encouraging travelers to their pre-book the transport option accordingly.
Another advantage that travelers get by choosing airport transport solutions over the usual cab service is professional assistance. Usual taxi service providers are mostly focused on completing as many rides as possible within a short time frame. But airport transfers are always dedicated to the passengers who have pre-booked. The drivers are professional, helpful, and ensure comfort and convenience for passengers during the ride.
When one hires an airport transport option, quality and dependable service is available at a much lower price than the usual cab service. Airport transport solutions also offer various car options, depending on an individual's budget, the number of people, and the number of luggage.
Airport transportation service is considered the most preferred traveling service to/from airports due to its various benefits.

Benefits of Availing Airport Transport Services
When you let an airport authority serve you with transportation to/from the airport, there are several benefits associated with it. Let's look at these benefits:
i
Convenient Ride
While booking a transportation service from an airport, all you need to do is book the service beforehand. There's no need to search for a cab from the street or worry about parking at the airport until you get back. A trusted airport transportation service always makes sure you have a timely, comfortable, and hassle-free ride to the airport. The same service is received as soon as you pick up your luggage after landing.
ii
Scheduled Online Pickup
Airport transportation booking is available via the website and mobile apps. Booking a car online, schedule a pickup time, choosing the vehicle, and the preferred vehicle will wait for you at your pickup point right on time.
iii
Time-saving
Pre-booking book a vehicle online can save you a lot of time as the car arrives at the scheduled time. Airport taxis help to reach your destination right on time. You can have a trip to /from the airport with no stops in between. The drivers are skilled and well-versed in the right shortcuts to avoid traffic.
iv
Cost-saving
With a trusted airport taxi transportation service, you don't have to spend extra money on heavy luggage, parking facilities, road tolls, etc. All of these are included in the fees mentioned when you book the service online. The payment can be done while pre-booking or after reaching the destination.
v
Accompanied by Proficient Driver
Airport taxi service providers never employ unprofessional and inexperienced drivers as they are aimed to provide the best riding experience to their customers. Besides being skilled, the drivers are courteous and reliable. They follow GPS assistance to get the shortest route to reach a place. Thus, reaching a destination on time becomes stress-free.
vi
Flight Monitoring Assistance
An airport transportation service operator can help you know whether your flight is on-time, delayed, or canceled with flight monitoring assistance. This will save you from waiting at the airport indefinitely.
How Is Technology Simplifying the Airport Transfer Booking Process
Needless to say, airport vehicles, like cabs, buses, SUVs take travelers to/from airports and help them reach their destinations safely and conveniently. With advanced technologies, the booking process for airport transfers are being more simplified and convenient for travelers. Thus, shaping the overall travel experience.
Here are four leading technologies that are simplifying the airport transfer booking process:
Artificial Intelligence (AI)

AI puts an end to the wait in a queue or browsing through websites for endless time to book the best airport transfer option. Here are some associated technologies that work with AI to shows real-time details about airport transfer tailored to an individual's needs:

Virtual Reality
Augmented Reality
Internet of Things

With these, you get to know about flight's arrival or landing time online, guidance towards the shortest path with the minimum congestion in an airport, the vehicle lists, assistance for accurately scheduling a pickup time, and booking a ride at just a single touch.

Digital Payment

Cashless payment options available on airport transfer booking apps and websites have made the payment process for travelers transparent, quick, and hassle-free. Users can pay online with a single touch of their smartphone. Airport transfer booking platforms use card scanning technology that is different from the traditional cashless payment modes, allowing users to scan their cards and pay swiftly.

Chatbot

This software application, integrated into an airport transfer booking app or website, conducts an online chat and informs all nearby vehicle details. Users can book a car, schedule pickup time, know about car charges, driver details, etc. easily via text-to-voice or simple text chat.

Voice Recognition

Airport transfer booking app based on voice technology terminates the need of using the keypad of a smart device to book a car. The app interface recognizes human speech and shows the result accordingly.
Final Thoughts,
To avoid being bogged down with stress and hassles associated with an airport ride, you need to deal with it efficiently. To do that, there is no better way than trusting airport transport services. With complete convenience, comfort, and safety, an authorized airport transfer option helps you go to/from an airport. The fair charges, transparency in the payment process, and hassle-free riding experience are undeniable. So, book airport taxi transportation to make your commute seamless and convenient.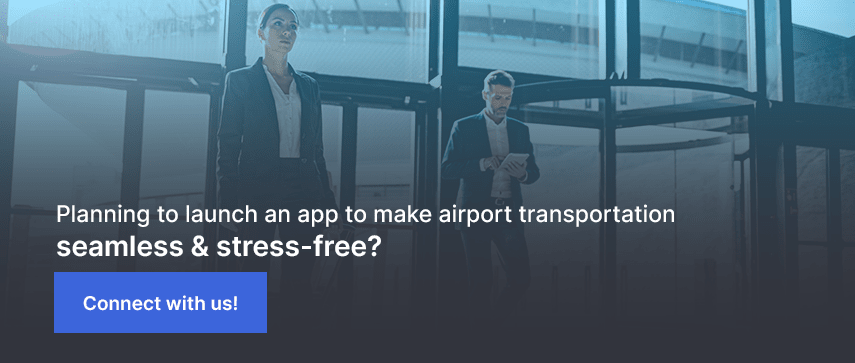 Author's Bio

Nitin Lahoti is the Co-Founder and Director at Mobisoft Infotech. He has 15 years of experience in Design, Business Development and Startups. His expertise is in Product Ideation, UX/UI design, Startup consulting and mentoring. He prefers business readings and loves traveling.