Ancillary technology consists of providing an organization or system with the necessary support to the operations or primary activities. Ancillary technology in healthcare is used to improve a physician, dentist, or clinician's operational efficiency by streamlining all the secondary processes.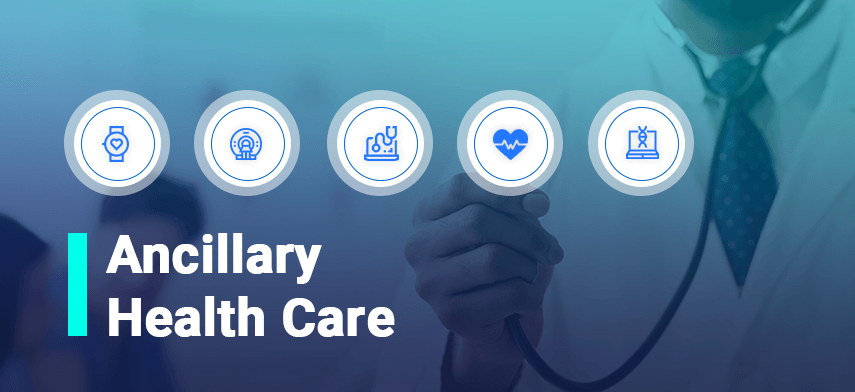 Ancillary services, also known as ancillary health care, refer to a comprehensive range of healthcare services that are provided to support the work of the primary clinician.
Types of Ancillary Technology
Ancillary services in healthcare are classified into three types.
1
Diagnostic Services
Diagnostic services facilitate a timely, cost-effective care in a secure environment. It consists of services of Pathology & Laboratory Medicine, Nuclear Medicine, and Radiology. Diagnostic services function in the settings of acute care, ambulatory care, mental health, rehabilitation, and geriatric care. In ancillary services, the primary physician does not have to invest the time and money. The ancillary care providers provide efforts as nurses, technicians, administrators, and technologists.
2
Deliver / Therapeutic Care
Therapeutic care refers to the secondary line of medical treatment that includes a wide range of services from rehabilitative care to occupational and physical therapies. It also includes maintaining a nurse-patient relationship that is based on mutual trust and comfort which enables the fulfillment of a patient's physical and emotional needs. Some regular therapeutic care services include massage, speech therapy, and chiropractic services.
3
Care-Delivery or Custodial Services
Custodial care consists of non-medical practices that help patients with day-to-day needs, like eating and bathing. Some patients with certain physical, medical, or mental conditions are not capable of performing basic daily activities on their own, such as using the toilet, bathing, walking, changing clothes, and so on. The care provided to these patients is referred to as custodial care.
For a primary doctor, surgeon, or physician, providing and efficiently managing multiple services is not only costly but challenging as well. Ancillary care comes to the rescue by providing all these services, enabling the clinician to focus on the core processes and let the ancillary service providers take care of the secondary functions.
Importance of Ancillary Healthcare Service Providers
The healthcare business does not work the way it used to work a few years ago. All medical providers around the world share similar problems like dissatisfactory quality despite hard work, lack of skilled staff, and rising costs of healthcare, in general. Leading healthcare organizations have tried implementing several fixes like reducing errors, keeping a check on frauds, prioritizing patient satisfaction, adopting the digital approach, and whatnot. Unfortunately, none of them have worked to its full potential; it's time for a new strategy that transforms the core operations.
It is necessary to undergo a paradigm shift from a supply-driven system revolving around the patients to a patient-centric system that focuses on patients' needs. Therefore, instead of focusing on maximizing profits and volumes, it is essential to concentrate on consumer satisfaction and patient outcomes. Moreover, today's fragmented system needs to be replaced with a system that concentrates on medical conditions and health delivery organizations to maximize the quality of healthcare.
Ancillary services act as a suitable solution for this problem, as it provides an overarching strategy to transform the overall operations and management in healthcare organizations. It intends to increase the value of care, which enables organizations to become more value-oriented and help them cater to the interests and concerns of the patients.
Here is how ancillary healthcare service providers batter a change in the traditional healthcare management process.
It helps clinicians organize into Integrated Practice Units.

Ancillary services enable physicians or organizations to measure the outcomes and all the coss-to-the-patients.

It promotes a shift towards bulk payments for care cycles.

Ancillary care providers facilitate the integration of care delivery systems by defining the scope of services and concentrate volume in a few places.

These services also play a vital role in expanding the geographic reach of healthcare delivery.

It helps build a supporting information technology platform.
Advantages of Ancillary Services
Ancillary care services comprise around 30% of the total medical spending, making it essential for every healthcare service provider. These services help reduce the core workload as all the secondary care is facilitated by ancillary providers. Additionally, these providers are cost-saving and prudent, making them an ideal alternative to the outpatient physician and hospital services.
Let's discuss some proven benefits of ancillary healthcare service providers.
1
Administrative Resources
Ancillary services for primary care play a vital role in saving time and operational costs. The providers, instead of operating independently, work for you and receive payment processing, collections, resolution management, and appeals on your behalf . Therefore, they ensure your patients receive the best secondary care, which is essential for acquiring and retaining new patients.
2
Increased Patient Access
Ancillary services enable you to expand your patient reach by connecting you to a wider patient base insured under worker compensation, group health, secondary group health, auto medical, and medicare plans.
3
Credentialing
Ancillary care allows you to be in a company of well-skilled experts and technicians. These services are certified in providing stringent quality and control standards. They regularly monitor the network to ensure the patients are receiving excellent-quality care.
4
Education and Support
Ancillary service providers are medical experts too, and readily educate the patients and payers on the advantages of how their services can bear a change in the overall clinic operation.
Challenges in Implementing Ancillary Technology in the Healthcare Sector
Being a broad, multi-faceted industry, it faces a bunch of problems as well, as discussed below.
Lack of Interoperability

One of the major challenges in ancillary technology is the absence of compatibility in the computers or systems utilized by ancillary care providers for coding, billing, and monitoring patient care. The setup for communicating and billing with payers and providers is disintegrated, which is a critical factor if the care shifts from the individual patients to a society or population health model. Patient satisfaction, utilization management, and adequate care are some of the major aspects that can affect the service, providing the ability of ancillary care providers.

Lack of Consumer Ability

A significant factor that determines the viability of ancillary providers is the consumers' ability to select the delivery of care. The large deductible of patients is a substantial influence on their decisions on how and where to get the care and how much money do they wish to spend. From the price at which they need an x-ray to the location at which they want to receive physical therapy, consumers nowadays are more conscious and want the best options at the best price.

Limited Leverages

If ancillary providers operate as independent businesses, they will have to face limited leverages. A few years back, working on their own used to be rewarding, but now, providers are in search of better services at low prices, which poses a challenge for ancillary services. Healthcare providers want to pay less for materials and better business solutions, which is possible only if ancillary providers agree on sharing the same goals and increased authority.
Wrapping It Up
Ancillary technology has been out for a while now, but it has been until recently that healthcare providers have commenced readily adopting these services. Ancillary care helps organizations reduce their costs and inefficiency by streamlining secondary care processes essential for appropriate patient care. It also enables clinics and hospitals to expand their reach and attract more patients. If you are a doctor, physician, dentist, or clinician, make sure you embrace the ancillary technology and provide your organization with improved productivity and profits.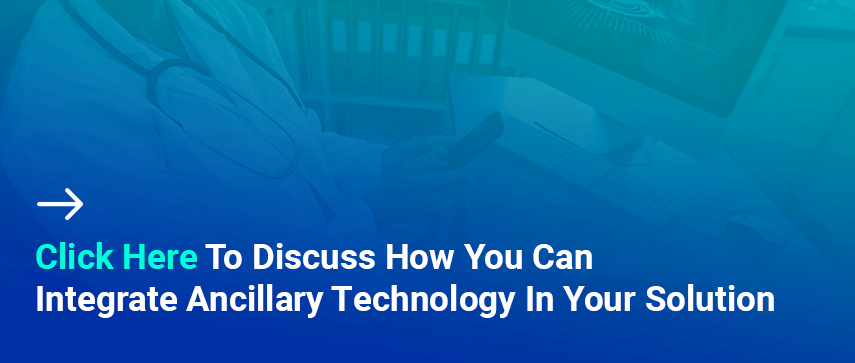 Author's Bio

Shailendra Sinhasane (Shail) is the co-founder and CEO of Mobisoft Infotech. He has been focused on cloud solutions, mobile strategy, cross-platform development, IoT innovations and advising healthcare startups in building scalable products.