Want to upgrade your mobile phone? Well, many users are still confused between KitKat and lollipop. Surely, you read many experts reviews to understand all aspects of KitKat and lollipop but still confused? Let's read our KitKat vs Lollipop comparison that helps you understand which one is best for you.
It is finally official. The year was 2014, Google announced the name of its much-anticipated OS as Android 5.0 Lollipop. Android contributes an 84.7 % share to global smartphone shipments and with the latest OS release; the company's main goal is to make the user experience more appealing to the business sector.
"Lollipop has been designed in such a way that users should be able to access both his personal as well as work personalities on a single device and should be able to switch seamlessly between them."
Lollipop which has been described by tech-giant Google as a 'quantum leap forward', releases nearly one year after 4.4 KitKat. It ushers in a brand-new design throughout the operating system, with enhanced notifications, changes to multitasking and a handful of other exciting features.
Introduction of KitKat
The year was 2013, Google officially launched Android version 4.4, named KitKat. Nestle gave complete support and also kicked off a significant ad campaign on the release date of KitKat.
If you forget about the advantage of Version 4.4 then here we would like to remind you the plus point of KitKat. It allowed the operating system could work with lower RAM devices. Furthermore, the introduction of all Emojis on Google's keyboards was another innovative aspect of KitKat.
After one year Google launched another Android version 5.0, called Lollipop. According to users experience, Google understood the demand and expectation of there valued users. Lollipop came out with various advanced features that helped the users to manage their phone issues. Battery saving feature assures excellent battery life, it also saves the mobile phone from damage while its battery is running low.
Why Google launched Android 5.0 Lollipop
Android 5.0 Lollipop is the updated version of Android KitKat, previously with the support of KitKat users faced various problems, such as phone heating issues, network disconnection issue, WiFi bug, and battery drain problem. Google solved these issues with Lollipop.
Lollipop: Here's Why You Must Update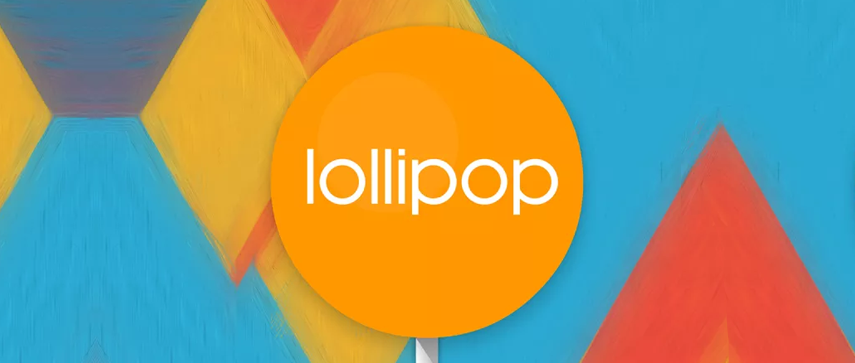 The big change in Lollipop is the fresh design aesthetic, called Material Design. Animation plays an important role in the new design: The user interfaces packs in a great punch than before with real-time shadows and animation to give Lollipop more depth and dynamic.
Icons, navigation buttons, fonts, notification bars, and other design elements have been tweaked with a facelift which would allow developers newer ways to do all kinds of visual customization within their apps. Android Lollipop goes sleek and stylish, and with Google's embellishment of new visual tricks, the Android L is a massive improvement over Android 4.4.
Security Gets 'Smarter'
Android's overall security has been improved, with innovations such as facial recognition and pattern unlocks, but the biggest advancement is about making security more convenient for users through Android Wear & your current location.
Using your shiny Android smartwatch as an authentication tool, it can automatically bypass your phone's passcode by detecting the watch nearby. With the location feature, you can designate safe zones – your home or office, for example where your phone will automatically turn off the passcode.
Hassle-Free Notifications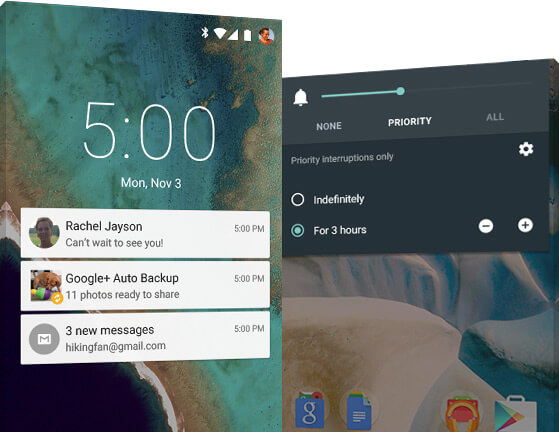 Android L introduces a new notification setup, which showcases drop-down notification cards right in the middle of the lock screen which can be viewed by swiping down from the top of the screen. Google ensures that your phone will only notify you with important notifications while keeping the other updates hidden away with the help of the new Priority mode which can be turned on with your device's volume buttons. Android Lollipop finally introduces a 'Do Not Disturb' mode which allows the user to ignore all work and spam e-mails during selected hours of the day, but emergency calls or messages can still be received from certain contacts.
Tap or Move to Wake
Lollipop natively allows devices to wake up either when you tap or move them; this feature allows you a quick peek at your important notifications, and also whenever you double-tap their displays. Super handy!
Multitasking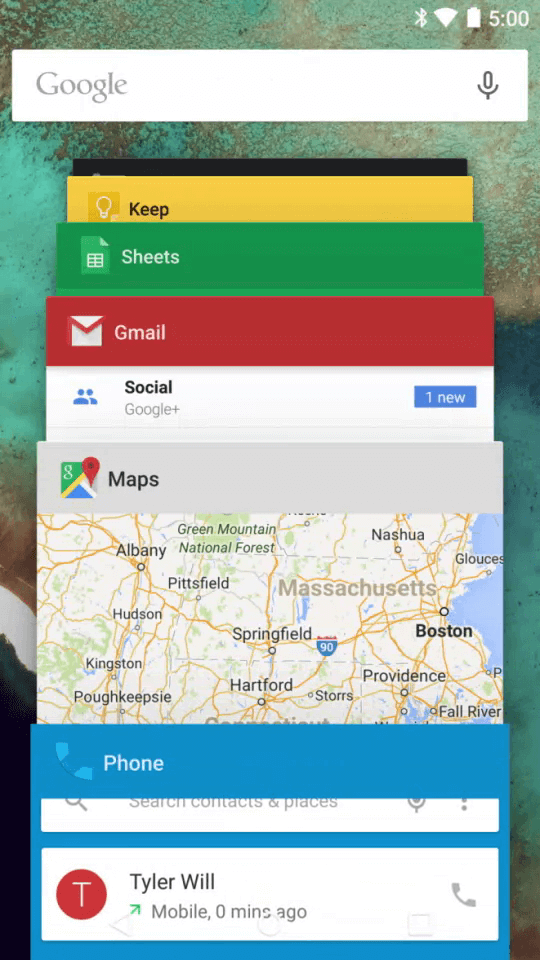 Say hello to a new way to multitask with Android L's menu called Overview. Instead of the previous list view, Overview shows the apps that are running in the background as a stack of cards, and you can quickly scroll through to switch between apps.
Efficient Battery Life
Android L also comes along with the new Battery Saver mode (runs on Project Volta) which allows users and developers to determine which elements of their applications are draining power excessively. Battery Saver turns off background data when your phone battery levels are at a critical stage. Google states that it can add up to 90 minutes of extra life.
Let's take a look at some other additional features Android Lollipop has to offer:
The "OK, Google" voice command will work when the screen is off both on the Nexus 6 and Nexus 9

Enhanced multimedia performance, including USB audio accessory support

The camera offers professional photography features, customized control settings for the camera lens, sensor, and flash; and you can capture full-resolution frames at 30 frames per second

Clear print preview and you can also select a specific page for printing

Your phone will now automatically connect to Wifi if there's a verified Internet connection available, instead of searching for any available network

New ART Android runtime, which improves performance and responsiveness in your apps

A more power-efficient scanning protocol for searching for Bluetooth low-energy devices and beacons

Support for more than 68 languages! Google has added Basque, Bengali, Burmese, Chinese (Hong Kong), Galician, Icelandic, Kannada, Kyrgyz, Macedonian, Malayalam, Marathi, Nepali, Sinhala, Tamil and Telugu with the Lollipop's power-packed release!

What Devices Would Lollipop be Available on?

Google officially announced Lollipop's arrival with the launch of the Nexus 6 smartphone and Nexus 9 tablet. 5.0 would also be available on the Nexus 5, Nexus 7, Nexus 10 and Google Play Edition devices, including the HTC One M8 and Moto G in the coming weeks. These phones will also have more RAM than other existing phones with KitKat and Android's previous operating systems.

Nowadays, KitKat vs lollipop has become a buzz in the mobile industry. Hope our article help you understand the depth of these two features. Now you can easily take the right decision like which version is suitable for you.

Author's Bio

Nitin Lahoti

Nitin Lahoti is the Co-Founder and Director at Mobisoft Infotech. He has 14 years of experience in Design, Business Development and Startups. His expertise is in Product Ideation, UX/UI design, Startup consulting and mentoring. He prefers business readings and loves traveling. Follow him @nitinlahoti