As consumer behavior continues to evolve, businesses need to adapt to the change and invest in redesigning their existing mobile applications. A fresh new look enhances the user experience and increases conversions. However, a mobile app redesign is not an easy task. It requires substantial planning well in advance. Today, we will discuss the same in detail. So, let's get started.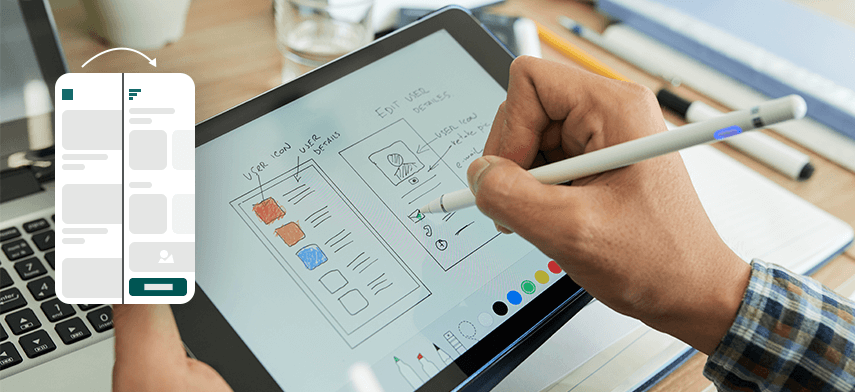 A mobile app redesign is often the best way to attract new customers while offering a better user experience. However, the maintenance of an application is essential to generate revenue and keep up with the changes in the tech niche.
The Necessity: When to Redesign Your Mobile App?
After the initial launch of the app, the buzz surrounding it eventually fades. In addition, competition from others gives the customer an alternative to choose from. A custom mobile app development company helps suit your needs better. Here is why and when you should go for redesigning your app:
Aging designs

In a competitive market, you need to do better than your competitors. Consider updating the look of the app to match consumer tastes and the changing aesthetic preferences. To see how quickly things change in the technological niche, all you have to do is travel a few years back. The first Android and iOS apps and interfaces were nothing like they are today. The visuals, user interfaces, and functionalities have changed drastically. Hence, development is becoming more innovative at a quick pace.

Backdated technology

Tech advancements such as artificial intelligence, machine learning, blockchain technology, and IoT are improving every day. To stay relevant in the market, your product must be able to compete with the best on the market. Therefore, keeping up with the progress of the tech world to avoid indulgence with backdated products.

Calls for a redesign

If your audience is leaving comments on the App Store page asking for a redesign, you should take it into account. A lot of users are well-informed and know exactly what they want out of the app. They usually leave detailed reviews, and you can follow that to plan out the mobile app redesign project.

Getting engagement metrics

Using tools like Google Analytics, Mixpanel, and Heap allow you to see how users interact with your product. It also allows you to see where your app is lacking. To get the best engagement metrics, you must update your app to be on par with the competitors in the field.

Change in branding

If you're rebranding your company, you should consider a UX app redesign project to illustrate to your customers how your product has evolved. While the process is elaborate regarding a change in the business model, rebranding will allow you to make changes to the UI and the microcopy.
So How to Redesign Your App?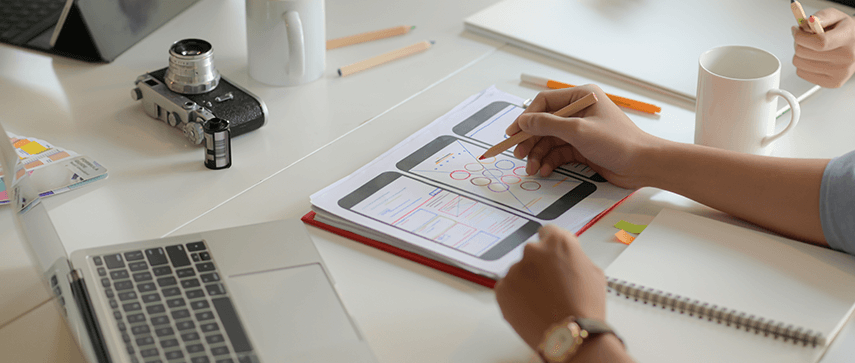 The process of implementing a do-over is an elaborate one. Analyzing and studying the competition becomes an immense necessity. Once you have decided to redesign an app, here are the steps to implement the change:
#1 Review user feedback and analytics
You can use online surveys, email copies, or in-app pop-ups to collect customer feedback concerning their experience. Companies like Spotify took this idea one step further and created an Ideas page on the Spotify community. This process enabled the users to chip in their thoughts and allowed developers to pick the best ones. This enables customers to be satisfied with the implementations suggested by them.
#2 Competitive analysis
A great way to learn about app design trends is to download a popular competitor's app. Pay close attention to the UI/UX and compare them with what your product offers. This is a great way to ensure that your application is at par with the best-performing apps. Understanding the competitors' implementation can inspire your business to innovatively and uniquely redesign your app with similar principles.
#3 Define the improvements to be made
Make sure to develop a clear list of changes that you'd want to make in your apps. It is important to point out what challenges these changes aim to solve. Offering your customers a better experience by addressing their complaints through UX improvements can reflect positively on users. The redesigning process creates a pattern by providing solutions to business challenges at hand. Once you come up with a pattern that works for your app, compare it to the other designs implemented to solve the same problem.
#4 Redesign your app
Once a proper wireframe is created for the software, develop a design screen, and build a prototype of the app with chosen screens. You might have to take up a trial and error approach in this process to avoid any erroneous implementation with patience and time for processing the app suitably.
#5 Test the results
It is rarely seen that receiving the desired results in the first attempt of app redesign is successful. Many renowned names in the application industry often take back updates to ensure that the users encounter minimal bugs. You can use beta testers or A/B testing mechanisms to see how people respond to the update. These metrics assist in determining what to change and what to keep in the future.
Receive the feedback constructively, and use it to develop the best version of the app redesign that you deem fit. Stand by to let users grasp the concept of your app and what you are offering them. You can make these changes to the software with your team or outsource and consult with an app designing company.

Benefits of Redesigning Your App
The peak of achieving an excellent app redesign is when users recommend your product to friends and family. This brings more users onboard and generates revenue through sales. With that said, here are the key advantages of redesigning your application:
1
Increased Conversions
If your new app design is simplistic and caters to clients' needs without hassle, they will use it more often. This boosts sales numbers, so a good experience on the app is directly linked with income metrics. Make sure that your software is up to date with the latest improvements in technology to maximize customer satisfaction.
2
More people using the application
News travels fast, especially now, with social media usage at an all-time high, especially when your app has developed a modern and trending design. If that isn't the case, then there's a good chance that people will stop using the app at some point. Some of the most notable success stories in this respect include Instagram, Snapchat, and Reddit. Each of them implemented innovative changes to bring in more users to try out the app.
3
Advanced usability
As per Baymard Institute, 69.80% of consumers abandon carts due to complex checkout processes that include poor design. An improved UX is one of the most in-demand things for customers since they are looking for ways to simplify their lives. You can consider your app a successful project if you receive positive feedback on the changes you've made, such as the user experience or the functionality of the software.
4
New look to the app
If your app has been on the market for a long time and has the same UI/UX experience even now, it is a good time to invest in an app redesign. An updated look to the app makes it look relevant, usable, and alluring to users undecided about your product. Using an app modernization service assists in appealing to an audience that is looking out for new trends and products. This will increase your reach and let you engage with a greater number of people than before.
5
Increased Ratings
One of the best things you can hope to have as a developer is an app that meets your users' expectations. A redesign offers you the chance to do just that. First, you'll be able to convert your long-term targets into paying customers. You'll also have the opportunity to convert these customers into long-term clients. If your product is known to meet the customers' expectations, you're building a good reputation. This momentum will help you gain more users along the way.
Final Thoughts
Going forth with your app redesign completely depends on the market analysis you perform. The current trends in UI and UX are significant to consider when you plan an update. This allows you to make the most out of the time you invest into the redesign.
While it is important to analyze what is popular among users in the market, don't be afraid to step outside of the box. Make use of beta testers to see how they respond to a particular feature or look that you're experimenting with. A redesign is a form of creativity at the end of the day, so be brave enough to go against the grain if needed.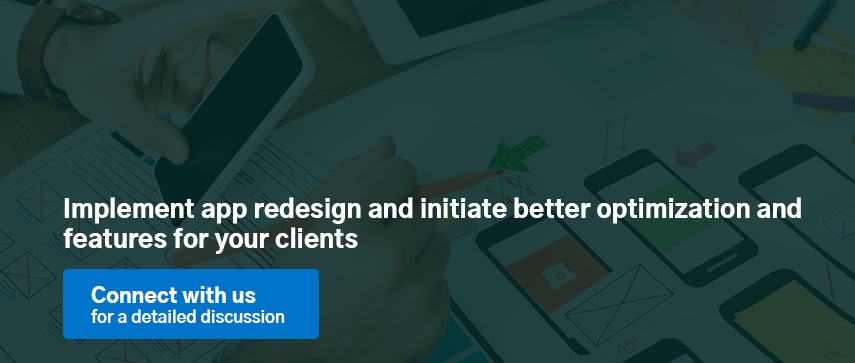 Author's Bio

Nitin Lahoti is the Co-Founder and Director at Mobisoft Infotech. He has 15 years of experience in Design, Business Development and Startups. His expertise is in Product Ideation, UX/UI design, Startup consulting and mentoring. He prefers business readings and loves traveling.