About CES 2018
CES, Consumer Electronic Show, owned and produced by Consumer Technology Association, is an annual trade show and a meet-up point for all those pioneer thinkers and leaders who thrive in the consumer technology business. It's a global platform where big and small companies participate and introduce next-generation innovations to the marketplace.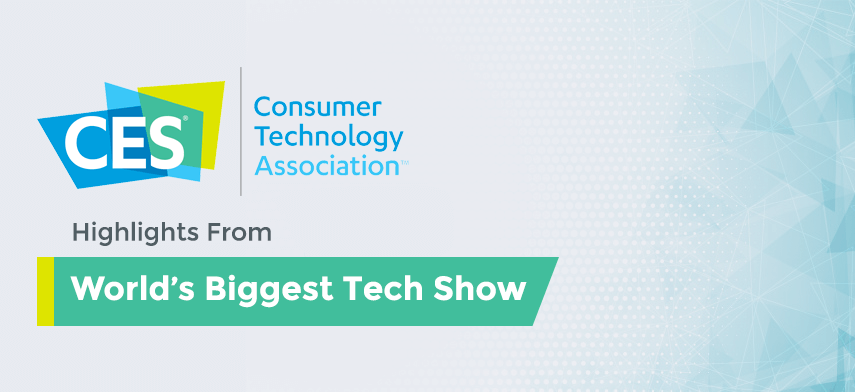 The annual trade show had kickstarted on Jan 09 and will continue until Jan 12. The venue of the mega show is in Las Vegas Convention Center, Nevada.
Nearly every major consumer technology company from Samsung to Intel is participating in the event to showcase their latest and greatest innovations to the world. Technology analysts expect this year's event to truly embrace the concept of "intelligent, smarter hardware" powered by virtual assistants, AI and machine learning. CES brought an avalanche of tech updates and news on its first day itself. It's the perfect time to check out what's already trending.
CES 2018 Day 1: The Giant Gadget Show Kicks Off
Voice Assistants To Become The Default TV Remote

Do you often talk to your TV or give commands to it? If yes, then get ready to do it more, as both LG and Samsung are going to implement digital voice assistants into their TV. Samsung will go with its own assistant Bixby which will let users search for TV shows and movies, play any song from Spotify app, and check the weather, all from a voice command. On the other hand, LG has decided to use Google Assistant, allowing people to command select TV to search a soundtrack from any movie, or even turn off the TV.
Amazon Alexa vs Google Assistant: Battle Royale Gets Fierce
At the CES 2017, Amazon's virtual assistant Alexa was the show stealer. Many big companies such as Huawei, LG, and Ford agreed to integrate their devices with Alexa. Since then, Alexa only got bigger. Amazon said that it has sold more than ten million Alexa-enabled products followed by its own product, Amazon Echo Dot. But this year, Google is all ready to strike back. While Google Home speakers lag behind the Amazon Echo with reference to market share, it's continuously gaining momentum. Google made some major announcements about extending the Assistant to new interfaces like smart displays and new partnerships with major technology companies like JBL, Lenovo, and others.
Intel Steps in Quantum Computing
At CES 2018, Intel CEO Brian Krzanich announced a 49-qubit chip and called it a major revolution in quantum computing and a big step towards quantum supremacy. In its press release, Intel explained that this chip will let researchers evaluate and improve their error correction methods and simulate the computational problems. But the specific details such as when the quantum chip will be available in the market were not given.
Project Linda: A Crazy Phone-Laptop Hybrid
It's like a CES tradition for Razer to come up with a new and cool prototype piece of hardware. This year too, the company is launching Project Linda. It's an additional piece of hardware that extends the Razer Phone into a full laptop. Unlike Samsung's DeX dock and Motorola Atrix and its Lapdock, Linda repurposes the phone as a trackpad too.
Sophia the Robot: Now She Can Walk
Sophia created history by becoming the world's first robot to have legal citizenship. And now she has been given legs too.Sophia is a humanoid robot, packed with smart AI, partially powered by Google. Her latest appearance at CES 2018, left everyone stunned. She is not just a bot anyone can buy yet, but a clear demonstration where robotics is heading. Just like a normal person, she can give your answers and will throw some of her own questions too.
Kodak Shares It's Bitcoin Mining Plans
Camera maker Kodak is teaming up with a London-based Wenn Media firm to carry out the ICO, initial coin offering. This collaboration is a part of a Blockchain-based initiative in order to help photographers control image rights. Kodak also give details of its plans to install Bitcoin mining apparatus rows at its headquarters in New York. Kotak is one of those recently joined digital companies who has increased its value just after revealing the plans of blockchain-related activity.
Google And Lenovo Disclose The First Stand-Alone Daydream VR Headset
At the CES 2018, Lenovo unveiled the first high-quality standalone VR headset, named as Lenovo Mirage Solo. Lenovo also launched "Mirage Camera with Daydream" powered by the Google's VR platform. This device is used for contemporary filmmaking and capturing 180-degree VR videos, which you can watch on the Lenovo Mirage Solo.
Sandisk Comes Up With The World's Smallest Flash Drive
In the ongoing CES 2018 event in Las Vegas, almost all tech giants display their models of futuristic technology, ranging from personalized robots to autonomous workplace with all new Artificial Intelligence implementation. Among all the laptops, gadgets, and TVs, there is an ever-escalating competition to know which device is able to cram the most storage in a single flash device. And this year, SanDisk came up with the prototype of what is supposed to be the smallest USB-C flash drive to store data upto 1TB.
CES 2018 Day 2: The Flood Of Announcements Keep On Coming
Healthcare Comes Home at CES 2018
At the 2nd day of CES 2018, it became clear that technology is all ready to expand healthcare beyond the doctor's office. Thousands of wearable tech for healthcare and fitness were featured at the event. From optimizing athlete's performance to helping patients managing their diabetes, AI enabled tech innovations are embracing healthcare like never before.
DISH TV Announces Google Assistant Integration
If you think Google Assistant is everywhere, you are right. CES 2018 has been a home for numerous product launches, featuring Assistant integration. Now, the Dish Network has announced its integration with Google Assistant and Google Home into its TV set-top boxes, currently supporting only two languages, English and Spanish. Launching at somewhere around mid-2018, Dish network will allow you to control their set-top box powered TVs with your own voice via Google Assistant. Users would be able to start a command by saying "Ok, Google" or "Hello Google" followed by saying things such as "Pause" or "Change the channel to Music Network."
Huawei Releases a Mesh Wi-fi System
Huawei doesn't just make smartphones and laptops; it's also getting into mesh Wi-Fi. Yesterday at CES, the China-based company announced a hybrid whole-home Wi-Fi system that will provide connection speeds of around 1867 Mbps. Like other mesh Wi-Fi system, it also aims to send stable signals through a big home. The system supports up to 16 hotspots and 192 connected devices at the same time. Users can also include additional satellites for expanding coverage.
Philips' New Hue App: Now You Can Sync Your Lights With Your Computer
Philips has discovered a new way to sync its lights with games and everything that will show up on the computer. It will work through an app, called Hue Sync. The app will be released for macOS High Sierra and Windows 10. It watches what's going on your computer screen and automatically changes the light to match. The lights will be changed when you watch a movie, play games, or just browse web pages. It will also sync up with your music list. You can change the intensity of light effects as you want.
Heavy-duty Trucks and Autonomous Driving Technology
Autonomous driving technology and heavy-duty trucks have an important place in the CES 2018 event. They kicked-off the second day of this event with talk 0f autonomy, electrification, and connectivity. These technologies brought a clear vision how society will get better with more efficient vehicles. To explain the convergence of new and old technology, the owner of Kenworth and Peterbilt truck brands showed an advanced alternative fuel technology rig. They said that the truck is packed with sensors and computer systems from big tech companies such as Hyundai, Toyota, and Nvidia.
Aura: Smart Security Solution For Your Home
This year, smart home security was one of the biggest themes at CES event. Among all the smart home solutions, Aura was by far the best one. Unlike existing solutions, this futuristic motion detection and security system do not use infrared sensors and cameras. Instead, Aura monitors Wi-Fi radio waves that are distributed in the entire home and analyze the pattern how they bounce off of objects and walls. Every time this pattern gets interrupted, Aura immediately knows that some motion has occurred and it triggers smart home event or sets off the alarm. Aura's starter kit is available in the market for only $199 and covers 700 sq ft.
Vivo Phone Shows Off First In-screen Fingerprint Scanner
To give a tough competition to the tech giants Apple and Samsung, Chinese smartphone Vivo has come up with the world's first ever in-display fingerprint scanner at the ongoing CES 2018. Synaptic demoed this Vivo Phone in the crowded booth at the interminable hallway and said that the fingerprint reader doesn't drain much phone battery while illuminating your finger and promised that the power management of this phone is as per the industry standards.
Ford Connects Waze Through its Infotainment System
At the CES 2018, Ford made an announcement for cloud-based transportation service and connected cities. It has been also said that their partnership with Waze would have a great impact on the drivers. The automaker said that the traffic app would work with 2018 Lincoln and Ford models which are equipped with a smartphone, SYNC AppLink, or say SYNC 3 infotainment system. The traffic app is known for navigating you out of the congestion, road hazards, and other slowdowns.
CES 2018 Day 3: Sleeping Pad, Dog That Can Talk And Much More
Nokia Sleep: Know Everything About Your Slumber

Nokia announced a new gadget at CES 2018 called Nokia Sleep. As the name suggests, it's a mattress pad with advanced sensors, helping you monitor your sleep cycles and control the temperature and lights in your room. The mattress pad is Wi-Fi enabled, record your sleep patterns by sliding under your mattress. The device works with the Nokia's Health Mate app, analyzes and contributes to your sleep performance. In addition to that, Nokia Sleep can also track your snoring pattern. Nokia will start shipping this device before April 2018.
GM Presenting the First Production Car: Steering-less, Pedal-less
At the CES 2018 event where many big companies announced their plan to deploy autonomous vehicles, General Motors announced its plan too. GM President Dan Ammann shared that by 2019, they are going to mass-produce self-driving cars with no driver controls, no pedals, and no steering. The car is the fourth-generation of their all-electric Chevy Bolts, and currently being tested in Phoenix and San Francisco. This will surely shake up the things on the upcoming annual Detroit Auto Show, where all the trucks and SUVs will be displayed.
Apple's Wireless Charging Pads: Not Just Work Well, Look Good Too
Wireless charging is not a new technology, but at the CES 2018 event, it has shown up in an enhanced way. A large number of companies have been releasing new products and devices in a wide variety from the first day of CES event itself. There is a big talk of Qi wireless chargers. It's a popular industry standard that many major companies such as LG and Samsung are using. Even this standard has been around for a while now, but Apple's Qi charging in iPhone X and iPhone 8 brought a rush of new users and attracting accessories companies too.
Sony's New Aibo robot dog: Cuter Than Ever

In the ongoing event CES 2018, Sony's new robot dog, Aibo, drew much attention from the crowd. This robot dog is simply cute. It has sensors on the head, chin, and back, and also has OLED eyes. Aibo responds to voice and touch, and has 22 actuators, enables it to make a realistic movement. There is a camera on its nose, helps it to recognize family members and also search for its bone, called Aibone. The camera on its back enables it to navigate to Roomba, its charging station. Aibo takes 3 hours to get charged and has 2 hours of playtime.
Nvidia's Big Format Gaming Displays
Nvidia removed its veil from Big Format Gaming Displays at CES 2018. Jensen Huang, the president and CEO of graphics-processor company Nvidia says that the more you buy from him the more you save. Powered by Nvidia G-SYNC, BFGD stepping up to big-screen PC makers like Acer, Asus, and HP, will be manufacturing epitome stutter-free, tear-free, 4K HDR 65-inch gaming display. The Big Format Gaming Display even includes the built-in of NVIDIA SHIELD —the most leading-edge streamer on the earth. Nvidia also promised the smoothest 4K HDR videos and the ultimate 4K HDR PC gaming experience, all on one big screen.

CES 2018: Omron's Ping Pong Robot Keeps Ball in Play
Omron ping pong robot which has been recorded in the Guinness World Records, first launched in the Asia Pacific in Indonesia last year and since then people have heard a lot about it. As the world's first table tennis tutor, which is constantly being updated as the robot learns more about humans. Omron Ping-Pong Robot was developed in Japan to create harmony between humans and machines. It is not for sale, they are sharing their vision for how technology like this can be applied to real societal challenges and improving the human skills.

Aflac's Toy Robot for Kids Facing Cancer is the Smartest Toy of All
Insurance company Aflac showcased its upcoming My Special Aflac Duck at CES 2018. The toy is a partnership between Aflac and robotics toy company Sproutel. While it's not for sale, the "robotic companion" can quack, dance and most keenly bring some momentary ease to children with cancer, and will be given away for free to any child diagnosed with these diseases. The company bought the new device, along with their famous duck at the Las Vegas tech show this year.
CES 2018: The Final Wrap Up!! Smart Cities, AI, IoT, AR and VR Dazzle at the Annual Tech Extravaganza

The mega electronic show, finally came to a halt this Friday after a wonderful week-long run. It has kickstarted this year with a slew of exciting products, gadgets, announcements, and launches from some of the biggest and most influential companies in tech. The event saw 3,900 exhibitors showcase world-changing technologies and were widely popular on social media with as many as 860,732 tweets about the show as per CES team's official press release.
"Large and small companies from around the globe came to Las Vegas this week to use CES 2018 to launch technologies that will change our world," said Gary Shapiro, president, and CEO, Consumer Technology Association (CTA).
With every major industry now affected by tech, the show witnessed global brands and startups from industries such as automotive, healthcare, lifestyle, entertainment and marketing.
Google's digital assistant made its way into almost everything from smart speakers, headphones, screens, cars, and appliances. It was a true showcase of the behemoth tech company's focus on putting their AI software into people's everyday lives. Smart cities, IOT and connected devices were also a major theme at the show.
Bridget Karlin, CTO, and VP of IBM expressed his take on the show in a very humorous manner. To quote him – "CES 2018 will be remembered as the year where the wattage of innovation was so huge that it caused a blackout!" And we would agree that the scale of innovation was huge.
Overall, CES 2018 proved once again why it is one of the most premiere showcase for technology innovation across the globe.
Author's Bio

Nitin Lahoti is the Co-Founder and Director at Mobisoft Infotech. He has 12+ years of experience in Design, Business Development and Startups. His expertise is in Product Ideation, UX/UI design, Startup consulting and mentoring. He prefers business readings and loves traveling. Follow him @nitinlahoti