COVID-19 pandemic has wreaked havoc on various industries. As a result, the economy is hitting the markets hard, and cash flow is getting slowed down. The software development industry is not an exception in this scenario. But just like every bad thing has a good side, this pandemic has brought a room for opportunities too. By offering custom software development services, software development companies can help many enterprises and startups during this crisis and create a win-win situation.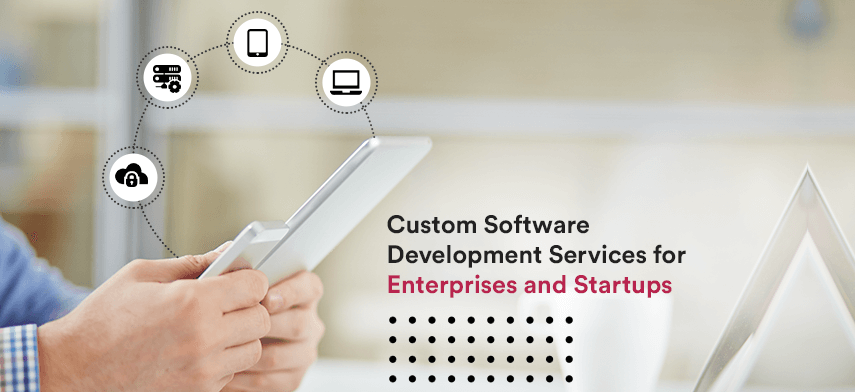 In this pandemic, when everything is changing from the way companies function to how staff work and choices are made, a business must think of opting for something that can provide a better solution to both clients and customers. Custom software development is such a solution, specially designed to meet the specific needs of businesses and give them a competitive edge. In today's post, we will discuss custom software development in detail. So, without further ado, let's start the discussion.
So, What is Custom Software Development?
Custom software development is a process of designing a particular software application. Such software is developed for a specific group of users or an organization to ensure that all their needs and preferences are being addressed. Some of the most commonly used custom software are content management systems (CMS), customer relationship management (CRM), etc. In every business sector, the need for custom software application development is high. And especially during the current pandemic, companies prefer custom software development rather than off-the-shelf software development. Why? Let's talk about it in the next point.
Custom Software Development vs. Off-the-shelf Software Development
Custom software is designed to meet business requirements, whereas off-the-shelf software needs a business to adapt to its competence. By understanding the pros and cons of both the software, you will understand what should be the right choice for your business. Let's dive in.
Pros of Custom Software Development
Developed to meet the unique needs of a business, custom software solves the problems that an organization or a set of users face.

After mentioning the requirements in the development phase of custom software, it can be designed exactly that way to meet all of those requirements.

Easy to modify, expand, and maintain the custom software.

Custom software provides a competitive advantage to a business. With it, you can offer a custom solution that your competitors cannot. The more well-designed custom software you use, the better your business stands out from the crowd.
Cons of Custom Software Development
Custom software gets developed from scratch and offers unlimited customization options. Therefore initial investment of such software can be quite high.

If you want a software that can be fixed quickly, custom software is not the right choice for you. It goes through a time-consuming development phase that eventually delivers impressive solutions. That is why this may not be considered as a feasible solution in some specific situations.

To get a custom solution, you need to depend on a custom software development company. In case the company is unable to continue providing service or fold for any reason or not a good service provider, your business will be affected.
Before discussing the pros and cons of using off-the-shelf software, let's have a brief view of what this software is.
Off-the-shelf software is readymade and prepackaged, designed to give users a particular set of ready solutions. Customers can instantly start using such software. Vendors can buy such software and sell it to clients directly or with minimum modifications. Using off-the-shelf software can offer a few benefits, but it has drawbacks too. Let's have a look at its pros and cons.
Pros of Off-the-shelf Software Development
The development of off-the-shelf software requires less time than that of custom software.

As off-the-shelf software can be produced in mass, the upfront cost is low.

Reliable off-the-shelf software can have various user communities where you can check the feedback and reviews before choosing the software. Also, you can give it a test run before buying. Moreover, if there is any problem with using the software, you can have community support.
Cons of Off-the-shelf Software Development
Off-the-shelf software does not always guarantee to meet all business requirements. As compared to custom software, off-the-shelf software can cost less but is half as efficient. Therefore eventually, you will lose all the money that has initially been saved.

Mostly such software is not easy to customize. As a business grows or brings updates, the software can not always be modified or upgraded accordingly.

The compatibility issue is also a common factor. Not all off-the-shelf software can be compatible with the operating system or device you use in your business. As a result, the off-the-shelf software can make the existing business system unstable and inefficient.

You do not get any competitive advantage by choosing off-the-shelf software. It is not a unique solution and can be available to your competitors as well. Thus, even if you have a pioneering business idea, it can easily be copied by your competitors.

Off-the-shelf software can cost a lot when it is proved to be inefficient, and there are ongoing subscription and maintenance fees too.
After going through the pros and cons of both the software, are you clear about the main differences between them? If you have not yet, let me differentiate these two terms according to their functionality, implementation support, maintenance, time used, and costing.
Major Differences between Custom Software & Off-the-shelf Software
Functionality

Custom software offers a wide range of functionalities due to the customization feature. They can be customized and tailor-made according to almost all types of tasks. On the other hand, off-the-shelf software offers hardly any customization feature, resulting in limited functionalities. Mostly a user needs to use such software just the way it is.

Implementation

With custom software, launching an app and bringing it to terms with existing products is much easier because such software offers plenty of customization options. With custom software, you can launch and install a new app without disturbing any current process or losing any basic data. And as such software is entirely scalable, modifying its functions is quite more comfortable according to a company's growth and expansion of the business into new markets.

On the other hand, the off-the-shelf software's integration process is a bit complicated. Such software does not have the adaptability to the unconventional requirements of businesses. Therefore, installing this software may cause damage to core data or lead to costly affairs.

Maintenance & Support

Custom software comes with a dedicated and proficient support team that always guides you throughout the development, implementation, and usage process, whenever needed. As this software is quite efficient and functional, maintaining it is not a costly affair too.

Though off-the-shelf software comes with a robust support system, there can be a possibility of any developer not keeping tabs on regular updates or forgetting to fix something. As a result, further future updates can cost you a lot.

Time Consumption

Developing and customizing custom software to specific needs takes time. With advanced technologies, providers can speed up the process. However, the deployment of the final product still takes quite a long time. In this case, the off-the-shelf software development process is much simpler and less time-consuming. As off-the-shelf software comes prepackaged and cannot be tailored to any particular business needs, a fully functional off-the-shelf software gets ready within just a few days.

Cost

Custom software development consists of high initial costs and low operating costs. On the other hand, the initial cost for off-the-shelf software development is quite affordable. But there are other additional maintenance and paid-assistance expenses associated with it.

In a nutshell, you will get long-term benefits by choosing a custom software solution, if you are searching for a software service that can serve your particular business needs. Whether you are a big or small enterprise, custom software is proven to be more efficient than off-the-shelf software for any kind of business in the long run. Moreover, a custom software helps your business stand out, making you unique.

However, before choosing the right type of software for your business, the question is, does your company need a software development service? Let's find out its answer in our next point.
Why Do Small & Large Businesses Need Software Development Service?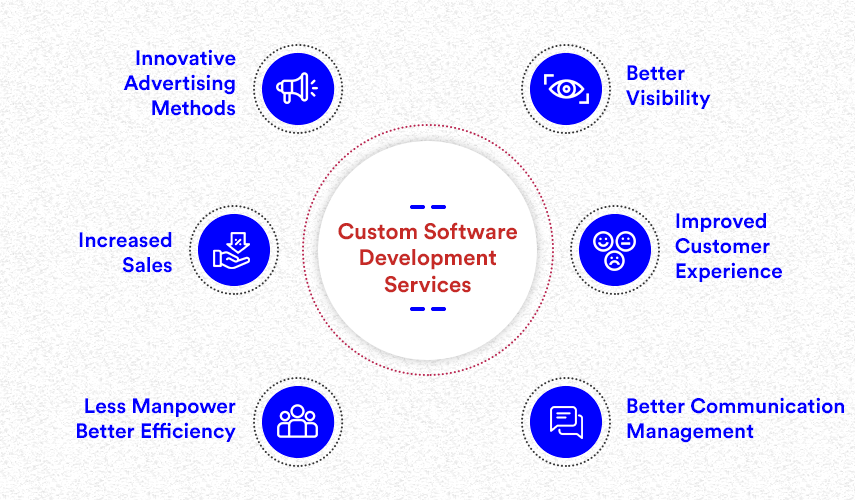 With trusted and efficient software development services, a company can touch new heights of success. Here are a few benefits businesses can get by availing software development service:
1
Better Visibility
Customer-focused software used in a website or an app development can improve your company's visibility in front of your target audience. And better visibility drives more customers to reach you. Eventually, it leads to more business.
2
Improved Customer Experience
Consumer experience can be improved with a software solution. The way you communicate with your customers and what experience your business delivers to them are the signs of their loyalty towards your business.
3
Better Communication Management
With the right software solution, a company can improve the internal communication between your staff and get great operational benefits. Also, they can maintain direct communication with their customers. And this helps in boosting a brand.
4
Innovative Advertising Methods
Implementation of on-the-go marketing methods and the launch of new channels for promotion are possible with software solutions. You can promote your products and services anywhere at any time without spending any extra money or time. Software solutions make your customers access your advertisements from anywhere and anytime.
5
Increased Sales
Using software helps businesses improve their sales too. The way consumers experience business is really crucial. If you want positive reviews about your business from your customers, then create an online platform to make them reach your products and services in a much easier way.
6
Less Manpower Better Efficiency
To match the rising demand of customers and services, running various tasks, delegating work, handling leads, etc. can be managed by software. The right software eliminates the need for human resources and delivers error-free work. Business gets more efficient work at less cost.
Primarily custom software solutions can cater to unique business needs. It is the best choice for all types of businesses to get long-term benefits. But only availing this service from a trusted company can give you maximum benefits. Thus, choosing the right software development company is very important to get a high ROI.
How to Choose the Best Software Development Company
To meet your unique business needs, a software development company can transform an innovative idea into software or application. To pick the best company that can serve your needs, you need to consider a few things – here, these are:
i
Jot Down Your Requirements
First, you need to identify your business requirements, what you exactly want. You can communicate with your staff, evaluate problems, and look over the possible solutions. This way, your objective will be more clear to you. Once you are clear about your need and goal, it will save time and money while choosing the right software development company.
ii
Give Priority to Quality over Price
Do not choose a company just because it offers service at a discounted or reduced rate. The initial cost of custom software development is not low. So, you should not trust a company only because its service is available at a discounted rate.
iii
Don't Forget to Assess Your Aim & Budget the Finance
Choosing a company offering software development services at a low price is not the ideal thing to do. However, that does not mean you should always choose the one that crosses your budget. Thinking about cost is as important as a company's expertise. Thus, after identifying your goal, you need to calculate your overall budget. Fix a budget and search for a company that satisfies your budget. Don't fall for the one that overcharges unnecessarily.
iv
Gather the Reputed Names
Make a list of the reputed software development companies that can cater to your requirements. Find out their business expertise and analyze the services. Check what tools and technologies they use, how capable their staff or team is, how much experience they have in the industry, and customer testimonials.
v
Check Credibility
Find out the market credibility of a company before hiring. This way, you will understand how trusted that company is and whether it has the ability to develop your software. By checking customer reviews, client relationship history, testimonials will help you understand this. Also, go through the company's online presence on social media, how it communicates, etc.
vi
Look for the Communicative One
A company that maintains direct, clear, and transparent communication with clients is the right one to choose. With transparent communication, a software development company can understand the exact needs of a business and walk the extra mile to satisfy the requirements by developing a perfect software.
vii
Check Quality After Sales Assistance
Make sure the company you choose offers dedicated after-sales support. You should have direct access to the company's technical team and support for any problem, updates, and maintenance.

Common Pitfalls to Avoid
While outsourcing the service from the best software development company, you must avoid some common pitfalls, as mentioned hereunder:
Not Doing Proper Research

Choosing a custom software development company without doing proper research is a common mistake by many businesses. Also, choosing a company solely based on cost-effectiveness is not a wise decision to take. Moreover, trusting a company that does not follow modern trends and updates about software and applications is also not a good decision. Comprehensive research helps a business know about the best ones in the industry and which one among those can meet that business's specific needs.

Lack of Transparency in Requirement & Communication

Hiring a software development company without having a clear idea about your own business need is not a good idea. A business should first know what it needs from a software developer. Then it should search for the provider that can meet the needs. When you are unclear about your needs, naturally, you will not be able to communicate appropriately with the team you have hired. And lack of communication cannot help a developer team meet your needs perfectly.

Having No Fundamental Technical Knowledge

Though you will hire an expert team of software developers, without having basic technical knowledge, you cannot monitor the work regularly. This may lead to significant risks. By having the knowledge, you can be well-aware of any technical upgrades and leverage the maximum benefits of custom software development in your project.

Not Giving Importance to Quality Assurance

Testing software before release is essential to get quality assurance. While hiring a company, not checking whether it offers quality assurance and software, prototyping is a major pitfall. No matter what type of software or app you are planning to develop, testing should be an important part of the entire development phase.

If you take care of the above-discussed factors, it will be easy to pick the software development company that can perfectly meet your custom software development needs.
Future of Software Development
Software development is an emerging industry. Its growing trends define its bright future. With advanced mindsets and upgraded skills, the software development industry will grow more in the coming future. From advanced technologies, like IoT, Blockchain, AI, etc., to new development methods like low code development, and high-quality web apps – everything will make the software development process more advanced. Customer preference will be taken care of in a more proficient way.
Wrapping it up,
Opting for custom software development is the wise decision to take because it can be tailored to meet your business-focused requirements. Yes, you need to invest a lot in the initial development process. But the implementation of a custom software will surely give you a great return on investment. All you need to do is pick a trusted and reputed company to get the software solution. Have basic technical knowledge and do proper research to choose the best custom software development company that understands your requirements, keeps transparency in business, and gives expert after-sales support. So, if you want to accelerate your business growth with advanced software solutions without taking any stress, then come, contact us. We will solve things for you.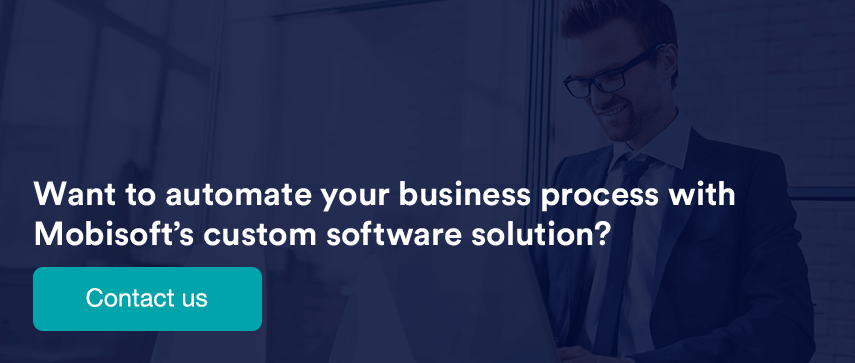 Author's Bio

Nitin Lahoti is the Co-Founder and Director at Mobisoft Infotech. He has 15 years of experience in Design, Business Development and Startups. His expertise is in Product Ideation, UX/UI design, Startup consulting and mentoring. He prefers business readings and loves traveling.