Data privacy in healthcare has seen a significant shift in its environment in the last two years when the world was undergoing a pandemic. As we shifted our focus to online transactions and interactions, a huge amount of private information was uploaded on on-site, cloud, and third-party systems. With sharing of information online and data exchanges becoming more digitized, data protection in healthcare has taken the center stage. There has been a global development in reviewing health data privacy bills, especially with the introduction of the General Data Protection Regulation (GDPR) and other health data privacy laws. Even with the significant incentive on data privacy legislative laws, there are still amendments to be made to the data privacy bills in US healthcare.
Although it has been observed that regulatory actions for data privacy have reached a national level, it still is lagging behind the tech market improvements. Various sectors are implementing standardized and ground rules to improve their health data security standards for better patient data protection. Healthcare organizations and businesses are aiming toward processing personal data while still maintaining the patient's or individual's privacy preferences.
The digital healthcare sector has also been growing rapidly and its demand has been ever increasing. Leaders in the industry are keeping in mind the key concerns that are legally up and coming this year. The cybersecurity and privacy of patient data in healthcare include more than the HIPAA regulatory concerns. There is an ever-growing heterogeneous requirement for federal and state privacy laws that are being simultaneously applied in the healthcare space to prevent cybersecurity threats.
Significance of Data Privacy in Healthcare
Data privacy in healthcare entails the correct way of handling and protecting sensitive patient data from various cybersecurity threats. Data privacy also helps in the management, storage, and sharing of data with third-party vendors with appropriate compliance in place. Data security and data privacy work in tandem to create data protection in the healthcare area focussed on the right individuals. Usually, data privacy is comprised of three specific elements, it includes:
Healthcare data compliance applies to the laws involved in data protection.
The patient or individual can retain control over their data and information to avoid being misplaced or forgotten.
Data privacy assists to collect, process, handle and sharing personal data and procedures.
An effort to create global awareness revolves around the significance of data privacy in healthcare. These efforts have highlighted simpler ways to help people protect their health and medical information, while also assisting organizations to remember that protection of patient health information is equivalent to good business. Therefore, digital health has improved and increased data protection of patients at a personal and professional level. As data protection in healthcare becomes a powerful asset to business owners of healthcare organizations, it helps to maintain transparency when requesting consent and approval to keep patient data by upholding privacy policies and managing the data that is collected to build better patient-provider relations. Any non-compliance can result in legal cases for healthcare organizations. Healthcare app developers are also utilizing this data privacy in healthcare in building patient-oriented apps for better care delivery services.
Data in Healthcare Proceeds as a Frontier for Healthcare App Developers
Health care data today is being collected by healthcare organizations as it was not implemented before the pandemic. The growing concerns about data privacy in healthcare have created a buzz among providers to rethink ways to implement the data collected from patients is properly stored and protected with necessary data privacy policies kept in place.
Healthcare app developers are increasingly improving their knowledge to recognize the healthcare data security standards for privacy and data collection in generation as well as staying acquainted with HIPAA compliance. As patients gain more access to their personal healthcare information and medical records, they will have better control over who they can share this information with and how they can share this information with third-party providers. This also involves sharing of data with healthcare applications that exist beyond the traditional infrastructure of healthcare. Hence, acknowledging data privacy and healthcare regulations helps healthcare app developers to understand the requirements of organizational and patient needs.
Data Challenges in Healthcare
One of the most pressing challenges for data protection in healthcare is being faced by healthcare organizations today. Medical facilities and organizations pertain to a vast amount of sensitive patient information and data making them prime targets for cyberattacks, and even now many organizations lack the expertise and digital health tools necessary to protect these information causing breaches of privacy of patients.
The industries are acknowledging the need for data security in healthcare to prevent IoT challenges in healthcare but there are still obstacles that persist. Some of these data challenges in healthcare are:
1
Ransomware attacks
Ransomware attacks in healthcare organizations plagued the industries in 2020 and 2021. But 2022 will continue to see the rise in ransomware. 34% of healthcare organizations and facilities experienced ransomware attacks in 2020, and more than 65% of these attacks were successful in breaching patient data information. Healthcare information and data are valuable and a lot of these organizations have integrated them to prevent cyber threats. Cybercriminals are more likely to receive a substantial amount of payout through ransomware attacks. This is still a reality in healthcare organizations with the implementation of digital health data.
2
Healthcare mobile applications
Another data challenge in healthcare in 2022is healthcare mobile apps. The adoption of telehealth has skyrocketed with an increase of 50% in the first half of 2020. This made healthcare information more accessible through mobile devices. But this also possesses a great risk where sensitive data is accessible to cybercriminals to launch cyber attacks due to the lack of extended security services on these mobile apps. App developers are using data protection in healthcare applications to anticipate cybersecurity behavior and secure these applications from further damage.
3
Reduced interoperability
With the integration of digital health services, interoperability may encounter certain concerns. Various electronic health records (EHRs) systems have hindered communication with other health record systems. This lack of interoperability causes errors and delays leaving crucial and sensitive data exposed. This IoT challenge in healthcare has the IT teams sprawl through hospitals by implementing the disparate systems via several care services. Without these systems being incompatible, organizations might host the same data across multiple platforms and applications that become disjointed with the complex network. This increases the risk to understand networking vulnerabilities, thus, putting patient data at risk.
4
Vulnerabilities in Internet of Things
One other positive technology trend in healthcare, the Internet of Things has incurred troubling security implications with its adoption. Various healthcare organizations have embraced IoT for streamlining their operations and system workflow, but these digital health tools and devices have often been proven to be vulnerable. These devices have stemmed from unmanaged IoT healthcare devices that often lack in-built healthcare data standards and measures. Thus expanding the surface of healthcare data privacy breaches. This can jeopardize medical and healthcare data security in 2022.
5
Limitation in resources
All the security and data trends in healthcare don't stem from digital and technological vulnerabilities. Many healthcare organizations lack the appropriate staffing, expertise, and funding that are necessary for protection from cyber threats to this day. Broader education on healthcare data privacy and security with advanced technologies can help in resolving budget-related gaps in security. Even then, cybersecurity attacks remain a massive challenge due to the limitations in resources in healthcare organizations.
Healthcare security for data needs necessary improvements that assist to improve data protection for businesses. These obstacles continue to pose a great obstacle in 2022. Hence, data privacy in healthcare trends can help to mend these gaps in access to care delivery services.
Data Privacy in Healthcare: Trends in 2022 to Look Forward To
Data privacy in healthcare looks towards improving healthcare data security standards. Let's take a look at the data privacy in healthcare trends for 2022.
1
Higher recruitment for data security jobs
Due to the immense impact of the COVID-19 pandemic, the dramatic increase of utilizing smart devices and digital health tools boosts the levels of productivity. Hence, protecting data privacy challenges from cyber threats that can expose sensitive information. Therefore, one of the top trends for data privacy in healthcare drives healthcare organizations towards better security in jobs without compromising on the quality of care delivery services.
2
Automation in data privacy
The US government has taken steady initiatives to announce better healthcare data privacy laws with a variation in compliance and legislation procedures. The integration of artificial intelligence, machine learning, and deep learning has created automation in data privacy in healthcare. The demand for healthcare data standards is high and automation in software solutions is spreading globally in a short amount of time.
3
Regulations in data protection
Countries like the US, Japan, and Brazil are enacting and adopting the regulation on data privacy in healthcare that helps to protect and enable regulations to cover personal patient information and essential healthcare data. Essential data privacy enables better data protection in healthcare by 2025. Data protection demand has increased the confrontation for data violations to prevent exposure of sensitive information of patients and healthcare organizations.
4
Transparency in data privacy
Data breaches in healthcare have affected various organizations in the world. Consumers are concerned regarding the protection of their medical and healthcare data, thus, demanding utmost data protection in healthcare through data privacy transparency. Transparency in data privacy can enhance consumer loyalty with patients and their providers. This protection of data in healthcare enables better delivery of care services without breaching the trust of patients and providing maximum data security from random cyber attacks.

Conclusion
There is an anticipation in healthcare organizations to invest in measures related to cybersecurity. This will enhance their defenses against high-profile ransomware and cybersecurity attacks. With hybrid and remote working industries, data privacy in healthcare has become a major integration to prevent any kind of patient information breach to maintain patient trust and loyalty to the organizations. To begin with, healthcare organizations need to be acquainted with the basics of cybersecurity hygiene, especially with the identification and authorization procedures. Companies like Mobisoft Infotech can help you with HIPAA compliance integration to prevent organizations from any legal complications when delivering digital healthcare delivery services. Hence, resilience is needed to set the products, services, and fundamentals in the right place to ensure maximum data protection in healthcare.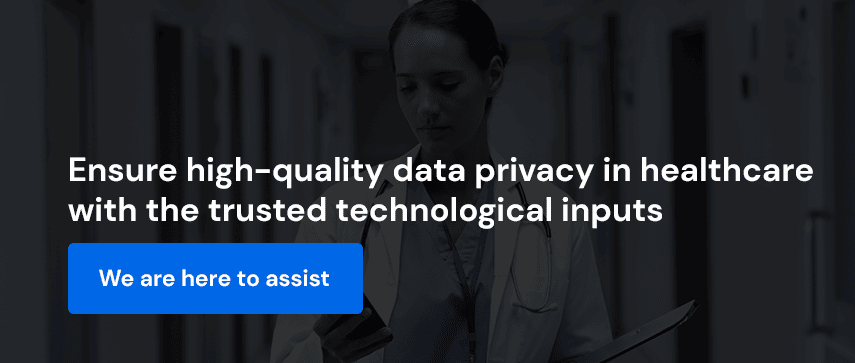 Author's Bio

Shailendra Sinhasane (Shail) is the co-founder and CEO of Mobisoft Infotech. He has been focused on cloud solutions, mobile strategy, cross-platform development, IoT innovations and advising healthcare startups in building scalable products.