Choosing computer-based digital scanning solutions to keep business operations smooth is not new for the airline industry. But has this dependence increased especially during the current COVID-19 pandemic situation? Yes, it has. Digital scanning solutions allow business industries to ensure safety and manage all activities while maintaining social distancing. The airline industry is no different when it comes to transforming its base of operations. Through digital scanning solutions for air travel, both airport and flight staff can automate the operation activities seamlessly while delivering a pleasant travel experience to passengers.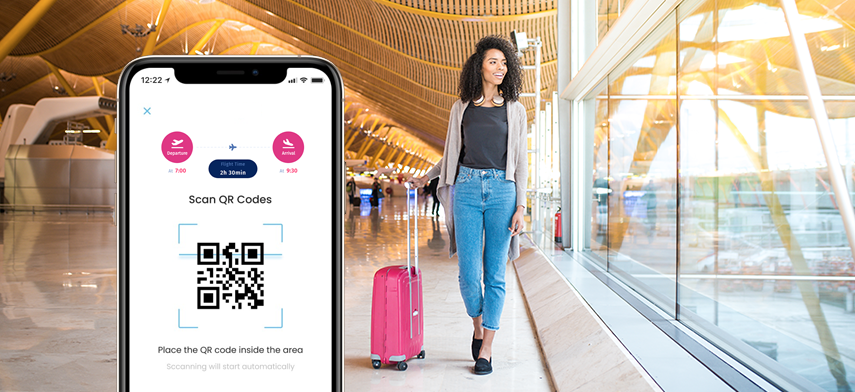 But how did the airline industry shift its focus to digital transformation through scanning solutions? Let's answer this in the next segment.
The Importance of Digital Transformation in the Airline Industry
The global COVID-19 outbreak has severely impacted the airline industry. Due to the fear of infection air passenger traffic rate has declined immensely. The airline industry has faced a revenue loss of around 314 billion USD globally. As a result, the industry is rethinking its business strategies to lead the business procedures during and after the pandemic. Hence, the airline companies and airport authorities are embracing smart digital solutions to control the spread of COVID-19, automate airport operations, recuperate passenger traffic, and help consumers with pleasant air travel experiences. With the right digital scanning tools, the air travel business will get a competitive edge and also bring back remarkable innovation to airport and flight operations.
The importance of computer vision-based technology solutions in the air industry is now undeniable. From mobile scanning software to air travel apps, neuro-linguistic programming to Artificial Intelligence – everything is being used in air travel booking, airport security, flight check-ins, plane checking, baggage claim, inventory control, and more. Therefore, every single step of air traveling and airport management is now being introduced to technology, making the whole process hassle-free for both ground and air staff, while ensuring convenient digital scanning solutions for air travel.
Among all technological solutions, we will provide a comprehensive discussion about computer vision-based digital scanning solutions and how they are improving airport operations. Without further ado, let's understand the necessity for this digitization.
Mobile Computer Vision Scanning Solutions Enhancing Airport Operations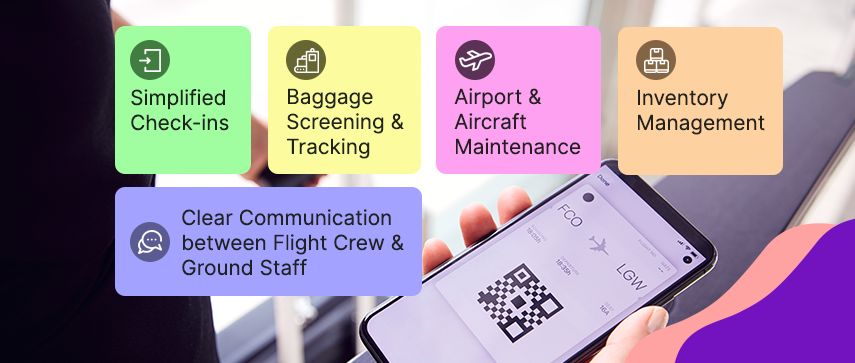 From air travel booking to pre-boarding check-ins, boarding pass and ID proof checking to baggage tracking, airport and aircraft maintenance to inventory management – everything has become simplified, automated, and efficient with computer vision-based scanning solutions through computers and app software. Digital scanning devices like boarding pass scanner and smartphone apps have made airport operations contactless, ensuring safety for the airline staff and passengers.
Let's have a look at how airlines are now using various types of digital scanning solutions that work on smart devices smoothening the entire operational process:
1
Simplified Check-ins
With both QR code and OCR scanning solutions, airport check-ins are becoming faster, streamlined, and, most importantly, contactless. Let's have a look at how:
Check-ins through OCR Scanning

OCR scanning solution at the airport ensures contactless check-ins from the security area to boarding. An OCR scanner scans boarding passes and other documents, collects and authenticates identification data from a distance. There is no requirement to touch the device by the staff or the passenger. Powered by an advanced optical scan system, the OCR scanning solution eliminates the need to check every passport and ID proof manually. It delivers 100% accurate images for OCR data collection and authentication. This type of scanning has various features such as barcode scanning, smart card reading, and magnetic strip.

Check-ins through QR Code Scanning

QR codes contain detailed information about a flight. These codes are also present on a boarding pass. Airlines send boarding details to every passenger with a link to a unique QR code via mail or messages. Passengers can click the link and get the code and they can show the QR code to a scanner at the airport gate or security checkpoint for web check-in. A smartphone equipped with a QR code reader can easily scan boarding passes on phones. If any passenger wants to upgrade or modify a seating arrangement, or there is any sudden change of the departure gate, the boarding pass can electronically be refreshed to feature the updated details. Such boarding passes with QR codes can also be utilized for contactless baggage check-ins at self-serve machines, counters, and kiosks.
2
Clear Communication between Flight Crew & Ground Staff
The inflight communication and connectivity with the on-ground staff at an airport are increasing in number, as most airlines are planning to opt for digital scanning solutions to scan boarding passes, check passports, and scrutinize IDs. Whenever a document gets scanned the image and associated information get saved to a file and exported to the web. This way, the staff who are not checking the documents manually can easily access the data. By placing mAgents at checking points scanning documents through them can help maintain seamless communication between airport staff and flight crew, scan all important documents and baggage systematically and quickly, and minimize the onboarding process's total cost of ownership which includes equipment cost and maintenance cost.
3
Baggage Screening & Tracking
To reduce physical interaction and promote social distancing, self-service baggage solutions and remote baggage screening solutions are often found across various airports now. With RFID technologies, baggage tracking has become smooth, accurate, and easy. RFID enabled scanners tracks baggage data, capture data in real-time, and share with respective passengers through air travel apps. When a passenger checks in the bag, it gets scanned in the self-service bag drop section. The passenger gets a notification for baggage in the app, ensuring that the system is functioning perfectly and the bag has been received. After the bag is loaded onto the flight, it gets automatically scanned and the details get forwarded to the passenger, letting them know that the bag is at the right place and following throughout the journey. During the off-loading time, the same process is followed. After reaching the destination, the passengers get notified through the app about the actual place for baggage pick up.
4
Airport & Aircraft Maintenance
Maintaining aircraft and managing airports are important to ensure glitch-free flying. With computer vision-based tools, airlines can anticipate possible failures of an aircraft, which saves a significant amount of time and money, and most importantly, human lives. The scanning systems collect real-time data, analyze the data to project a structured approach towards the aircraft's maintenance process. Moreover, through controlling inventory, such systems help in the systematic maintenance of aircraft as well. Be it domestic flights that travel a short amount of time or international flights that travel long durations; it is important for performing predictive maintenance promptly for both types of flights to check if any part is misplaced or requires repair. Besides aircraft maintenance, digital scanning solutions for air travel make in-flight management, aircraft monitoring, and other vital operations in an aircraft seamless. Even the on-ground staff can stay aware of the need for repairing and maintenance of aircraft.
5
Inventory Management
With mobile-driven scanning solutions, managing in-flight inventories have now become more accurate, efficient, and organized. Scanning system for inventory can automate the process of data collection related to food and beverage, and other merchandise. After collecting the data of inventory stock, this information gets transferred to in-flight and on-ground staff. Thus, if there is any restock needed, the staff can immediately take necessary actions, while ensuring that the departure time of a flight does not get hampered. In other words, digital scanners sort, search, track, and find particular inventories to improve operational efficiency with minimum manual labor and at lesser time and cost.

After understanding how digital scanning solutions are improving airport operations and air travel experience, there may be doubts when embracing digital scanning solutions for your air business. Let's take a quick look at what crucial benefits you may miss by avoiding these technology-driven solutions.
7 Major Benefits for Airline Industries Adopting Digital Scanning Solutions
This is the peak time to adopt computer vision-based digitals scanning solutions for managing air travel operations. Here are seven major benefits that can help in transforming your air travel business:
Helps the Airline Industry to Improve Customer Experience & Gain Consumer-Driven Revenue

With digital scanning solutions, providing passengers hassle-free travel experience is possible. The more consumers feel satisfied with the experience, the better revenue an airline can generate. Moreover, airlines can retain loyal consumers for a long duration of time. Computer vision-based technology helps in understanding passengers' behavior and experience to form data-supported decisions and propel business growth.

Enhances Check-in Process

Needless to say, digital scanning is faster than manual data entry. Passengers can opt for self-service to reduce check-in time. This brings a significant change in workforces who used to perform numerous ID verifications every single day. Mobile scanning helps the airport staff have more time to focus on other important activities while the complete check-in process of every customer gets managed seamlessly.

Improves Air Safety

In digital scanning solutions, smart devices are used for capturing real-life data of an aircraft, whether there is any maintenance, repair, or replacement required for any part. Thus, the airline authorities can immediately take necessary action and ensure safety while minimizing the time, expenses, and complexities of managing a fleet.

Reduces Cost

Digital scanning software works perfectly on different operating systems, third party systems, and frameworks. They are easy to implement and access through web and mobile apps. Therefore, the airport and airline staff are becoming more comfortable using them and performing all tasks efficiently. Thus, you do not need to invest a lot in any expensive technology, platform, or extra workforce.

Helps Staff Perform Smartly & Quickly

Both on-ground staff and in-flight employees can opt for computer vision technology to manage business operations and help passengers throughout the travel, simply by scanning passports and boarding passes, collecting real-time data, managing flight schedules, checking upgrades, and more. The whole process becomes accurate, smarter, and quicker.

Ensures Error-Free Baggage Tracking

By scanning the barcode or RFID tag on the luggage, the airline staff can record the tracking data and location of the baggage. With the right scanning solutions, they can scan multiple pieces of luggage in a single sequence fast and proficiently. At the time of finding a specific piece of luggage for onboarding or offloading, a handler can check a dedicated smart device across a pile of baggage to identify the right one that showed up on the screen while being scanned.

Makes Check-in & Boarding Process Contactless

Scanning-enabled apps on smart devices help passengers scan their passports by themselves through apps or websites and avoid waiting in queues. Contactless boarding pass scanning is also possible. The staff can complete the boarding process, make changes in seats, handle any other upgrades digitally from a certain distance and with safety.
Final thoughts,
The seamless integration of computer vision-based digital scanning solutions in the airline industry is undoubtedly here to stay and bring more innovations to the overall airline business operations. The current pandemic outbreak has made more airports upgrade their business strategies and adopt this technology-driven scanning solution so that they can continue growing their business even in a post COVID world. Ultimately, one needs to stand out in a constantly changing technology market. Thus, adopting digital scanning solutions at airports and aircraft is important for automating business processes and provide an improved air travel experience to the customers.
So, are you up for reducing operating costs, streamlining the business process, and optimizing the air travel experience for passengers both at airports and on aircraft? Opt for computer vision-based digital scanning solutions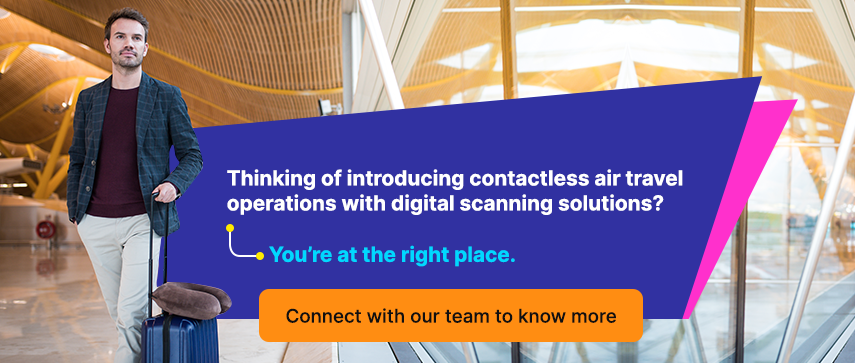 Author's Bio

Nitin Lahoti is the Co-Founder and Director at Mobisoft Infotech. He has 15 years of experience in Design, Business Development and Startups. His expertise is in Product Ideation, UX/UI design, Startup consulting and mentoring. He prefers business readings and loves traveling.