Digital transformation has been the talk of the show for a few years. But the COVID-19 crisis has ignited digital transformation agendas. Now, more organizations than ever are looking to digitize their operations for enhanced productivity and customer satisfaction. So, how's COVID-19 driving digital transformation, and what's in it for you? Let's find out.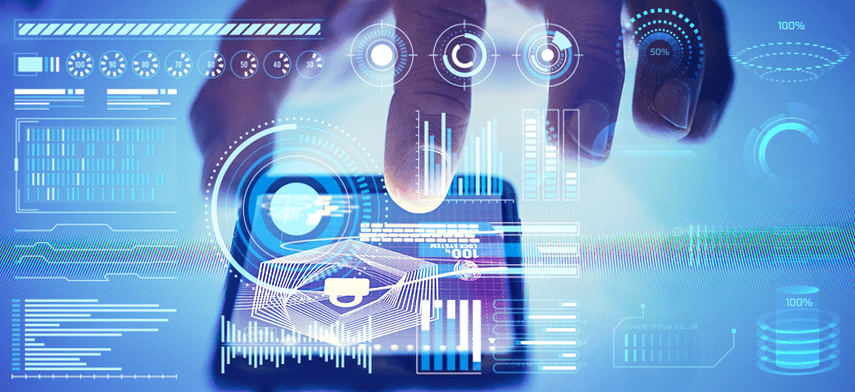 Covid-19 Crisis Reaction of Businesses vs. Customer Demands
The COVID-19 outbreak has crippled most small businesses. Brick and mortar stores are struggling to attract customers, and companies that sell online are somehow managing to stay afloat. However, there are a few quick steps certain businesses are taking to keep their financial wheel turning. These include:
Tracking expenses

During these hard times, companies are conducting an assessment of their expenses and actual revenues. It helps them determine where they stand financially and what needs to be done to stay ahead in the current disconcerted market.

Planning for the future

COVID-19 is here to stay, and no one can anticipate how long it will last. It might be a 3-month problem, or it may last for 12 or 18 months. Most businesses are making 3-month, 6-month, or 9-month policies to be prepared for the upcoming scenarios. For instance, if the problem is to last for three months, halting secondary expenses like marketing and hiring can help. On the other hand, if the epidemic continues for 12 or 18 months, companies will need to make some serious strategic reconsideration.

Embracing a remote workstyle

88% of organizations across the globe have encouraged remote work after the COVID-19 outbreak. To protect employees, most businesses have instated remote work policies to keep the company surviving.

Shift to the virtual world

Businesses across all areas and industries have shifted to the virtual means of selling and engaging with their customers. The usage of virtual meetings and team management tools like Zoom and Microsoft 365 video, Teams is on the rise. Besides, 32% of organizations have introduced new tools of communication for virtual meetings.

The effect on consumer demands

The COVID-19 outbreak has led to notable shifts in customer demands across the world. While almost all businesses are hit by a considerable drop in demand, some sectors are worse affected.

Categories like confectionery have been entirely wiped out.

The demand for beverages has also significantly dropped.

Commodity businesses and packaged food suppliers are also facing a recession but are somehow sustaining.

The demand for dairy, home care, and personal care products is still on the rise.

Local vegetable and grocery stores have faced little to no effect.

The COVID-19 pandemic has increased the sales of personal care, home care, and packaged food products. However, the lack of supply has put pressure on the supply chain, and soon, there might be a shortage of these items.

Digital Transformation – Paving the Way Ahead for Digitization
There's hardly any industry or sector that has remained untouched by the wrath of the COVID-19 outbreak. However, digitally transformed businesses stand tall amid the pandemic. Digital business transformation provides your business with continuity, flexibility, knowledge transfer, and the ability to respond to demand at scale.
What is Digital Transformation?

The integration of digital technologies in all areas of a business, resulting in a significant change in business operations is known as digital transformation. Transforming your business digitally goes beyond starting a website or having a social media presence. It is a cultural change that encourages organizations to challenge their status quo and walk away from traditional business processes.

Examples of Digital Transformation

70% of businesses either have a digital business transformation strategy in place or are working on one. While each company and its digital transformation is unique, let's take a look at some of the biggest digital transformation success stories.

Porsche: For those who don't know, Porsche is a German automobile manufacturer specializing in Sedans, SUVs, and high-performance sports cars. Porsche's digital strategy is driven by the customer experience. The company has heavily invested in understanding their customers, i.e., the Porsche driver. All the customer data is stored in a central CRM system and allocated to a unique ID. Porsche documents customer interaction at every touchpoint throughout the customer lifecycle. Thus, Porsche now knows the expectations of its consumers at each touchpoint. Furthermore, the data enables predictive intelligence and real-time segmentation, which allows them to maximize the success of their campaigns.

Microsoft: Microsoft has long been renowned for its digital excellence and top-notch products like Windows and Office. But the company's stock prices started lagging due to the increased competition from companies like Amazon, Google, and Apple. In 2014, when CEO Satya Nadella took over, the company began shifting towards cloud networking systems. It drifted its focus away from traditional software to cloud-based solutions for both enterprise and personal use. As a result, Microsoft became the third company to reach the $1 trillion market cap in 2019, outperforming its arch competitor Google.
How Has The Digital Transformation Impacted Industrial Transformation?
The rapid advances in technology have facilitated the transformation of industries. It has created a profound impact on how firms enter and compete in a market. It provides industries with unparalleled opportunities for innovation and value creation.
Moreover, the plummeting costs of advanced technologies like cloud, AI, and analytics are transforming customer expectations and the way organizations address them. And the effect is evident in the growth of companies as well. A few years back, an average Fortune 500 company took 20 years to reach a billion-dollar valuation mark. Now, it takes only four years.
Impact of Covid-19 on Different Industries

Some countries like New Zealand have declared themselves COVID-19 free. On the other hand, some nations are struggling to slow down the pace of increasing positive cases. Apart from the adverse effect on life, the COVID-19 pandemic has also slowed down various industrial sectors. Let's take a look at industries that are most affected due to the coronavirus outbreak.

Auto: The Auto industry is one of the worst affected sectors. China is the world's largest exporter of auto parts. But with the country being the epicenter of the pandemic, various auto companies across the globe have suffered disruption in the supply chain.

Chemicals: Local dyestuff units across the world rely on China for several raw materials, such as intermediates and chemicals. Delayed shipments from China have affected the supply chain and increased the prices of raw materials.

Electronics: China is one of the major suppliers of both raw materials as well as the final products in the electronics industry. Thus, the electronic industry has suffered production reduction, supply disruptions, and a surge in product prices.

Information Technology: IT companies are heavily dependent on manpower and are not able to operate due to lockdown restrictions. Hence, the companies are not able to deliver the existing projects or take up new projects.

Industry Trends Amid Covid-19 Pandemic

The unexpected onset of the COVID-19 outbreak has left a plethora of business owners strategizing and scrambling. However, a few trends are emerging that could help you keep your business up and running.

Healthcare

As discussed, digital transformation is the need of the hour. And the industrial slowdown due to the coronavirus has encouraged more businesses to drive the change. For instance, there has been a significant rise of digital transformation in healthcare. Medical providers are using digital technology to provide telehealth and telemedicine services. The global telemedicine market was estimated at $41.4 billion in 2019. But amid the COVID-19 fears, people are refraining from visiting hospitals and clinics, thereby giving a significant boost to the healthcare digital transformation. The sector is thus expected to witness a CAGR of 15.1% during the 2020-2027 forecast period.

MCommerce

Another area that will continue to see growth and innovation is how people pay for services and goods. Payment methods like PayPal and Apple Pay are already becoming prevalent. In 2019, 55% of online payments were made with alternative "non-card" payment methods. And with people making efforts to avoid human contact, you can only expect these numbers to increase.

Service sector

Thanks to the ongoing digital business transformation, more businesses than ever are leveraging digital technologies. But most entrepreneurs are solopreneurs with no dedicated IT team. They are outsourcing their digital operations to third-party digital transformation consultants, thus, giving a significant boost to the service sector.

Delivery Service and eCommerce

The eCommerce industry has certainly benefited from the coronavirus outbreak as people are avoiding a visit to local stores. However, if you run an eCommerce business, few issues are more crucial than the ability to provide free shipping. Now, consumers just want to get their order as soon as possible. In fact, 88% are willing to pay extra for faster delivery.
Why Is Digital Transformation Important At This Stage For Enterprises?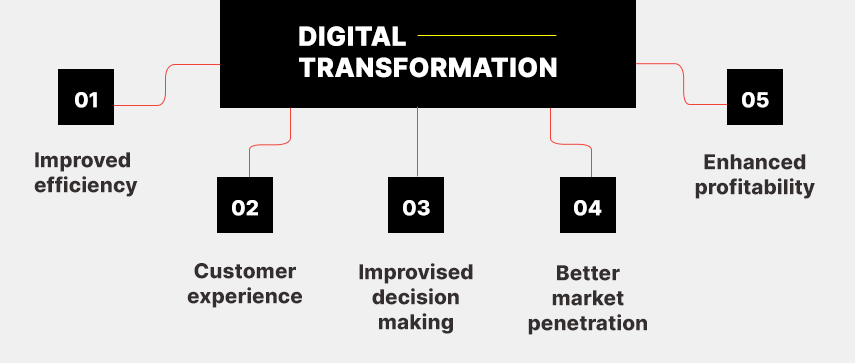 Digital transformation has lately become a new buzzword for organizations. Let's take a look at why digital business transformation is absolutely critical for enterprises at this stage.
1
Improved efficiency
Every organization craves efficiency, one of the biggest benefits of digital transformation. Companies are shifting away from traditional procedures and human interventions. When electronic versions replace manual operations, the process flow becomes faster and smoother, thereby making the organization more efficient.
2
Customer experience
With consumers becoming smarter and pickier, customer satisfaction is of the utmost importance for any business. Implementing digital methods allows you to understand the degree of customer satisfaction. And higher the customer satisfaction levels, the easier it will become for you to retain customers and increase loyalty.
3
Improvised decision making
In order to achieve both efficiency and customer satisfaction, the management needs to make sound decisions. The use of digital technologies provides well-planned data, which increases your chances of achieving your organizational goals in the long run. Therefore, the digital transformation paves a pathway to business success.
4
Better market penetration
Penetrating unexplored markets is critical to add new customers to existing business norms. When you release and market new products or services, performing segmentation to assess the target market's quality is crucial. In-depth insights, along with improved decision making, make the process of market penetration more effective.
5
Enhanced profitability
Digital transformation helps you increase profits by improving customer satisfaction and acquiring new customers. Besides, higher profits would be a motivation for your employees to work harder. When profits are enhanced, you can spend more time focusing on improving efficiency and customer service.
As you can see, all these processes combine to form a chain. Each benefit is interlinked to each other, making sure all the departments in the organization are on the same page.
Digital Transformation Strategy – What Strategies Businesses Are Adopting To Digitize Their Operations?
Now that you know how digital transformation can take your business to the next level, let's discuss the digital transformation roadmap to actually implement it. A common mistake most companies make is thinking that digital business transformation means getting your hands on as many technologies as possible. Let's take a look at some of the common strategies businesses are adopting to digitize their operations.
Point of view

It all starts with changing the company's point of view. You want to get the right people on board, including the stakeholders. Be sure to map out every area of improvement, along with the outcomes for everyone involved. A successful digital transformation cannot take place if everyone is not on board and aware of what they'll achieve.

Translation of goals

Have you got your business goals listed? Now, think about how they'll translate into digital. For each objective, figure out the digital process that'll get you there. For example, if your objective (goal) is to increase sales, marketing personalization tools can help.

Research

Digital transformation requires intensive research. You'll have to know your customers – not just what they do or buy, but what devices they use, what do they browse before buying, and what drives them to purchase. An in-depth understanding and analysis of how your customers use digital tools will help you become digitally "mature."

Joined-up approach

Digital transformation doesn't mean getting an office robot. Make sure your technology facilitates or improves one or more of the following functions: collaboration, saving time, or reducing costs. Also, consider how well your tools work with your data. If your email marketing system can integrate with your CRM, you can send personalized emails and set up automated emails.

Don't resist change

One of the essential steps to successful digital business transformation is to be agile and open to change. Technology is ever-evolving, and so are customer preferences. And your transformations won't matter if they don't follow your customers' digital behaviors.
Components Of Digital Transformation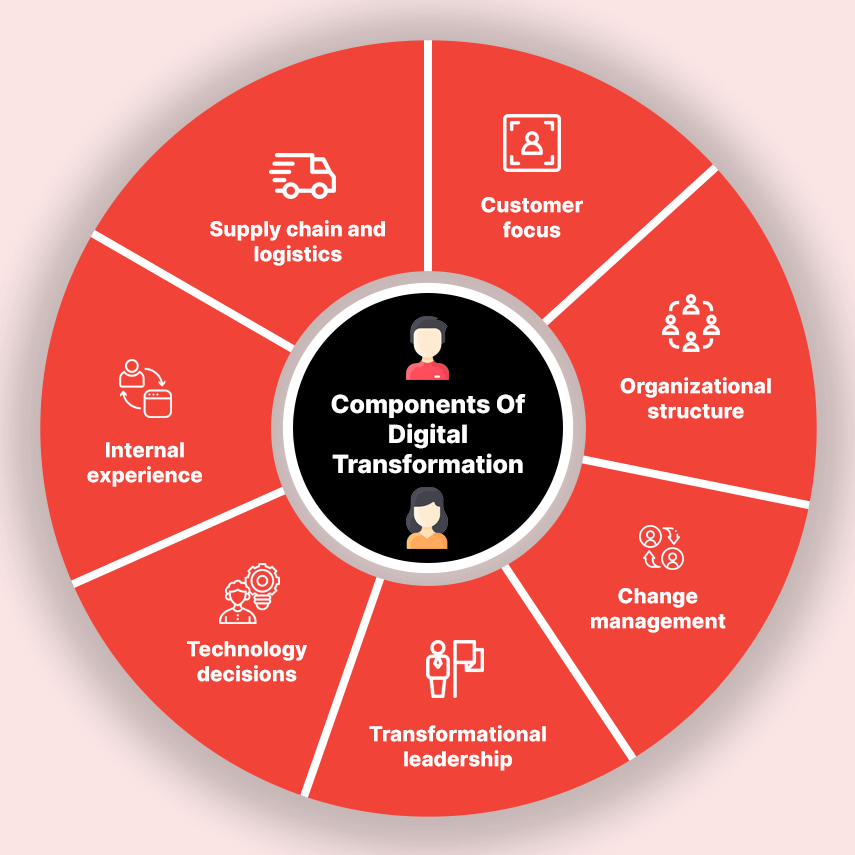 Once you have a digital transformation roadmap in place, look forward to working on the following digital transformation components.
Customer focus

It's the companies with the best customer mindset that win and not the ones with the best technology. Make sure your digital transformation is centered on your customers.

Organizational structure

Some companies are not built for sharing data and information. Before transforming your operations, make sure these siloes are assessed and eliminated.

Change management

Culture is often ignored in digital transformation. People dislike change. You can implement the best technology, but if your employees are uncomfortable, you won't achieve the desired results.

Transformational leadership

Digital transformation requires leadership that is transformational and agile. Look for a transformational leader who has the following characteristics.

The ability to influence change

Good judgment capabilities

Neighborly

Consistent say: do ratio

Problem solver

Technology decisions

Digital transformation provides a new landscape for an organization. Thus, technology leaders have to understand all aspects of the business, along with being able to have an open-dialogue around decision-making.

Internal experience

Companies with the best employee experience usually are the ones that appear on the top rankings. So, focus on improving the culture and physical space of your organization.

Supply chain and logistics

A digital business transformation strategy has to involve logistics and how fast the products will reach your customers.
Some Commonly Used Digital Transformation Technologies
Technology goes hand in hand with digital transformation. Here are some common technology tools for digital transformation.
Mobile

Cloud

IoT

Digital Twin

Robotics

Artificial Intelligence and Machine Learning

Augmented Reality

Additive Manufacturing

Big Data
Challenges In Implementing Digital Transformation
Companies undergoing or planning to undergo digital transformation are likely to enjoy more efficiency and better customer satisfaction. However, there are some challenges you might face when implementing digital transformation. Let's discuss a few common digital transformation challenges and how to overcome them.
Pushback from employees

We don't like change and getting out of our comfort zone – it's human nature. Things might start to seem intimidating when there's a change in routines and the way of doing daily tasks. Digital transformation can be the epitome of change, uncertainty, and discomfort, and many employees might resist the change.

Lack of transformation strategy

Many organizations lack a corporate-wide strategy for their digital transformation. Digital transformation doesn't belong to an individual or department but the entire organization. Not having a strategy means your transformation process will lack vision, goals, and purpose. And without a plan and purpose, you won't be able to bring the best out of your digital transformation.

Lack of expertise

Going through your digital transformation requires a combination of talent and technology. That's why non-tech companies struggle to digitize their operations. A digital transformation process brings a myriad of technical challenges. So, it is critical to bring the right people on board and train your workforce to develop the required skills.

Rigid organizational structure

As discussed, digital transformation is more than just using a few technologies. It's a transformation that takes place on an organizational level. Thus, it might require changes that are more than your employee's daily routines. This can mean the reconstruction of your organizational structure, including changing roles and departments. If your organizational structure is not fluid and agile, the implementation of digital transformation would be challenging.

Limited budget

How amazing would it be to have an endless pool of financial resources? Sadly, it's never the case. You are likely to face financial constraints that might impede your digital transformation journey. The digital transformation may require substantial investments in your company, customers, and people.
Why Is The Digital Transformation More Challenging For Non-tech Companies?
It comes as no surprise that both tech and non-tech companies are embracing digital transformation to improve their ability to operate and interact with customers. While all industries are likely to face the challenges as discussed before, it might take non-tech companies more time to digitize their operations. Non-tech organizations may face various impediments, but here are the two key barriers.
Lack of technical understanding

The first barrier is a general lack of understanding of digital technologies. For companies that don't provide tech-based products/services, terms like Artificial Intelligence, Internet of Things, and Big Data might seem alien and overwhelming.

IT skills gap

Another major factor that restricts non-tech companies from digital transformation is the apparent skills gap. Tech companies have access to IT experts who can play a critical role in driving innovation. Non-tech companies, on the other hand, rely on outdated IT infrastructure and poor in-house technical proficiency.
Although these hurdles seem to be difficult to overcome, they have a simple solution. Non-tech organizations don't necessarily need to build or work on technology for digital transformation. In fact, 34% of companies outsource at least some of their IT operations to digital transformation consultants. So, if you're a non-tech business, outsourcing your digital transformation can be a rewarding decision.
Final thoughts
Digital transformation has opened doors for increased transparency and opportunities. It simplifies the processes and makes achieving goals easier. Increased efficiency and productivity, along with better collaboration and transparency, leads to enhanced profits, and improved customer satisfaction. So, if you haven't already embraced the change, this is the right time to begin. Go ahead and start planning a digital transformation strategy now.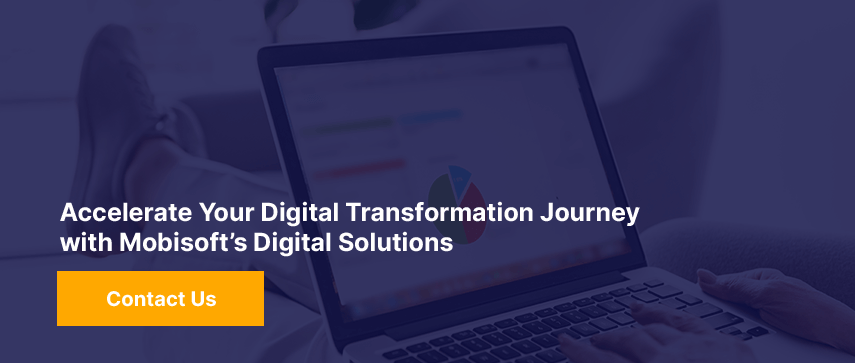 Author's Bio

Shoeb Ahmad, with an experience of 22 years in Digital World, heads Digital Marketing at Mobisoft Infotech. He has a rich experience in SEM, SEO, Social Media & other verticals of Digital Media. He also has been a consultant for a variety of industries, enterprises & startups. He loves reading & traveling. He often writes on various forums since he believes 'Knowledge increases by sharing.'