The mass adoption of the internet and the rise of an on-demand economy has increased the need for fast and affordable delivery services. We need things delivered to our doorstep whether it is online shopping, booking tickets, buying food, getting parcels or ordering groceries. Companies are investing heavily in innovation and technology to make the last mile delivery more efficient and cost-effective.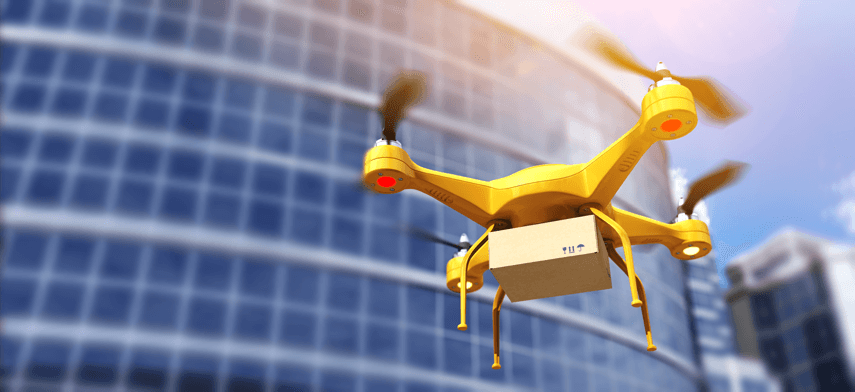 Technological advances have made it possible for drones to be an alternative for traditional delivery services. It can work without human intervention, cut down costs, and deliver products in a matter of hours.
Today we will explore the future of drones and logistics finding out how they can be used for every day delivery.
How Do Drones Help?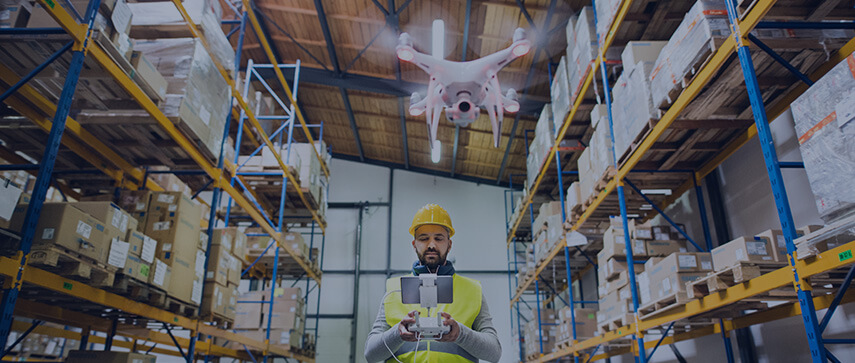 Drone is a small aircraft which can be flown without the need of a human pilot. Generally, drones have several fans similar to helicopters which enable it to fly. Drones can carry small objects and items such as cameras which can collect visual information. Currently, many companies are working on drones which can carry other objects with increased loads and higher speeds.
Drones are also known as Unmanned Aerial Vehicles (UAV) and can be controlled through remote control by a pilot on the ground or through autonomous ways. Drones have been used by the military for surveillance and carrying out operations. They also had some civil applications such as firefighting, policing and security work.
The market of Unmanned Aerial Systems (UAS) stood at $609 million in 2014 and predicted to reach $4.8 billion by 2021. A huge number of applications for drones are on the horizon such as geographical and land mapping, monitoring of fuel and power lines, package delivery, agricultural uses and so on.
Current Players
Drones are being used and experimented by many companies, agencies and individuals. The drone market includes many players consisting of retailers, drone manufacturers and logistics companies. Let's take a brief look at them-
Retailers
Here is a look at some of the retailers from whom you can get your next drone.
Amazon
Amazon is the largest online marketplace in the world with consolidated net revenue of $177.9 billion. The company has been a pioneer in the field of drone experimentation with a claim to deliver packages within 30 minutes. It has made a huge investment in a drone delivery system called Amazon Prime Air and working with FAA for developing regulatory and safety standards.
Amazon has been carrying out experimental flights and has also acquired the U.S Patent and Trademark for their technology. They are also looking to bring personalized services where drones can acquire GPS location of customers through their mobile phones.
Amazon has opened up a drone development center in Cambridge to carry out its trials. It has also partnered with UK's Civil Aviation Authority and is carrying out similar trials in Israel, France, Austria and the United States.
The company is working on technologies that will enable the drones to navigate obstacles like power lines and signposts. They are also working on different delivery techniques and designs to determine the effective ones, as currently a drone can carry packages only up to 5 pounds.
Another area of research includes beyond the line of sight operations in suburban and rural areas. They are experimenting to find out what happens when a drone cannot see outside of its camera range. There may be a need for new transportation rules for drone flights outside the line of visual sight.
The FAA has made it mandatory for Amazon drones to fly within 122 meters for safety reasons.
Google
Google made its first announcement about drones in 2014 as a part of Project Wing under Google X. The project is aimed at reducing emissions and congestion in cities while increasing efficiency through drone delivery systems. The company carried its experiments in Australia as the country has relaxed UAV regulations. It developed a hybrid of helicopter and plane which can take off vertically and hovers to lower down packages on the ground.
Google is also planning to launch its drone delivery service in Australia from 2019. The drones can travel at 125 km per hour and carry small packages such as cups of coffee.
JD.com
While the other companies are still exploring the opportunities of drone shipping, the Chinese online retailer JD.com has already put it into service. It is the world's first drone delivery program which transports items to homes in Chinese villages. The delivery network currently covers 100 villages with 40 drones in service.
The drones fly without any human intervention but are monitored remotely making same day deliveries possible.
Logistics Companies
There are a good many logistic companies out there which use drones as well. Here is a look at a few of them.
FedEx
FedEx is one of the main delivery services with a global revenue of almost $60 billion in 2017. It has been conducting rounds of talks with drone manufacturers, but the commercial adoption may be years away.
FedEx has been chosen by the U.S Department of Transport to participate in a drone program along with other companies. The company will be participating in the Federal Aviation Administration's (FAA) Unmanned Aircraft System Pilot (UAS) Integration Program to help DOT develop regulations.
The program is carried out at Memphis International Airport where drones will be used to transport aircraft parts and inspect airplanes.
UPS
UPS earned revenues of $65.8 billion in 2017 and had been evaluating and experimenting with drones. The company has recently conducted a test where a drone took off from the top of their delivery truck and made an autonomous delivery to a residence. The drone flew back to the driver after the delivery who was on route to making other drop-offs.
Statement from the company said that the test was different from other flights they have conducted and could have vast potential for rural areas. Often their trucks have to travel a long distance for delivery, and the drones could come useful in such situations. It would help them reduce the emissions and bring efficiency in the delivery system.
The company can save up to $50 million by using drones for only 1 mile per driver who amounts to 66,000. UPS is seriously looking into drone delivery services in the future.
DHL
DHL generated revenues of 60.4 billion Euros in 2017. Back in 2014, the company launched a helicopter-style drone called parcelcopter to deliver medicines and other essentials to the remote island of Juist. They have been using the parcelcopter for delivering medicines since then and for research work.
The company conducted a successful three month trial using the third generation of parcel copters which autonomously delivered items to two mountain communities. It also the first to integrate the service in its supply chain.
AMP Holdings
The company developed a drone prototype called HorseFly back in 2014. The drone can take up from the top of their delivery truck and make autonomous deliveries.
Drone Manufacturers
While there are a good many drone manufacturers out there, here is a look at some of the top ones in the market today.
Matternet
Matternet has been working for a long time to optimize drone technologies. They have recently been certified to use their drones to transport medicine, blood samples and surgical instruments between labs and hospitals in Switzerland. The delivery can be made in a matter of 15 to 20 minutes which can go a long way to save a life.
DJI
DJI is a Chinese company engaged in the manufacture of recreational and commercial drones for photography and videography. It offers a wide range of drone-related products such as flying controllers, flying platforms and different types of cameras. It has recently partnered with the Polytechnic University of Turin to offer drone courses to architects and engineers.
3DR
3DR is a private drone company and develops drone software for engineering, construction and mining and government agencies. It developed the platform Dronecode for flying UAVs which has been adopted by companies such as Parrot, Qualcomm and Intel. The company has shifted to creating drone platforms after 2016.
Parrot
Parrot is a manufacturer of drones and connected devices and earned revenues of 151.9 million Euros in 2017. It produces recreational drones for photographers and videographers and sold 530,000 units in 2014.
Factors and Motivation Behind Drone for Delivery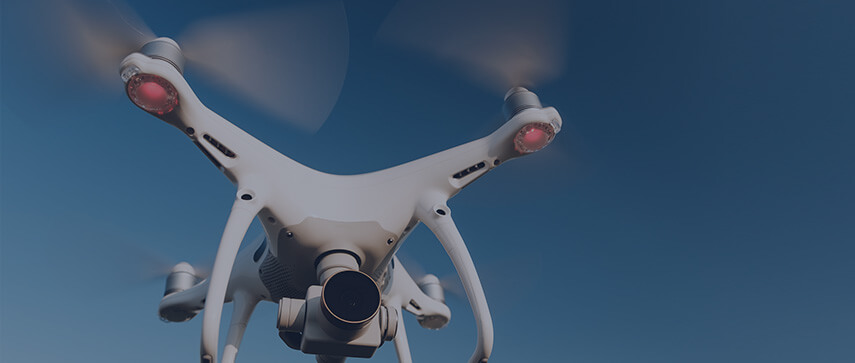 Drones can provide a lot of advantages over traditional means of transport and ground based delivery. The most crucial factor is the reduced cost of operation and easy management. You don't need a truck or delivery van and can save the fuel costs. Also, There is no need to pay the driver as drones can be automated to avoid obstacles and fly on their own.
You can safely transport packages weighing 5 pounds at speeds of 100 miles per hour with ease.
Drones don't have to be stuck in traffic jams or take detours when roads are blocked. They can fly over jungles, rivers, hills and mountains where trucks or other vehicles cannot operate. Drones can also fly straight taking a shorter route and achieve quicker delivery times. Instead of same day shipping, retailers can send products to customers in a matter of hours.
Drones can also make the delivery process efficient and precise. They can track a location automatically through GPS and zip away to make a perfect drop. You can achieve pinpoint accuracy in all of your deliveries for optimum results.
Read Also: 10 Reasons Small Businesses Should Invest in Delivery Management Software
Possible Models for Use in Drone Delivery
Drones can be used by various agencies to deliver items in a cost-effective and timely manner. We may find the following models operating in the market-
Delivery by Drones Owned and Managed by Online Retailers
Online retailers will look forward to using drone delivery services to save costs and make delivery efficient. According to Business Insider, the cost savings arising from drone shipments will be carried over to the consumers.
Retailers will find it less expensive to manage a fleet of unmanned aerial vehicles in comparison to a ground fleet. The cost of delivering a 4.4 lb item by drone is 10 cents over a distance of six miles. In comparison, Amazon charges $2 to $8 as shipping charges for each item sold from its website. Adopting drone delivery services can save the company $500 million in costs.
Customers are put off by higher than expected shipping charges and abandon carts without a second thought. Amazon can gain a serious competitive edge in the market with 30 minutes delivery time and low shipping cost. Many retailers are working on drones for the same reason though Amazon is leading the pack.
Back in 2014, it was already testing its 8th and 9th prototype drones that could carry 5 lb packages with a speed of 50 miles per hour. Amazon is also making strategic investments into Prime Air- the drone delivery system of the future. We also have the Chinese company JD with its operational fleet of drones for delivery in rural areas.
Global Delivery Services and Courier Companies Using Drone Delivery
Delivery services and courier companies can take help of drones to resolve the pain points for last-mile delivery. The industry recorded revenues of $90 billion and had been experiencing steady growth over the years. The market is dominated by players such as FedEx, DHL, and UPS who compete to grab the market share.
The companies can adopt drone shipping to enjoy quick delivery times and reduced cost. It is a labor-intensive and capital-intensive market including salaries and wages for operators, drivers, pilots, loading staff, customer care operators and administrative personnel.
Independent Companies Offering Drone Delivery Services
We may find independent companies and startups offering drone delivery systems to customers and businesses. You may even find Uber for drone services where you can book a drone using your smartphone!
It may also be possible to lease drones as Matternet is considering a subscription based approach.
Conclusion
Drones are set to become the future of logistics with their reduced cost, higher convenience and delivery times of less than 30 minutes. Both online retailers and brick and mortar stores will adopt it to smoothen their last mile delivery process. Stores like Walmart can experience increased efficiency and convenience with their local presence while online retailers like Amazon can offer quick deliveries at reduced costs. The early adopters will be the winners as they will be able to provide their services at cheaper and quicker rates leading to brand promotion.
Deliver by drone- make it happen!
Author's Bio

Nitin Lahoti is the Co-Founder and Director at Mobisoft Infotech. He has 15 years of experience in Design, Business Development and Startups. His expertise is in Product Ideation, UX/UI design, Startup consulting and mentoring. He prefers business readings and loves traveling.