5G internet use can go beyond our mobile phones and computers. For instance, you can use them to improve care coordination technology. Moreover, the absence of communication breakdowns is due to the reliability of 5G data. It ensures that patient care technology can work seamlessly.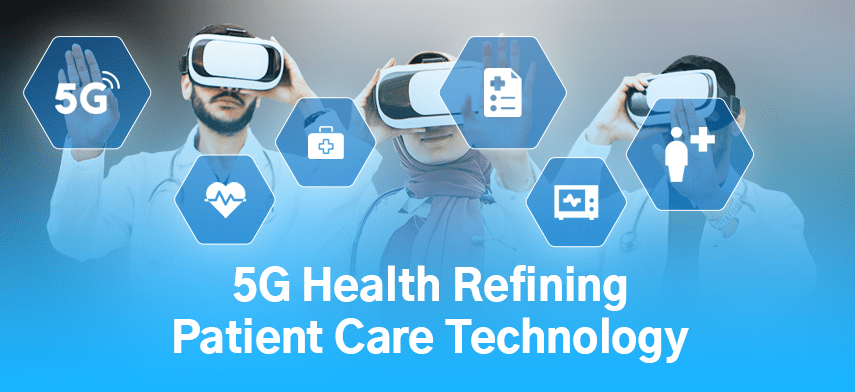 According to McKinsey, telehealth use has increased 38 times from the pre-covid era. In addition, the total capital investment into remote or smart medical care is valued at $14.7 billion in the first half of 2021, according to the same report. This is double that of the investment in 2019.
The trend now is for medical health to transition to an online medium, taking advantage of the technology available such as AR, VR, and 5G networks. So, let's have a look at the usage of information technology in healthcare that makes services like telehealth possible.
Vital Technologies Enhancing Healthcare
The Internet of Things is features like remote monitoring possible, with smart devices being able to connect to the internet and provide accurate readings.
86% of doctors state that the usage of IoT devices like wearables allows them to increase patient engagement. The hospital costs are also expected to decrease by 16% in the next five years as a result of this.
Facilities like spatial computing, AR, and VR are set to experience a boost with the arrival of 5G network in healthcare. This will allow doctors to deliver less invasive treatments while increasing innovation. Among the most impressive benefits of this technology is that it will allow doctors to create simulations of complex medical situations.
This, in turn, will allow doctors to come up with treatments for people battling terminal illnesses. For some patients, pain and anxiety can be reduced by providing a distraction by implementing AR and VR. This can be put into practice by using the benefits of 5G bandwidth.
Reduced latency allows home health care and remote patient monitoring systems to communicate patient records more accurately. Doctors can now expect to receive correct patient readings in real-time and provide the required treatment without any delay. Remote patient care technology can also make sure that patients are in a stable situation, through 5g health services like real-time monitoring and video call consultations.
Collaboration between different groups of experts can also increase due to the ease and quickness in sharing large files such as images of scans. Lastly, HD virtual consultations can eliminate the need for physical visits to the doctor, which reduces the physical demand of the patient as well as the cost of the visit. This is made possible through virtual consultations and the usage of VR that allows patients and doctors to communicate remotely.
Key Factors Involved in 5G Transformation in Patient Care
First, let's look at two extremely important ways in which 5G will benefit patient care, before addressing the key factors exclusive to 5G that make this possible.
1
Connected Ambulance Experiences
In this mechanism, the crew on emergency duty can extract patient information using wearables, streaming of the body on HD cameras, or using sensors. The emergency team looking after the hospital connection network is better equipped to deal with the incoming patient since they have all the necessary details. As a result, crucial time is saved – which can save more lives. Specialists can also be consulted to guide the paramedics in certain situations so that the case at hand is better dealt with. This can be achieved through fast and mobile HD streaming that 5G can offer. As a result, remote patient care management systems are more reliable due to the increased bandwidth.
2
The Possibility of Remote Surgery
Current 4G networks do not provide the speed and bandwidth required to reduce latency to an acceptable level. The lag involved is usually 2 seconds, which is a lot in a situation involving remote surgery. A 5G network in healthcare is better equipped to deal with this futuristic solution. This is because the latency offered by the next generation is close to two milliseconds, which opens up the possibility of remote surgery becoming a reality. The procedure will be carried out using robotic technology, directed by a remote doctor. According to Ericsson, 48% of consumers believe that robotic surgery is acceptable. However, a more secure alternative to such surgeries might be remote doctors having access to a virtual simulation of the operation theater so that they can direct the surgeons if needed.
Now, what are the key factors 5G has that make these situations possible?
3
Low Latency
5G network is expected to offer a latency of 2 milliseconds, as mentioned earlier. A lower lag time means that images or models can be accessed in real-time, and the delay is especially less while using cloud-based programming. Moreover, the absence of any noticeable delay will allow surgeons to communicate seamlessly with each other, and this can be done across a wide area. Low latency is crucial because shaking or lag in the simulation can cause the user to feel sick very easily.
4
High Bandwidth and Network Slicing
Network slicing in 5G also allows emergency services and consultations to have their own chunk of the bandwidth. This can make a huge difference when external consultations are needed. Moreover, emergency services can have their own chunk of the bandwidth permanently so that critical patients are attended to without any interference. The projected speeds are expected to be 10Gbps and are expected to be 100 times better than what 4G offers.
5
Security and Reliability
Arguably the most important factor in having a newer technology, the security and reliability provided by the new generation of technology is key in ensuring that simulations go according to plan. The same can be said for real-time monitoring such as sensors and wearables.
6
Mobility
Rollouts of 5G networks are picking up speed, with most major cities having established connectivity of the next generation. While Wi-Fi does the job in a particular location, most VR and AR experiences happen mobile. The most impressive part about the new technology is that users traveling even as fast as 500kmph can enjoy reliable connection services.
The fact that it is a portable connection allows it to be implemented in autopilot ambulances, much like autopilot vehicles or video streaming on ambulances as well.

Transitioning to Smart Medical Care Enhancing Home Health and Remote Patient Monitoring
The combination of AI and 5G Healthcare information technology can help produce a productive and cost-efficient model. While 5G can provide huge amounts of information due to the high amounts of information it provides, the integration of AI makes the data usable in context. AI can also predict the circumstances of patients and their tendencies based on their medical history and real-time readings based on past patterns.
This enables the healthcare industry to intervene quickly and sort out the issue as soon as possible. Moreover, rapid learning is only possible through high amounts of data pushed in at a great speed, which 5G does. For example, diabetic patients need to monitor their food intake and measure their carbohydrates to determine blood sugar levels and insulin intake requirements.
The clarity in video conferencing, as well as the ability to engage patients in VR and AR experiences, makes home health care a more realistic solution to the problems posed by the pandemic. And even in a post-pandemic world, the implementation of such technology can reduce the hassle involved with a doctor's visit and can make it more convenient for everybody involved to partake in regular consultations.
Accelerated diagnosis and pathology studies due to the introduction of 5G have made it much easier for medical professionals to take care of problems remotely. Not only can data be transmitted quickly, but patient care technology can also be administered properly due to the high-quality transfer of scan reports, videos, and patient readings.
In conclusion,
The low latency, high bandwidth, and reliability provided by 5G networks make it possible for medical professionals to operate remotely. Doctors can be consulted remotely, and surgeries can also be performed by robot remotely due to the extremely low latency provided by the next generation of networks.
Ease in sharing high-quality footage and images allows doctors to consult others quickly and simply. Wearables and remote monitoring systems can be trusted to provide accurate and real-time readings of patients so that doctors can provide accurate diagnoses at the right time. Now, the bandwidth of 5G networks is 100 times that of existing 4G networks, paving the way for an increasingly digital future for medicine.
Author's Bio

Shailendra Sinhasane (Shail) is the co-founder and CEO of Mobisoft Infotech. He has been focused on cloud solutions, mobile strategy, cross-platform development, IoT innovations and advising healthcare startups in building scalable products.