The 31st edition of Game Developers Conference 2017 is happening in San Francisco (27th Feb-3rd March 2017). The GDC is the world's largest professional game industry event which is entirely focused on learning and inspiring from the new developments and technological enhancements involved in the game development. The GDC 2017 has started with the participation of thousands of video game developers, video game designers and numerous big companies such as Ubisoft, Oculus, Nvidia, Unity, etc.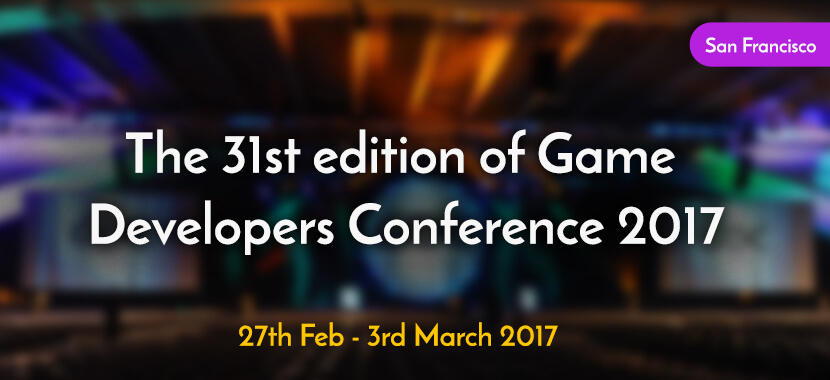 So, let's have a look at what are the new VR games and game development updates we will be having this year:
1
Unity Releases The Final Version Of Unity 5
Unity's GDC 2017 keynote is entirely focused on improvising the future of the game engine. At GDC 2017, the owner has announced Unity 5.6, the latest release and final version of Unity 5. The Unity 5 was first introduced in March 2015. The company will be releasing the Unity 5.6 on 31st march 2017.
Unity 5.6 has come up with lots of enhancements and attractive features. Let's have a brief look at the keynote features introduced in the latest version:
Vulkan API: Unity 5.6 now supports Vulkan. Unity, along with ARM and Infinite Dreams, demonstrated Vulkan API on other games. Vulkan has enhanced the entire performance of the game and reduces battery usage that eventually benefits you in getting 10-12% extra playtime. The developers at Unity has also introduced Apple Metal graphics API in Unity 5.6.
New Video Player: The developers at Unity redesigned a new video player from scratch and introduced it in Unity 5.6. It is a multi-platform video player and smoothly plays 4k and 360 videos in VR.
Progressive Lightmapper: This newly introduced progressive lightmapper offers super fast iteration while trying different lighting scenarios and reduces baking time.
2
Ubisoft Is Recreating The Feeling Of James Cameron's Avatar With Their New Game
Ubisoft has made an exciting announcement at GDC 2017. The firm acclaims that they are going to launch a new game based on James Cameron's epic sci-fi fantasy, "Avatar", which was released in the year 2009. The upcoming game will be developed by Massive Entertainment, a Malmo, Sweden based Ubisoft's game development studio who has developed the best-selling "Tom Clancy's: The Division". Massive Entertainment has partnered with Fox Interactive and Lightbox Entertainment to develop this new Avatar based game.
Ubisoft has already developed an Avatar based game in 2009, but this is due for PC and consoles. Massive Entertainment will be using the same in-house game engine "Snowdrop engine", which was used in "Tom Clancy's: The Division".
3
Google Play Store Will Now Display Sales Price And Free Offers On Android Apps
At the ongoing GDC 2017, Google has also introduced some attractive features to benefit the Android app developers and users of Google Play Store. As per the new update, the app developers can now display the sale price and free offers on Android apps. Google has now provided a formal way of displaying discounts for potential buyers. Consumers can now see a strikethrough price that makes it more obvious that the sale is going on.
4
Oculus Showcased 5 New VR Games At GDC 2017
Since its inception, Virtual Reality has always taken center stage at all technological events. This year, at GDC 2017, Oculus has a list of 5 new VR games to announce along with new VR controller. Oculus is known for offering flagship VR gadgets, i.e. Oculus Rift, Gear VR headsets and Oculus Touch.
ARKTIKA.1: ARKTIKA.1 is an Oculus funded VR game developed by the creators of Metro 203, Metro: Last Night and Metro Redux. ARKTIKA.1 has a post-apocalyptic future Eastern Europe theme. It is an action-packed, highly immersive and first-person shooter game which is exclusively designed for Oculus Touch. 4A Engine offers impressive visuals in ARKTIKA.1, where it lets the players use Oculus Touch Controllers and allows them to toggle between the cover locations.
Brass Tactics: The idea behind the development of Brass Tactics has come from the popular strategy utilized in "Age of Empires II" and "Defense Grid 2 VR". The creator of Brass Tactics, Hidden Path Entertainment, has again combined the real-time strategy with VR. The creator has given a medieval-theme to this multiplayer game where a player is provided with standard waist level battlefield and god's eye view.
Augmented Empire: Augmented Empire is developed in a set of cyberpunk world, with an intuitive color scheme and art style and an unorthodox premise where the player will be fighting by tapping on the VR controller. Augmented Empire is a tactical role-playing VR game which is developed by Coatsink Software, the creator of Esper. We will be expecting a VR controller in its next update.
From Other Suns: From Other Suns offers the first-person experience to the players. It supports teleporting. However, the developers of the game haven't changed the basic concept of teleporting but offered a nice twist.

Besides given first-person experience, when the player moves from the position, the character model runs out of the player's view and it then becomes third-person perspective. The developer has provided a feel that keeps the player connected to the game environment.

Mage's Tale: Mage's Tale is a full-fledged dungeon-crawler which is developed by InExite Entertainment, the creator of "Torment: Tides of Numenera" and "Wasteland 2". Instead of offering a swordplay and the traditional combat fighting style, Mage's Tale has something new on charts for the VR gamers. It offers a spell-crafting system following with which comes a bunch of dungeons loaded with hidden secrets. In Mage's Tale, with the help of Oculus Rift, the gamers would be able to combine basic elements like water, fire and can create multiple missiles. This combination of a spell-crafting system along with missiles and confetti tones will definitely be able to engage users.
Vive Studios has recently released its spring lineup of VR games. The offered line up comprises of 3 VR games. The first on board is "VR Sports", which comprises of a lighthearted table tennis with very realistic-feeling and ping-pong modes. Another one on board is "Front Defense", which is a competent war shooter game. With the help of HTC Vive motion controllers, a player can defend objectives while hiding behind barricades to survive from the backfires coming from the opposite side. The motion controllers let the players change and grab different weapons in between the war shooting.
The third offer on the list is "Make VR". It is more like a virtual reality 3D modeling program. It is created by Sixaxis. It is an old concept of Sixaxis which was previously showcased in the year 2013, but the VR motion controller for which it was designed it still not available in the market. However, it is compatible with HTC's Vive motion controllers, but we can look forward towards future updates.
5
Nvidia Reveals Brand New GTX 1080 Ti Graphics Card With Enhanced Performance
Nvidia, the very well-known name in the graphics and hardware industry, has made its presence at the GDC 2017. The CEO of Nvidia, Jen-Hsun Huang has made an announcement of the unveiling of GTX 1080 Ti, the successor of the GeForce GTX 1080. The firm has designed this high-end graphics card to offer the developers and gamers an all new gaming environment experience.
The newly introduced GTX 1080 Ti comprises of 11GB of GDDR5X memory and will be available in the market from 10th March 2017. This new graphics card is already having competitors in the market and the firm claims that it is faster than the Titan X that was launched last year carrying a price tag of $1200. The new GTX 1080 Ti is available for $700.
6
Epic Games "State Of Unreal" Takes The Center Stage
At GDC 2017
After Ubisoft and Unity, Epic Games has taken the center stage and acclaims new developments. The founder of the Epic Games, Tim Sweeney, has presented the firm's "State of Unreal" keynote at the GDC 2017 and proclaimed to share the new developments the company will be bringing in near future in their flagship "the Unreal game engine".
7
Microsoft Will Be Bringing Mixed Reality Headsets
To Xbox In 2018
Last year, Microsoft has made an announcement that the firm will be partnering with other hardware manufacturers to design VR headsets for Windows Holographic platform. This year, at GDC 2017, Microsoft has revealed its future plans for mixed reality headsets.
The announcement reveals that the mixed reality headsets will be coming for Xbox in 2018. Microsoft has also showcased the all new Acer's Windows Holographic headsets, developer edition. The headsets will be ready for shipment later this month.
Moreover, the firm has also opened up the doors of Xbox platform for budding game developers. Microsoft has launched its all new Xbox Live Creators Program that allows the indie team and solo game developers to create and sell their game on Xbox platform.
8
Google Playables: Try Before Your Buy!!
Google has made a stimulating announcement at GDC 2017. The firm reveals its all-new ad format named as "Playables" for game developers and players. Android game developers who are selling their games through Google Play Store are now able to offer the players a teaser or mini-game of their gameplay. It gives a better idea of the game to the player and it is equally beneficial for game players as it helps in pulling up long-term and potential players.
9
After Nintendo Switch, Have A Glimpse At Nintendo Switch eShop And Upcoming Indie Titles
At the beginning of this year, Nintendo has announced its all new and most-awaited Nintendo Switch which will be officially launching on 3rd March 2017. At the ongoing GDC 2017, the firm has come up with the new line-up of video games. The newly showcase game is "The Legend of Zelda" for spring and following it the "Splatoon 2" and "Mario Kart 8 Deluxe" will be coming in summer. The firm has proclaimed that at the end of this year, Nintendo eShop will be having more than 60 indie titles and some of them will be Nintendo Switch exclusives.
The firm has showcased a bunch of video games at Nintendo's 2017 software showcase. It comprises of Pocket Rumble, Blaster Master Zero, Tumbleseed, Mr. Shifty, and we will be expecting Breath of the Wild at the Nintendo Switch's launch event. As, the director of the The Legend of Zelda: Breath of the Wild, Hidemaro Fujibayashi, has recently showcased the 2D prototype version of the game, and it looks remarkably promising.
10
Epic Games Showcased The "Project Raven": A High-end Augmented Reality Project
The developers at Epic Games have showcased the real power of the "Unreal Engine" by displaying the Blackbird at GDC 2017. The firm has demoed its all new "Project Raven" at its GDC keynotes. Project Raven is all about how to blend live action shots with real-time effects. With the help of this project, the developers can now create epic content for advertisements by combining the real-time visual effects with the live-action shots taken by the blackbird.
With the help of Unreal Engine, directors of films can now easily add visuals to their digital environments. The firm has shown a short movie of a 2017 Chevrolet Camaro ZL1 and how they changed the color of the car in real time.
11
Microsoft's ID@Xbox Showcases A Pack Of Indie Games In Multiple Genres At GDC 2017
This year, Microsoft brings several impressive updates for crazy gamers. Microsoft's ID@Xbox featured 20 new games at GDC 2017. The indie games (independent games) shown at the event belongs to a wide range of genres such as RPG's, Shoot-em-up, first-person shooter, cyberpunk horror, etc. Some of the exciting games showcased at the event are Full Metal Furies, Ruiner, Moonlighter, Observer, and many more.
All these newly featured games will be coming to the Xbox later this year. By the end of this year, you can add a new list of games to your favorites of Xbox.
12
LG Unveils Steam VR Headsets With A Flip-Up Screen
At GDC 2017, LG has also contributed in the PC virtual reality gadgets. A few days back, the firm has made an announcement of bringing its very own PC-driven VR headsets, and now, LG has showcased its all new Steam VR headset which was developed in the collaboration with Valve. The newly displayed LG's Steam VR headset is using many of the Vive's features along with some serious design tweaks. The prototype design is impressive carrying the flip-up screen but the firm will be launching this after adding some more additional changes.
13
#Archery: A New Entry @GDC2017 Complimented by HTC Vive
The indie game studio, VRUnicorns, has showcased their all new virtual reality game #Archery at GDC 2017. With the help HTC Vive headset and Vive's motion controllers, you can control the digital bow and arrow to shoot the characters and different objects around the environment. The #Archery will be going on sale from 30th March 2017 and it will cost $10.
14
The 2017 Game Developers Choice Awards: The Gaming's Biggest Award Show
Game Developers Conference is always full of exciting game development updates, indie video games and newly launched or upcoming VR gadgets. The GDC is not all about showcasing new video games and VR gadgets, but it also encourages budding indie game developers (independent videogame developers). The 2017 Game Developers Choice Awards event was hosted by Tim Schaefer, CEO of Double Fin and Nina Freeman, CEO of Tacoma Games'. In this event, the indie developers and best AAA developers were recognized for their work and awarded by Game Developers Choice Awards and Independent Games Festival Awards 2017.
Have a look at these official quick recap videos of GDCA and IGFA 2017:
15
Fullbright Showcased "Tacoma", Launch Scheduled For
Spring 2017
At GDC 2017, Fullbright has come up with an all new theatrical sci-fi game that offers a space station environment to the player. Tacoma can be said as the follow-up of the "Gone Home" which was launched in the year 2013 by Fullbright. The developers of "Tacoma" has given a different internal feeling which can be seen from the game's design and mechanics. It helps the player in exploring all the crannies, notes and recordings scattered around the space station. The player will be quietly going through a mysterious storyline.
Tacoma will be made available to the Xbox One, Linux, Windows PC and Mac. Fullbright has scheduled the launch of this theatrical sci-fi game in spring 2017. Take a look at the first 15 minutes of the game.
16
"Nioh" Has Come Up With Some Serious Changes @ GDC 2017
Team Ninja has released its latest game at the GDC 2017. The newly launched game, "Nioh: Reinventing the Samurai Action Genre" has gone through a lot of major updates, since the first release was made 10 years ago. The creator of "Nioh", Team Ninja has announced that it is the longest-running project they have developed.
17
"Alt.Ctrl.GDC" Brings Some Out-of-the-box Controllers And VR Games @ GDC 2017
"Alt.Ctrl.GDC" is the most innovative and creative booth at the GDC 2017. It shows off a huge collection of experimental games that use hand-crafted bespoke controllers. That means there is no utilization of keyboard, mouse, gamepads, etc. Instead of these technical gadgets, the booth is full of DIY bookcases, furry cat hats, giant inflatable dark rooms, laser harps, cardboard boxes and waist-high, carpeted treadmills, and spaceship control panels.
The list of finalists of Alt.Ctrl.GDC comprises of UFO Bellies, Cylindrus, Cryptogram, Doggy Tug-of-war, Emotional Fugitive Detector, Spacebox, Zombie Crawler, Victor the Loser, Superbin, Shape fitter, RotoRing, The Heist, Fear Sphere, Orpheus Quest, Schadenfreude, Sand Garden, Close the Leaks, Objects in Space and Super Fury Neon Cat Heads.
As always, Alt.Ctrl.GDC has given something really new and creative games at the GDC 2017. These showcased games at Alt.Ctrl.GDC certainly will not be coming to the PlayStation anytime soon.
18
Proxy42's Inceptor Made Its Official Debut @ GDC 2017
Proxy42's Inceptor has made its official debut at the GDC 2017. Combined with "Father.io" the device turns any smartphone into a mobile laser tag machine. This laser tag machine can be considered as a replacement for plastic toy gun attachment. Proxy42's Inceptor is funded by Indiegogo last year and now it is heading towards production.
Indie Megabooth always gives a warm welcome to the budding game developers with new and creative ideas. At GDC 2017, it has also featured a huge variety of games in multiple genres such as science fiction, teenage monster, goofy gameplay, etc. The games showcased at the GDC 2017 are Cosmic Express, Lightfield, _Transfer, F-Zero, Super Slime Arena, etc.
Moreover, the GDC 2017 is the year of cyberpunk revolution. Most of the games revealed or showcased at the GDC 2017 platform are having a significant strong sci-fi vibe. Games like Tokyo 42, Aven Colony, Tacoma, Songbringer and Tower 57 are set in sci-fi worlds or featuring dystopian themes. Observer and Ruiner are some of the advanced level cyberpunk games that depict a horrific world and a more psychological approach to the sci-fi category games.
Game Developers Conference comprises of several roundtable discussions, tutorials, sessions, lectures and panels that allow a game developer to discuss on the comprehensive selection of game development tools and topics chosen by industry experts. The event covers numerous topics related to Virtual Reality, Augmented Reality, game development tools, Machine Learning and many more…