When did telehealth clinical services start? From urgent house calls to emergency care clinics, on-demand healthcare services have always been considered essential commodities. Patients expect accessibility to healthcare 24/7, and telehealth service has made it possible for them remotely.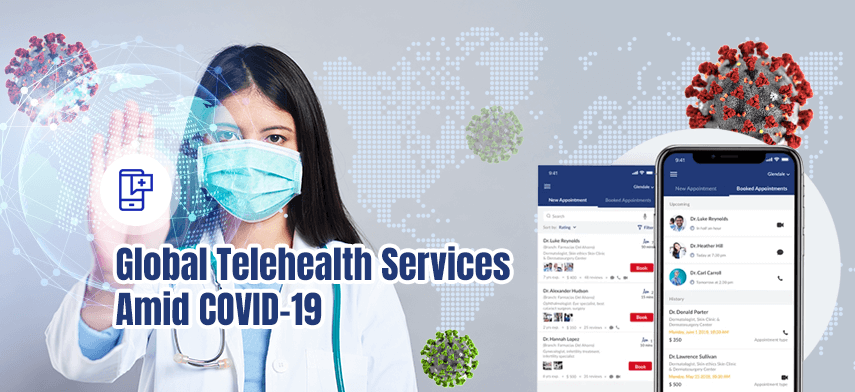 Day by day, thanks to technological advancement, telehealth consulting services have become more popular among people worldwide. Especially during the current pandemic, this service has got huge implementation by many governments, hospitals, health clinics, e-pharmacies, and even corporate sectors to promote health and wellness. During the pandemic that is defining the global health crisis, the entire healthcare system is being overwhelmed. Therefore, more and more common people are shifting their choice to online ways to check their health and ask for treatment. From telemonitoring to healthcare apps to advanced web solutions, there are multiple means to offer telehealth assistance.
Today's post will talk about the telehealth industry in the COVID-19 pandemic backdrop. You will get to know how this has become a trend, what steps governments are taking to integrate this, what it holds for the future ahead, and how you can implement this service. This is surely going to be a resourceful discussion. So, without further ado, let's start the discussion.
Telehealth Trends Worldwide
During this difficult time of COVID-19, social distancing has been accepted by the world as an essential measure to combat the virus infection. To keep social distancing in the healthcare system, telemedicine has already been considered as an important step by the World Health Organization (WHO). This is essential in boosting clinical help and optimizing service delivery.
Medical practitioners are at high risk of getting infected as they act as front liners in the COVID-19 pandemic. Therefore, adopting telehealth clinical services can help in reducing the risk by minimizing the possibility of personal interactions. It encourages doctors to help in this difficult situation, and thus, the efficiency of the healthcare system becomes better by using help from even quarantine doctors to get virtual care.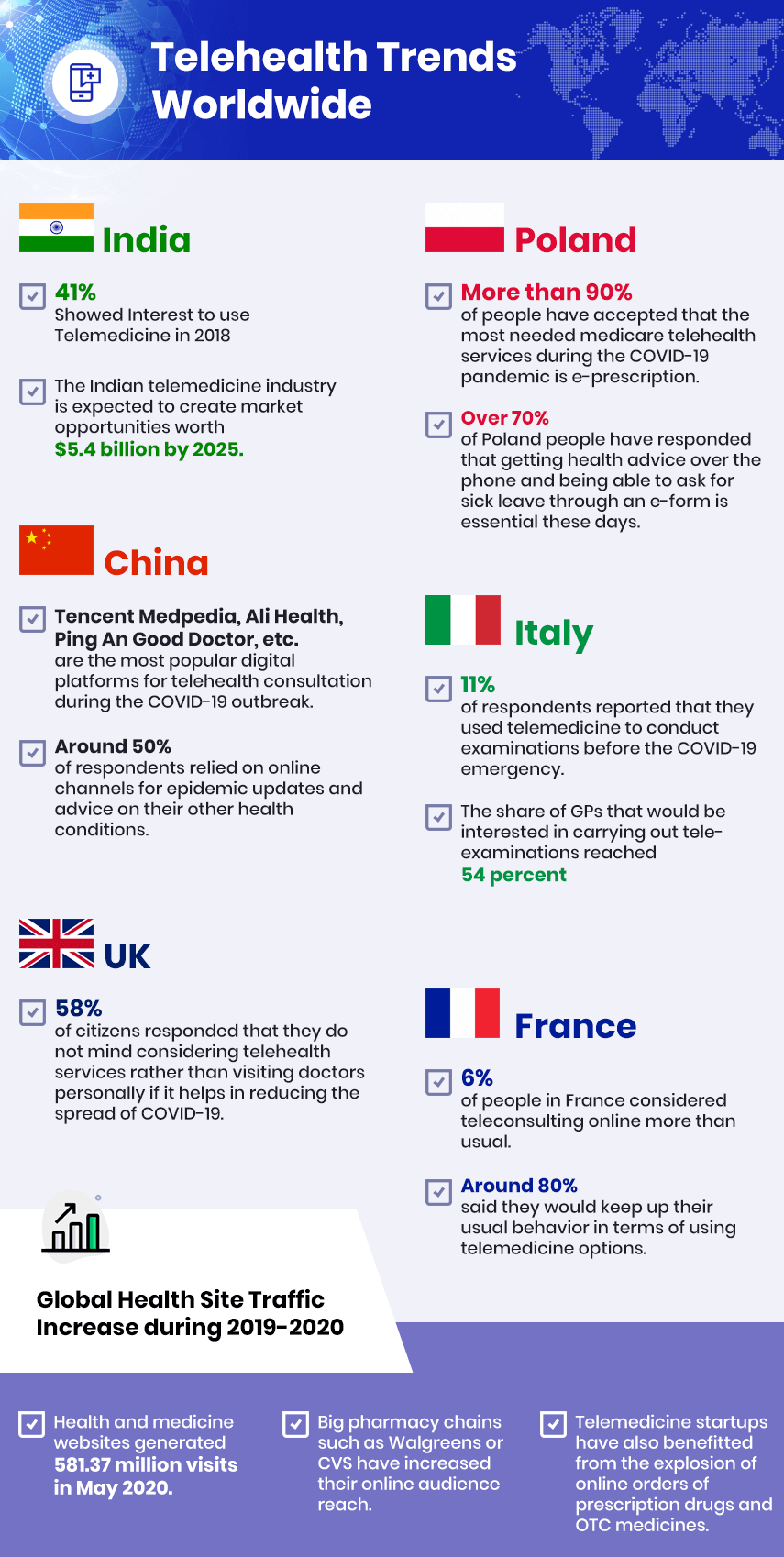 Source: Statista, Expresshealthcare
In a nutshell, major countries around the world are embracing telemedicine and opting for digital platforms to offer and receive telehealth services to combat the coronavirus outbreak. People are staying at home, seeking medical help, and ordering medicines online to minimize the virus spread. That is why online health platforms have already undergone 10% worldwide traffic improvement between January to April 2020. Also, as per May 2020 report, all the health and medical websites have generated approx. 581.37 million visits.
So, it is clear that offering healthcare services online has become a growing trend these days, and it is here to stay. Now, let us talk about how Governments from many countries are providing support to healthcare providers to integrate global telehealth services.
Government Support in Telehealth Service Integration
To ensure fast and steady healthcare assistance as people meeting in person have been constricted in coronavirus pandemic, governments from major countries have given importance to global telehealth service and remote delivery of medical products.
In India, there are

telemedicine practice guidelines

issued by the country's medical council, encouraging registered medical professionals to provide healthcare service using telemedicine. With these guidelines, doctors can write e-prescriptions, share consultations through chat, email, fax, and/ or video call. All certified healthcare professionals can stay at home while treating patients and minimize the risk of further transmission.

Governments are engaging with telemedicine companies – telehealth services companies to develop advanced systems to record location, track COVID-19 symptoms, create laboratory requests, and monitor patient outcomes. Relevant data can later be transferred to health officers in their locations. This way, accelerating detection, reporting, maintaining surveillance, and getting rapid responses for COVID cases become possible.

In assistance with Health Information Service Provider, Sri Lanka is the first country to utilize digital trackers and apps to survey COVID-19 cases.

In China, the government has launched an app to help common people check if they are exposed to novel coronavirus or not. Users can access the app through various digital platforms such as Alipay, QQ, WeChat, etc. They can also register their identifications on the app and avail the facility.

In the US, the government has given approval to telehealth support and started helping in the penetration of virtual healthcare to patients during the pandemic. Also, according to the recent approval of US legislation, telehealth assistance should not be restricted to only COVID patients; patients of other diseases can also access this service.

According to the

Health Insurance Portability and Accountability Act

(HIPAA), registered medical practitioners can connect with their patients through platforms like Google Hangout, Skype, FaceTime, etc. There will be no penalties charged if any remote communication technology or manner of using that technology does not completely follow all the HIPAA regulations. More devices that can be connected through wireless networks are being approved now. Some of these are electronic thermometer, cardiac monitor, blood pressure monitor, ECG software, respiratory rate monitor, electronic stethoscope, etc.
After knowing about the Government support for telemedicine, don't you think digital healthcare systems have a bright future ahead? If you still have doubts, let's clarify in the next point.

Future of Digital Healthcare
Digital healthcare is not a new concept. But the need for this system has hugely grown, especially during the COVID-19 pandemic. To be prepared for the next spike of the crisis, healthcare providers should double down their investment on digital platforms. If a company is creating its own digital platform to provide assistance, this is the time that gives a window of opportunity to assess how well that platform can function. And talking about the future of digital healthcare, there is no certain future endpoint of the transformation in the healthcare sector. The trend will continue getting more advanced over the course of time.
Here are a few possible future trends that can be expected to grow in the year ahead in digital healthcare:
1
Usage of Telemedicine Apps
Over time telemedicine has gained huge popularity around the world, with more medical professionals adopting this technology. Especially during this COVID-19 pandemic, for the well being of the common public and minimization of infection spread, many health organizations are integrating this system. Offering service through telemedicine apps gives great benefits to doctors and other healthcare professionals. Usage of such apps, complied with HIPAA regulations, will increase in the future as well. With the improvement in broadband connectivity and a faster internet connection, people will feel more comfortable with such apps on the go. The providers will also be able to spend more time treating patients virtually.
2
Easy Access to Patients' Data
With technology, medical practitioners will have better and easier access to their patients' data. In some devices, these data will be kept in just a click away. Patients do not need to fill the same details every time they book an online appointment from the same provider. Doctors can also be tracked with photos, referrals, and questionnaires. This will help patients to make better virtual assessments. Diagnostic imaging networks can bring revolution in treatment and care in the future. This will help image reporting on time and promote research and innovation in healthcare.
3
Introduction of New Modes
More consumers will be connected to the network and own different devices. For those, virtual mediums for seeking healthcare service is normal. But consumers who prefer traditional media, offering service to them through familiar mediums like television sets, etc. will make much sense. Health organizations, clinics, and hospitals will work hard to make sure that telehealth experience can be adapted to more devices and reach everybody's home. They will also promise telemedicine for rural areas. Moreover, advanced technology will support the solid integration of telemedicine with wearables, enabling patients to easily stay connected with doctors and share their own health status even during busy schedules.
Usage of Futuristic Technologies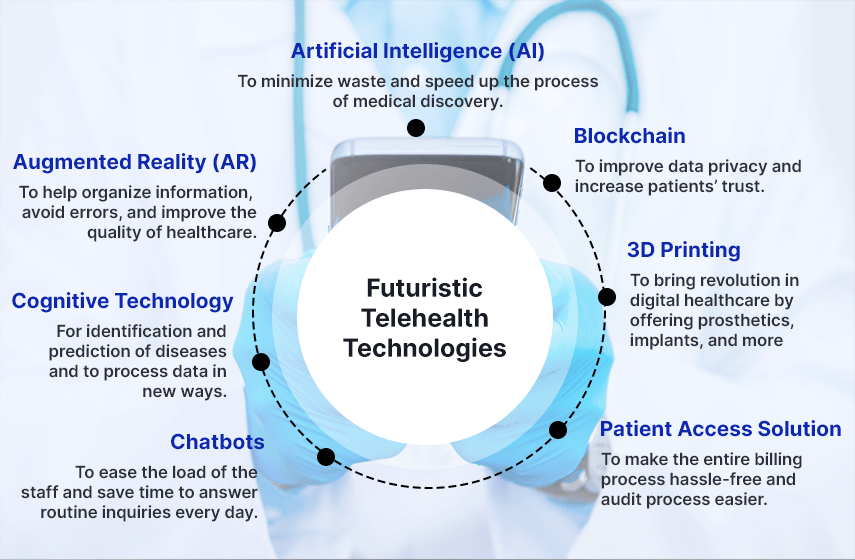 In 2020, to combat the pandemic, many companies around the world have already started leveraging machine learning, AI, and other technologies. To detect and track the virus and make betterment in treatment and care, they are using app-based screening, tests, audio, and video-based health monitoring, and more. It is expected that more countries will adopt this practice soon.
So, what are you planning to do? After knowing about the present and future of telehealth and digital healthcare systems, will you implement this service in your existing healthcare system? Well, it will surely be a good decision at this point of time. Here are the benefits you will get after implementing telehealth services to your existing system:
Advantages of Telehealth Services Implementation
More patients

By offering telehealth service, you let patients get assistance from the comfort of their homes. This encourages more patients to contact specialists through telemedicine systems. You can also strengthen the relationship with your existing patient base. No matter what location you are at, you can connect with patients whenever needed.

Save time and money

Many telehealth platforms already have built-in features for patient appointments and scheduling. This helps in streamlining the process for the providers. Also, you can streamline the process of billing too. With advanced technologies, everything can be managed virtually and sometimes even without human assistance. This saves operation costs. You can also save a lot of time, which eventually will help you save costs.

Higher patient engagement & outcome

When you can check on patients remotely, unnecessary admissions to hospitals can be prevented, and patient health can be maintained. If there is any question about any drug rising among patients or think of changing treatment plans, your telehealth solution can conveniently check with their specialists to receive guidance. This helps in the improvement of treatment adherence, which eventually leads to improved patient outcomes.

Better branding

When you add telehealth service to your existing healthcare system, it definitely helps you stand out from the crowd. This will increase your market share, improve revenue, be tailored to specific goals, improve patient care, and ultimately boost the brand's success.

Healthcare providers are being more and more aware of the benefits of telehealth services these days, and if it remains the same way, this awareness will drive the continuation of these services across various platforms. So, this is the right time to embrace the solution.
Final thoughts,
As it is said before, telehealth is not a brand new concept. However, its uptake is being changed during the COVID-19 pandemic. The sudden shift to this concept has defined a switch in healthcare delivery and prompted that this is a practical and relevant solution that can meet patients' needs. To make this service sustainable, embrace this with open hands, and make it a part of your healthcare consultation service. This way, you will create a win-win situation where you will get great ROI while your patients will get better care.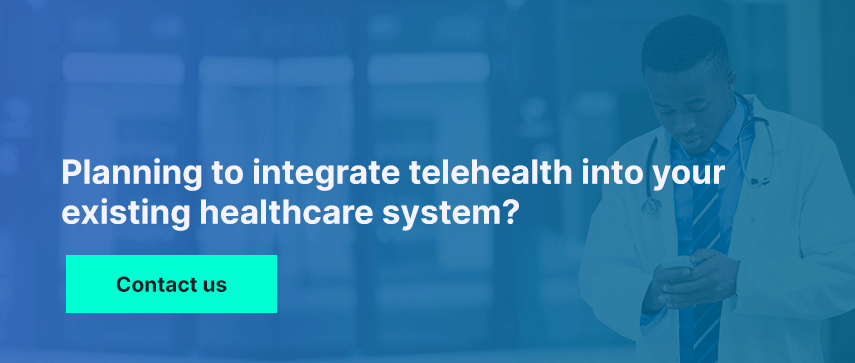 Author's Bio

Ravindra Waghmare is the Co-founder and COO at Mobisoft Infotech. He is an expert in solutioning, software consultancy, process definition and improvements, business analysis, and project execution. He has 11+ years of experience in software development,consulting, delivery, company operations, talent acquisition, processes and sales.