Google I/O 2023, the annual developer conference held by Google, is back. This year's event kicked off on Wednesday, May 10th. They had a lot of exciting announcements to make. Most of their announcements were about artificial intelligence, or AI for short.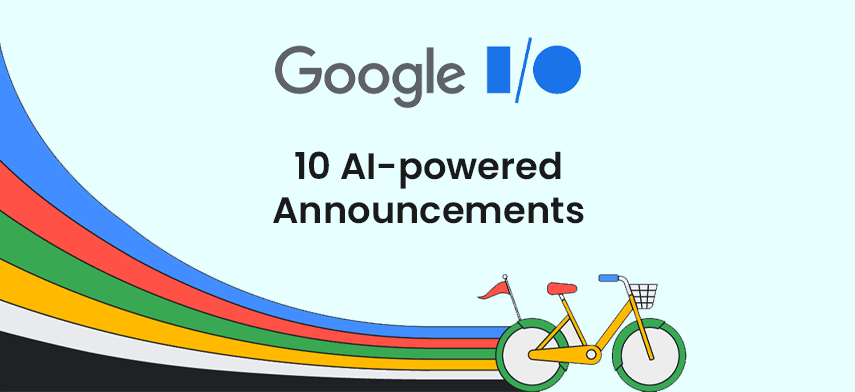 At the event, Google's CEO, Sundar Pichai, talked about how important AI has become. He said that AI has had a big impact this year, and now Google is focusing a lot on it. They've even made changes to all of their main products to include AI in them.
So, without further ado, let's dive right into what Google I/O 2023 keynote has in store for us.We are here to bring you all the latest news, innovations, and updates straight from Google I/O 2023.
#1 AI-powered Gmail feature will write for you
Gmail is getting even smarter with AI! Google has introduced a new feature called "Help me write" that uses a special technology called generative AI to make writing emails easier.
With "Help me write," you can just type what you want to say, and it will create a draft of the email for you. It even pulls in important information from the previous email, like the details of your flight. If you want to make the email even better, you can edit and improve it. This new feature will be added to Gmail soon, and it will keep getting better over time. So, in the future, writing emails will become much easier and more convenient!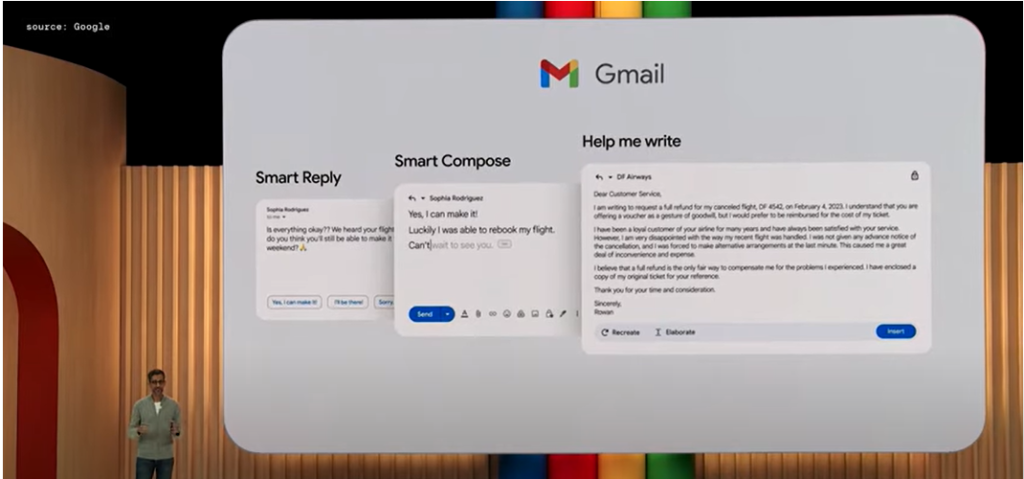 Credit: Google I/O 2023
#2 AI-powered Google Maps will give immersive views
Google Maps became even more exciting and realistic with the help of AI. It will have a cool new feature called Immersive View for routes. This feature uses special technology to create a detailed and lifelike representation of a place, so you can explore it before actually going there.
It can help you plan your trips. Google Maps already provides directions for billions of kilometers every day. But imagine if you could see your entire journey in advance! With Immersive View for routes, you can do just that, whether you're walking, cycling, or driving.
But that's not all! You also get more information about your journey. You can check things like air quality, traffic, and even the weather, so you'll know what to expect and how things might change along the way.
This exciting feature, Immersive View for routes, will start rolling out during the summer and will be available in 15 cities by the end of the year, including popular cities like London, New York, Tokyo, and San Francisco. So get ready to explore and plan your trips in a whole new immersive way with Google Maps!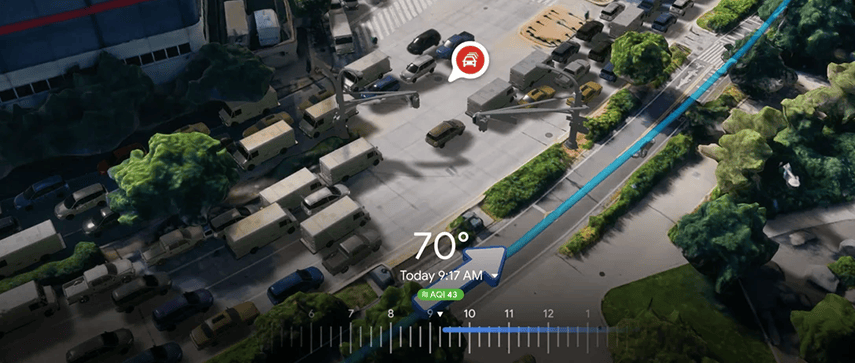 Credit: Google I/O 2023
#3 AI-powered Google Photos with Magic Editor
Google Photos will be having a cool feature called Magic Editor that will make editing photos easier, even if you're not a professional editor. It uses AI to help you make changes to different parts of a picture, like the subject (the main thing in the photo), the sky, or the background. This means you can have more control over how your photo looks in the end. Google is planning to release Magic Editor in Google Photos later this year, and we can't wait to try it out.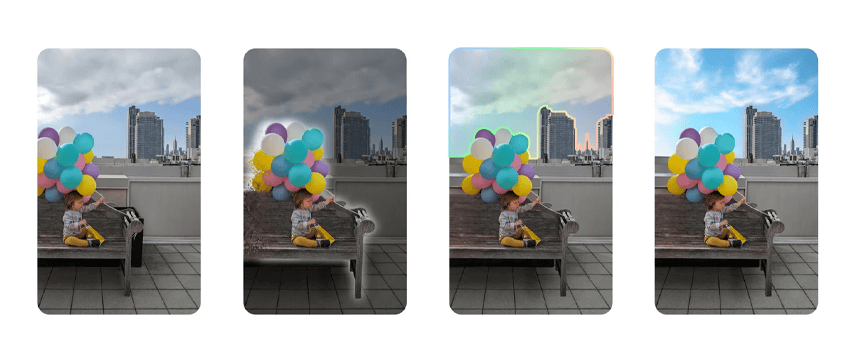 Credit: Google I/O 2023
#4 AI Model "PaLM 2" & "Gemini" to simplify your workflows
The tech giant has been developing something called PaLM (Perceiver-based models), which is a special type of AI model. And now, they have announced the latest version called PaLM 2, which can do many different tasks and is easy to use. In fact, Google has introduced more than 25 products and features that use PaLM 2.
Another version called Med-PaLM 2 is focused on medical knowledge. It's so good that it performs almost as well as real doctors when answering medical questions. It's even passed a medical licensing exam-style test!
They're also working on making Med-PaLM 2 able to understand and analyze medical images like X-rays and mammograms. This means it could help radiologists interpret images and communicate the results.
Google is working on a new model called Gemini that is being trained to be really smart. It can understand different things like text and images, and it's designed to work well with different tools and programs. Gemini is still learning, but it's already showing some amazing abilities that we haven't seen in other models before.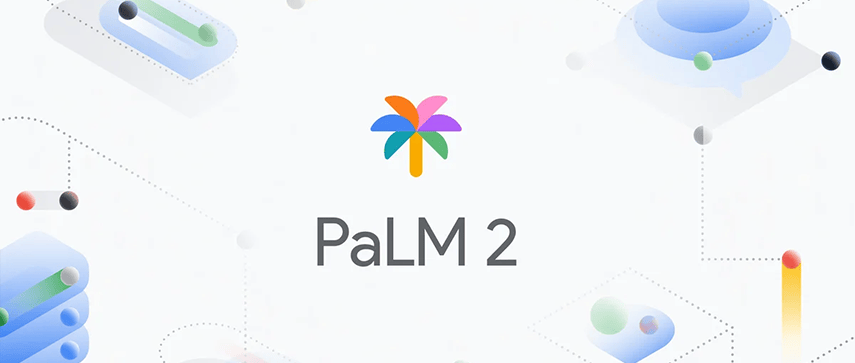 Credit: Google I/O 2023
#5 Google Bard available for everyone and gets even smarter
Google has made its AI tool called Bard available to everyone in over 180 countries and territories. Now, they are adding support for Japanese and Korean languages, with a goal of supporting even more languages in the future.
But that's not all! Bard can now also show pictures in its responses. So when you use Bard to write something, it can include images to make it even more interesting.
Google is also teaming up with Adobe, a company known for its creative software, to add even more artistic features to Bard. With this collaboration, Bard users will be able to generate images using a tool called Firefly and then make changes to them using another tool called Express. They can choose from different templates, fonts, stock images, and other things to make their creations look unique.
So, Bard is becoming more powerful and creative, and it's available to people around the world. It's a fun tool that lets you write and create with the help of AI technology.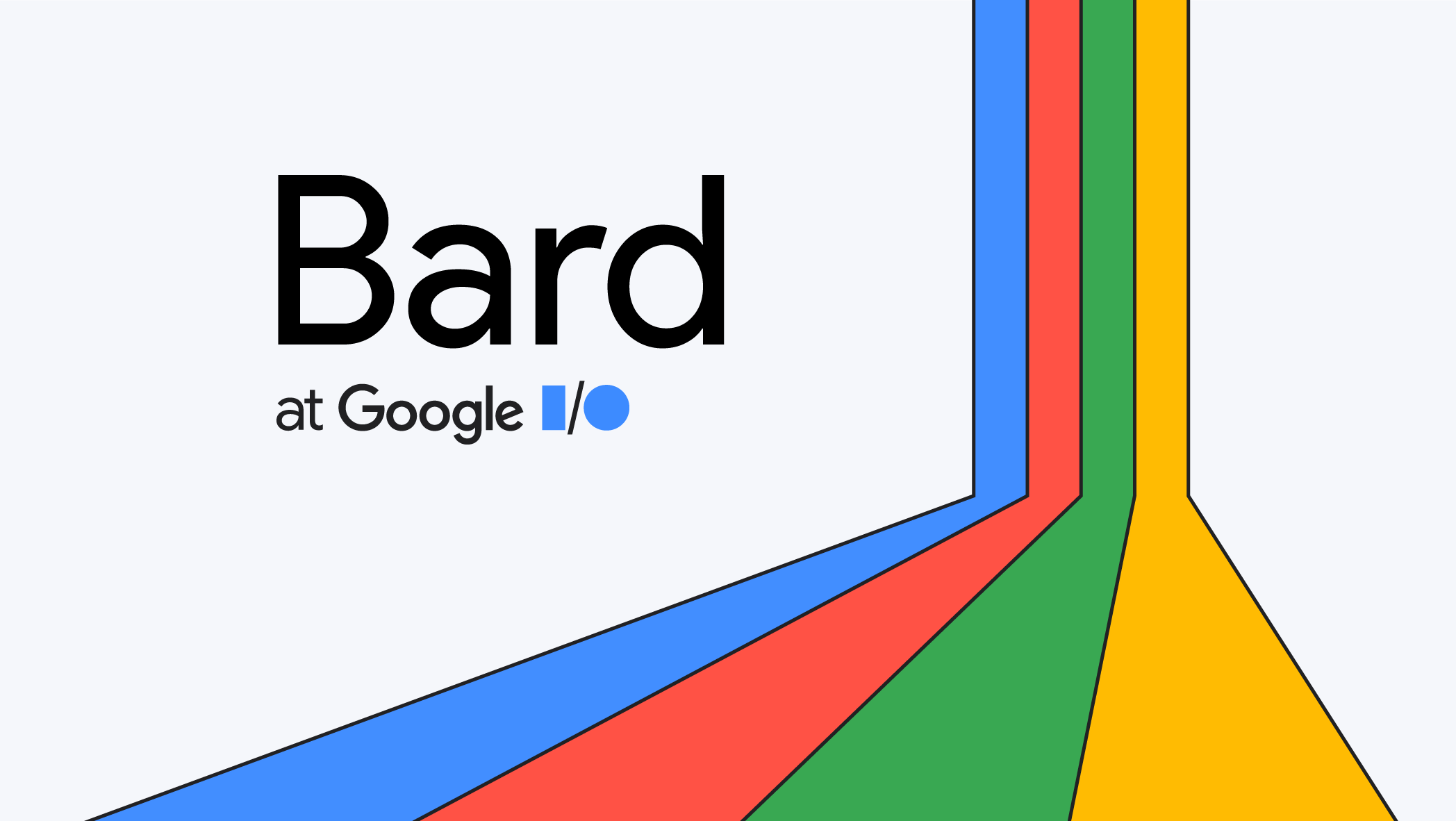 Credit: Google I/O 2023
#6 Launch of "Duet AI" for Google Workspace
Google Workspace Suite also got the touch of AI to make you work smartly and collaborate easily.
Gmail for Mobile: Google is making it easier for you to write, even when you're using your phone. They have a special AI called Duet that helps you write in Gmail and Docs. And now, they're bringing this helpful feature to Gmail on your mobile phone.
Google Slides: With the help of Duet AI, you can generate images just by typing a few words in your Google Slides. This feature saves you time and allows you to express your artistic vision in a quick and easy way. You can focus on being creative and sharing your ideas without worrying about finding the right images.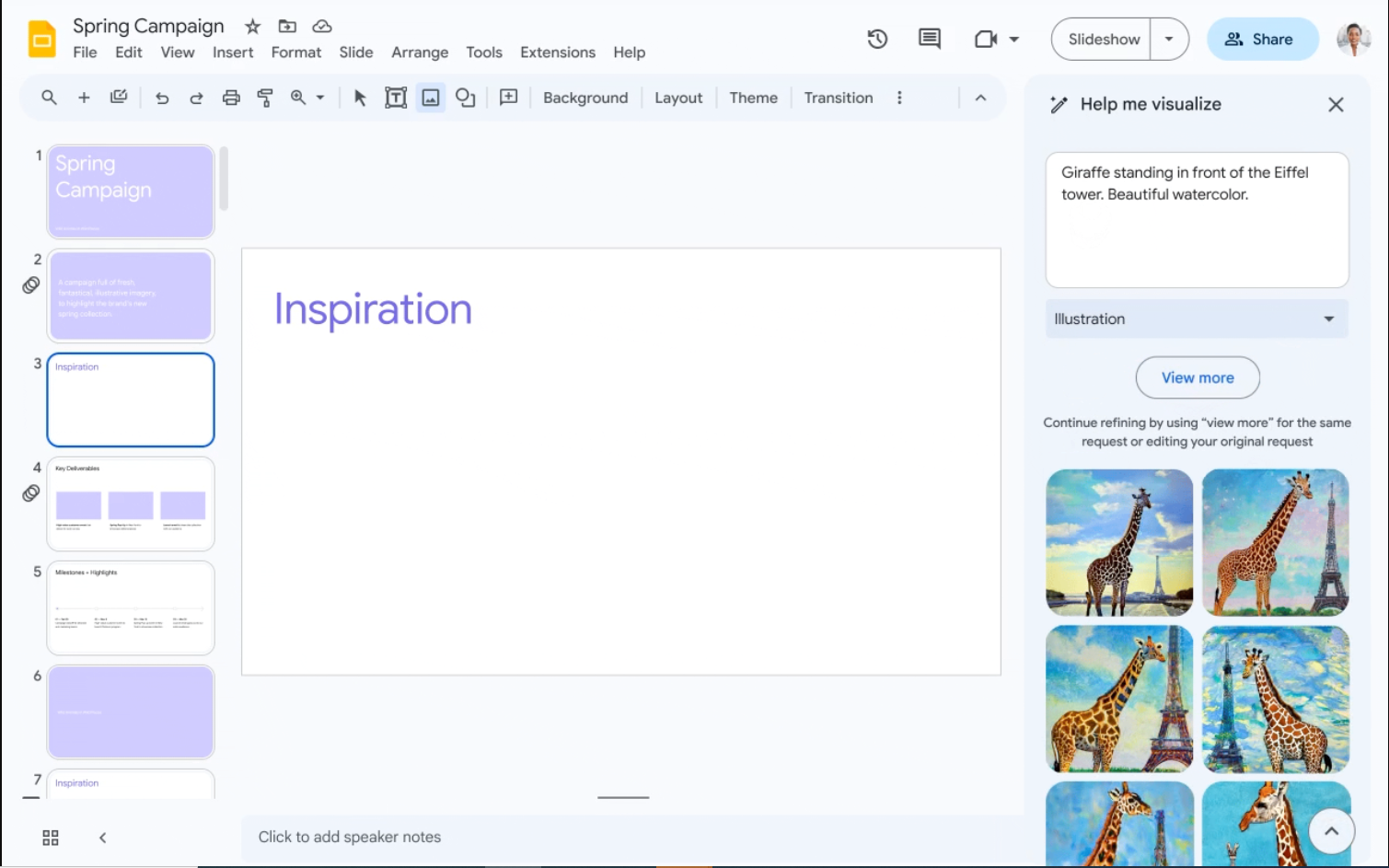 Credit: Google I/O 2023
Google Sheets got two amazing features – "Automated data classification" and "Help me organize" – to make it easier for you to work with data. With the former feature, Sheets can understand what your data is about and assign labels to it automatically and using the later feature, create a plan with tasks and deadlines to help you stay organized.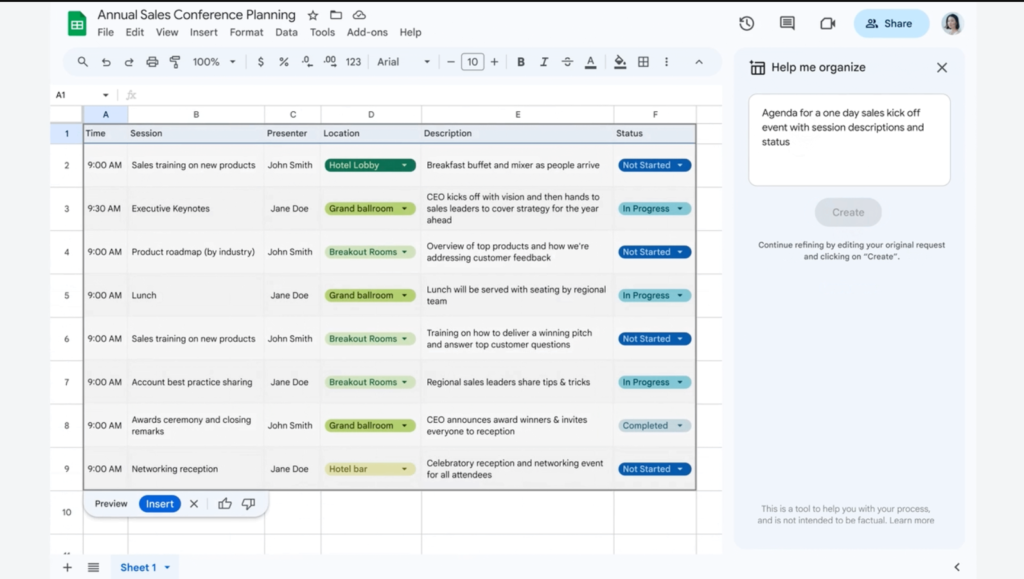 Credit: Google I/O 2023
Google Meet is now personalized and got a new feature that has the ability to create unique backgrounds for your video calls. This means you can choose a special background to appear behind you during a call. It's like having a virtual backdrop that shows something interesting or meaningful to you.
Google Docs also got the latest Smart Canvas. You can get all the help you need right within the document you're working on. You don't have to switch between different tools or search for information elsewhere. Duet AI keeps you in the flow of your project, helping you go from your initial ideas to completing your work faster.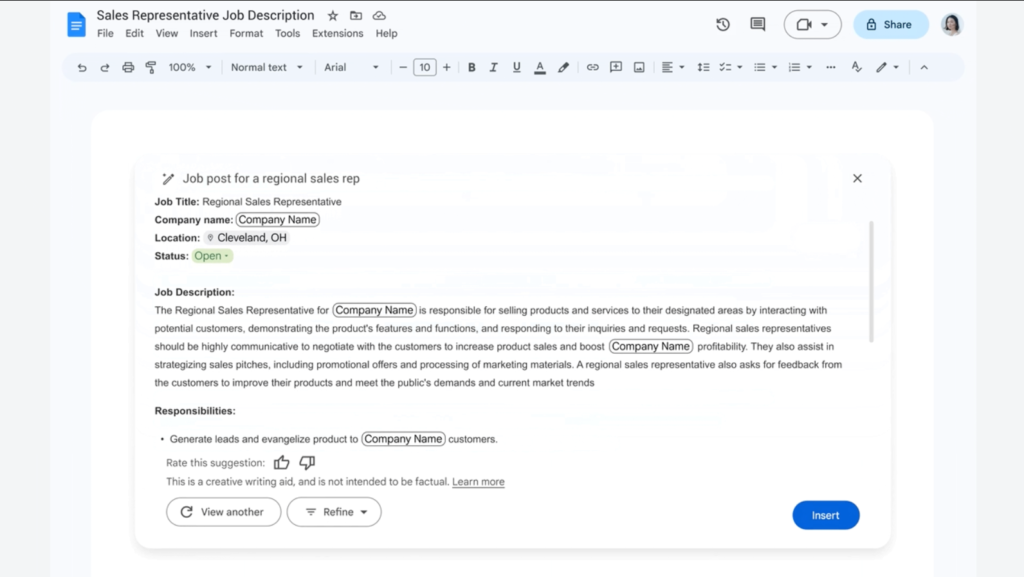 Credit: Google I/O 2023
#7 Launch of Labs and new Search Generative Experience
Google introduced something called Labs, which is a special place where they share their early ideas for new features and products. It's inspired by the original Google Labs, and it's a way for you to get a sneak peek at exciting experiments that Google is working on. The best part is, you get to be part of it too!
Search Labs: These experiments focus on new ways to explore information in Google Search.
Workspace Labs: These experiments are all about creating and collaborating with AI in Google Workspace.
Project Tailwind: This experiment is all about an AI-first notebook. It uses the power of artificial intelligence to organize your notes and sources, making it easier for you to find what you need.
MusicLM: This experiment is really cool! It's a tool that can turn your text descriptions into music. You can write something, and this tool will create music based on what you wrote.
Improved Search Results with generative AI
With generative AI, Google Search can do some of the hard work for you – you will see a special summary created by AI. It will show you the most important information you need to know and provide links if you want to explore further. This way, you can get the answers you need without spending as much time searching and reading through lots of information.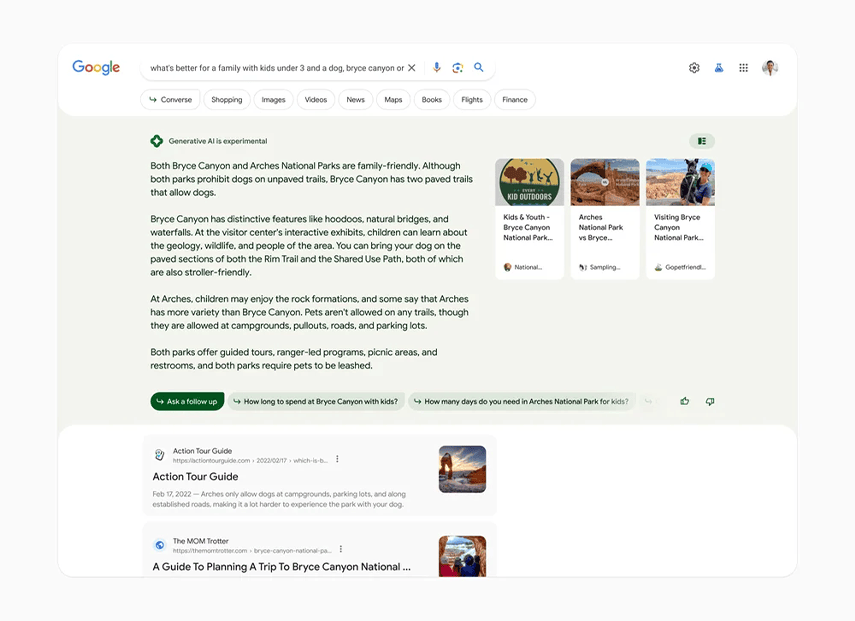 Credit: Google I/O 2023
Improved Shopping Experience with generative AI
Google made shopping decisions faster and easier. When you search for a product, Google will show you a quick overview of important things to consider and products that match what you're looking for. You'll also get detailed information about the products, including reviews, ratings, prices, and pictures. This information is constantly updated and comes from a huge database called Google's Shopping Graph, which has more than 35 billion product listings. This makes it the biggest and most up-to-date collection of products, sellers, brands, reviews, and inventory in the world. In fact, every hour, we update more than 1.8 billion listings to give you the latest and most reliable results.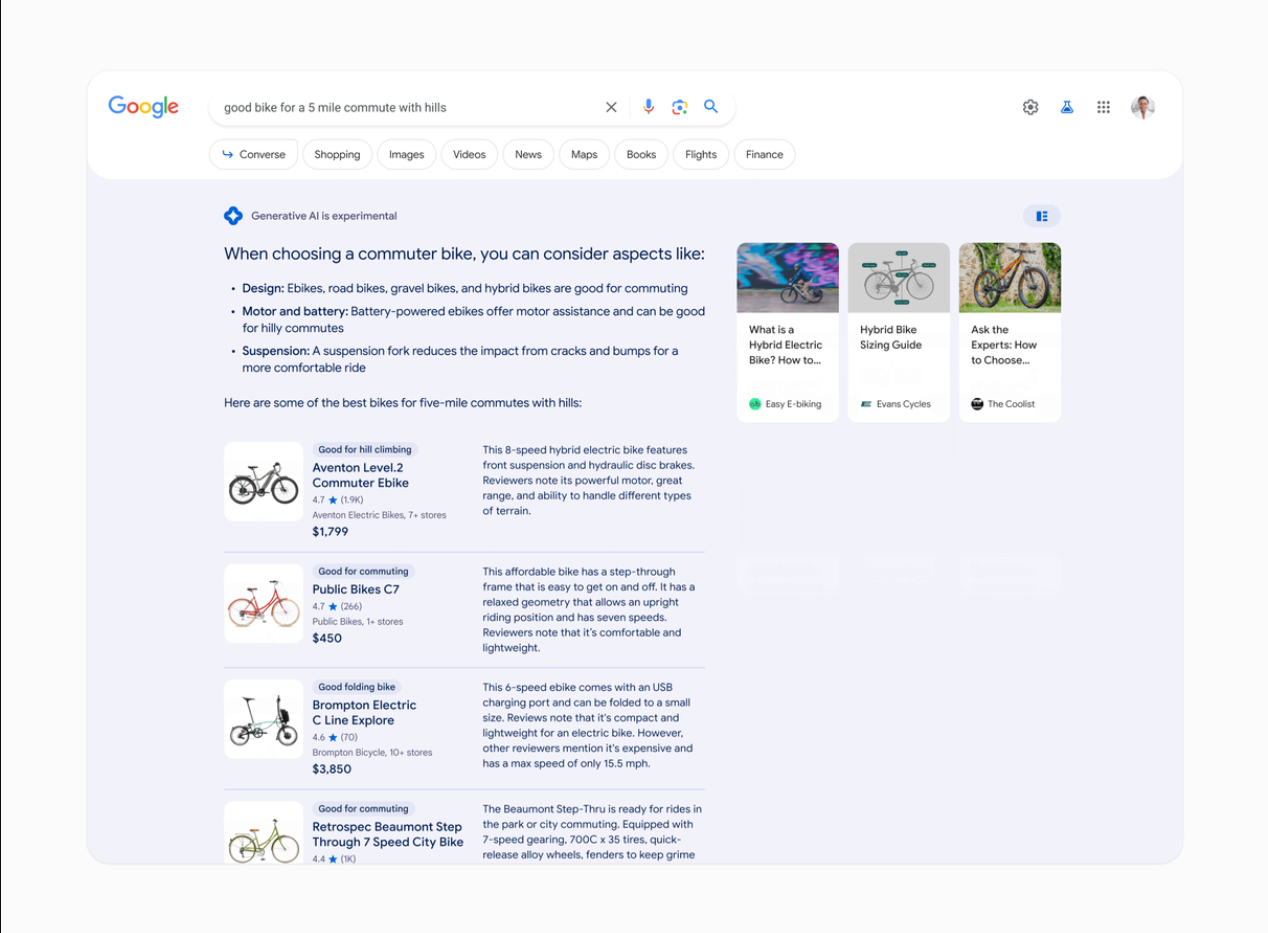 Credit: Google I/O 2023
#8 New generative AI capabilities for Google Cloud
Google Cloud has introduced a new AI-powered collaborator "Duet AI for Google Cloud". Duet AI can suggest code completions, generate functions in real time, assist with code reviews, and more. It's available within various Google Cloud interfaces like the integrated development environment (IDE), Google Cloud Console, and chat.
Google also introduced new foundation models and capabilities for Google Cloud such as,
Codey

– To help with software development by generating code and providing code completion.

Imagen –

To generate and customize high-quality images for customers.

Chirp

– A state-of-the-art speech model that helps with engaging customers through captions and voice assistance.
There's also a new Text Embeddings API that lets developers build applications based on understanding text or images, like recommendation engines or question-answering systems.
To support all these innovations, Google Cloud provides a wide range of computing options, including new A3 Virtual Machines based on NVIDIA's H100 GPU. These machines offer powerful GPU capabilities for training and serving AI models. This infrastructure ensures that customers have the necessary resources for their AI projects.
#9 All about Android Ecosystem
This year Google focused on making technology accessible to as many people as possible, and there are over 3 billion Android devices using it around the world. Google showed how they are working to connect different devices together so they can work well together – to make Android even better.
1
Android Apps for Larger Screens
Google optimized 50+ apps for large screen sizes, including tablets, foldable devices, and smartwatches. They have made sure that popular Android apps, such as Gmail, Photos, and Meet, work well on these larger screens.
2
WatchOS
Google has announced the next version of Wear OS 4 and its amazing features, like improved battery life, backup and restore, accessibility features, and smart home integrations.
3
Find My Device
Google has introduced some new improvements to its Find My Device network. One of the new features is proactive alerts. If your phone detects an unknown tracker traveling with you, it will notify you about it. This means that if someone tries to track your movements without your knowledge, you will be alerted. The goal of these upgrades is to ensure increased safety and security for users across different platforms.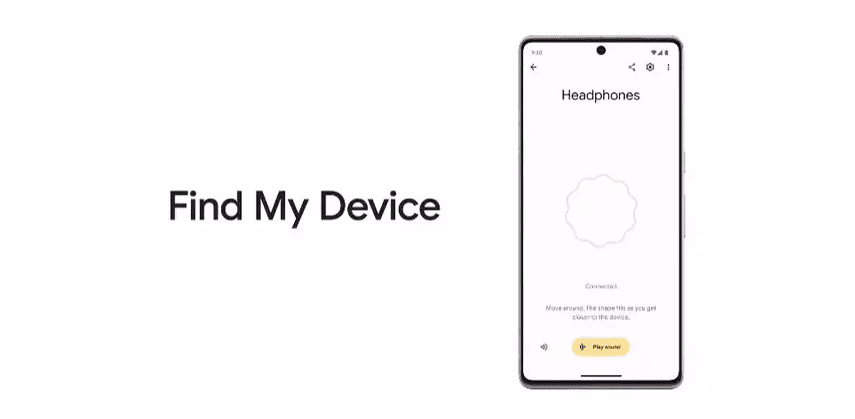 Credit: Google I/O 2023
4
Magic Compose in Messages
With Magic Compose, you'll get suggestions for your messages based on what you're talking about. It understands the context of your conversation and offers you options to respond in a quick and relevant way. It's like having a helpful assistant who knows exactly what to say.
5
Personalized Phone Screen
Google is introducing a new feature to make your Android phone screen look even cooler and more personalized. With the Android 14 update later this year, they're taking customization to a whole new level. You can choose your own shortcuts, you can have a monochrome theme, and other customization options.
#10 Pixel Series
Google announced some new products in their Pixel lineup. They introduced the Pixel Fold, which is their first phone that can fold open and closed like a book. They also revealed the Pixel Tablet, a tablet that is designed to be useful both when you're holding it and when you're using it at home. And they announced the Pixel 7a, which is the latest addition to their A-series phones. The new Pixel devices are the result of many years of research and innovation from Google. They have a special chip called Google Tensor G2, which makes them even more powerful and capable. So Google has released some exciting new devices for different budgets and preferences.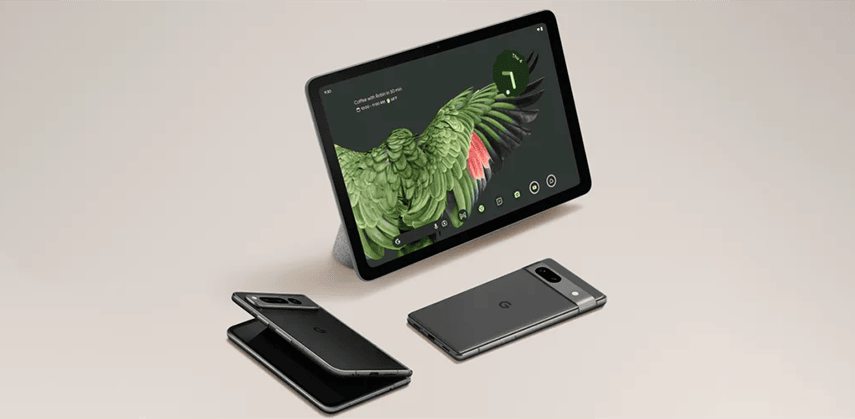 Credit: Google I/O 2023
Conclusion
Google I/O 2023 event was an exciting event where Google announced many new things they have been working on. They introduced new technologies and improvements that use artificial intelligence (AI) to make our lives easier and more enjoyable. They are constantly working on new and exciting innovations that will make our devices and experiences more personalized, efficient, and enjoyable. We can look forward to these new features and improvements coming to us in the near future.
Author's Bio: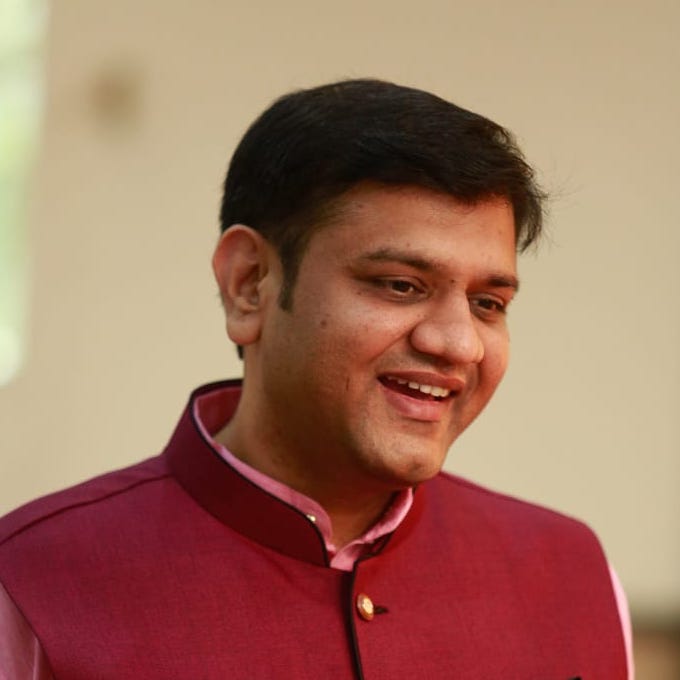 Pritam Barhate, with an experience of 14+ years in technology, heads Technology Innovation at Mobisoft Infotech. He has a rich experience in design and development. He has been a consultant for a variety of industries and startups. At Mobisoft Infotech, he primarily focuses on technology resources and develops the most advanced solutions.