The iOS 15 launch has introduced a new feature called the health data app that lets providers share data through electronic medical records. The iOS 15 update allows patients who are using the data sharing option on their health apps enabling doctors to remotely monitor their data including heart rates and time utilized in exercising.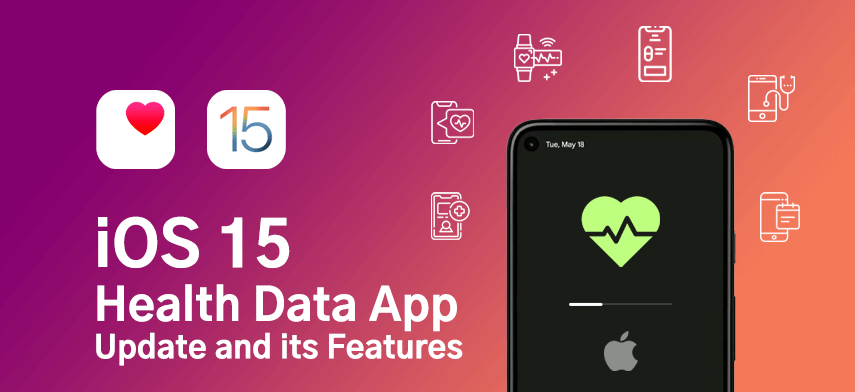 This new feature allows providers to keep track of the patient metrics that are relevant to the health of the patient without involving any extra steps for manually sharing the information. While this is truly a useful upgrade to share health information via healthcare apps, necessary safety protocols need to be in place considering the level of personal and sensitive data being shared.
Let's understand how this health data update is helping patients and providers to send and receive better care and improve health outcomes.
Immersive Involvement by Providers with the iOS 15 Health Data App Update
The health data app update on iOS may seem trivial, but these represent a larger picture in the healthcare workflow. Apple medical apps are striving to bridge the gap and create an interface between patients and providers. As technology keeps reaching new heights, healthcare providers are simply looking at various ways to engage well with their patients outside of clinics and hospital settings. Meanwhile, regulators are trying to integrate ways for patients to have better accessibility to their data.
The health apps under Apple are already pulling in health data from the growing healthcare providers list located in the US. But this new iOS healthcare update helps to send back a summary of the daily data collected from the patients to the providers. The smart health apps through the update can make the health apps a centralized platform assisting patients with ongoing conversations with their care providers.
Patients will now be able to easily send forth their daily exercise and food consumption habits to their providers which can be viewed in the EHR. Thus, making it simplified and readable documentation for providers and caregivers relatives, and family members. For the preservation of privacy, these health data summaries will eventually make way for future health events and trends rather than focusing on individual health data entries. This new iOS 15 feature helps in bringing forth doctor-sharing capabilities and is being immersively supported by many EHR companies like Cerner. Health Insurance Portability and Accountability Act (HIPAA) is known for protecting patient medical records and ONC has been diligently working towards creating a set of guidelines that can help mobile health apps become HIPAA compliant. These new rules can ultimately pave the way for health data apps to the new workflows and protocols.
Apple Advances to Bring Personal Health via Multitude of Enhancement
The health data apps have opened up newer landscapes and opportunities for building better communication between patients and providers via Apple's new iOS 15 update. Providers and healthcare specialists have come to realize that the ability to help patients depends beyond the office setting. Patients with chronic conditions like pulmonary disease, diabetes, obesity, and more require regular health follow-ups, regimented health plans, proper nutritional intake, and exercising. With iOS health systems, integrated capabilities in wearables, digital tools, and more, doctors can easily keep their patients monitored constantly.
By leaning into the developer's kit arena, ResearchKit, CareKit, and HealthKit, Apple is helping healthcare professionals to develop apps to meet patient needs. Even with their health data repository, Apple is now enabling third-party integration apps that can create an immersive impact on the healthcare sector. It is marketing itself via various frameworks and promoting itself as a facilitator for data sharing instead of keeping the health data protocols boxed under a singular platform.
The new guidelines with the iOS 15 update are requesting healthcare companies and organizations to make data more accessible for patients and providers. Hence, Apple is positioning itself to open up better health data sharing with developers as well as doctors in designing the upcoming healthcare apps with enhanced and refined features.
Features of iOS 15 update health data app with integrated EHR systems
The new features of iOS 15 updates have launched with the health data integration include:
1
Health data sharing
As discussed above, the new health data sharing facility will allow patients and users to privately and safely share their health and wellness data with their respective care teams, care providers, family, or relatives. With the new sharing tab which includes COVID-19 immunization and test result features, Apple has taken healthcare data sharing via smart health apps to a new level. Health apps can keep track of the valuable data shared by the patients with their providers and doctors directly through EHR systems. Therefore, enabling healthcare and pharmaceutical organizations to build care delivery apps as well as programs for their client and patient base.
2
Walking Steadiness
The new health metric known as Walking Steadiness uses the data collected from an individual's iPhone to offer insight into the risk of falling of said person. The algorithm calculates the balance, gait, strength, and more using metrics of walking, length of steps, speed, and asymmetric walking data. Users with iPhones can opt for receiving notifications regarding high risk in walking steadiness. This feature provides and curates exercise regimes for improving walking steadiness for risk-based patients.
3
Improvements in lab results
The lab results that are transmitted from health app data resourced from healthcare providers contain more information regarding the lab tests, simplifying the meaning of the result, and comparing it to previous lab tests conducted. This feature provides better visuals on whether the lab test results are normal or not. The lab highlights can be viewed in the health summary section and labs that are important can be pinned to the top for better accessibility.
4
Test results and COVID vaccines
The iOS 15 update largely supports the storage of COVID-19 vaccination digital records. States and healthcare providers can provide QR scanning codes to iPhone users to upload vaccination reports to the smart health app. The test results for COVID-19 are well supported in this feature as well.
5
Highlights of blood glucose levels
Users who need to regularly monitor their blood glucose levels can opt for the highlight feature that constantly monitors their blood glucose levels, tracks sleep patterns, and exercise, and see how their blood glucose levels are affected. Apple has also added an interactive chart space where users can easily analyze and understand their blood glucose data that has been reported on the health app.
6
Privacy and security of data sharing
One of Apple's fundamental features includes the development and design of privacy across all of its health features. The health data can be controlled by the user, they can have granular control over the types of data they choose to share and with whom. The data when in transit is encrypted, and Apple does not have access to this information when the user selects people to share this information with, making this new update an essential one.

The Necessity of iOS 15 Health Data Update
Patients that were already participating in the health and hospital systems, could view their data about medications, immunization, lab results, and other vitals directly from the health apps. With the introduction of these new iOS 15 updates, the information flows in the opposite direction as well. Users can now share information with discretion with their families, partners, or other trusted persons who have access to iPhones, and this information can be beneficial to these individuals. Health apps use the Smart on FHIR framework which simplifies the integration of EHRs with the health systems.
Apple has introduced several health features with the new iOS health data update which marks the path forward towards an integrated, longitudinal of healthcare for digitally advanced individuals. The necessity of iOS health data only shows that healthcare has grown exponentially to provide a better patient experience and enable higher growth factors digitally for the health and healthcare market. One of the noteworthy benefits of Apple Health for doctors and users is how much data accessibility can be shared over time.
In Conclusion,
The introduction of iOS 15 health data by Apple only shows how digital integration into mobile applications can provide immense insights into our health and well-being regularly. The evolution of intentional strategizing to build a digitally stable platform and seeking sensor technologies that can be integrated into Watch and Apple devices for addressing regular health concerns, track respiratory rate measurements during sleep cycles, and other hardware that can be integrated to provide better health outcomes for patients.
The future of health data apps lies in the capabilities of sensor fusion. The combination of the iPhone and Apple watch working independently of each other to provide insight for walking steadiness only proves as a prime example of how sensor fusion can become the future of technological advancement in the healthcare industry. Apple's ability and tight integration revolving around software and hardware offers an edge in multiplying the ecosystem Apple has created. Thus, the sensors that they carry, continue to grow and provide better health data information improving care delivery services.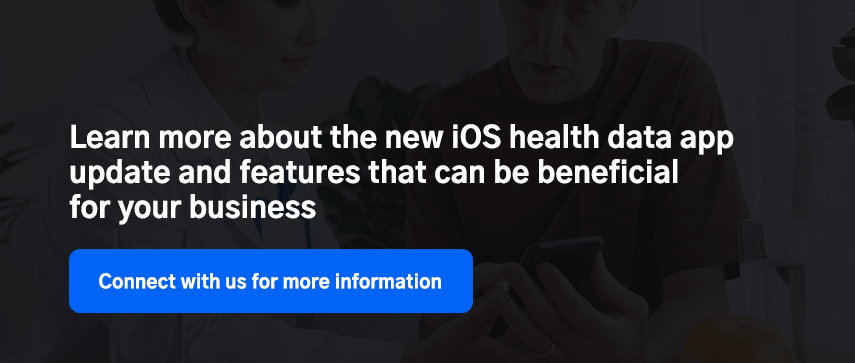 Author's Bio

Shailendra Sinhasane (Shail) is the co-founder and CEO of Mobisoft Infotech. He has been focused on cloud solutions, mobile strategy, cross-platform development, IoT innovations and advising healthcare startups in building scalable products.