More convenience and better patient care in the healthcare industry have resulted in adopting digital technologies. The end goal of these improvements, new vulnerabilities have emerged, posing a threat to network security and compliance; due to the sole fact that vast amounts of sensitive patient data they store, the health industry has grown particularly vulnerable to healthcare information security risks. This has presented the healthcare business with unexpected hurdles, necessitating the development of more sophisticated network systems. As healthcare businesses adapt to new ways of managing patient data, all facilities have a more critical requirement to maintain compliance in healthcare.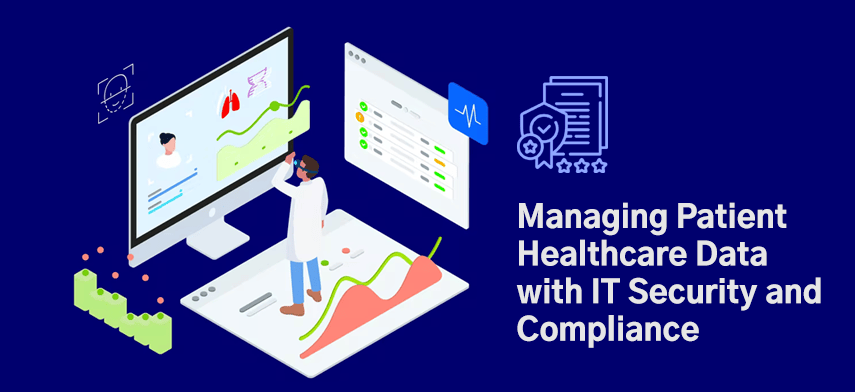 Security businesses will compete and help build next-generation tools and strategies to secure hospitals, GP offices, and other patient-care institutions, taking patient data security to new heights. As a means of dealing with data breaches, cyber resilience frameworks will become prevalent around the world. The ultimate goal will be to protect data, limit or eliminate data breaches, and meet an ever-increasing list of regulatory compliance requirements.
Healthcare Data Security and its Importance
Any form of preventative steps that help secure and protect patient data is referred to as healthcare data security. The goal of data security for healthcare operations is to create a plan that is both efficient and effective in ensuring the safety of healthcare and patient data. Attackers attempting to steal personal information and committing medical fraud are likely to target the most well-known healthcare businesses. These businesses must carefully assess the various causes of data breaches and implement effective security solutions that address both internal and external risks.
Some of the significant healthcare data risk factors include:
Unsecure wireless network security.
Email scams with malware.

Use of outdated systems or programs.

Lack of training in correct data security measures.

Use of hackable passwords.
Significance of Data Security in Healthcare
The healthcare industry is vulnerable to cyber-attacks because of the large amount of valuable and sensitive data that is stored. What motivates hackers is that many healthcare organizations rely on antiquated or inadequately secured networks, that become easy targets for data breaches.
Patient records, for example, may contain information ranging from Social Security numbers and credit card numbers to insurance information and medical diagnosis information. This information is invaluable to hackers, as they can either sell it on the dark web, use it to launch financial or identity fraud, or commit various other identity thefts with such sensitive information. A cyber assault can bring a healthcare organization's network down, which can significantly impact business operations.
Unlike other sectors that may only have to suspend administrative and sales operations, a healthcare firm that experiences a network outage may be forced to halt patient visits, surgeries, and other medical services. This could also incentivize hospitals to pay a ransom.
IT Security Compliance: A Mandated Integration
The most significant advantage of a healthcare compliance network is that it improves patient care delivery, including:
It aids healthcare providers in staying out of problems with the government and regulatory agencies.
Before a government agency notices an issue, an efficient healthcare compliance program can identify it and remedy it.
An effective healthcare compliance policy can protect healthcare organizations or providers from sanctions or financial penalties that could otherwise be levied.
Many healthcare organizations and providers have self-disclosed to government agencies about issues discovered through their compliance systems. The penalties and other sanctions imposed on self-disclosing organizations and providers were significantly less than those set on providers who were prosecuted for fraud or embezzlement.
A good compliance program can also help a healthcare professional or institution avoid malpractice lawsuits. A healthcare professional or institution that follows best clinical practices is less likely to face a malpractice claim.
Some of the popular healthcare auditing processes for software include the Mobisoft SOC1-Compliance for Type 1 and Type 2. System and Organization Controls1 (SOC 1) is an auditing method that verifies that a software platform provider's internal control over financial reporting (ICFR) securely preserves client data. SOC 1 compliance requires software suppliers to adhere to stringent security procedures and standards. The organization requesting an audit must adhere to the standards that are established and delivered to them.
SOC 1 reports, according to Mobisoft, are critical in:
Safeguarding client information.

Controls over a user's financial reporting are nearly sure to be secure.

Keeping track of sensitive and secret data safely.

SOC 1 audit reports are divided into two categories.
The SOC 1 Type 1 report attests to the proper deployment of software controls based on management's definition at a certain point in time.
The SOC 1 Type 2 report attests to the appropriate installation and secure effectiveness of a software's controls based on management's description, usually over six months.
Organizations may be in danger if their software providers are not SOC 1 compliant. Organizations that do not conduct a security audit may not find what distinguishes them from their competitors.
Threats And Challenges In Healthcare Data Security
Medical facilities are popular targets for hackers who want to impersonate people, get free healthcare, or file false claims. The following is a list of the most common cyber dangers to healthcare providers:
1
Medical Internet of Things (IoT)
Internet of Medical Things (IoMT) is a term that refers to the different medical equipment and apps that are connected to the network of a healthcare organization. While the IoMT can help companies speed access to patient or treatment data, it exposes them to hundreds of new risks. Hackers can obtain access to a network through wearable medical devices for patients, putting a whole health system's network architecture in danger.
2
Internal Threats
Many healthcare businesses are unwilling to monitor their computer rooms or server rooms, allowing rogue workers or outsiders access to sensitive information. Insider threats can cause significant damage to an organization's network because they have internal access and knowledge of network setup and vulnerabilities. Whether they're acting out of negligence or carelessness, or they're motivated by a financial gain of some sort, internal threats can cause significant damage to an organization's network. As a result, social engineering and employee training are crucial in preventing insider threats.
3
Ransomware attacks
Cybercriminals use ransomware to steal data from businesses and then sell it back to the owners for a fee. All encrypted files are erased and lost if the target organization does not pay for the data. By denying access to important files, this type of assault restricts the operations of healthcare providers.
4
Medical records in electronic form (EMR)
A patient's medical, prescription, and treatment history is stored in an electronic medical record (EMR). EMRs are a valuable tool for keeping track of patient data over time and monitoring vital signs. These records are frequently maintained in a cloud network, increasing the danger of exposure, mainly if the data is hosted in a country without the same data security or intellectual property rules as the United States.
5
Distributed Denial of Service (DDoS) assaults
Attackers take advantage of DDoS is to disrupt network access and compromise a network until it becomes unusable. Any of the systems used in the medical institution, such as tablets, PCs, or mobile devices, can be infected with malware, turning each one into a bot that provides the hacker remote control over the network. Patients and healthcare providers are having difficulty accessing patient portals, client websites, and patient records due to these attacks.

Keeping Healthcare Organizations Safe From Data Breaches
A few things should be in place to keep the security and compliance of patient data risks of breaches in check. They are as follows:
1
Create a culture of risk awareness
Below are some of the best ways to create a culture of risk awareness:
Examining and determining where security concerns are in your organization thoroughly.

Employees should be educated and communicated with about how they can assist in closing the gaps.

Implement the appropriate technologies to monitor and discover vulnerabilities continuously and inform personnel so that your company can act swiftly to mitigate the risks.
2
Respond more swiftly, manage crises with intelligence
To do so, follow these steps:
Use cognitive analytics to help you keep track of your operations.

Implement capability for automatic response.

For enhanced threat detection and response, combining next-generation threat intelligence technologies with change detection.
3
All IT security compliance operations should be automated
This aids in discovering and profiling all business-critical assets such as patient care systems, medical devices, and payment systems.
Errors in configurations can be quickly repaired.

Adjust security controls in response to system changes and their impact on the business.

Compliance with security and privacy regulations should be monitored, measured, and reported on.
Final thoughts,
Implementing core controls that connect with other systems to respond to attacks proactively solves healthcare businesses' extraordinary cyber threat challenge. An organization may be well on its way to fulfilling several compliances and security standards if it has adopted excellent security processes and controls. Mobisoft enables its customers to achieve automated compliance mapped to industries' security measures and regulations. Mobisoft is HIPAA Compliant hence giving you a streamlined experience. Our software allows for continuous monitoring of threats and well ways to mitigate these threats.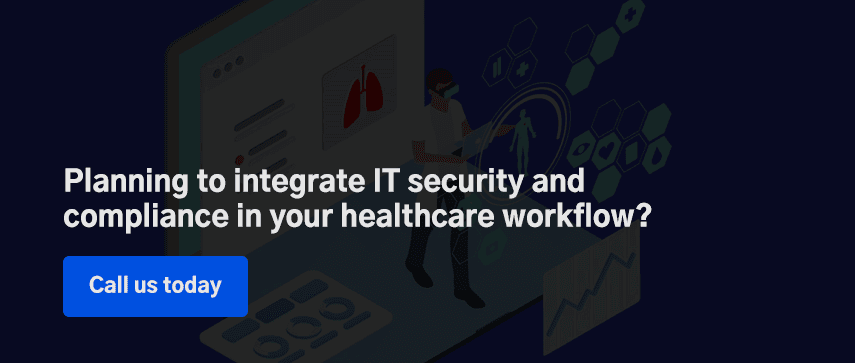 Author's Bio

Shailendra Sinhasane (Shail) is the co-founder and CEO of Mobisoft Infotech. He has been focused on cloud solutions, mobile strategy, cross-platform development, IoT innovations and advising healthcare startups in building scalable products.