The healthcare industry is considered one of the biggest industries that are progressing with the help of technological advancements. The traditional practices have been outgrown with newer implementations like healthcare SaaS integration.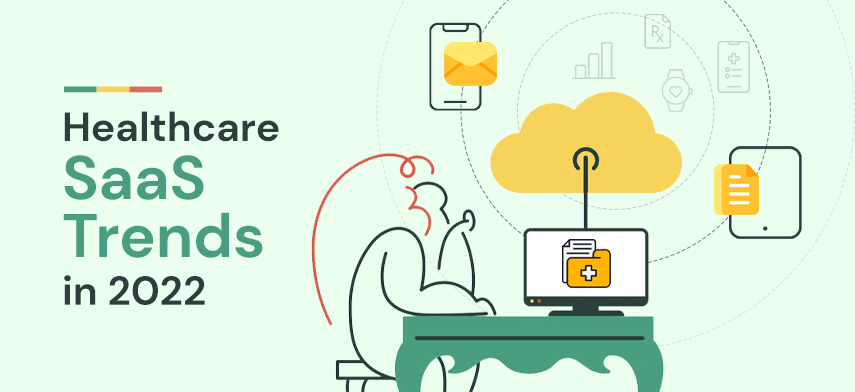 Healthcare technology development has had a significant influence on the healthcare industry especially in revolutionizing SaaS healthcare technology. It has changed the overall healthcare aspects in the last couple of years. By including the healthcare providers, the sector has seen a huge contribution from experts in the healthcare app development industries that are responsible for bringing innovation in offering solutions. During the pandemic, healthcare applications became a trend when the world faced a global lockdown. This increased the adoption of digital healthcare solutions.
Today, receiving the best healthcare practices and medical requirements has become easy for patients. This has also helped to facilitate healthcare providers to offer services that are impactful toward building a healthy eco-sphere across the industry. In this blog, we will discuss the healthcare SaaS trends, challenges, and opportunities for 2022.
Before delving into the discussion of Healthcare SaaS, let's understand the basic concept of SaaS healthcare integration in the healthcare industry.
What is Healthcare SaaS and How is it Significant?
We need to take a moment and introspect on the cloud computing scenario in the industry. Healthcare Software as a Service, more commonly known as Healthcare SaaS faced a lot of challenges. With more safeguarding implemented, the healthcare businesses saw the advantages of healthcare as a service.
Several healthcare facilities and organizations are moving toward healthcare SaaS platforms as it offers affordable strategies for deploying cloud-based electronic health records (EHRs). So now, healthcare organizations are implementing SaaS-based technology throughout the entire healthcare system and workflows. Healthcare applications include EMRs, EHRs, telehealth services, PACS, and more. A few non-clinical information systems also include RCMs, supply chain, billing strategies, etc.
The healthcare SaaS market will be more prevalent in the coming days due to the scalability, cost, and security benefits. According to researchers, the current global healthcare market for cloud computing is estimated at approximately USD 18 billion, reaching a market of USD 61 billion by 2025. The expected CAGR is going to be around 18.7% by 2025. In 2022, we've reached a stage where cloud computing is already a domineering entity in the health tech SaaS industry, followed by a series of top healthcare SaaS trends.
Effect of SaaS-based Technology on the Healthcare Industry
The SaaS healthcare system is primarily based on cloud technology enabling patients to have a less painful experience with care delivery. Another SaaS healthcare benefit is to make use of the new adoption of technology to run healthcare workflows smoothly for better management of businesses.
From the management of viewpoints, it can be challenging to provide the best experience through treatment for patients and manage the staff expectations. SaaS healthcare application development serves as a savior for the healthcare industry. The reason behind the dynamic integration of the healthcare SaaS platform and the robust choice in the fields of healthcare and medicine include:
1
The management of clinical documentation
The documents that are utilized in managing and recording the treatment history of patients are known as clinical documentation. The SaaS-based documentation of patient records helps in overcoming the challenges and obstacles like human errors while treatment documentation, data redundancy, and many other documentation procedures.
2
Access to teleconsulting services
The global pandemic caused the worldwide market to observe several solutions that were beyond imagination. Many healthcare SaaS applications have emerged since then to provide teleconsultation services. The digital access to healthcare services for patients increased considerably during this time and helped them to gain better care delivery services.
3
Electronic Healthcare Information Exchange (HIE)
The electronic healthcare information exchange is one of the most promising healthcare solutions enabling healthcare providers to share necessary information seamlessly. Especially with the population health management programs. This is beneficial in reducing the efforts of the administration, ensuring transparency, providing data security, and lessening errors in medication management.
4
Learning management systems in healthcare
The medical education system is also a part of the healthcare ecosystem. The learning management system (LMS) is a cloud-based provider guaranteeing 360-degree accessibility to healthcare providers to teach and learn in the same atmosphere.
These inclusions of these pointers work as a strong pillar in the healthcare system and enable healthcare application development companies to leverage the development of healthcare SaaS platforms and applications.
Healthcare SaaS Trends for 2022
The game-changers in healthcare SaaS industry trends work toward a revolution for providers and patients. Let's take a look at the top healthcare SaaS trends for 2022.
1
Astute Solutions for AI
The solutions offered by artificial intelligence will continue to remain a top healthcare SaaS trend since its beneficial for the industry and its organizations. With the collaboration between SaaS and AI platforms, healthcare organizations can easily expect seamless workflows. In 2022, healthcare facilities can gain maximum leverage by partnering with healthcare application development companies and transforming the industry with healthcare delivery solutions with National language processing and machine learning integrations.
2
Utilization of multiple clouds with Platform as a Service (PaaS)
Digital healthcare applications and cloud-based apps have gained immense momentum and are set to become a well-trusted modem of growth in healthcare integration. Healthcare organizations can overcome several bottleneck concerns with the help of cloud-based applications developed by mobile application development organizations. The use of PaaS cand multiple clouds improves the security, data storage, and management of healthcare data. Hence, providing the perfect solutions and services for patients at the right time.
3
Determine focus on healthcare security
Another SaaS trend in healthcare is that technology offers a simplified way of exchanging data. Although there are challenges when handling cloud-based technology, a determined focus on security for healthcare data can enable a better exchange of information for providers. The reason behind it is that the digitization of patient records has already been formatted in most healthcare spaces. Thus, securing the handling of healthcare data is more enhanced. Using multi-cloud solutions in 2022 will be a great way to enable focused security over patient records.
4
Use of vertical SaaS-based technology
The healthcare SaaS trends also see a rise in vertical SaaS-based technology. This helps it facilitate the development of healthcare applications towards a client-specific and supply chain-based app development. Vertical SaaS is one of the finest depictions of modern analysis of logistics, retail analysis, and the BI system of healthcare.
5
Connections with API
APIs in healthcare add newer functionalities to the existing workflow. With the rise in demand for healthcare tech SaaS development, there has been a considerable inclusion of application programming interfaces. This is considered a perfect technique for healthcare organizations in migrating data from cloud systems for synchronizing the data collected from patients.
6
Migration to PaaS
Utilizing platform-as-a-service is an interesting idea for modification in the customized app development for healthcare organizations. SDKs and customized applications assist healthcare app development experts to ensure a secure solution for web-based applications and also with scalability and flexibility.
7
Integrating Pay-Per-Use model
The terminology Pay-Per-Use or PPU model is usually directly integrated with healthcare SaaS subscriptions based on monthly, weekly, or yearly programs. In recent years, the PPU model will begin to trend as it allows healthcare organizations to personalize and customize their services on a payment basis when the patient requires temporary clinical care services. Providers can utilize them according to the selected mode for healthcare solutions.
8
Micro SaaS integration
As we progress towards various healthcare SaaS trends, SaaS products have been revolutionizing the entire healthcare market. Micro SaaS integration exists to fill the gap when certain services are missing. It is one of its abilities to make this SaaS trend more exciting and interesting in 2022. Micro SaaS is an add-on service credibility in covering the existing gaps in an organization's system workflow.
9
Edge computing solutions
In recent times, tracking patient health has become more simplified with the assistance of healthcare wearable devices. The only disadvantage in this is the massive collection and generation of data. This is much more complex for healthcare providers to handle. Edge computing solutions ease the management of data and limit the transmission of data. This also helps in sending the data at various intervals instead of sharing it continuously. Thus making the management of data seamless and smooth.
10
Data as a Service as software for healthcare industry
Data as a Service or DaaS is closely related to the SaaS integration. The most significant advantage of DaaS is that data can be sourced, hosted, standardized, and integrated according to the requirements of healthcare organizations. DaaS in healthcare is extremely important, including the patient records and treatment details. Data as a Service acts as centralized structural access for healthcare data computation.
Benefits of SaaS in Healthcare
The healthcare industry saw a growth in digital healthcare solutions during and post the COVID-19 pandemic. Therefore, healthcare companies are leveraging these integrations to grow their businesses and remain competitive in the market.
There are several benefits to Healthcare SaaS solutions that can be beneficial for businesses. These include:
Improved engagement for patients.
Maximum opportunities for better business growth.
Improvement in the clear documentation of clinical records.
Enhanced scalability for healthcare applications.
Fine-tuning for better management of patient history.
Modern forms of teleconsultation through telemedicine and telehealth platforms.
Enabling enhanced healthcare information exchange processes.
Providing accessibility to various resources required by providers and healthcare staff members.
Offering training, simulation, and automation in the healthcare industry.
Providing cost-effecting solutions in healthcare with SaaS integration.
Improving real-time updates for patients and providers.

Final thoughts,
The healthcare SaaS trends and benefits in 2022 are immensely important for your healthcare business to know why it helps with creating and building innovative SaaS healthcare applications. This can help you focus on the various ways to enhance your services and improve the patient experience on a priority basis. This can help to optimize your healthcare products and achieve better care delivery services with customizable healthcare solutions.
Author's Bio

Shailendra Sinhasane (Shail) is the co-founder and CEO of Mobisoft Infotech. He has been focused on cloud solutions, mobile strategy, cross-platform development, IoT innovations and advising healthcare startups in building scalable products.