The coronavirus pandemic has changed the workplace dynamics. Enterprises are ditching in-house teams for offshore app developers as an adaptive response to COVID-19. An offshore development team can bring several benefits to your business. It can help you reduce costs, decrease time to market, and increase quality and efficiency. However, selecting the right offshore development company can be a hassle.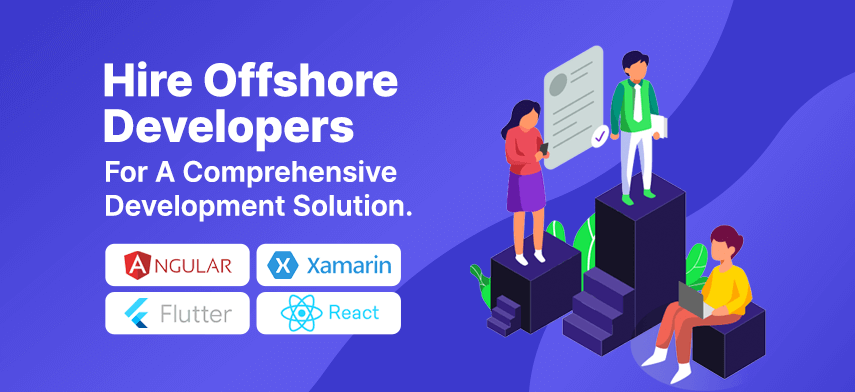 Follow this comprehensive guide if you're looking to hire offshore developers for your business.
In-House vs. Offshore Development: The Key Differences
Having in-house software developers isn't a complete no-no. Scaling up your in-house team has benefits, too, especially if you're working on sensitive projects. But there are some drawbacks to it.
Let's say you have a project that needs to be completed in seven days. But the size of your in-house team is small, and you would need to make new hires to meet the demands. The same situation applies if you need specific skills. What if a sudden requirement for a new skill emerged?
But is hiring new developers a feasible option?
A study from Glassdoor stated that it takes 22.9 days in the US to complete a hire. The time is shorter in Europe (4-9 days), but it's not an option considering that you need to finish the project in seven days.
Now, think about outsourcing it to an offshore development company. You can find a company almost instantly and begin working on the project. Offshore companies have large teams with diverse skills, so any deficiencies you were facing earlier would be resolved.
For your better understanding, take a look at the pros and cons of both in-house and offshore development.
In-House Development
Pros:
Accessibility:

An in-house team works alongside you, from the same office and in the same time zone. They speak the same language as yours and share your vision. This leads to seamless planning, collaboration, communication, and development.

Quality Monitoring:

Working with an in-house team allows you to keep an eye on the quality. You can closely monitor the team and point out any errors or shortcomings. This real-time administration makes the process more efficient and error-free.
Cons:
Costly:

$80,342 is the average salary of an IT professional, according to Glassdoor. Imagine the yearly costs you'd incur with a team of ten developers. Moreover, having an in-house team means you'd need to offer benefits like sick pay and vacation, which would further add to your costs.

Limited Expertise:

The scope of your skills and developmental capabilities would be limited to the skills and expertise of your in-house team members. If new requirements arise, you'd have no choice but to hire new developers, which means an additional $80k per year in expenses.

Restricted Scalability:

Let's say you have a team of five developers who can complete a small development project in seven days at ease and five days at a stretch. But you can't make the team to finish the project any sooner. If you want more speed, you'd need to hire more people.
Offshore Development
Pros:
Reduced Costs:

When you hire offshore developers, you don't have to pay for any benefits and sick leaves. You only pay for the services you are availing of. This makes outsourcing significantly cheaper than in-house software development.

Seamless Scalability:

Offshore companies have a large pool of skilled developers. Hence, they can complete a project in lesser time without compromising on quality.

Diverse Expertise:

When you hire a remote team, you don't have to worry about the skill requirements. Offshore companies have developers with a diverse skill set, enabling them to meet all kinds of development requirements.
Cons:
Lack of Collaboration:

The only issue you might face when you hire offshore developers is the lack of collaboration. The team might be located in a different timezone or speak a foreign language. However, you can resolve this hurdle if you select the right offshore development team.

Lack of Management:

When you work with an offshore team, you can't oversee all the operations. If you foster the culture of micromanagement, hiring offshore developers may not be ideal.

Delayed Support:

If you run into an issue during the project, you can simply communicate with your in-house team. But when working with an offshore team, you won't be able to establish instant communication. This problem is more prevalent if there's a difference in time zones.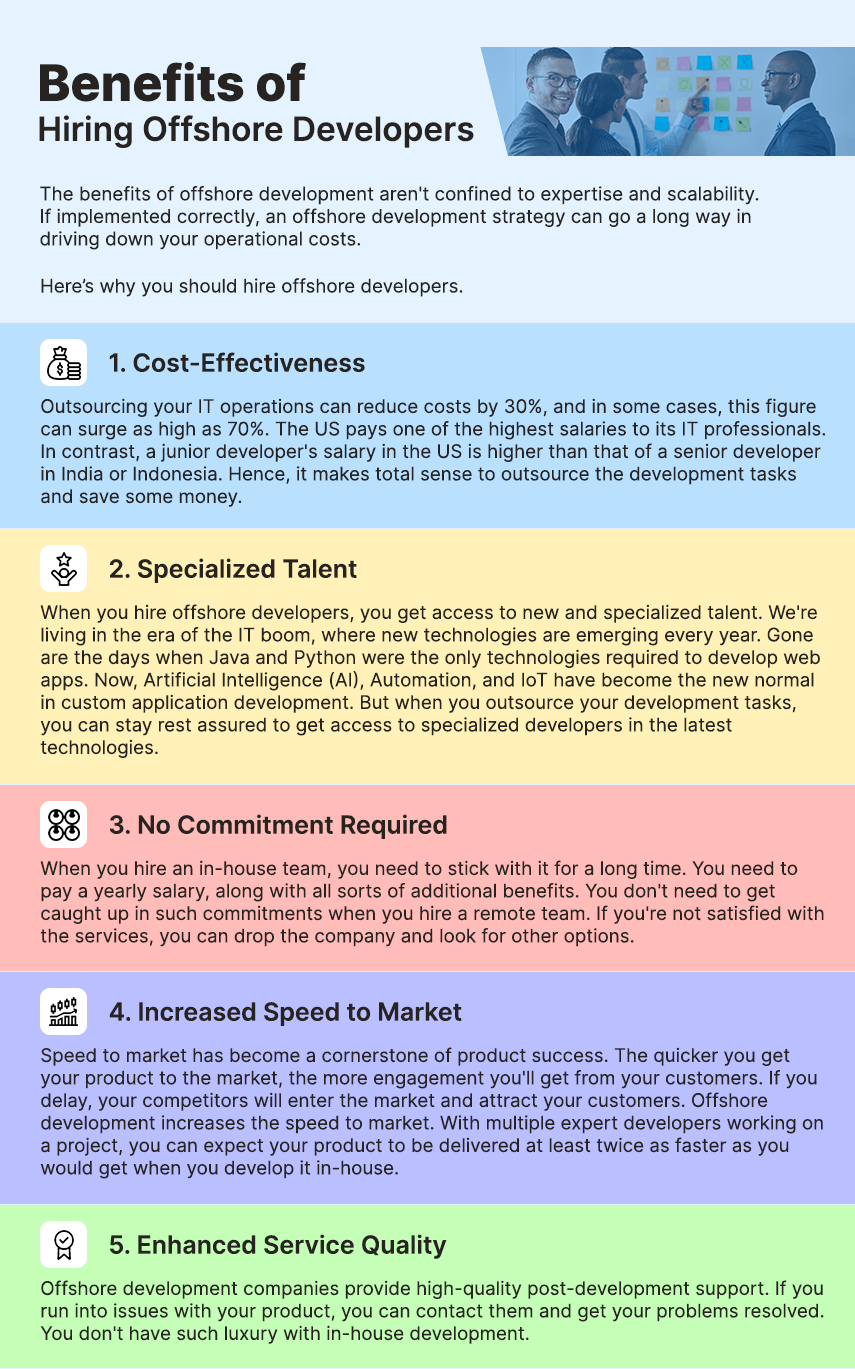 Things to Consider Before Hiring an Offshore Development Team
The benefits of outsourcing software development are endless. But with so many offshore development companies out there, finding the one that aligns with your goals and vision can be challenging.
According to TechRepublic, there are 11 million professional software developers in the world. The US accounts for 19% of them, followed by China (10%) and India (9%).
So, how to find the best development company? Let's find out.
1
Determine Your Business Goals
Before you even start looking for developers, spend a significant amount of time and effort in determining your business goals. Begin with writing a written proposal that specifies what you expect to gain from the offshore development services.
Some elements to include in your proposal are:
Main goal
Budget
Technologies/development methodologies you seek
Deadline (time to market)
Team size needed
Any other specifications
2
Ensure Flexibility
It's better to avoid an offshore development team that follows a rigid procedure and isn't willing to adapt as per your requirements. Find a company that understands your needs and is ready to change its way of working to fulfill your requirements.
3
Examine the Resources
Offshore companies are well-equipped with resources; that's the main reason you would want to hire offshore developers. So, before hiring an offshore development team, conduct thorough research on their resources and whether they're equipped to handle your requirements.
4
Select the Right Time Zone
As discussed, working with an offshore team in a different time zone can pose several challenges. This might include language barriers and inefficient communication. Thus, always find an offshore development team in your time zone. If not, stick to a timezone that isn't too far from yours.
5
Examine Cultural Fit and Management Capabilities
As discussed, the only challenge with offshore development is the lack of collaboration. If you and your offshore team don't share the same vision, the partnership won't be fruitful. This can lead to a cultural clash. So, make sure the company you hire shares the vision and culture as you do.
6
Check the Pricing
In the end, it's all about the bottom line. The primary purpose of outsourcing your development tasks is to reduce costs and save your resources. But if you hire an expensive development company, you might not be able to achieve that outcome. Therefore, it's essential to set a budget and strictly adhere to it.
7
Evaluate Value for Money
In countries like India, Indonesia, and Ukraine, the cost of living is low. So, the providers from these areas would naturally offer lower prices than companies in the US and Western Europe. But that doesn't mean you should blindly hire offshore developers because of their low cost.
When selecting an offshore company, it's essential to evaluate the cost-effectiveness and not just cost. Assess a company's previous work thoroughly to determine what they're capable of and how they can add value to your business.
8
Seek References
Always request the offshore company to produce references. Then, communicate with the references provided and ask them about their experience with the developer. Enquire them about what they liked and disliked about the company, and would they work with them again.
9
Assess the Portfolio
Spend some time examining the developer's past work. Assess their track record and determine if their style of working aligns with your requirements. Every business is different, and so are its requirements. An offshore development company that produced excellent results for someone else may not necessarily do the same for you. So, investigate the developer's previous work to get an idea of what to expect.
10
Plan for the Long Term
When looking for an offshore development company, always plan for the long term. You wouldn't want to start over the searching process every few months. The idea is to conduct the hiring in a way you would do for in-house software developers. This includes conducting a proper background check, investigating past work, and evaluating culture fit.
Implementation: How to Get Started?
Hiring an offshore team is just the beginning. Now, you need to implement an agile approach to ensure the offshore team helps you achieve your business goals.
Here's a step by step guide to working effectively with an offshore development team.
Define Product Vision

First things first, define the product vision statement, which should include all the tasks that need to be completed, along with the dates. This will help you develop the Scope of Work (SOW), which would comprise milestones and timelines. The SOW will give your offshore team a blueprint to work with.

Create Product Roadmap

After creating the SOW, divide the milestones into smaller, more comprehensive tasks and time intervals. This product roadmap will provide a high-level insight into the expectations and requirements. The goal of the product roadmap is to provide a clear picture of the development process to the offshore team.

Conduct Demos

At the end of each iteration, check the intermediate result of what the offshore team has achieved during the sprint. This way, you can give real-time feedback to the development team and propose any changes if required.

Prioritize Collaboration

Seamless collaboration is critical when working with an offshore team. Make sure you invest in collaboration technologies like video conferencing and virtual meetings for seamless offshore team management. If possible, also try to conduct an in-person meet once or twice a year to enhance team bonding.

Best Tips to Manage Offshore Teams

The good thing about offshore teams is that they are already self-sufficient and don't require micromanagement. Yet, some degree of overseeing is essential to ensure the team stays on track. Here are some offshore team management tips.

Assign a Manager

Every offshore team has a location-specific leader. But to ensure your goals are being met, appoint a manager who communicates with the offshore team leader.

Communicate More Often

A daily 15-minute meet with the offshore team leader can help streamline your development goals. Communication is critical when working with an offshore team, so make sure you do it more often.

Don't Micromanage

As discussed, you don't need to micromanage offshore teams. The team has expert developers who know how to get things done. It's fine to check with them once in a while, but it's important to trust them with what they're doing.

Make them a Part of Meetings

Invite the offshore team leaders or managers to your company meetings. If you're looking at the long term, you should ensure your offshore team is acquainted with any changes taking place in your organization.

Recognize Achievements

Treat them as your employees. Give them regular feedback; point out their mistakes, and appreciate their achievements. Showing appreciation and recognition is vital to keep your offshore team inspired and motivated.

In essence, it's essential to keep in mind that hiring an offshore team is more or less similar to hiring an in-house team. Therefore, it's essential to conduct proper research and consider all the essential factors before signing the contract.

Wrapping Up,

Selecting the right offshore development team with Mobisoft's offshore development service can add immense value to your business. Not only does it help you with efficient resource management, but it also ensures superior quality development with access to the latest technologies and methodologies.

Author's Bio

Nitin Lahoti is the Co-Founder and Director at Mobisoft Infotech. He has 15 years of experience in Design, Business Development and Startups. His expertise is in Product Ideation, UX/UI design, Startup consulting and mentoring. He prefers business readings and loves traveling.