The healthcare industry is seeing a rapid paradigm shift in the way care is being delivered, be it virtual visits, in-home care, senior home health care or a hybrid model. Creating an environment where patients feel emotionally secured and providing them the level of support to meet their medical and social needs at home has become vital. The pandemic set lockdowns and home-quarantines in place, which resulted in deteriorating health for chronically ill patients who are at high-need, high risk.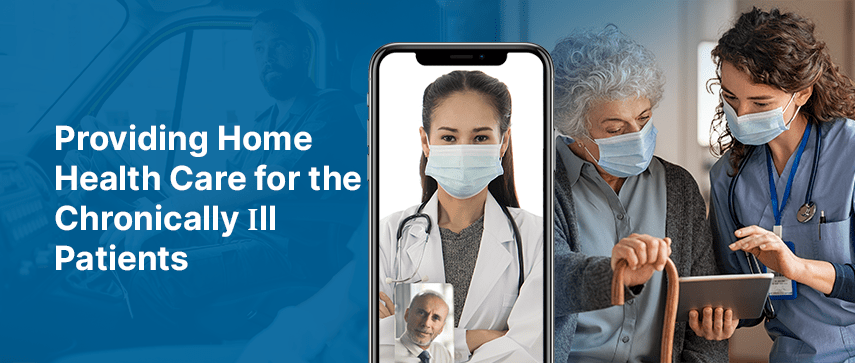 Patients in the communities are looking for alternative ways to seek at home health care services. Offering patients a telemedicine visit with in-person assistance can reduce ED visits and hospitalizations to a greater extent. Although telemedicine usage has tremendously increased, social isolation and lack of caregivers can make seniors vulnerable at home. House calls and remote patient monitoring usage has been on the rise, enhancing better patient-provider relationships.
Expanded Opportunities for High-need, High-risk Patients to receive In-Homecare via Providers and Community Oriented Resources
The chronically ill and elder population facing multiple challenges functional and cognitive impairment will have a sigh of relief with the new Center for Medicare & Medicaid Innovation's (CMMI) direct contracting program. As per a recent announcement, CMMI has said that Direct Contracting leverages lessons learned from other Medicare Accountable Care Organization (ACO) initiatives, such as the Medicare Shared Savings Program and the Next Generation ACO (NGACO) Model, combined with the transformatory approaches from Medicare Advantage (MA) and private sector risk-sharing arrangements. This model, which supports a focus on complex, chronically and seriously ill patients, is part of a CMMI strategy aiming to provide an opportunity for caregivers to take on risk in providing comprehensive care to high-need Medicare beneficiaries.
Healthcare providers will now have the opportunity to serve the complex and aged Traditional Medicare Fee-for-service (FFS) beneficiaries who have been neglected due to a spike in COVID-19 cases across the nation through accessible home health care. Patients, Payers, and Healthcare providers have been showing preference towards home healthcare solutions via house call programs. Also, this allows the housecall providers to look at the home surroundings of these vulnerable patients, and discuss with them other social challenges that need to be addressed by referring them to appropriate and needed community resources.
CMS is also looking to transform its services to providing home health through Medicare Advantage plans. More than 73% of chronically ill and senior patients are showing interest in home health care services over medical facilities. Senior patients with cardiovascular problems, diabetes, Alzheimer's, senile dementia, and other physical and psychological ailments can now be treated with home health care solutions and plans. With the Medicare Advantage plans in place, it has become easier to receive better nursing facilities at affordable rates.
The main element for home health is determining if a member under the SSBCI services is eligible for home health treatments and house calls. House call consultations assisting senior patients with chronically ill conditions to avail home health care services has been a high consideration for MA plans.
Interdisciplinary Care Team Caring for the Most Vulnerable Population
The Interdisciplinary Care Team plays an important role in serving complex, chronic diseases in the home setting for the long-term. The Direct Contracting Model aims to reduce expenditures and preserve the quality of care for these Medicare beneficiaries.
Further, CMS DC models a greater emphasis on voluntary alignment, empowering beneficiaries to choose the health care providers with whom they want to have a caring relationship with. The payment model options also aim to improve beneficiaries' experience of care by reducing the administrative burdens on healthcare practitioners, to help them focus on what is most important, spending time with patients.

Home Health Solutions with Mobisoft's Digital House Call and Teleconsultation Platform
Home health care isn't a new concept, but the pandemic has increased the utilization of accessible home health care needs by multiple folds. Our digital platform can help you scale your House Call programs providing the right care, at the right time and in the right place. Whether it's scheduling and managing appointments or tracking your providers in real-time when they visit patients home, our home health care solution has all in-built capabilities to manage your operations under a single platform. Manage, teleconsultation, house call, and in-clinic visits all in one place.
Streamlined scheduling, remote patient monitoring and route optimization, real-time visit verification with timestamps, GPS tracking and seamless integration for dual appointments scenarios where remote and house call providers need to collaborate for a single appointment. Web and Mobile App patients and providers make it easy, accessible, and convenient to better home-based care coordination. Web Portal for admin and dispatch staff members make appointment booking, tracking, and viewing the interactive map view and analytics easy and simple.
Besides, our integrated digital healthcare solutions help you to provide better health outcomes across communities of all social strata. These include:
Telemedicine
Online Pharmacy
Meal Delivery
NEMT
Furthermore, while MA plans SSBCI services are ensuring better clinical and social outcomes for their members, providing the necessary value-based care services requested by a member is part of the member experience. Mobisoft's RainbowCare platform is making it possible for the senior patients and chronically ill patients of a community to gain access to better home health care services. With house calls and accessible home health care services transforming the whole new healthcare spectrum, our solutions are sure to reduce your costs, increase efficiencies, and improve the health outcomes of complex patients.
Home health care is focused on providing health education and improves member's functional status and it is considered a critical partner in enhancing patients' health outcomes. The services can also include patients transition from hospital care to community-based resources referral to promote their health and well-being.
Final Thoughts,
Home health care has been transforming the way of health services. Patients with Medicare Advantage plans under SSBCI services can also avail of house call programs depending on their eligibility and benefits assigned to them by their health plan. Providers and caregivers are eligible to assign primary physicians and nursing facilities to the patients. Community-based organizations can integrate these services into their system to enhance better member satisfaction and engagement, therefore increase patient satisfaction and provide value-based care.
The COVID-19 pandemic has foreseen many challenges in the healthcare system, and it has equally transformed into providing the best possible care to the ever-growing elderly and chronically ill persons in the community. With telemedicine and telehealth taking over health services, healthcare organizations are adapting to these changes as rapidly as possible. With Mobisoft's digitally unified house call program solution or integrated healthcare solutions with the provision of home health care facilities, it will significantly increase better health outcomes across all communities keeping in mind the social needs. The allowance of housecalls has only perpetrated better member satisfaction, as they look for digital solutions in their health plans. The partnership between home health and digital solution agencies can improve drastically when value-based care is taken into consideration.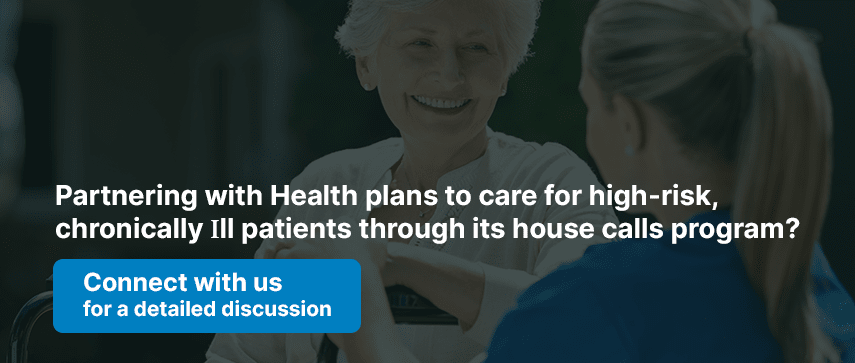 Author's Bio

Ayushi Patel is the Director of Strategy & Innovation at Mobisoft Infotech. She leads the strategic partnerships and initiatives in the healthcare division. Her experience includes healthcare administration, business development and sales, and customer success management.