Healthcare is an evolving industry that continuously needs to meet the challenges of quality of care and improving patient outcomes. In such a complex industry, the need for something that provides access to data at the point of care is crucial. In this regard, Enterprise mobility management or EMM solutions have become a sort of necessity for modern healthcare organizations.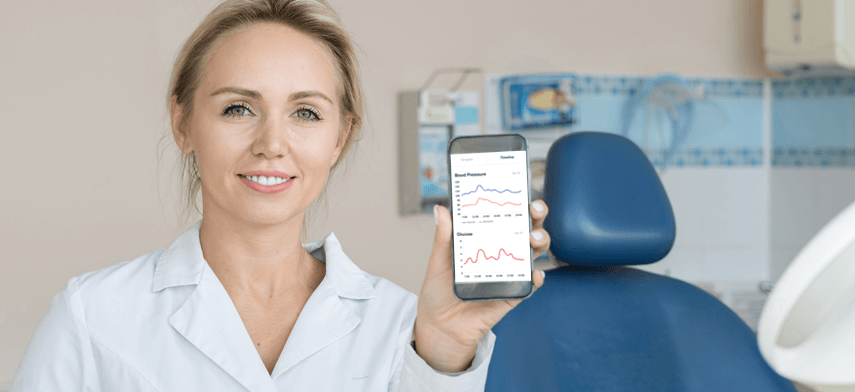 Not only do EMM solutions offer the right data at the right time, but they also pack other powerful features to facilitate and improve healthcare. In this post, we are going to explore how enterprise mobility management helps healthcare providers. We will also go over the healthcare data security implications and how EMM solutions can protect your organization. First, a few words on EMM components.
Components of Enterprise Mobility Management (EMM) Solutions
EMM solutions depend on four main components-
1
Mobile Device Management (MDM)
MDM is the basis of EMM strategies. It's concerned about managing the device which carries the EMM solution. Various activities such as OS configurations, device scheduling and remote troubleshooting fall under the purview of MDM.
MDM tracks and manages device activities and is also involved in anti-theft protection. You can also reset devices remotely and manage network settings. MDM is compatible with different OSes like Android and iOS and makes OS management easier.
2
Mobile Application Management (MAM)
MAM controls and manages user access to various applications within the healthcare setting. It also controls the applicable policies associated with applications. Standalone MAM solutions facilitate the BYOD trend, enabling IT teams to manage apps without a device-specific MDM strategy.
MAM also protects data by granting access to apps through encrypted VPN or virtual private so that sensitive clinical information is not accessed by unauthorized parties.
3
Mobile Content Management (MCM)
MCM is concerned with content management, delivering content and services to mobile devices. MCM also fosters collaboration by enabling file sharing and managing file storage on devices. With healthcare solutions moving to cloud, MCM can also leverage file transfer between devices.
4
Identity and Access Management (IAM)
IAM makes EMM solutions secure by controlling the access of data. It verifies user identity and protects the network through authentication measures. It is through IAM that the right users get access to the right data at the right time. This is ensured through tracking the permissions each user is entitled to.
The four components enable EMM solutions to facilitate healthcare delivery and management.
Impact of Enterprise Mobility on Healthcare Industry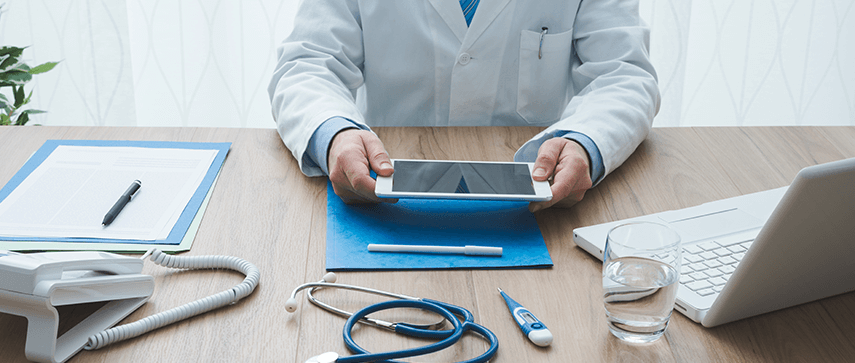 Enterprise mobility in healthcare has resulted in many benefits for the industry. Some of the benefits include-
Quick And Improved Decision Making:

Healthcare mobility empowers decision-makers with the right data to make timely decisions. Physicians can access complete patient records and medical history to make effective decisions for better outcomes.

Increased Productivity:

EMM solutions enhance productivity at multiple levels. It saves time and effort of health staff, which can be used to ensure the wellbeing of the patient. Doctors can facilitate remote consultation and treat more patients. Response times can also be improved using mobile health apps.

Higher Accuracy:

A single mistake in a healthcare setting can have serious consequences for patients. Enterprise mobility management solutions enable caregivers to improve accuracy and efficiency. Be it medication or patient information, mHealth apps can reduce errors and provide the right information.

Save Time And Costs:

EMM solutions take the help of various features like automation, e-collaboration, video calling, remote consulting and more to save time and costs for both caregivers and patients. You can also update information in real-time saving the cost and time needed for manual data entry.

Improve Treatment And Reduce Readmissions:

93% doctors

feel that mobile health solutions can improve a patient's health. You can also cut down the number of readmissions by facilitating home-based self-care through mHealth apps.
How the Integration Of Mobile Applications Improves Patient Care in Hospitals
Mobile and EMM solutions can improve the functioning of healthcare institutions and patient outcomes. Here's how-
1
Easy Patient Record Management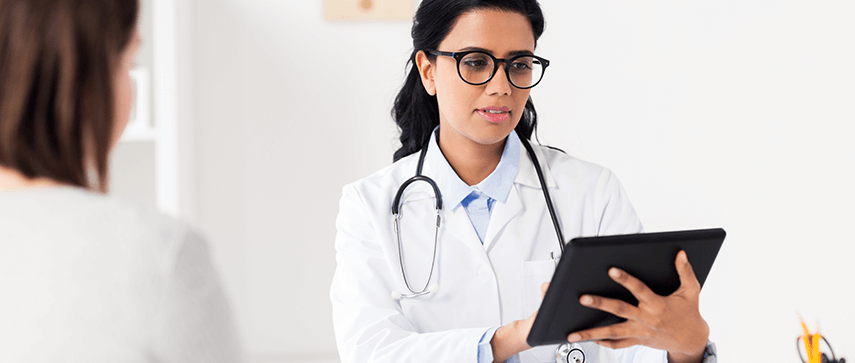 Till a few years back, managing patient records was a challenging task with so many files and pages to go over. With the coming of EMM, health records like prescriptions, lab results, medical history, medications and more can be stored in a paperless way.
This not only helps the environment but also allows quick and easy access to patient information and health records. Doctors can quickly check the background of a patient during emergencies and also update the information as required.
2
Patient Appraisal
Smartphones have different types of sensors which can help in quick and easy patient appraisals. For example, patients and doctors can use smartphones with healthcare apps that measure heart rates, blood pressure, glucose levels and more.
The health diagnosis apps do the job in a matter of a few seconds and cut clinical decision-making time by half. Physicians can also use methods like risk score determination to evaluate which procedure is best for the patient.
3
Remote Patient Care
With mobile health apps, you don't need to physically visit a doctor when you are sick. EMM healthcare solutions offer a convenient way for patients to access care remotely through chat, messages and video calling. The physician can also access patient health records and provide his consultation remotely via the app.
Remote patient care is crucial for countries and states with low access to healthcare and doctor-to-patient ratio.
4
Communication and Consulting Turns Easier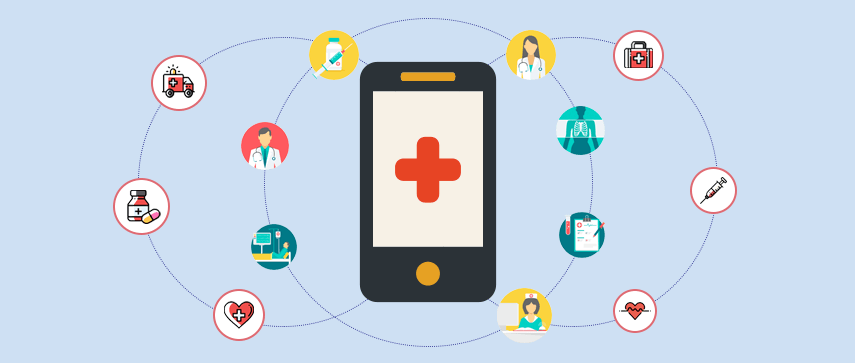 A number of parties and departments need to work together in a healthcare setting for effective delivery of care. For example, the lab stuff may need to submit the results to the physician waiting to operate on a patient in the OT. Or, nurses in the inpatient wards may need to consult with the physician to provide emergency medicines to the patient.
EMM solutions facilitate communication and consulting through chat, messages and even video calling. All the departments can sync with each other and offer timely services to save lives.
5
E-Prescriptions
E-prescriptions have become widely popular for their benefits to caregivers and patients. Now doctors can write an electronic prescription and send it over to the patient's pharmacy in seconds. Lucidity is a big factor for the growth of e-prescription adoption, along with cost and time savings.
Modern mHealth apps can also provide auto-reminders and other helpful tips related to e-prescriptions to a patient.
6
Managing The Healthcare Practice Better
The healthcare industry depends on a number of stakeholders and processes. EMM solutions enable healthcare providers to manage their services more efficiently by giving instant access to the right data at the right time. The solutions also make time-consuming processes faster and provide a portal through which caregivers can manage all their workflow, patients, medications, diagnoses and more.
7
Better Connectivity
The healthcare industry is made up of various stakeholders that include doctors, patients, nurses, administrative staff and others. EMM solutions provide the perfect means for the whole team to coordinate and stay on the same page. You can also foster collaboration and share crucial information, data and updates among the team.
8
Optimize the Nursing Activity
Nurses have to deal with a lot every day. They have to remember their shifts, details of each patient, help in administrative tasks and more. Enterprise mobility solutions for nurses can go a long way to improve patient management and outcomes. You can, for example, get auto-reminders about patient's medications and procedures resulting in faster recovery and effective treatment.
Nurses can streamline their workflow and offer a better service using EMM solutions.
How Mobility Management (EMM) used for Healthcare Data Security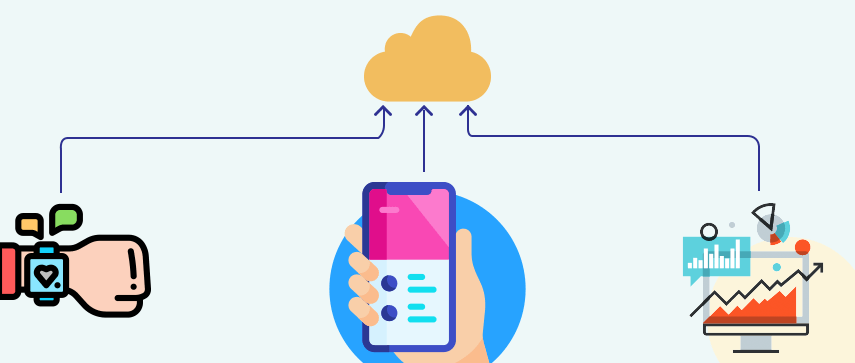 As healthcare goes mobile, how can it ensure the safety of data and protected health information (PHI)?
Healthcare data is highly at risk from theft, data loss, hacking and unauthorized access to patient information. In 2018 alone, 15 million patient records were compromised in 503 data breach incidents.
Among various risks, phishing attacks are also common in healthcare. Phishing attacks take the form of legitimate communications and try to extract sensitive data like passwords, bank details and more. Mobile phones are specifically vulnerable to 'watering hole' attacks where hackers look for ways to gain access to a device.
For example, a hacker can break into a device that uses unsecured public Wifi.
EMM solutions adopt a range of security protocols to protect devices and data. First, it only allows authorized users to access data through passwords and multiple authentication methods. The IT team can also identify unauthorized devices to control access. In the same way, you can also identify and control authorized and unauthorized apps.
EMM solutions also enable admins to wipe data remotely in case the device is stolen and lost. Data in transit is protected by various methods like single sign-on (SSO), limitations on network usage and certificates. Many solutions also use a VPN so that the data passes through an encrypted tunnel without any risks of interception by third-parties.
Modern EMM solutions also are designed to be HIPAA compliant and meet other data security regulations.
Admins can also track and manage security using EMM to ensure compliance. The IT team can remotely apply security configurations and policies to apps and devices. They can also monitor the security compliance by tracking attempts of rooting or jailbreaking the device, ensuring optimum healthcare data security.
Wrapping Up
Enterprise mobility management solutions are gradually becoming mainstream. Developers are also experimenting with new technologies like virtual mobile infrastructure (VMI) to improve the security of mHealth solutions. We are likely to witness a huge growth in the future, with the healthcare mobility solutions market crossing $148 billion by 2023.
If you are a healthcare provider, do consider adopting mobility to improve your practice, diagnosis, treatment and patient outcomes.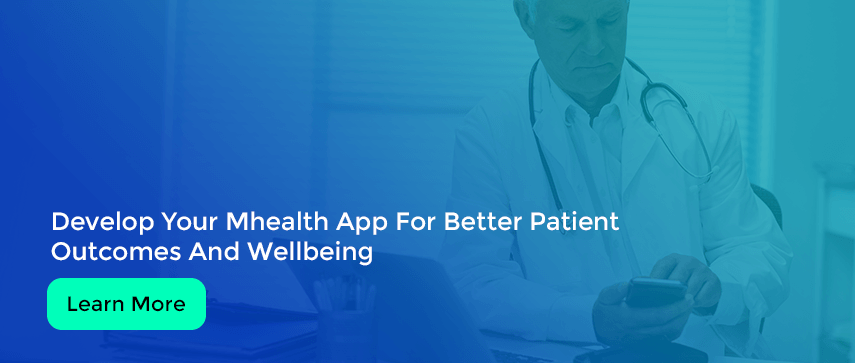 Author's Bio

Shailendra Sinhasane (Shail) is the co-founder and CEO of Mobisoft Infotech. He has been focused on cloud solutions, mobile strategy, cross-platform development, IoT innovations and advising healthcare startups in building scalable products.