The emergence of the on-demand economy has revolutionized the traditional business models at an advanced rate in the last few years. From hailing a cab to getting a spa massage, buying groceries to ordering food, purchasing medicine to renting furniture, the on-demand apps have made our life easier than before. Smartphones have become the game-changer for the on-demand delivery business models.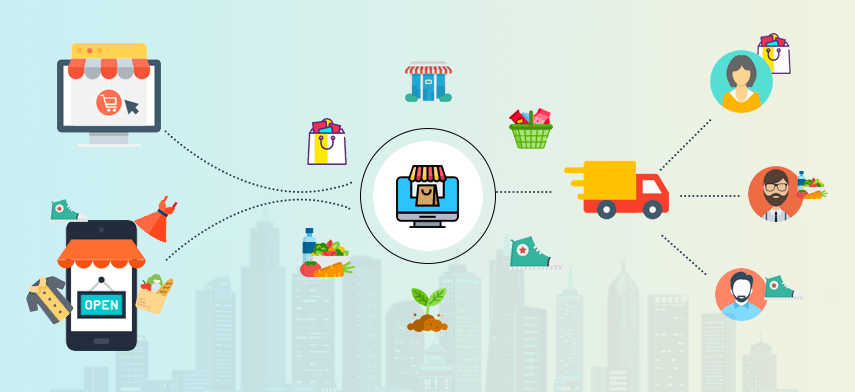 A report from Harvard Business Review in 2016 pointed out that the on-demand economy is attracting more than 22.4 million consumers annually and $57.6 billion in spending. Moreover, the report says 49% of the users of on-demand services are millennials. The number is growing at an exponential rate globally and is expected to skyrocket in the coming years.
To capitalize on this transformation, business owners are coming up with innovative mobile apps in diverse industry sectors, which were previously considered impractical by the market. Although the businesses are not generating much profit now, their revenue streams seem to be widening.
So have you got a hyperlocal on-demand business idea in your mind? Here's a comprehensive blog on building a hyperlocal on-demand delivery app and its rising potential in the present world.
What is Hyperlocal On-demand Delivery Model?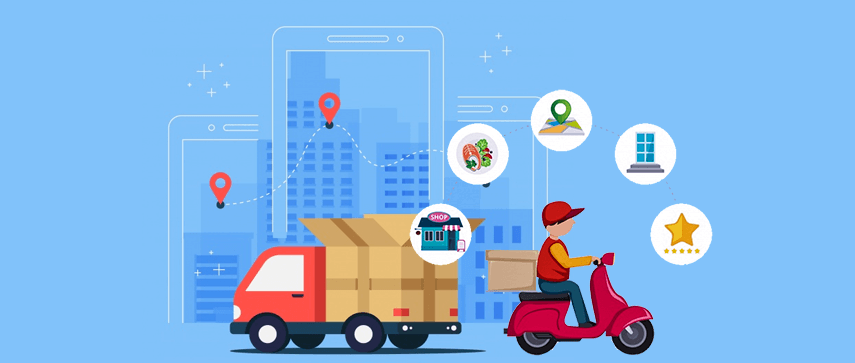 The term 'hyperlocal' refers to 'a small area' or 'a very specific demography.' Hyperlocal on-demand delivery model is defined as a business model in which the service provider acquires requested product(s) locally and deliver the same to the customer in the same geographical area.
For example, let us consider a hyperlocal on-demand business in groceries. The customer will place an order for the required groceries through the dedicated mobile application. The aggregator receives the order and passes on the order details to a delivery partner. The delivery partner dispatches a delivery boy (who is a part of a channelized workforce) to procure the requested item from a local brick-and-mortar store and makes sure that it reaches the customer at a requested location. The aggregator drives the entire system and earns a commission for the role it plays.
The model is applied to products as well as services like plumber, electrician, beautician etc. Examples of the hyperlocal on-demand business model are UberEATS, Zomato, BigBasket, Postmates etc.
A more relatable example of a successful hyperlocal delivery business is GrubHub, one of the world's leading online food ordering companies, which reported $683 million in worldwide revenue last year. Users can search for restaurants in their vicinity and place their order online through GrubHub. The company's revenue primarily comes from the 13.5% (on an average) commission that it charges from the restaurants on each order processed through it. The company also earns advertising income as restaurants shell out more money to be featured higher in search results.
How Is It Disrupting the On-demand Economy?
Undoubtedly, hyperlocal has taken the on-demand economy to the next level. The crux of this model, which caters to a limited geographical area, facilitates swift delivery of goods as per the customers' requirement within a shorter duration of time.
For example, when you need a pizza from your favorite restaurant, you don't need to step out of the home. Place your order in the app and the service provider will deliver it to you within an hour's time.
This way, hyperlocal businesses have given a push to traditional on-demand delivery services. The economy's 'need for speed' is satiated through this delivery model.
A large number of business owners and new-age entrepreneurs are entering to hyperlocal spectrum, thanks to the wide opportunities it has opened up. On the other hand, people find it easier to get things done without physically going to the shop or the center now. Hyperlocal on-demand delivery is disrupting the businesses of traditional ventures.
Interesting Read: How Uber Business Model Works?
What are the Benefits of Hyperlocal Delivery Models?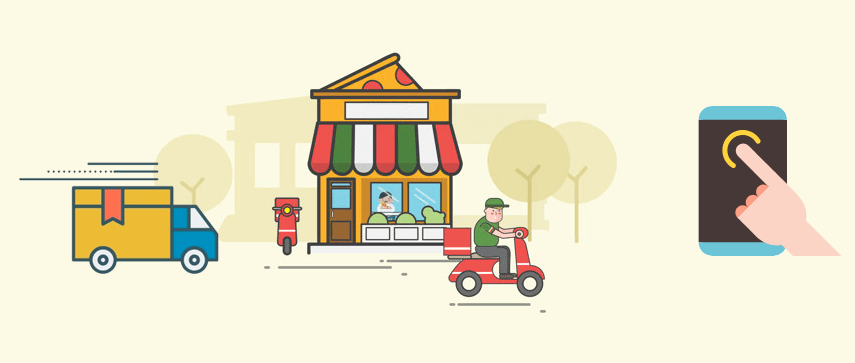 Hyperlocal delivery models offer a plethora of benefits to both the customers and the retailers.
A Boost for the Traditional Stores
The rise of e-commerce and online retail has been a threat for offline retailers. Hyperlocal delivery models provide them with an opportunity to gain visibility and optimize their sales.

Minimal Efforts Required from Retailers
Hyperlocal delivery models create a win-win situation for retailers. They can enlist their business on the respective platforms and open doors to grow their business. They don't need to invest in building and maintaining a dedicated app. Also, the delivery will be taken care of by the delivery partner of the aggregators. Hence, it becomes easier for offline retailers to grow business with minimal effort.

Enhances Transparency and Efficiency
The customers are arguably the greatest beneficiaries of this model. They can evaluate different options, compare them, and reach an informed decision. The system mandates an efficient delivery mechanism as well.

Customers Benefit From the Competition
This system creates pressure on retailers to raise their efficiency level and business standards. Hence, the customers can expect a better quality of goods or services at competitive rates.

Run all your Errands through a Single Device
Life becomes easier when you can do all the errands using a smartphone. Be it shopping or availing a range of services (plumbing, house painting, etc), you can do it with a mere tap on your smartphone.
A Step-by-step Guide to Building a Hyperlocal Delivery Network
To build a successful on-demand business with a hyperlocal focus, you should choose a strategic approach. Here is a step-by-step guide that lists the processes involved in building a hyperlocal on-demand delivery business.
Select the Industry

The first and the most important decision you need to make is the choice of industry to operate in. Hyperlocal on-demand delivery models have tremendous utility and scope for success in a wide variety of sectors – food & beverages (restaurants), medicines, grocery, cabs, and hyperlocal logistics, to name a few. You can think of professional services like plumbing, electric repair, beautician, etc., on a hyperlocal basis.

Your choice of the industry is a make or break factor. Hence, this decision should be based on multiple factors such as the development potential of the industry, the market size, the degree of competition, the feasibility of a hyperlocal delivery business, etc.

For example, in India, food and grocery is currently a $300 billion industry and it is expected to rise to a trillion dollars by 2030! Besides, about 98% of the business is brought by the fragmented and unorganized general provision stores of the country.

There is a tremendous potential for hyperlocal startups to venture into this market as the customer base is already established. Moreover, economic trends would not have a strong negative impact on industry revenue.

Choose a Niche

You may or may not want to pick a particular niche in the industry you operate in, your target audience, and your resources. However, both come with a set of advantages and disadvantages.

Consider the food delivery sphere. You may wish to cater to a specific group of people, vegans for instance. In that case, you have to structure your business accordingly.

When you specialize in a particular niche, the threat of competition is toned down. However, if you are unsure about sustaining your business on the back of a single niche (or of the niche's ability to sustain itself), you should think twice before you opt for a 'niche-specific' business model.

Identify your Target Audience

Your marketing strategy depends heavily on your target audience. Therefore, make sure you are clear about the target market.

Your target audience may be busy professionals who have no time to head down to a restaurant for a meal, or you may target senior citizens who are unable to walk to their nearest grocery store. Millennials, who tend to stay awake at night, often order food at odd hours and could be a good choice for your target audience.

Seal the Deal (Create Partnerships)!

Once you have figured out the industry, niche, and target audience, start building the network. To create a strong and robust delivery network, you must create partnerships with two different parties – a delivery partner and the local merchants.

In theory, though, you need not create direct partnerships with either of them and merely operate as an aggregator. You could receive the customers' orders and ask the local merchants to send their delivery personnel to deliver the order. This kind of a deal, however, is hard to strike and would do a lot of harm to your brand if the merchants fail to deliver the product.

Partnering only with a delivery agency would cut down massively on your commission. However, if you expect a lot of delivery orders, then it might prove to be a prudent option. Often. delivery partners charge a fixed price per delivery and impose a minimum delivery cap.

You may also need to make a choice between contracting an agency to do the deliveries for you and building a dedicated team of delivery boys.

Create a Revenue Model

Your revenue model would be based on two sources – commissions from the merchant-partners and delivery charges from the customers. The commission is your business model's lifeblood and the major contributor to your revenue.

Your local partners pay you an agreed percentage of the order amount as commission on every order placed from their store. If you wish to increase the commission rate, you could restrict yourself to a selected few partners in the locality. So the orders you receive would be divided among the merchant-partners and not get scattered in a large partner pool. Thus, you can demand a higher commission from the partners. They will be happy to pay you more if you bring them more business.

Delivery charges, however, have begun to go out of fashion with most of the service providers offering free delivery. If you still wish to extract money from the buyers, you could charge the customers a convenience fee.

Develop a Mobile App

The next big step is to start working on the platform. You need to build separate mobile apps for iOS and Android for each of the three parties – the merchants, the customers, and the delivery drivers.

The app is a major differentiator between hyperlocal logistics businesses. A feature-rich, user-friendly app plays a major role in creating a solid customer base, and subsequently a steady revenue stream.
Wrapping up
Hyperlocal has become one of the hottest buzzwords in the on-demand delivery industry at present. The customers, retailers, entrepreneurs, and the economy – all of them have a host of solid reasons to accept and welcome the hyperlocal on-demand delivery model with open arms. You can expect a proliferation of such businesses in the near future!
In the coming years, the quality of the app would set apart the successful delivery businesses from their unsuccessful counterparts in this industry. To survive and thrive in the industry, you need the triumvirate of a robust admin panel, an efficient and effective customer tracking app, and a powerful delivery driver app. And it should be backed by a comprehensive delivery management solution.
If you are considering an entry into this sector and are contemplating your app-building strategy, get in touch with us to discuss your project. Allow us to leverage our experience and expertise to turn your idea into a flourishing business.
Author's Bio

Nitin Lahoti is the Co-Founder and Director at Mobisoft Infotech. He has 15 years of experience in Design, Business Development and Startups. His expertise is in Product Ideation, UX/UI design, Startup consulting and mentoring. He prefers business readings and loves traveling.