Oil and Gas fields are still new to mobility and only 1/3 of the top 50 enterprises have mobile apps. That means there are still great opportunities for companies to get involve with the mobile world, and while most enterprises already get benefits for using custom mobile apps, oil and gas companies can take advantage and provide solutions on mobile devices to create a simplistic work environment for their workers.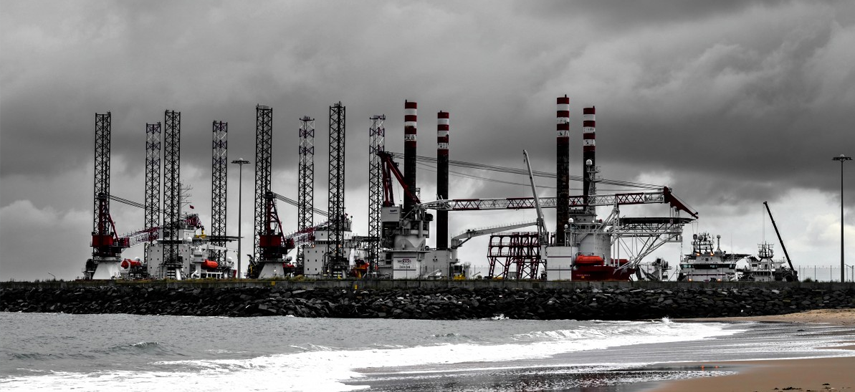 Pumper's Friend
Category: Productivity
Every day of the year, operators and pumpers work in every kind of weather to meet the energy needs of this country. And going mobile simplifies and creates solutions for workers to track their work efficiently and more precise. In the Pumper's Friend mobile application, collecting tank and gauge data is easy with the innovative visual interface. Transmitting data back to the office is easier than ever, eliminating any stack of paper forms. Plotting tank and gauge data makes it simple to view well performance. By using the touch screen interface and familiar oil field images, users can quickly enter readings by moving dials, rulers and levels. Data entry errors are reduced because there is no need to enter numerical values. This happens because when the gauge on the iPhone looks like the physical gauge, your data is accurate.
https://itunes.apple.com/us/app/pumpers-friend/id468655444?mt=8
GreaseBook Pumper App
Category: Business
We see a new trend in making an opportunity for smart oil & gas operators. GreaseBook is one of the mobile application's on iPad, which allows your operations manager have immediate access to every pumper's comments and total production in real time. GreaseBook also allows your pumpers to capture and store photographed images of run tickets, reducing the time it takes to compare oil purchaser reports with run tickets to a matter of minutes. This has become a major stress reliever for operators who are tired of the hassles and limitations of the 8 day paper gauge sheet. GreaseBook is the easiest, slickest way for your Pumpers to collect production data and share it with your company. Any of your company's pumpers never have to remember to submit an 8 day gauge sheet again. GreaseBook offers a heads-up display of production curves offers on each lease, so both, you and your pumpers will be 100% in-tune with your leases. This enables companies to spot problems quickly and minimize their downtimes.
https://itunes.apple.com/us/app/greasebook-pumper-app-oil/id543622291?mt=8
Pipeline Regulations
Category: Productivity/Safety
The safety of workers and operators in the field are amongst the highest priorities for many oil and gas companies. Pipeline has created a mobile application to provide emergency responders for safety and industrial organizations. It does an excellent job of explaining how to respond safely and effectively to pipeline incidents and emergencies. The program integrates technical information from pipeline operators and emergency response specialists within the petroleum and chemical industries as well as the fire service. Its primary purpose is to provide emergency responders with the knowledge and understanding of how pipelines operate, how common products may be transported through transmission, and the understanding of distribution pipeline systems and tactical response guidelines.
https://itunes.apple.com/us/app/pipeline-emergencies/id435935478?mt=8
Oil & Gas Solutions
Category: Business
The merging of smart phones and tablets with new developments in wireless communications, data storage, and software are building quickly towards a revolution in mobile computing systems in the exploration, drilling and production industry. The Oil & Gas Solutions app is an essential tool one should have in the oilfield and drilling industry, designed for all people in oil & gas industry to safely store & manage well information, quickly computer calculations & conversions and easily manage notes & tallies. Operators will have calculators with automatic unit conversions and thousands of reference records to use as configuration data. Each data type will allow you to enter and save custom data entries for drill pipe, casing, mud pumps, and tubing.
https://play.google.com/store/apps/details?id=com.lithium.driller&hl=en
Pressure Converter by GE Electric
Catergory: Business
In the oil and gas industry, tools must be provided for accurate measurements by operators and technicians. Now every worker can have precise calculations within just seconds on your company's mobile devices, such as phones or tablets. The Pressure Converter by GE is ideal for plant, process and service engineers, and laboratory technicians in the oil & gas industry. Input pressure value information and retrieve results from the Pressure Converter in a matter of seconds. This application can easily convert to and from up to 28 different pressure measurements.
https://itunes.apple.com/us/app/pressure-converter/id374474772?mt=8