The automotive industry is continuously moving toward innovation and exponential growth. Thanks to tech advancements like the Internet of Things (IoT) that are helping OEMs, business owners, and other stakeholders make the most out of connected automotive solutions.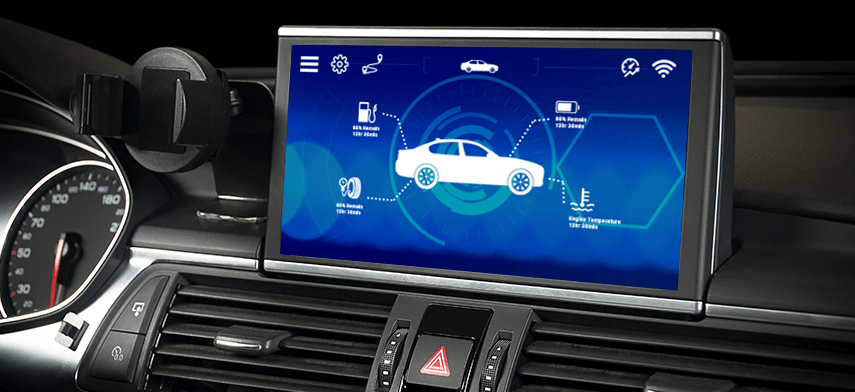 The application of IoT in automotive industry is making vehicles smarter and more reliable than ever before. It facilitates advanced transportation capabilities, enhanced vehicle management, and seamless driving experiences.
Today's blog focuses on highlighting different aspects of IoT and how it is transforming the automobile industry for the better. So, let's dive deep into IoT in the automotive industry.
Table of Content
What does IoT in Automotive Exactly Mean?
IoT automotive is an integration of connected sensors/devices, gadgets, mobile applications, software, automatic driver assistance system (ADAS), cloud computing technologies, and other digital components into vehicles.
It builds a foundation of holistic communication between cars by optimizing factors like manufacturing, predictive maintenance, data storage & management, insurance, fleet diagnostics, and more.
The integration of IoT in automobiles enables OEMs to focus on the core business competencies and breakthrough innovations. It transforms vehicles into near-artificial intelligence and connected models.
In a nutshell, the implementation of IoT in automotive industry is all about exploring sought-after driving solutions. It facilitates mobile communications to introduce more convenient features and functionalities for different types of vehicles.
An Overview of the Automotive Internet of Things Market
The idea of connected cars leverages the value generated by IoT in automobile industry, thus creating exciting opportunities for smart mobility. It is becoming tough to resist the in-ground highlights and operational controls introduced by IoT as the underlying proponents of the connected vehicle revolution.
According to a report, the global automotive IoT market is expected to reach a whopping USD 289.36 billion by 2030 with a CAGR Of 25.5%. The report also states that by 2040 the number of on-road vehicles worldwide will grow by 2X, of which approx 90% will be integrated with IoT-enabled technologies.
The market is expanding due to the extensive use of well-defined driver assistance systems and connected technologies along with the rising demand for smart device-led vehicles. Another major contributor is the implementation of solid telematics laws. Moreover, the need for live traffic and event notifications is also responsible for this expansion.
Concretely, this growing market is driven by top tech giants and corporate players. These include Google, Cisco, Thales SA, AT&T, Intel, Microsoft, TomTom, Robert Bosch, Tesla, IBM, Texas Instruments, Vodafone, NXP Semiconductors, and more.
Here is an insightful table to understand how the global internet of vehicles market is segmented in today's digital age. We have covered the most important segments to give you a better idea.
| | |
| --- | --- |
| Parameters of Segmentation | Variants |
| Offerings | Software, hardware, and services |
| Connectivity | Integrated, tethered, embedded, and others |
| Communication | Vehicle-to-vehicle (V2V), vehicle-to-infrastructure, in-vehicle, etc. |
| Application | ADAS, security, navigation, infotainment, predictive maintenance, and more |
| End User | OEMs, automakers, telematics operators, vehicle insurance providers, etc. |
How Adoption of IoT in Automotive Industry Looks Like
There are many aspects to understand before starting your auto IoT journey. We have combined the most important ones that need your quick attention. Let's take a look at them one by one.
Internet Of Everything (IoE)
It is an end-to-end solution that takes the traditional application of the Internet of Things to the next level. It aims to build, deploy, and manage communication across the concerned set of machines with utmost precision.
It combines the capabilities of data, systems, people, and devices into a centralized platform to deliver unmatched connected experiences. The key areas of the automotive internet of everything include collision control mechanisms, automated adaptive cruising, vehicle-approaching data, live 3D-rendered maps, and so on.
Predictive and Preventive Maintenance
Predictive diagnostics solutions play a pivotal role in the successful implementation of IoT in automotive manufacturing. These solutions give detailed insights into failures or future breakdowns that help manufacturers make quick alterations and necessary modifications.
Predictive maintenance systems are designed to gather and analyze in-vehicle sensor-generated data like emissions, speed, fuel level, tire pressure, engine temperature, and more. This data helps to monitor a vehicle's functional metrics and produce error-free components.
The adoption of IoT in automotive industry strictly demands the understanding of semi-automated and automated connected cars. These vehicles facilitate faster data transmissions and responses.
Cellular vehicle-to-everything (CV2X or V2X) communication is a key driver of these IoT connected vehicles, which can be categorized as V2V, V2I, vehicle-to-pedestrian (V2P), and vehicle-to-network (V2N) communication. It involves the right application of frameworks, sensors, and gateways.
When it comes to IoT-enabled autonomous vehicles and connected cars, data is of utmost importance. The vehicles repeatedly generate data from computer vision and sensory devices such as smart mirrors, Bluetooth, LIDAR, RADAR, etc.
All manual and automated driving decisions are to be taken by keeping data touchpoints in mind. These touchpoints should provide relevant information to the right processing modules and algorithms (in an annotated format) for swift processing.
Over-the-air (OTA) Software Updates
These are cloud-enabled services that boost in-vehicle features and functionalities via virtual software updates. Experts consider it a connected cars IoT technology that enables vehicular systems to install refined software rollouts for electronic control units (ECUs), cloud security, telematics, third-party cloud applications, infotainment, vehicle parts control, etc.
OTA software updates can be divided into three main categories, namely package design, delivery management, and update execution. Each stage is equally responsible for developing and deploying advanced driver-assistance systems.
In-Vehicle, In-Cloud Software
To create a niche in the connected vehicle industry, it is really important to understand the significance of vehicular in-cloud components. This elevates driving experiences while helping you take full advantage of functionalities like GPS, radio frequency identification system (RFID), on-board diagnostics (OBD), mobile mirroring, and more.
With in-cloud software, you get the privilege to connect your individual units via a particular network and control it accordingly. For instance, using a mobile app to open sunroofs or change in-vehicle temperature.
Key Advantages of Using IoT in Automotive Industry
There are various benefits of implementing IoT in automotive industry. Here are some of the most important ones that can transform your business operations and help you generate profitable outcomes in the long run.
Accelerate Manufacturing Workflow
Industrial internet of things (IIoT) solutions are designed to collect target amounts of data. Later, this data can be processed and evaluated to get better visibility, reduce complexities, and speed up the entire production process.
Enhance In-vehicle Experience
One of the most important benefits of IoT is seamless vehicle experiences. The connected car IoT technology offers a complete range of advanced navigation solutions, driver assistance systems, infotainment services, etc., that generate positive in-vehicle experiences.
Ensure 360-degree Security
Automotive IoT security systems provide superior functionalities like lane detection, traffic congestion identification, object recognition, automated braking, and more that prove beneficial in making vehicles secure and roads safer.
Users have access to all the needed vehicle-related information like fuel level, engine oil, repair & maintenance requirements, and so on. This saves time while avoiding any kind of vehicle stoppage.
Implementing IoT in automotive industry helps companies make the best use of multiple sensors to gather relevant data. This data gives detailed insights into the adherence to laws and regulations along with standard driving patterns.
IoT-enabled vehicles practice seamless software updates, predictive maintenance, and payment processing (parking ticketing, toll collection, etc.), which helps to cut down costs and reduce operational expenses.

Challenges Faced By Automobile Businesses While Implementing IoT
Despite the several opportunities and applications introduced by the internet of things, stakeholders in the automotive sector have to face critical challenges. The list is not limited to but includes the following.
Ensuring complete security while observing descriptive, prescriptive, and predictive analytics is not an easy job. You need a robust connected car Internet of Things platform to prevent potential hacks or breaches and secure data-in-motion
The underlying architecture of automotive IoT involves constant communication between cars, servers, and client applications, via sockets and sensors that relay data every second of the drive.
Be it traffic conditions, road conditions, tracking, or navigation, every data point needs to be smoothly relayed. But the presence of physical barriers like tunnels or remote locations, or bandwidth issues impede this smooth transmission of vital information.
Real-time navigation is only possible when you set up the right collection of devices to get live updates on weather and road conditions. Incompetent devices fail to generate required data which impacts the navigation capabilities.
Integration of IoT with different technologies like AI, ML, cloud computing, big data, metaverse, etc., brings its own set of benefits and limitations to the table. It becomes really difficult for OEMs and automobile companies to identify the tech stack that can help them reach their desired goals.
Another important challenge is optimizing the costs and capital investment. Automotive businesses are unable to discover the areas where IoT can be of utmost help. This leads to improper use of available resources.
Lack of Required IoT Skills
Many companies lack the needed resources to deploy IoT solutions for their automobile operations. Whereas others are unable to find the right IoT development partner that can expose their business to value-based IoT services.
How Mobisoft Can Help
With 13+ years of experience in creating breakthrough IoT solutions for global clients and technology companies, Mobisoft is committed to delivering the finest connected car IoT experiences for your automotive business.
With the help of our experienced team of IoT professionals, software engineers, app architects, and tech specialists, we help you explore result-oriented IoT services that help your company thrive.
Be it IoT testing, app development, consulting, integrations, analytics, or any other extension, our team makes sure that you get nothing but the best. Apart from implementing IoT in automotive industry, we help you leverage IoT to its true potential across various sectors like healthcare, smart home & workplace, retail, manufacturing, and energy.
By striking the right balance between automation, expertise, and technical knowledge, we understand your vision and convert your ideation into a fully functional IoT product. Altogether, we help you capitalize on potential IoT opportunities and exceed user expectations.
Wrapping Up
With each passing day, the application of IoT in automotive industry is growing by leaps and bounds. Days are not far when new and more innovative automobile use cases will take center stage and completely transform vehicle-user interactions for the better.
As such, device manufacturers, IoT platform providers, and legacy automotive enterprises have to extend their IoT capabilities and focus on creating more engaging solutions. This will help them outshine their competitors and create a niche. Mobisoft can help you tap into resourceful IoT channels and grow exponentially. Connect with our experienced IoT consultants to accelerate your digital transformation journey and start your IoT development project right away.
Author's Bio

Nitin Lahoti is the Co-Founder and Director at Mobisoft Infotech. He has 15 years of experience in Design, Business Development and Startups. His expertise is in Product Ideation, UX/UI design, Startup consulting and mentoring. He prefers business readings and loves traveling.