The first question that often concerns a consumer thinking about customer services is the variety of IT support levels that a service provider offers and the facilities that these levels present. The next question is often related to how the support tiers can be used in organizing help desks and service desks.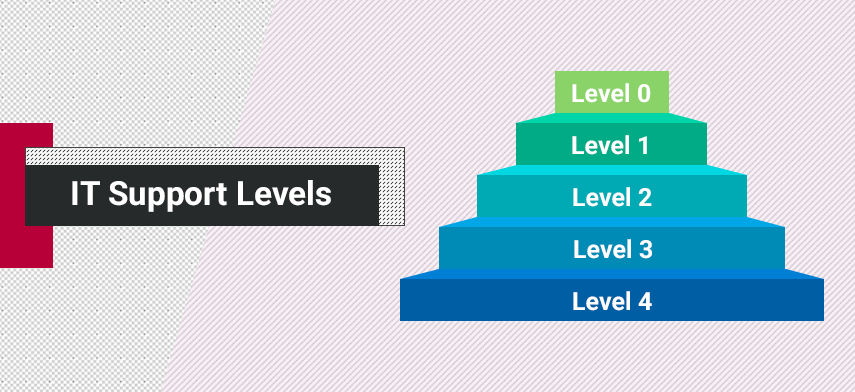 To give you a better insight into the topic, here is a detailed guide for the ITIL's view of the level of support service that an IT service provider must have:
IT support levels are used to describe the access levels and skills of IT support personnel. Although alterable, a typical IT support hierarchy has the following tiers:
Level 0
Level 1
Level 2
Level 3
Level 4
Level 0 or Tier 0 Support
Level 0 or Tier 0 IT support is an automated machine interactive level. It offers self-help and user-retrieved information. It has little or zero scope for immediate human interaction while receiving support.
Functions
Providing some sort of user-retrievable information
Incorporating a self-help service desk
Scope
The Internet age user gets the necessary support information from mobile and web devices. This includes FAQs, detailed information about products, blogs reviewing the products, search, and manual functions.
The user uses the mobile app to access the service catalog. They request and receive service without involving the intervention of the IT staff.
To reach higher IT support levels or company personnel, emails, web forms, and social contact channels (such as Twitter, LinkedIn, etc.) are used.
Users are allowed to crowdsource solutions that have no input from company personnel through customer forums.
IT Support Staffing Requirement
Level 0 support requires specific marketing and technical resources to create, maintain, and update itself as and when required.
Web development or a mobile app development team is essential to create a web portal or mobile app.
A few staff members can be hired as moderators to monitor social profiles or customer forums
New requests received from level-0 can be assigned to the level-1 support desk for further operations.
Level 1 or Tier 1 Support
Level 1 or Tier 1 support is a very basic level of support offered by a company. This support level can also be viewed as a telephone helpdesk or answering center support.
Level 1 support is provided by IT personnel having the lowest level of technical expertise and access.
Functions
Logs, prioritizes, tracks, routes, categorizes incidents reported by users
Records user requests
Attends user phone calls
Replies to emails
Solves logging issues faced by the user
Performs basic troubleshooting
Deals with the alarms raised by the monitoring tool
Scope
Level 1 support receives inbound requests via channels like the telephone, web forms, chat, email, or other documented agreements with the client. This level is envisioned to be the first level to acknowledge the incident and support track tickets until the issue is completely resolved.
The issues it deals with are basic, including solving usage issues, providing details about a product, and addressing service desk requests which require IT involvement.
In case some issues require more technical help, Level 1 personnel will typically escalate the issue to Level 2 and follow documented escalation procedure.
IT Support Staffing Requirement
Level 1 staff require only basic technical knowledge. They are given training on the job to resolve common issues faced by consumers to fulfill the service requests by following a documented Standard Operating Procedure (SOP).

Level 2 or the Tier 2 Support
The Level 2 or Tier 2 support level provides in-depth troubleshooting, technical analyses, and backend support. The technical know-how of Level 2 employees is greater than Level 1 employees. This level deals with the issues raised by Level 1.
Functions
Comprehensive technical support
Represents ITIL Technical Management
Follows incident management activities
Scope
They work in a backend capacity and have no direct communication with the users.
Level 2 workers are experienced and conversant technicians.
They access incidents and provide solutions to the issues that can't be handled by Level 1 workers.
If Level 2 fails at providing any solution, the issue is then escalated to Level 3 support.
IT Support Staffing Requirement
A technically sound person, with a sound understanding of the product, is required at this level. It is not essential for them to be programmers or engineers. However, they must have adequate experience and knowledge of the specific product or service that the company offers.
Level 3 or the Tier 3 Support
This level consists of subject matter experts (SMEs), who are well-versed with the product or service for which the company is offering support. These experts resolve complicated and subtle issues.
Level 3 engineers participate in managing, prioritizing, break-fixing activities, minor enhancements, problem management, stability analysis, etc. They also have expertise in technological platforms.
Functions
Supports the expert level of the Technical Management Function
Provides a top level of support for the product or service
Looks for continuous service-improvement opportunities
Scope
The Level 3 support group has the highest technical resources available for solving an issue or creating a new feature.
They attempt to create a replica of the problem to determine the root cause, using a product code, specifications, and design. On determining the cause, the company decides if the new fix must be created or not. The new fixes are then documented for use by Level 1 and Level 2 personnel.
If the fix involves a major enhancement, the problem is then transferred to Level 4 support.
IT Support Staffing Requirement
This level requires a workforce with the top level of skills and are also known as product specialists. These include actual engineers, creators, or chief architects, who design and develop a product or service.
Level 4 or the Tier 4 Support
Level 4 or Tier 4 comes into the action when the services get outsourced by a parent organization. This level usually involves product or vendor support.
Functions
External support for problems that are not supported by the organization
Scope
This level provides outsourced support for components or products that are not serviced by the company directly. The issues forwarded to Level 4 are monitored by the companies until resolution.
IT Support Staffing Requirement
Suppliers and business partners are preferred who provide support and services for a product or its components, without any direct support, but are essential for providing services to the customer.
Do Companies Need to Follow All These Support Levels?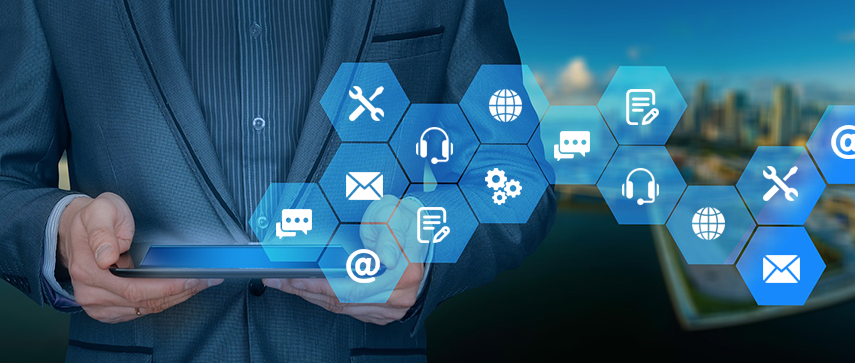 IT Service Management (ITSM) highly encourages tiered IT support. However, it is not mandatory to organize all levels. You can always have modified or combined IT support levels to suit your requirements.
There are many companies which have tailored their support levels and combined support tiers in accordance with their financial capability, resource capacity, and philosophies. While a few companies prefer that the same group handles Level 1 and Level 2, others prefer grouping Level 2 and Level 3. The only thing that you need to focus on is that your tailored support system is helping you achieve your aim in the best way.
The aim ultimately is to automate the maximum number of support functions in Level 0 so that the user can easily and quickly find solutions without looking out for the IT personnel's support. This saves highly skilled resources for the development of new solutions, troubleshooting complex problems, and therefore reducing operational costs.
Author's Bio

Nitin Lahoti is the Co-Founder and Director at Mobisoft Infotech. He has 15 years of experience in Design, Business Development and Startups. His expertise is in Product Ideation, UX/UI design, Startup consulting and mentoring. He prefers business readings and loves traveling.