KPI in healthcare has been observed to be crucial for any organization delving into the medical technology sector. KPI healthcare helps in keeping track of the performance of the business. Whether the organization is a public or private healthcare business, each of us has likely felt the pressures of budget constraints and keeping ourselves updated with the ever-changing processes, regulations, and policies of the healthcare market.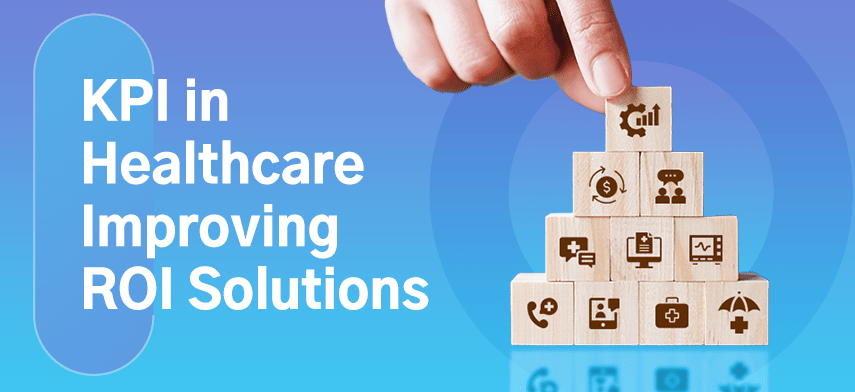 These constraints and pressures have emancipated the creation of the real emphasis for healthcare organizations by setting the business objectives and ensuring that they are achieved. So how can we ensure that the business goals and objectives are achieved?
To put it simply, we can ensure that through tracking and measurements of healthcare KPIs. If we can measure them, we can ensure necessary improvements. To manage healthcare KPIs, it is necessary to understand the key performance indicators in healthcare and how they can be helpful.
Significance of KPI in Healthcare
Measuring the right healthcare KPI is crucial to the success of the healthcare industry's businesses. Therefore, when the clients are onboard, businesses can find some uncertainties in measuring with the right tools. So why are metrics in healthcare important? Effective KPI in healthcare is an extremely important metric that helps to assure in accomplishing the business objectives.
Understanding the healthcare ROI is more than calculating the metrics on weekly reports. It enables businesses to make critical adjustments in executing their strategic goals. Knowing the right measurements with KPIs will help in achieving the outcomes faster. A key performance indicator in healthcare is a measurable metric that helps in demonstrating the company's performance against the key business objectives and progress towards a long-term strategic plan.
5 Reasons Why KPI in Healthcare is Important?
1
Monitoring company health
KPI in healthcare work as a scorecard for monitoring company health. Businesses need several KPIs to monitor the company's vital signs and health. Businesses can measure what they need to make effective changes. The four categories that are necessary for measuring Healthcare KPI include Employees, Processes, Revenue, and Customers. These are what comprise the human resource disciplines, improve customer satisfaction, enhance business processes and strategies, and more.
2
Measurement of progress over time
Measuring the progress over time helps to track the key outcome indicators including revenues, locations, employees, gross margins, etc. Setting the targets at the beginning of each quarter and year can help in the weekly measurements of KPI in healthcare towards goal progressions. Setting the required KPIs can help to move forward on a long-term goal and improve strategizing for businesses.
3
Making necessary adjustments to stay on track
It is important for healthcare businesses offering ROI healthcare solutions to integrate leading KPIs to improve additional results. Making the necessary adjustments to stay on track can help to avoid missing business targets and goals. The leading indicators KPI can help to predict future outcomes for the business. Leading indicator KPIs can also help to track whether the business is progressing towards achieving its goals. Leading indicators are both measurable and can directly influence business decisions.
4
Tackling opportunities and solving problems
Using a combination of KPIs on the dashboard of your business projects for healthcare implementation, businesses have the authority to have the information at their fingertips to solve any problems or tackle necessary opportunities.
5
Analyzing patterns over time
Measuring the same KPI in healthcare over several quarters can help to identify and detect the various patterns in your outcomes. Numerous patterns can help businesses stand out and also help in predicting the slowest quarter through these patterns. Understanding the KPIs of team members and other factors can help in analyzing the data leading to necessary consequences.
Healthcare Metrics and KPIs to Track in 2022
In determining which KPIs to follow or what is most relevant for a business, it is necessary to consider the strategic goals of the organization. Meanwhile, healthcare facilities can benefit from tracking patient information regarding hospital stays and experiences. Every organization needs to have specific goals to reach that can endure solving particular concerns when achieving special goals by serving certain demographic populations. Having the right KPI in healthcare can ensure staying on track of those objectives for long-term ROI healthcare solutions.
1
Operational KPI
Improving patient wait time: Helps in calculating the average amount of patient wait time between checking in and visiting the provider. This manifests in better staffing and scheduling by providing in-depth insight into patient satisfaction.
Average room availability for patients to use at a time: This portrays how well the organizational space has been utilized to treat patients and offers assistance in determining the space required for the facility. This is more on the line of occupancy rate with KPI in healthcare.
Patient-to_staff ratio: This indicates the capacity and usage of resources for staff which can directly affect the quality of patient care and services through metrics in healthcare.
Room and bed turnover: This showcases how fast the patients are moving in and out of a particular healthcare facility. This helps to improve the efficiency of the facility and it should be considered when looking into patient satisfaction.
Provider communication: The communication between primary care physician, patient, and proceduralist determines the frequency of various ways in improving the quality of patient care services. The digitization of healthcare helps in measuring the satisfaction or measures the documented communication activities between patients and their providers.
2
Finance KPI
Average time and cost for Insurance Claim Processing: The average amount of time and cost provided by an organization is usually held up in processing insurance claims. The finance KPI in healthcare can indicate when the facilities receive quicker payments and when there is less cost to the patients.
Rate of Claims Denial: This helps in providing in-depth insights into healthcare metrics and the effectiveness of the organization's revenue management and cycle. A low rate of claim denial indicates that the organization has more time to focus on providing patient care and less time on paperwork tasks.
The average charge for treatment: This financial KPI in healthcare portrays the average amount a facility charges for the treatment of patients. It can be segregated and broken down by treatment or show an average of every treatment received by the patients.
Permanency in employee wage: Recording the value of bonuses and wages of employees can help to separate the administration and direct it towards providers with full-time employee wages.
3
Communication KPI
Media mentions: Communication KPI helps in keeping a track of how often the organization has been mentioned in media including the social media of digital healthcare platforms. It is recommended to track both the positive and negative mentions separately.
Holistic patient satisfaction: This KPI in healthcare helps in calculating patient satisfaction levels by combining various factors. This is a great tool for marketing for healthcare organizations when it's high on operational efficiency and patient care services.
4
Emergency KPI
Process steps for patient wait times: It portrays the amount of time a patient has to wait during a provider visit to the emergency department of a healthcare facility.
The time between the onset of symptoms and hospitalization: This healthcare KPI gauges the amount of time required between the patient's experience of a symptom to when they are hospitalized.
The number of patients leaving without being treated: This indicates the number of people who are not willing to wait to see a provider or physician. The emergency KPI in healthcare can help in determining the number of beds and staff required to handle the oncoming number of patients.
5
Care KPI
Medication errors: The care KPI allows healthcare organizations to measure the time medication administration and prescriptions have faced errors. This also includes when errors are made during medication, administering it to patients, and the dosage of medication provided. This is applied to both inpatient and outpatient care services.
Staff vs. Patient ratio: This demonstrates the number of staff available per patient. This might indicate whether a healthcare organization is over or understaffed.
Follow-up by patients: The care KPI on this helps to measure the number of patients who receive follow-up care services after their visitations. This can be from a nurse, provider, and/or other staff members asking about the patient visits and their improvements.

Wrapping up,
Bear in mind that businesses choose the KPI in healthcare for setting their next steps in measuring KPI targets. The best way to measure is with benchmarking – drawing a comparison between the performances of an organization with its competitors. Setting the numbers from previous experience can set businesses far away from the benchmark and industry norms that can delay any improvement in healthcare services.
Finding the current resources and accurate data for healthcare metrics and PI targets in the healthcare industry can be challenging. Communicating with digital health consulting companies like Mobisoft can help with providing data sources and reviewing healthcare publications to inform businesses regarding their future decisions.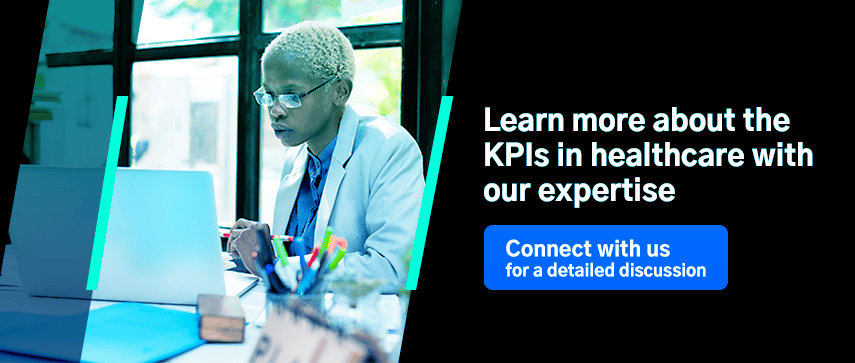 Author's Bio

Shailendra Sinhasane (Shail) is the co-founder and CEO of Mobisoft Infotech. He has been focused on cloud solutions, mobile strategy, cross-platform development, IoT innovations and advising healthcare startups in building scalable products.