We have come all the way from simple route planning using Google Maps to the likes of on-demand transportation options that provide micro-transit services. It is one of the transportation technology concepts that aims to increase community transit while remaining affordable and accessible for all.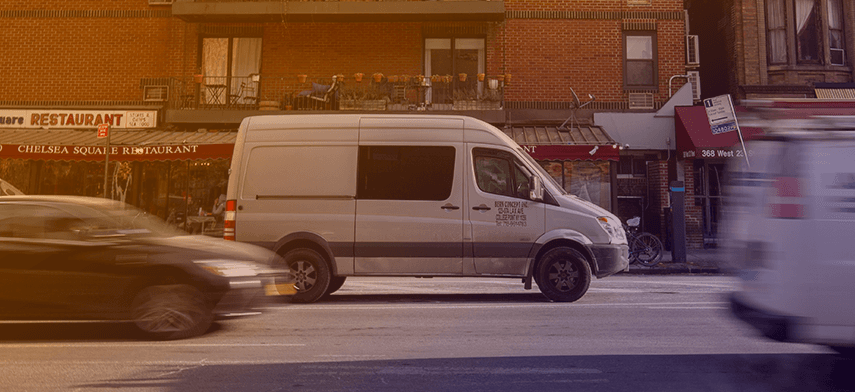 What Does Micro-Transit Services Mean?
According to the US Department of Transportation, a micro-transit service can be defined as a publicly or privately owned and operated shared transportation system. This may include fixed routes and schedules as well as a scope for flexible and on-demand transit service. The vehicles that are used may range from shuttle vans to multi-passenger vehicles and buses.
Take an example of shuttles that are available on the airport to take you to your hotel. Now, what if you could get a shuttle the other way round on demand and on a sharing basis as well? This is what Micro Transit Systems represents today.
Origin of Micro-Transit Services
The origin of Micro-Transit services can very well be traced to the dollar vans, minibusses, and Google Shuttle Services of the 2000s. Once IT and GPS services like Google Maps came into existence, the giants in Silicon Valley started to operate their own shuttle services on fixed routes to and from the IT Park. Some 10 years down the line with the advent of smartphone technology, companies like Leap Transit and Chariot saw opportunities to further leverage consumer services through these smartphone applications. Hence what we today know as Micro Transit Service was born.
Reduced Greenhouse Emissions
According to a study conducted by Mars Discovery District, The Atmospheric Fund and Coop Carbone on the effect of Micro-Transit technology on Greenhouse emissions for Greater Montreal Area. It was found that using Micro-Transit Services as primary mode of transportation will result in reduction of Greenhouse Gas Emissions by a staggering 515 to 614 Kilotons depending on the fuel used and the range of the vehicles used.
Recent Developments and Scope of Micro-Transit Services
Numerous public transit agencies are facing a decline in the number of passengers as well as revenue. A multitude of companies are offering Micro-Transit services in different capacities at this point in time. Some of these services include point to point transportation service, door-to-door on-demand service, on-demand transit service, origin to destination service, transportation services to work, and door to door transportation services. This shows that corporates of the modern day have stepped up to offer transportation services to increasingly populated suburban and urban areas with a touch of personalized services added to it.
An Insider's Look Into Micro Transit Systems
The concept of Micro-Transit services in recent years has gained significant prominence amongst the people of urban and suburban areas of the United States. This concept has been widely adopted by private players. Moreover, county level as well as city-level governments, have also started partnering with Micro-Transit service providers to build a more effective network of door-to-door transportation services.
Some of the prominent names in the field of view include Kansas City Area Transportation Authority, Sacramento Regional Transit District, Orange County Transportation Authority, Austin Transportation Network, and Capital Metro.
All of these above-mentioned transit network companies have either launched a pilot or have continued the service of Micro-Transit services in their respective areas. Not only has the ridership of such services increased when compared to Public Transit System, but also these prove to be easier to manage and more cost-effective to both operators as well as commuters.
How Micro-Transit Systems are Different from Other Modes of Transportation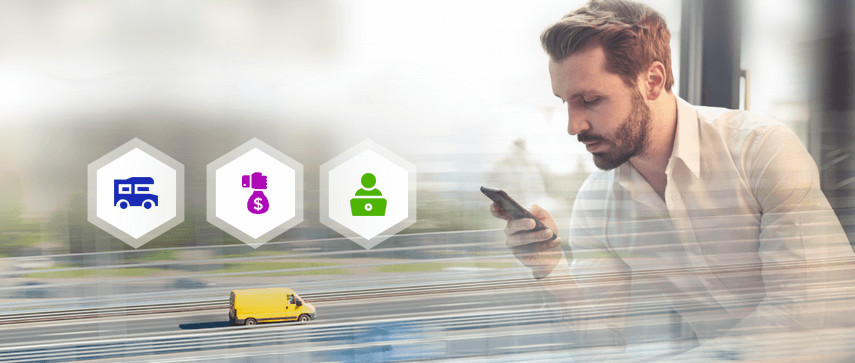 There are numerous similarities as well as differences that one can quote in how the Micro-Transit systems are owned and operated when compared with other modes of Public Transportation. Under this section, we'll focus on some basic differences between both the systems.
Smaller and More Compact in SIZE

When compared with public transportation systems such as public buses, micro-transit systems are smaller in size as per the capacity of the vehicle, which means that the vehicle is more personalized, costs less to maintain, and quicker in terms of, the time it takes to transport a person as it takes lesser halts.

Online Booking System

Because this system has come to prominence only with the advent of information technology, the micro-transit system inherently comes with instantaneous online booking systems, which plays a major role in its demand.

Cost-Effective

These can effectively replace the defunct bus systems in low-density urban areas which are high in maintenance. Hence, a smaller system with fewer maintenance needs can service a particular area rather than a big city bus which will go half empty.

Delivery Models of this Concept
This new model of public transportation can be implemented in different delivery models such as public-private partnership, combined mobility services and even a private enterprise model.
1
Public-Private Partnership
Recently,RideKC demonstrated a one-year pilot program operated by Kansas City Area Transit Authority and Ford Motor Company. The pilot aims to increase community mobility by providing these dedicated Micro-Transit Services to upgrade the existing mass transit options for the city. Using the Bridj App, anyone in the Kansas City area can book a shuttle service for up to 24 hours in advance and the payment is done online through cards This means you can skip bus station queues and still travel in a public transit system.
These services will be delivered specifically through dedicated mobile applications and websites run jointly by the government. and their private partners as mentioned in the case of RideKC. This model will ensure that the ridership is systematic and you can get on demand rides to your destination.
Benefits of PPP
Allows local governments, transit authorities and private enterprise to collaborate and leverage their strengths

May help expedite systems that benefit the public good (i.e. accessibility, GHG reduction)
2

Combined Mobility

UBIGO was a one-year combined mobility pilot attempted by the Swedish Government in the city of Gothenburg. This pilot aimed to combine all the possible modes of transportation on a single invoice that used to be prepaid. Designed for families as well as B2B needs, the UBIGO system worked on the system of pre-payments for all the modes of transportation that might be used in the coming month where the unused hours, days, and trips would be saved for later use continued to the next month. In all essentiality, UBIGO sought to unite all the transit systems under one single roof.

Just like UBIGO was a hit in Gothenburg, other cities also need to develop similar strategies to assimilate all the services into one combined charge. Here, the travellers won't have to worry about getting their various transportation cards recharged from time to time.

Benefits of Combined Mobility
Can serve to aggregate existing options, making it easier for consumers to plan efficient trips

Can result in data that is useful to transportation planning

Can be designed to incentivize more sustainable choices

Helps families manage travel without owning a vehicle
3
Private Enterprise
Just as mentioned under "Public-Private Partnership in Kansas", the same system can be applied for private enterprises, with the only rise in downturn being the increased rates, but the counter to it being better services due to high competition. Already implemented as BRIDJ, Chariot, and VIA in the metropolitan areas of Boston, San Francisco, and New York respectively, these companies have garnered their fair amount of success by carrying a record number of passengers each day, making them largely successful models in Urban and suburban areas of the mentioned cities.
The Entrance of private enterprises will only make the process smoother and promote innovation. This will result in higher frequency of vehicles operating on particular routes making it easier for travellers to commute. You can think of it just as other ride sharing apps which are for the whole community to share.
Benefits of Private Enterprise
Potential to augment transit networks by backfilling low density and underserved areas

Can be rapidly implemented to meet areas of high demand; costs are borne by private sector

Allows market to innovate freely
How Micro-transit Can be the Best Alternative to Other Modes for Users
We always tend to look for alternatives that would serve us better than our preferred mode of transportation so that we can cut down on our expenses, travel time, and increased comfort. Now that you have the proper idea about the functioning of the Micro-transit system, let's discuss how they can be the best alternatives to other modes for transportation.
Airport Drop off

Have you encountered surge pricing done when heading for Airport because others are also doing the same? Have you wondered how you can get the comfort of a Taxi in a budget that is lower than what ride sharing apps charge?? Well, Micro-Transit shuttles have got you covered. You can always pre-book a regular shuttle service running between your neighborhood/county and the airport and then hop on when it is time to go.

Busy Corridor Commute

Busy Corridors at peak hours are the most time-consuming and frustrating, especially when commuting in a public bus. Micro-Transit systems can easily solve this dilemma of travelers by pre-booking rides over these busy corridors so that the flexibility of these networks can allow them to bypass those jam-packed roads entirely and save a lot of travel time.

School Commute

Getting the services of a Micro-Transit van that'll drop kids to school and pick them up later can save a lot of time and energy when compared with waiting for buses or rather catching school buses early in the morning. This means comfort plus cost-effectiveness.

Rail Transit

Same as in the case of Airports, micro-transit systems can help the commuters traveling to train stations using private taxis.

Outstation Rides

How about a dedicated Micro Transit Transportation Service for those who want to do outstation travel? It could really replace the private taxis and buses people hire.

Office Drop offs

Dedicated Micro-Transit systems going to Corporate Parks can replace taxis and cab services provided by the companies to transit their specific employees. This could really save money and carbon footprint.
Advantages of Micro-Transit Services
There are numerous advantages of using Micro-Transit Services which would be beneficial for everyone from an individual to a group of people, community or organizations. Some of the major advantages of this system are:-
Cost-effective when compared with hiring/booking private or even shared taxis

More effective, easier to maintain, as well as affordable for the operators as compared to the daily public bus services, especially on remote suburban routes

Comfort is better in comparison with public buses for commuters as they can skip the long waiting times at the bus stops by just booking a shuttle for themselves

As in the study mentioned above, using Micro-Transit services regularly at a city-scale can lead to huge improvements in decreasing the Greenhouse gas emission

Can act as a First and Last mile transportation system which can connect commuters to other high-density transportation networks like Rails and Airplanes

The flexibility of micro-transit networks can allow decongestion of Busy corridors at peak hours, saving the time for commute for the passengers and reducing the chaos on the busy roads
Conclusion
Micro-Transit systems have great potential for growth and service to various communities within a city. The recently concluded tests suggest that Micro Transit systems are indeed feasible modes of transportation. Through careful research and management, this transportation system has an excellent scope for development into mainstream transportation for the majority of the population living in the cities. It just needs time for exploration and development as the concept is still in its introductory stages.
So, once all the challenges are overcome by mindful thinking and innovation, the future of the Micro Transit system seems like the one which can be implemented all over the world!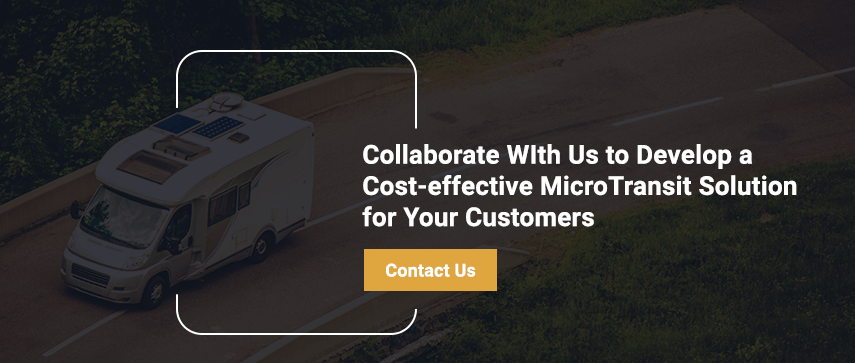 Author's Bio

Nitin Lahoti is the Co-Founder and Director at Mobisoft Infotech. He has 15 years of experience in Design, Business Development and Startups. His expertise is in Product Ideation, UX/UI design, Startup consulting and mentoring. He prefers business readings and loves traveling.