In today's fast-paced and ever-changing retail landscape, businesses are facing a new reality. With the rise of eCommerce and technological advancements, consumers have become more sophisticated and demanding than ever before.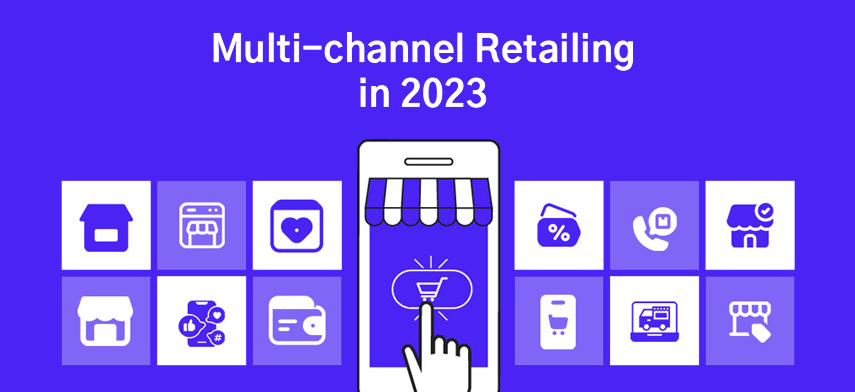 Traditional retail is no longer enough to keep up with the competition, and businesses must find new ways to engage with modern consumers. One of the most effective ways to do this is by implementing a multi-channel retail strategy.
By integrating online and offline channels, businesses can reach customers wherever they are, at any time, and provide them with a seamless shopping experience. This approach not only increases customer satisfaction but also helps businesses to stay ahead of the curve and drive revenue growth.
Today, we'll explore different aspects of the multi-channel retailing strategy, from its benefits to practical tips on how to implement it for your business. Whether you're a small retailer or a large corporation, this post will provide you with the guidance you need to succeed in the new retail landscape. So, let's dive in and explore the world of multi-channel retailing!
All About Multi-channel Retailing
To maximize the potential of your business, it's crucial to have a clear understanding of what multi-channel retailing entails. In this section, we are going to take a closer look at the multi channel retail definition, types, process, examples, and statistics to give you a better idea.
So, what is multi channel retailing?
Multi-channel retailing is a comprehensive strategy that enables retailers to utilize various distribution channels both online and offline to sell their products and services.
It refers to the strategy of using multiple channels to reach and engage customers. This can include traditional brick-and-mortar stores, online stores, social media platforms, mobile apps, and more.
The goal of multi-channel retailing is to provide customers with a seamless shopping experience across different channels and touchpoints.
By leveraging multiple channels, businesses can increase their brand awareness, customer engagement, and revenue growth. Multi-channel retailing has become a crucial aspect of modern retail, as customers expect convenience and flexibility in their shopping experience.
In other words, this strategy combines the capabilities of physical and digital retailing while giving customers the privilege to engage with their preferred channels. On the flip side, retailers get the opportunity to take full advantage of purchases outside of their websites.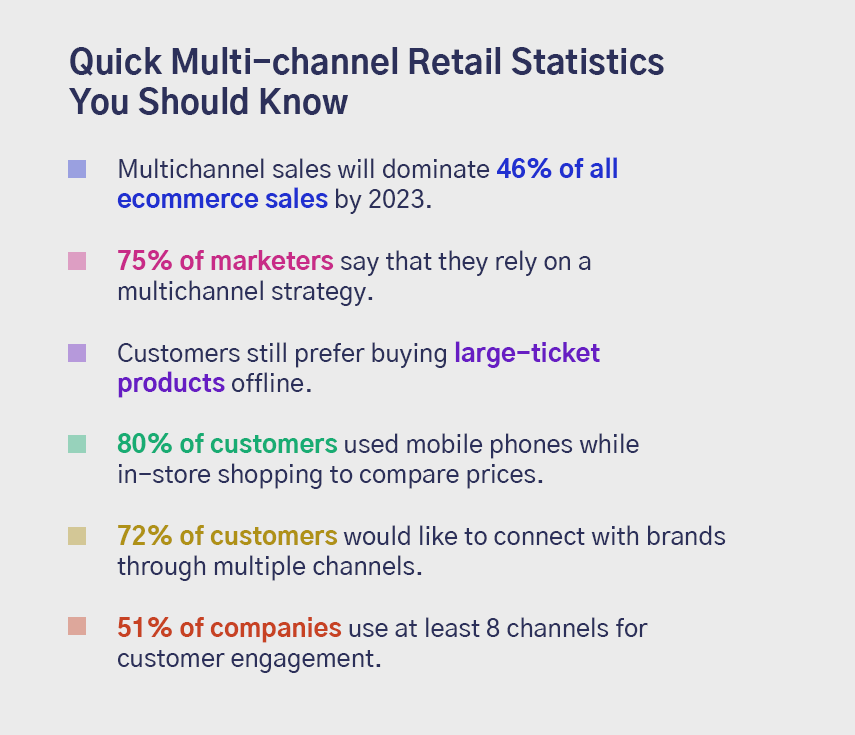 What Does Multi-channel Mean in Retail?
In retail, the term multichannel refers to the practice of leveraging one or more sales channels to satisfy customer requirements. It covers the selling of products directly to the customers along with other point-of-sale alternatives via vendors in-person and online.
For instance, consider a merchant who owns a physical store but is willing to acquire other modes of retailing. In such a case, the store can be connected to various online marketplaces like Etsy, Amazon, eBay, etc., for seamless business expansion.
In a nutshell, multichannel means providing customers with different ways to research and purchase desired products.
What are the Major Types of Multi-channel Retailing?
If you want to engage your target audience and convert them into potential customers, you need to explore all possible retailing channels. There are several types of multi-channel retailing, each with its unique characteristics and benefits. Here are the most common types of multi-channel retailing:
1
Online Store
Having an online store is one of the most significant types of multi channel retailing. Also known as brick-and-click, it is a brick-and-mortar store with a website called Online Store. For example, a restaurant with a website.
It allows customers to shop in-store, online, or through a combination of both. Customers can type your URL in their preferred browser, check out the list of products available for sale, and buy them accordingly.
2

Direct-to-consumer (D2C) store

As the name suggests, D2C is a direct-to-consumer (D2C) store is a type of retail model in which a manufacturer sells its products directly to customers, bypassing traditional retail middlemen, such as wholesalers and retailers.

In a D2C store, the manufacturer owns and manages the entire sales process, from product development and production to marketing, sales, and customer service. For example, Warby Parker.
3

Social Media

This type of multi-channel retailing involves using social media platforms, such as Instagram, Facebook, YouTube, and Pinterest, to sell products directly to customers. It is an effective way to engage customers and build brand loyalty.

Earlier, social media platforms were mainly used to increase traffic on a particular website. Today, they have become an integral part of the modern purchasing journeys driving the entire sales funnel.
4

Online Marketplaces

Global online marketplaces are another option to include in your multi-channel retailing strategy. Online marketplaces are e-commerce platforms where multiple sellers can offer their products and services for sale to a large pool of potential customers.

Examples of popular online marketplaces include eBay and Alibaba. It helps retailers to engage with an already established customer base with minimal investment and exchange of revenue.
5

Brick-and-mortar Stores

Brick-and-mortar stores are the biggest evolution towards multi channel retailing. They are the place where customers can browse and purchase products in person. They can range in size from small boutiques to large department stores.

They are a convenient way to reach local customers or the people that are likely to spend more with in-store shopping arrangements.
6

Mobile Commerce (mCommerce)

With smartphones becoming a norm, it has become more than necessary for retailers to choose mCommerce solutions. They need to build mobile-friendly websites and apps that can satisfy customer requirements via mobile on the go. For example, Apple Pay.

For an in-depth understanding of Mobile Commerce, check out – The Ultimate Guide to mCommerce. It's a comprehensive resource that will provide you with all the information you need.
7

Wholesale

Instead of selling the products directly to your target audience, you can adopt a wholesale approach to sell them to other retailers in bulk and at a competitive price. You can easily do this with your physical/online store.

Wholesale retailing is an essential part of the supply chain and allows for the efficient distribution of goods from manufacturers to retailers, and finally to consumers.
8

Telephone Orders

This ordering system may seem outdated. But it can play a vital role in your modern multi-channel retail strategy. Customers can directly make orders over a call and even hold items for pickup later in time.

Telephone orders can be an effective way for multi retailers to reach customers who may not be able to visit their physical stores or shop online. For example, customers who are unable to access the internet or do not have a credit or debit card can place orders over the phone and pay with cash or other payment methods.
9

Omnichannel

Omnichannel is a strategy in multi-channel retailing that focuses on providing a seamless and integrated shopping experience to customers across all channels.

This means that customers can interact with a retailer through various channels, such as physical stores, e-commerce websites, social media platforms, retail mobile applications, and catalogs, and receive a consistent and personalized experience. The focus is on creating a consistent brand image and messaging across all channels.
How Multi-channel Retailing Works?
Multi channel retail creates a hybrid environment. There are different options that retailers can choose and rely on. While some businesses may invest in all aforementioned types of multi-channel retailing, others may integrate fewer options.
It works and focuses on the sole purpose of utilizing various distribution channels. The underlying reason is to create a strong market hold with the ability to cater to a wider customer base.
The activities involved in multi-channeling are an even mix of retailing and marketing. The process involves the successful implementation of best practices, methodologies, and popular tech-based tools.
Top Multi-channel Retailing Examples
Many companies are choosing the multi-channel way to boost their online as well as offline retailing efforts. Let's take a look at them one by one.
Burberry stands amongst the finest examples of multi channel retailers with 450+ physical stores across the globe. Along with prioritizing in-store experiences, the brand has also triggered massive conversions through its website and mobile application.
Lessa is an online mattress-selling platform in the US that is highly popular on various social media channels. It sells its products through its own eCommerce store or marketplaces like Amazon.
Gymshark is one of the fastest-growing multi-channel retailing examples in the UK. It is successfully catering to its target audience with an eCommerce store, flash retailing, social media platforms, and D2C capabilities.
A large-scale lifestyle brand, LeSportsac has successfully augmented its sales and profits by adopting a multichannel approach with significant investments in retail partnerships, marketplaces, and brick-and-mortar stores.
Multi Channel Retailing vs Omni Channel Retailing: What's the Difference?
Often multi channel and omni channel retailing are confused as one and the same. But they are not. The key difference between both strategies is the focal point of your unique retailing efforts.
Multi channel selling is all about integrating your retailing initiatives into several separate channels, each having its own purchasing ability.
On the other hand, Omni channel selling keeps customers at the forefront of every purchase without considering channels as independent silos. Below is a comparison table for a better understanding.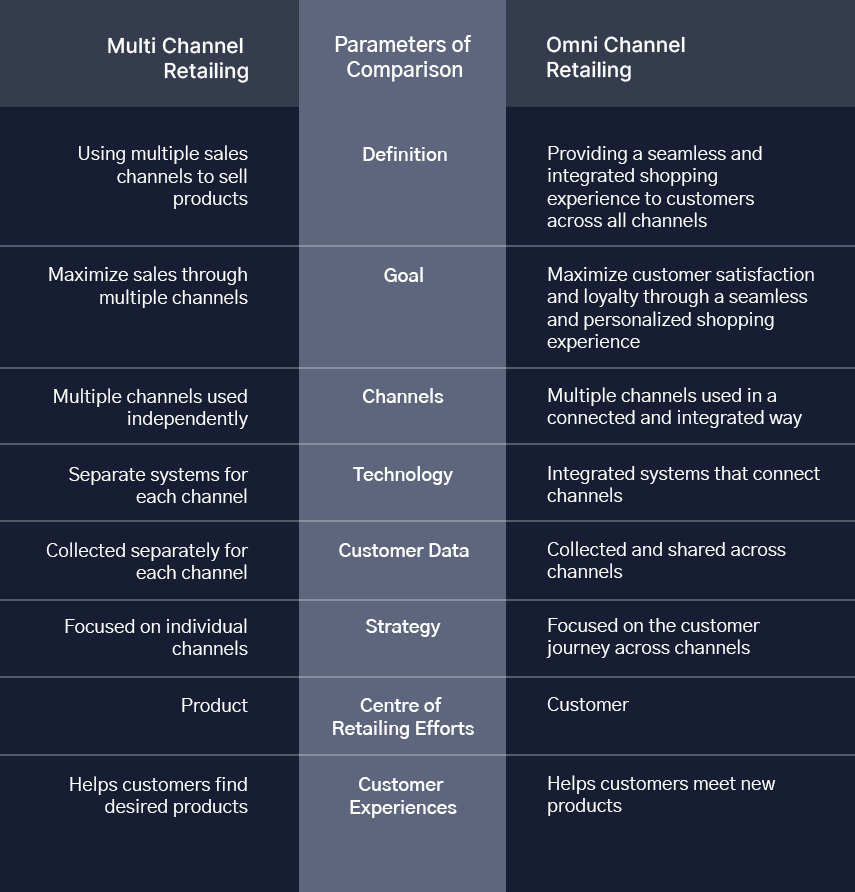 Why is Multi-channel Retailing Important?
Analyzing the nitty-gritty of physical and digital transformation in retail will help you understand the importance of multi channel retailing in today's competitive age. And once you start to acknowledge the buying behavior and patterns of your customers, you will get a more clear idea.
Closely observe your customer journeys and you will find out that they have interacted with your platform many times before making a purchase. Often, these interactions happen through various channels including your own eCommerce store, social media handles, or marketplaces.
Experts believe that many customers already make their buying decisions even before choosing an in-store or online facility. This means that every retailing channel is important and companies need to choose them wisely.
However, opting for a multi-channel retailing strategy may simplify this process as a whole. It can help you tick every box and encourage your customers to make a purchase quickly and efficiently.

Advantages and Disadvantages of Multi-channel Retailing
Multi-channel retailing brings an array of advantages to your table. But there are a few limitations to this approach you cannot afford to miss out on. Let's understand them in more detail.
Advantages of Multi Channel Retailing
Expand Your Reach and Global Presence
When you list your products on multiple marketplaces or sell them using third-party platforms, you get the attention of all possible customers looking for your products. You will be able to address various touchpoints and acquire a global reach.
Making your products available on channels where your competitors aren't selling can help you get a competitive advantage over them. Moreover, you can provide better deals and lead the market.
Handle Risks Intelligently
Selling on various platforms makes you competent enough to handle changes and deal with ever-changing user expectations. It helps you reduce the risk of failures and avoids making potential financial losses.
Ensure Customer Satisfaction with Trust
One of the most important advantages of multi channel retailing is integration with various online and offline selling platforms. Customers find you across many platforms and consider your brand much more reliable for purchasing desired products.
Leverage Data to Offer Tailored Solutions
When you have a wider customer base spread across different retailing channels, you are likely to gather data related to their buying behaviors, interests, devices, etc. This helps in delivering customized solutions and experiences.
Minimize Costs and Maximize ROI
Your products will appear more in your customers' feeds thereby increasing the chances of purchase. Besides, with growing inventory, all your costs related to platform customizations, marketing, and more will be reduced per product sold.
Disadvantages of Multi Channel Retailing
Selling on Irrelevant Channels
Indeed, multi-channel retailing will make your brand visible across several platforms. But this may also divert your attention toward irrelevant channels that can negatively affect your overall revenue-generating system.
Setting Up The Infrastructure
Having a multichannel retailing strategy in place demands robust infrastructure and system setups. Establishing such an environment may not be possible for businesses with a limited budget and resources.
Key Multi-channel Retailing Challenges and Solutions to Overcome Them
Along with the above-mentioned limitations, there are many other challenges that many retailers face while implementing a multi-channel retailing strategy. Below are the most common ones that a business comes across and effective solutions to overcome them.
Posting an ad with a specific budget on a particular channel is a good idea. But when it comes to posting the same on four other platforms, you will have to divide your ad spend by four. This may be a big challenge for high-growth businesses.
A decent solution to overcome this is allocating your budget by funnel stage. For instance, your display and social ad budgets can work on building brand awareness. Later, you can invest in general campaigns accordingly.
Sales Attribution and Data
A multi-channel retailer may come across a situation where a channel will assist a sale that happens via another channel. This may be due to the sales attribution model leading to the inappropriate use of allocated budget and resources.
Therefore, it is really important to choose the right attribution model. It is also necessary to have a dedicated retail management system in place to actively gather and analyze customer data from required channels.
Multi-channel retailers are retailers that explore other possible channels with careful management of sales and returns. However, they encounter issues concerning poor quality checks, unavailability of desired items, overselling, and more.
A great way to avoid this scenario is by leveraging a reliable inventory management system. This will successfully automate complex processes and ensure a smooth transition to required sales channels.
Different sales channels may have different product pricing. This could drive customers to buy products from a channel at a lower price and lead to poor net profit margins. You may also encounter price changes due to discounts.
You can easily regulate these discrepancies by using a product information management system (PIM). It will streamline your product pricing by giving you detailed insights into item prices, SKU data, products in stock, and more.
Multi channel commerce can lead to exponential business growth. But if your business is unable to manage the related supply and logistics operations, you may end up delivering poor customer experiences.
Hence, you need to invest in the right set of tools for order fulfillment. Ensure that your logistics system is potential enough to optimize and list products to withstand this same-day shipping era.
Building an effective multi-channel retail strategy is critical for retailers looking to maximize their sales and reach customers through various touchpoints. So, how do you build an effective multi-channel retail strategy? That's what we're going to discuss now.
How to Build an Effective Multi-channel Retail Strategy
To make the most out of your multi-channel retailing, you need to have a well-structured strategy in place. Here is how you can make one in just 8 easy steps.
1
Determine the Sales Channels You Want to Target
The first and most important step is to prioritize your channels with the help of competitor analysis. This will help you understand whether a particular channel is worth the investment or not. Later, you can prepare a list of potential channels and understand how they work.
2

Create a Customer Profile

The next step is to create a customer profile for every channel. For example, your target audience for Instagram can be people in the age group of 20-30. You can also create categories based on location, job, hobbies, and more for better engagement.
3

Set up Goals and KPIs

After defining sales channels and customer profiles, you can now move forward to setting up realistic goals. You need to identify the KPIs along with the qualitative and quantitative metrics that can help achieve the required objectives.
4

Build a Proficient Team

Depending on the number of targeted channels, you need to hire the right talent for your company. For instance, if you want to explore online sales channels, you can hire social media professionals or partner with a digital retail and eCommerce partner.
5

Personalize Your Conversations and Build Channel-specific Assets

This step is all about conveying the right message to your target audience through multiple marketing collateral including case studies, reviews & testimonials, landing pages, display ads, video advertisements, magazine ads, and more.
6
Harness the Power of Automation
Use popular CRM and marketing tools to automate the process of gathering customer data and capturing leads from various channels such as Facebook ads, Google ads, inbound queries, chatbots, website contact forms, and more.
7

Track Key Metrics & Results

You need to closely monitor your sales per channel alongside measuring your incremental sales. Boost channels that are performing well and replace the poorly performing ones with alternative retailing channels.
8

Prioritize Channels with Utmost Consistency

Even after following all these steps, you may find out that sometimes your efforts are working in favor of one channel but disrupting the others. That's when you need to be patient and rework your strategy to provide a consistent brand experience.
Top 5 Multi Channel Retail Software Solutions
The combination of a concrete multi-channel retailing strategy and the below given intelligent software tools can help you augment your sales funnel and automate time-consuming tasks to their best.
Shopify Plus apps like Endear, Marsello, Happy Returns, Reamaze, and Segments Analytics can simplify your retail process and help you engage with your customers in a hassle-free way.
It is a smart, user-friendly integration app for product listing across desired retailing channels. It easily syncs and transfers data from your shopping cart to any other channel.
You can seamlessly list and sell your products across multiple digital channels with Sellbrite. It is a cloud-based software that integrates with popular platforms like Amazon, Walmart, Etsy, and Shopify.
Be it order, inventory, analytics, or accounting, Skubana is a one-stop, cloud-based software solution that helps you automate your end-to-end operations with ease.
CrazyLister is an important tool for businesses that rely on platforms like eBay. It plays a vital role in catering to requirements like product data importing, bulk listing management, etc.
The Final Words
With an explosion of new sales channels in recent years, building a multi-channel retailing strategy has gained traction. It is an important step that retailers and businesses should take to boost customer interactions and generate profitable outcomes in the long run.
Keep in mind that faster implementations and choices can lead to the selection of channels that can limit your growth. Hence, you need to carefully vet your options. This will help you capitalize on the right retailing opportunities and increase your success rates.
Contact retail experts at Mobisoft Infotech to satisfy all your multi-channel selling requirements and take your business to the next level.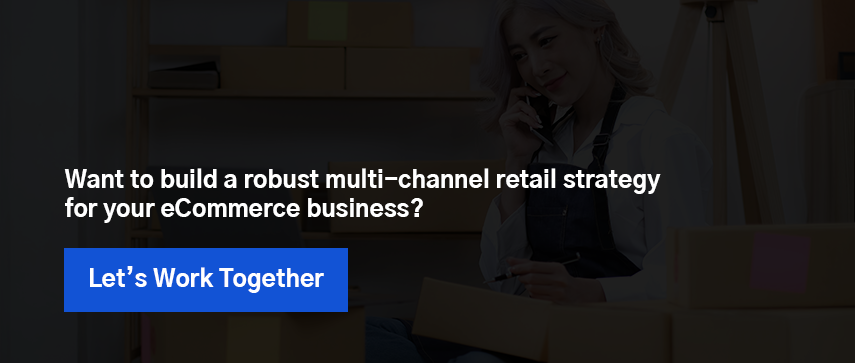 Author's Bio

Nitin Lahoti is the Co-Founder and Director at Mobisoft Infotech. He has 15 years of experience in Design, Business Development and Startups. His expertise is in Product Ideation, UX/UI design, Startup consulting and mentoring. He prefers business readings and loves traveling.