Many types of businesses irrespective of their products or services are assessing the need to develop on-demand delivery apps. Though a relatively new business model, on-demand delivery applications are fast gaining popularity among its users' world over.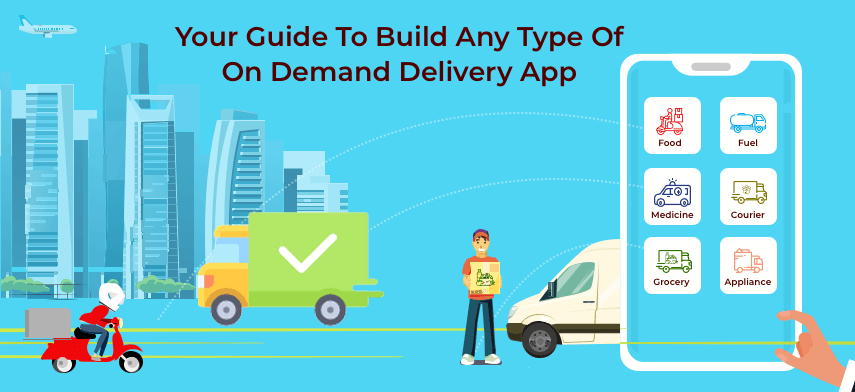 On-demand apps are aimed at solving the daily problems of average people with real-world solutions. These apps connect seekers with providers for the swift delivery of goods and services. On-demand app services make our lives easier by offering conveniences from chauffeur-driven vehicles and meal deliveries to repair and car wash services.
On-Demand Delivery Apps – The Current Market and Trends
Considering that it's been just 6 years since Uber introduced its 'Uber X' project in 2012, the on-demand economy has grown at a rate nobody expected. These apps have had so much impact that they are disrupting traditional industries, even the ones that have an otherwise strong online presence. On-demand apps have revolutionized the way people are availing services and transacting on a day-to-day basis.
In this current globalized economy, on-demand mobility is a much-needed service. On-demand mobility solutions are all about solving the needs for ordering anything you want, anytime, from anywhere. Though the 'taxi hailing' Uber app is what set the ball rolling, on-demand apps are now being utilized in a vast variety of business spheres from retail to healthcare. Whether it's about ordering a cheeseburger or getting your getting your medicines refilled, you can demand what you need, using the right app for it. On-demand apps even find relevance in previously unimagined sectors. Apps are now being used for connecting parents with suitable babysitters or getting fuel delivered to vehicles.
On-demand delivery apps are experiencing hyper growth at the moment. Nobody wants to miss the ride, so the demand for such app developers are higher than ever. On-demand delivery apps are based on mobility – the movement of people, services and goods. Ease of usage, scheduling, user-friendly payment options and above all trustworthiness in providing great service are what ensure the success of on-demand delivery solutions.
Major Service Categories of On-demand Delivery Apps
There are innumerable types of products and services that utilize on-demand delivery apps, but the majority of them fall into the following subcategories:
Package Delivery Apps
Such apps are also popularly termed as "Uber for Couriers" and basically allow delivery of any type of stuff. Roadie is an excellent example of such an app platform that connects people with items to send (personal, enterprise, small business) to drivers/ delivery agents/ courier services around them.
Food and Grocery Delivery Apps
Just a few easy taps on the mobile phone, sitting in the comfort of homes, people are getting their food and groceries delivered to their doorsteps. No need to step out into the hot sun or brave the traffic to get your groceries. A good example, Instacart, is an on-demand app that focuses on grocery delivery. They have a team of personal shoppers who buy the required products and deliver them to customers. Zomato, Swiggy, and GrubHub are some of the top names in the list of popular food delivery apps.
Delivery App Types – Who Is the Sender? Receiver?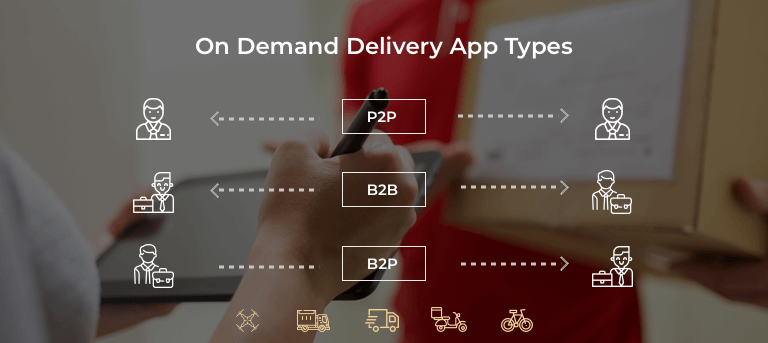 On-demand delivery apps have evolved to become an industry of its own with its circle of app creators, service/product providers and end-users. Depending on the service requester and the service seeker, on-demand delivery apps can be divided into 3 major categories:
Person to Person (P2P)
These are the type of delivery applications that enable a person to request an item from another person. For example, a courier app.
Business to Person (B2P)
Many companies have created on-demand apps to offer their products and services to their customers. For example, Domino's Pizza has a food order and delivery app that offers features like built-in pizza tracker, allowing the customers to keep an eye on what's happening from pizza preparation to pizza delivery process.
Business to Business (B2B)
Such apps find use in business to business communications related to deliveries. For example, a factory owner can use an on-demand delivery app to raise and track new orders from its vendor partners.
Interesting Read: How Uber Business Model Works?
How a Typical On-Demand Delivery App Works?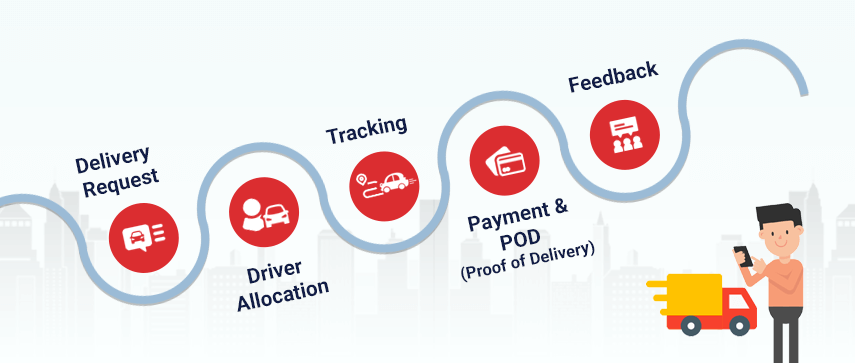 Irrespective of the type of on-demand app or it's vertical, all such apps have the same set of basic features. The platform is built with both the delivery requester and delivery provider in mind.
Delivery Request
An app is used to place an order like ordering for food and dispatched to the optimal service provider.
Pickup
The assigned delivery agent picks up the package/order from the source location (person/shop/warehouse).
Tracking
With on demand-app services, you can follow the order status in real time. The tracking of the package starts when the order is dispatched from the source until it's delivered at its final destination. Push notifications are usually provided for regular shipping updates.
Payments & Proof of Delivery (POD)
The receiver pays for the delivery and provides his approval (via signatures, OTP, etc.) on successful delivery of the package.
Ratings & Feedback
High ratings and good feedback are vital for the success of an app. After using the app, customers can leave positive or negative feedback based on their delivery experience.
Key Features of an On-Demand Delivery App Platform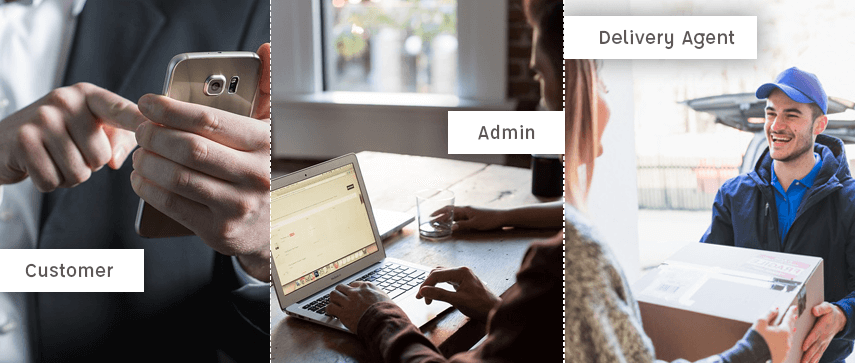 All kinds of on-demand apps have the same set of basic features even though they may have unique customizations and workflows that set them apart from the rest.
From the customer's perspective, the essential features include placing the order and getting it approved, tracking, scheduling a delivery, making the payment and providing feedback.
From the delivery agent's perspective, they should be able to register easily on the mobile application and get approval from the admin without any hassles. The pickup point, the delivery point and the distance between them need to be clearly mentioned.

Once accepted or rejected, the booking status must be updated to reflect the same. The delivery agent then picks up the order and delivers it as per the agreement. They should also be able to track booking histories as well as the status of all orders including previously canceled bookings.

From the platform admin's perspective, they need an online portal to monitor the incoming orders and details of the corresponding delivery agent. Notifications need to be sent to the customer and delivery agent to keep them in the loop for the entire delivery process.

The delivery agent needs to confirm the package delivery with customer signature and location tagging. Real-time tracking is another much-needed feature, from the admin's outlook as keeping a tab on the delivery fleet movement with an interactive map view helps them stay aware of the situation. Reporting and analytics can provide useful insights for making data-driven decisions and optimizations.
How Much Does It Cost to Build an On-Demand Delivery App?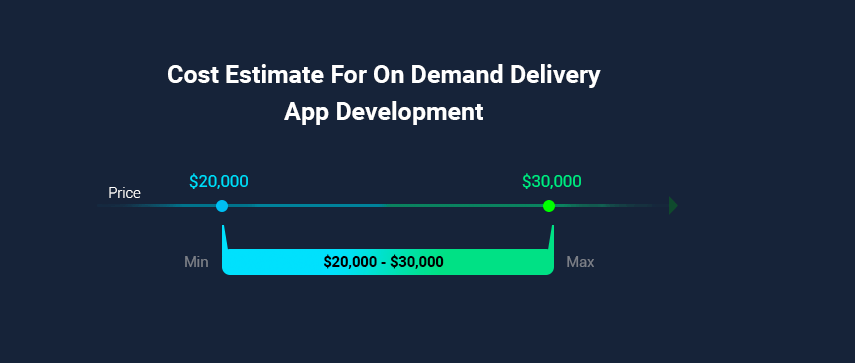 Now that you understand the essentials of building an on-demand delivery app and the features that need to be incorporated, it's time you consider how much will it cost to develop such an app. The cost estimation for developing the entire app platform is complex and involves multiple factors.
Some of the critical factors dictating the cost of developing an on-demand delivery app are:
The number and type of platforms you wish to support for both the service seeker and the service provider (iOS, Android, Web).
The number and type of features you want to integrate within both the apps.
Whether you require a market-ready app or just an MVP.
The iterations that have to be accommodated post-launch.
And so on….
As per our experience as an accomplished on-demand app developer, we expect a typical on-demand delivery app development project to cost somewhere around $25k.
How to Grow Your On-Demand Delivery Business?
Irrespective of their niche, the competitive advantage of on-demand apps lies in providing a fast, reliable and affordable service. The success of an on-demand delivery app demands a lot more than just developing it and publishing it on the app stores. Here are 5 useful ways to grow your on-demand delivery business:
Start Locally
It's best to first try out your concept in a small geographical area with a dense population. Having a small but clearly defined target audience makes it easier to advertise, recruit contractors and test out app features to identify hitches in its functioning. You can then expand your target user base and operate on a larger scale.
Pre-launch App Marketing
To launch a successful on-demand delivery app, it's important to advertise the app even before its launch. Utilize all marketing channels from social media to offline advertisements and referrals to promote your app.
Run a Referral and Rewards Program
To expand your user base, try introducing special offers such as free gifts, discounts or vouchers. Offers can be given as an incentive for downloading your app. Make sure to research your audience before introducing such offers.
Business Partnerships
On-demand app publishers can take a percentage of every delivery made through their platform. This number should be negotiated and settled before creating the revenue model. Forming partnerships with providers and receivers in B2B apps or with the providers in P2P apps is important. Partnerships with reputed retailers is a quick way to create a user base as the retailer already has an established customer audience.
Include a Feedback System
On-demand delivery apps must have a star-rating system for both seekers and providers. An actionable rating system helps create trust among the app users.
Use Personalized Push Notifications
Sending personalized and targeted push notifications help foster engagement and develop a rapport with the user. Push notifications should take the app users to the exact location in the app that's relevant to the given message. They should be used to add value, not to annoy the user with promotional gimmicks.
Knocking On Your Doorsteps!!
On-demand delivery apps are trending now, but don't expect them to be a short-lived fad. While the creators of some very popular on-demand delivery apps reap major benefits, these apps also add a lot of value to the local economy. In near future, more and more services are expected to have their own on-demand apps. But the ever-changing market scenario presents challenges that need to be analyzed carefully.
More than just the creativity or business ideas, developing such apps require a passion for technology, the associated skills as well as the right expertise. If you are considering developing an on-demand delivery application, choose your technology partner with care as hiring the right team is the first step towards creating a highly successful on-demand delivery app.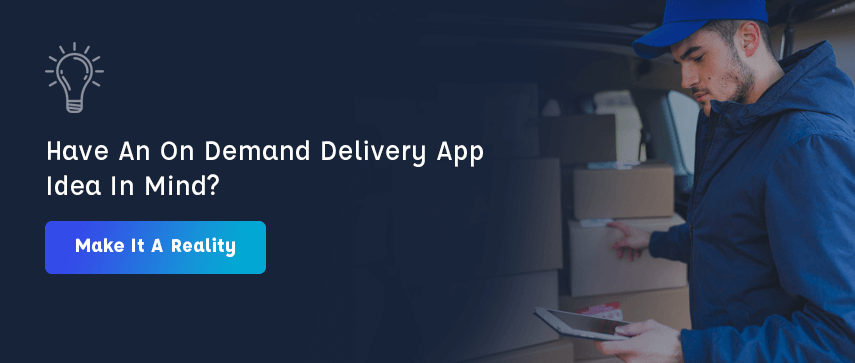 Author's Bio

Nitin Lahoti is the Co-Founder and Director at Mobisoft Infotech. He has 15 years of experience in Design, Business Development and Startups. His expertise is in Product Ideation, UX/UI design, Startup consulting and mentoring. He prefers business readings and loves traveling.