The role of a physician is paramount in the healthcare landscape. It is estimated that physicians determine a major share of all decisions that drive the quality and cost of a healthcare organization. Physician engagement takes the front seat for any organization that wants to attain a significant improvement and better health outcomes.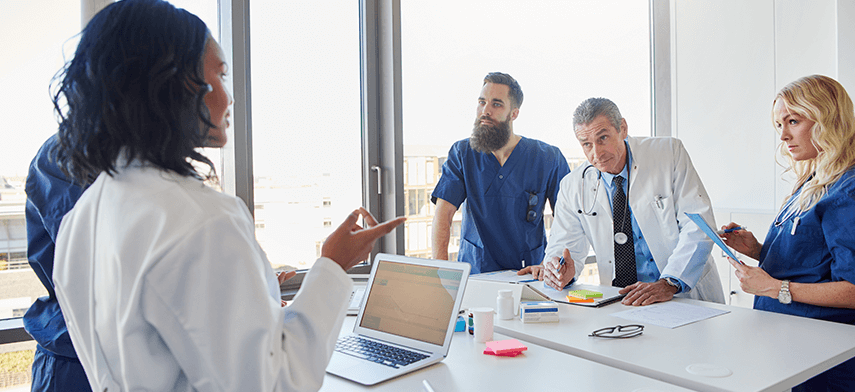 The Gallup Physician Engagement Survey had pointed out that the level of physician engagement can make a big difference in the healthcare system. As detailed in the survey, a hospital reported a 26 percent increase in its productivity for engaged physicians over disengaged physicians, which means that the hospital now adds an average of $460,000 in inpatient revenue each year.
With the advent of technology and innovation happening in the healthcare sector, physician engagement becomes an achievable mission for healthcare organizations. The importance of physician engagement and how mobile technology empowers it is explored below.
Physician Engagement Definition
Physician engagement aims at ensuring proactive engagement of the physician in health systems or hospitals and maintain a stable relationship between both the parties.
4 Major Benefits of Physician Engagement
Physician engagement is the prescribed solution for many challenges in hospital management. An engaged physician workforce benefits patients, physicians, and the healthcare organization. Some of the benefits of physician engagement are listed below.
Higher Commitment
Engaged physicians show greater commitment towards the organization, which positively impacts its overall performance. They acknowledge the larger goals of the organization and actively contribute to it. They are more open to the change-management processes and performance-improvement initiatives in a hospital. The aforementioned survey has figured out that engaged physicians show more loyalty to the organization. They are willing to work through challenges while providing constructive feedback.
Improved Patient Care
Physician engagement fosters patient engagement as well. The engaged physician workforce exhibits a deeper commitment to improving the physician's performance. This will result in better decisions with regard to the patient's health. Engaged physicians are more focused on the patient's health, which leads to better health outcomes.
Interesting Read: What Is Patient Engagement and Why Does It Matter in Healthcare?
Enhanced Patient Satisfaction
Physician engagement is critical to the patient experience. The engaged physicians will effectively communicate with the patients, thus reducing the risk of malpractice. As a result, the patient will be more satisfied with the treatment and after-care that they receive with engaged physicians. Moreover, they will likely comply with follow-up visits and other aftercare instructions.
Reduces Referral Leakage
Physician engagement gives the hospital more outpatient and inpatient referrals, which benefit the organization financially. When the physicians are engaged, the in-network connection among them increases, leading to increased inpatient referrals.
What Are Some Barriers to Physician Engagement?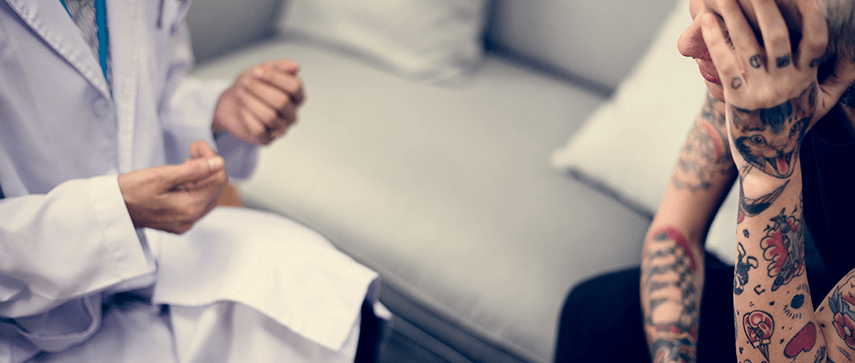 Although many hospitals acknowledge physician engagement as the need of the hour, it is often not as easy as it sounds. There are certain factors that stand as barriers to achieving successful physician engagement, which are detailed below.
Personal Barriers
It refers to the mindset and attitude of the physician in response to change strategies. Long working hours, unnecessary regulations and instructions, an unsatisfactory career, etc., lead to physician burnout, which slows down the physician engagement efforts in the organization.
As per a study report published in 2017, 54% of doctors show signs of physician burnout. Around 40% of doctors are satisfied with their work-life balance.
Organizational Barriers
The structure, organizational culture, policies, and procedures of the healthcare establishment may sometimes stand against achieving physician engagement goals. As pointed out in this McKinsey report, there are hospitals that fail to adopt an effective and holistic approach by combining multiple alignment levers, such as personal autonomy, clinical autonomy, colleagues, IT department, etc.
Systemic Barriers
Systemic barriers are created by the rule makers and federal regulators. It includes laws in the system by local, state and federal administrations which may stand against effective physician engagement.
6 Physician Engagement Strategies That Drive Results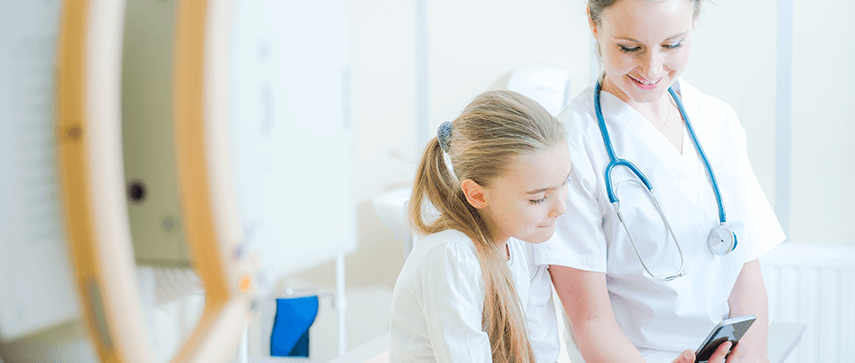 Creating a positive, collaborative, and symbiotic rapport with physicians is a continuous and conscious process for the hospital administration. There are a few physician engagement strategies which healthcare organizations need to take on to create a highly engaged workforce. A few tried and tested strategies that hospital administrators have considered as listed below.
Listen to the Physician
The first step to physician engagement is to gain a deeper understanding of the employees in a healthcare organization. When you listen and address the concerns of the physicians, it helps in establishing a sense of trust which sets the basis for a productive partnership between both the parties. Try to understand the physician's viewpoint in improving the process and performance and listen to their comments and suggestions.
Maintain Constant Communication
Another way to improve the engagement level of physicians involves encouraging continuous communication with regard to practices and policies, organizational goals, etc. It helps the physicians gain competitive intelligence and to cultivate an up-to-date understanding of the market.
Identify the Champions
To set up a basic framework for effective collaboration with the physician, you can identify the champions who are capable of contributing clinical oversights for enhanced efficiency and quality of services. Encourage accountability and leadership qualities of the champions to improve the level of trust, which is crucial for effective cooperation. Moreover, you can take the help of physician champions to identify those who fail to comply with the standards and take necessary steps to ensure their cooperation.
Turn Physicians into Partners
Include the physicians in the decision-making process and encourage their partnership in quality-improvement initiatives. If required, reframe the organizational values and beliefs in order to turn the physicians into partners in the system. Give them an upper hand to monitor the processes and policies that comply with the standards set by the regulators. Furthermore, make sure they have a better understanding of the rationale behind the standard policies and how it contributes to improved patient care.
Make Data Accessible
Data is a critical tool that helps physicians to reach informed decisions that benefit the patient as well as the healthcare organization. Make sure the physicians have access to objective data along with pragmatic solutions when new processes are being constructed. In addition, keep track of the progress made by the physician and give constructive feedback.
Interesting Read: 12 Ways Electronic Health Records Can Improve Patient Care
Measure and Communicate the Results
Effective communication is necessary not only when new policies are introduced but also when it derives the desired benefits. Adding to it, you can compare the results with that of the past so that the workforce shows more enthusiasm for engagement strategies.
Emerging Role of Mobile Technology in Improving Physician Engagement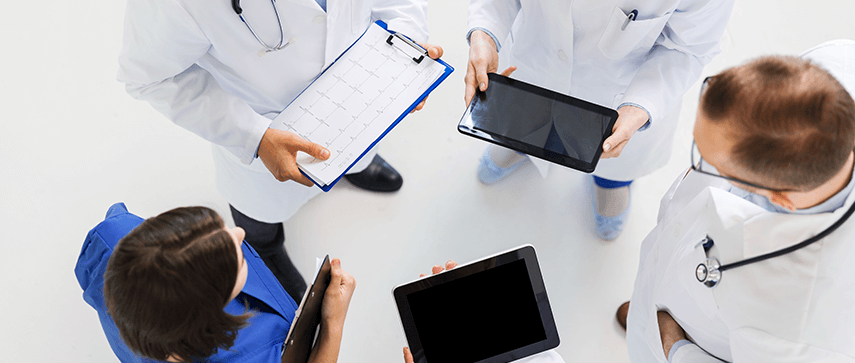 Mobile devices form an essential component in the hospital workflow these days and playing a bigger role in the healthcare sector. In the Physicians Practice 2018 Mobile Health Survey, it is estimated that 76% of physicians rely on mobile tech in their practices at least once a week. Apparently, healthcare organizations have already started to realize the power of mobile technology in addressing the hassles involved in creating an engaged physician workforce.
Mobile applications have opened up opportunities for physicians to monitor patients and to provide enhanced care, which benefits the organization at large. Remote patient monitoring using wearable devices makes it easier for physicians to track patient data efficiently.
It becomes possible for physicians to detect potential health issues at an initial stage. Moreover, mobile applications are useful for physicians to streamline their daily activities. Not only does it helps them to improve efficiency but it also helps them to increase engagement with the patients.
One of the major hurdles for physician engagement is the lack of transparency between the workforce and the healthcare provider. Simple, effective, and continuous communication becomes an easier target for the organization with mobile technology.
Moreover, mobility tools make it possible to aggregate, analyze, and manage the distribution of clinical information, standard practices, and organizational policies instantly to the workforce.
Wrapping Up!!
As the healthcare system is largely going through a transformative period, physician engagement is crucial in determining the quality and efficiency of care as well as the organizational revenue. In fact, a lack of an engaged physician workforce can result in negative outcomes in patient care.
Physician engagement is achievable by introducing strategies to ensure responsive communication with the physicians, sharing responsibilities, encouraging accountability, offering appreciations, and reward programs, among others.
Mobile technology has made it possible for physicians to have round-the-clock resources for quick reference and real-time interaction between the administration and the patients, which, in turn, makes the engagement process easier.
The first step to strengthening your physician engagement strategies is by assessing the effectiveness of the current technology. In order to achieve physician engagement goals in your healthcare organization, you may work with a technology partner that has in-depth knowledge of the healthcare system and clinical workflows.
If you are contemplating strategies on building an efficient and engaged workforce, talk to our health technology experts.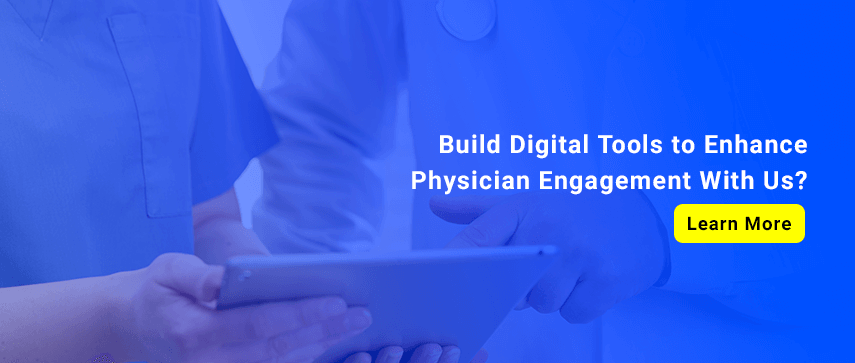 Author's Bio

Shailendra Sinhasane (Shail) is the co-founder and CEO of Mobisoft Infotech. He has been focused on cloud solutions, mobile strategy, cross-platform development, IoT innovations and advising healthcare startups in building scalable products.