The global market for healthcare app development has shown immense potential in changing the entire healthcare industry. The adoption o healthcare devices, applications, and fitness devices are driving the healthcare industry towards new heights.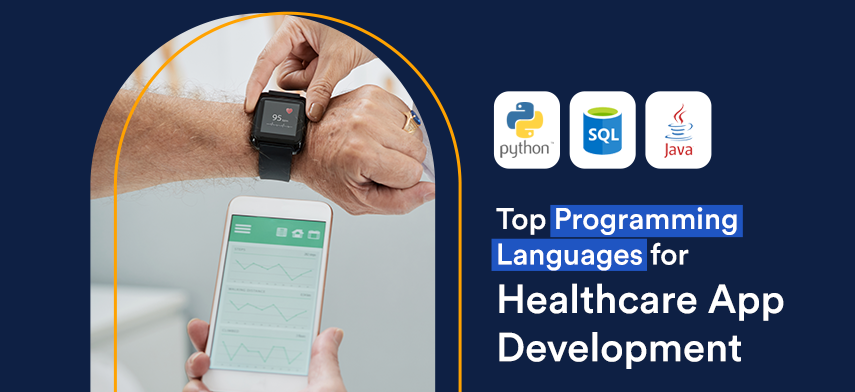 The mHealth market size globally has been valued at USD 38.2 billion in 2021 and the CAGR in 2022 is expected to be 11.8% with further expansion in healthcare app development. Building healthcare apps has become somewhat of a necessity and has been gaining massive popularity for rapid assistance to providers, patient monitoring, test report submissions, follow-up appointments, and more. Many players in the healthcare industry are getting into this profitable market. Hence, it is necessary to know the top programming languages for your next healthcare app development project.
Reaping the Benefits of Programming in Healthcare
The utilization of mobile development languages is thriving in many industries across the globe as it offers simple assistance and easy-to-use features for app developers. The COVID-19 pandemic has thrust the healthcare industry into improving its frameworks and transforming the previous traditional systems by integrating artificial intelligence and machine learning in programming languages for app development. Reaping the benefits of programming in healthcare allows the HealthTech industry to adapt to the changes in the industry and adopt complete digital transformation efficiently.
Let's explore the top programming languages that are beneficial for healthcare app development projects.
Top Programming Languages in Healthcare App Development
Every programming language is instilled with unique significance and features. see=ecting the right choice for programming language in healthcare depends on the infrastructure, requirement, and design of the healthcare app development process. Healthcare app development organizations are well equipped and specialized in multiple app development languages and have the necessary expertise in analyzing and deciding which is the top programming language for health applications.
Let's have a look at the top healthcare languages used in the healthcare app development process.
1
Java
Java is still one of the widely used and preferred mobile app programming languages in healthcare app development. Almost 60% of app development companies demand Java and developers who are experienced in Java programming. Major web applications and games are built on the Java programming language as it is robust, secure, easy to use, and provides cross-platform application development. Having these capabilities makes it a great choice for healthcare applications, especially when it comes to Electronic Record Systems (EHRs)
2
Python
Python is known for its rapid growth in the app programming language industry for healthcare. It is used for various purposes including mobile application development, Internet of Things (IoT), machine learning, and data sciences. It is an easy app programming language that is at liberty from complex syntaxes. Being a versatile programming language in healthcare app development, it can be used on several platforms. Coding with Python is comparatively easy to other programming languages and it reduces the time required for bug fixes.
3
R
R is widely known as the 'lingua franca of statistics' since it was primarily designed for the statistical analysis and computing of data. This programming language was adopted to efficiently analyze the objective of data computed. As an open-source language, it offers an excellent capability to design an efficient user interface (UI). The visual representation of the data is necessary as it ensures the UI of a custom healthcare application platform.
4
Kotlin
Kotlin being a relatively new app development language, many experts believe that it can replace Java in the future. When creating applications based on Androids, mHealth app development solutions utilize the abilities of Kotlin, as it carries more capabilities over other programming languages. Kotlin has been continuously improving and evolving as an app programming language but its community is still limited. But, it is still one of the easiest languages that are compatible with the ecosystem of Java.
5
PHP
PHP being an open-source programming language is mainly used by developers for web development projects. Apart from its usage in developing websites like Yahoo, Facebook, Tumblr, etc., the coding for PHP has been more frequently used for developing mHealth apps. PHP uses coding capabilities to develop mobile applications that are mostly based on Android and iOS-based healthcare applications.
6
SQL
Standard Query Language or SQL is mainly used for managing and interacting with databases. SQL's capability to organize data collected systematically into rows and columns in a table makes it unique in the healthcare app development industry. By modifying data, using queries, and adjusting the records, SQL is a crucial requirement in healthcare application development. It assists administrators of healthcare applications to analyze and maintain the databases stored and swiftly carry out audits.
7
HTML
HTML is specifically designed to build websites as it is a markup language. This means that HTML is used in formatting the appearance and information that is available on a website. Several healthcare organizations used HTML-based websites for acquiring more patients, booking appointments, and marketing their services to a specific care provider or medical professional.
8
C
Certain healthcare organizations are still operating on old systems using UNIX or LINUX platforms. In such cases, C, another top programming language can be used in healthcare application development. C is known as the mother of all programming languages as it is capable of supporting multiple features existing in both high and low-level languages during the process of healthcare app development.
9
Swift
Swift is a new and promising programming language and it offers concise, precise, and cleaner codes as it requires very few lines for coding when completing a task. Swift is a secure and easy to fix language and it optimizes the compiler for rapid bug fixes. It is a developer-friendly ap programming language and can be used for its versatility in building custom healthcare applications.
10
C++
C++ is considered a general-purpose language of coding created from the extension of the C app programming language. For mHealth application developers, this programming language for app development offers the internal functioning of major healthcare tools and devices, especially for system imaging. C++ is also used as backend assistance for coding for several EHRs and other types of healthcare-based information and data.
Final thoughts,
The healthcare app development industry is growing rapidly. The scope of this industry is paving the pathway for developers and healthcare organizations to specialize in application development for healthcare enterprises. When it comes to healthcare application development, the choices boil down to selecting the right healthcare programming languages. Every programming language has its flaws and it depends on the requirements and features of the healthcare applications and the efficiency of the developers building them. Hence, it is of utmost importance to have a clear vision of how the healthcare application will be beneficial for providers and patients while also generating revenue through customization and meeting the requirements in the healthcare sector.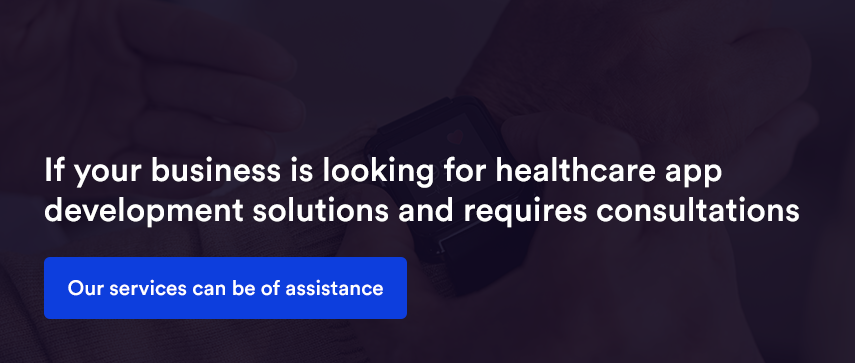 Author's Bio

Dr. Kedar has more than 12 years of experience in the healthcare domain. She advises Mobisoft Infotech in healthcare-related matters.