Digital transformation is playing a pivotal role in the airline industry. It simplifies a wide range of operations, including aircrew transportation management. Many software, applications, and tech-enabled imperatives are taking center stage to enable seamless airline crew transport.
What's more important is that the airlines and airport authorities have the privilege of adopting a comprehensive airport crew transportation management solution to enable timely arrivals of aircrew, better crew scheduling, manage complex administration tasks, and automate the entire aircrew transportation.
Today's blog will give you detailed insights into aircrew transportation, its advantages, and how airlines can combat the potential commuting challenges of aircrew. So without further ado, let's dive right in.
What is the Air Crew Transportation Management Solution? Who can Benefit from this Solution?
It is a data-driven transportation management platform that helps airports and airlines to automate commute operations for their staff. The automated system simplifies the transportation process while delivering a hassle-free mobility experience to aircrew.
To put it simply, an air crew transport management solution is a centralized technology extension that helps key decision-makers of airlines to enhance operational efficiencies and focus on the core business competencies. Equivalent to modern airline crew scheduling software, it has the capability to plan and automate staff scheduling.
In addition, the exclusive digital solution for airlines is jam-packed with powerful features. Here is the list of air crew transport management solution features:
Provides real-time visibility to aircrew into vehicle bookings, ETA, routes, costs, and more with a unified dashboard backed by a robust reporting mechanism.
Tracks and manages all data related to aircrew, including their shifts, daily tasks, hotel bookings, etc., to avoid trip complexities.
Notifies flight crew as well as airport ground crew about sudden operational changes and trip updates quickly.
Caters to unexpected or sudden crew transportation needs and addresses potential discrepancies with utmost precision when required.
Enables flight staff to make vehicle bookings, access ride details, and share special instructions, if any, with complete transparency and security.
Manages chauffeurs and fleets by helping them keep tabs on delegated duties, completed/ongoing trips, traffic conditions, planned routes, and so on.
Successfully addresses multiple transportation requests with a dedicated online booking system.
Prepares a well-defined roster for airline crew to plan and schedule bookings for vehicles, hotels, and flights.

Key Challenges Faced by Airports While Managing their Staff Transportation

Many airlines and even airport authorities face challenges when it comes to crew scheduling and transportation in the case of sudden or emergency flight changes. Let's discuss them in detail.

Preparing a Robust Transportation Process

Many airports and airlines are unable to come up with a process that can satisfy the commute requirements of their crew members. They often try to cover various aspects and end up creating loopholes within their system.

In some cases, the concerned professionals underestimate the importance of airline crew transport for their business. This leads to an unorganized roadmap, which lacks the flexibility to meet desired objectives and end goals.

Performing a Diverse Set of Operations

There are various operations and tasks you need to look into while managing the commute for your crew, such as check-in, security, customer service, repair & maintenance of flights, advertising, and so on.

Handling all these operations at a particular time is not an easy job. You may either lose sight of the core competencies and start focusing on activities that need minimal attention and support.

Managing Different Personnel

All the aforementioned operations are handled by certified professionals. And managing these professionals is one of the biggest challenges that airports face. It is really difficult to monitor individual performance.

Keeping an eye on every single crew member can be time-consuming. Besides, this process can become much more stressful if you have some aggregators and third-party service providers involved.

Catering to Custom Requirements

Another significant challenge that airports face while managing air crew transport is satisfying the unique requirements of their workforce. They find it difficult to understand individual requirements like the preferred vehicle, different pickup locations, etc.
On the flip side, many airline companies rely on assumptions to provide required ground transportation services to their team. This leads to inapt service delivery followed by inefficacy and improper use of available resources.

Meeting Sudden Changes and Updates

You may be able to address a typical request from a crew member. But if your transportation infrastructure is not competent enough to handle unexpected modifications from the same individual, then it may represent inconvenience.

And that's what most airports experience. They rely on a legacy system that is unable to acknowledge and implement sudden alterations, quick updates, or any other potential amendments.

Analyzing Business-critical and Crew Data

It is really necessary to store and analyze necessary data as it gives more insight into many triggering issues. It helps to work on the use cases and prospects that can enhance transportation productivity.

However, practically achieving this is really challenging as airport authorities tend to use and experiment with a mix of software, applications, and digital products for in-depth data collection and management.

Defining a Transportation Budget

When it comes to airline crew ground transportation, determining a budget is of utmost importance. It helps to make the best out of available resources and mitigates the risk of investing in unnecessary activities.

But finalizing a budget can be tough because airlines need to closely monitor and gauge the costs related to many factors like online bookings, vehicle repair & maintenance, aircrew scheduling, and more.

Establishing a Secure Ground Transportation Experience

Delivering an unmatched travel experience to your crew members stands among the most important challenges that airports face. They need a solution that can easily comply with crew ground transportation regulations and industry standards.

But the real task is to integrate this solution with their existing system and introduce features and functionalities that have the potential to ensure safe and secure airport transfer experiences.

How Air Crew Transport Solution can Help Overcome these Challenges
Adopting an air crew transport management solution can easily combat and overcome all the above hiccups and technical barriers. Let's find out.
1
Digitalization of the Transportation Process
Unlike various software, applications, and tech-based products available across the market that need complex manual attention, an aircrew commute management solution helps you digitalize the entire transportation process for your workforce.
From booking and route planning to assigning drivers and processing payments, each aspect of the process can be digitized seamlessly. This helps you create a proper roadmap to accomplish set milestones.
2
Automating Necessary Operations and Tasks
With the successful implementation of an air crew ground transportation platform, you get the privilege of avoiding the complexities of handling repetitive tasks. It also helps you cut overhead costs and saves time.
You can easily automate aircrew scheduling and transportation operations, such as sharing ride details and updates related to traffic while managing vehicle bookings in a hassle-free way. This will surely complement your manual efforts.
3
Tracking KPIs and Key Metrics to Improve Productivity
The solution introduces your system to a superior range of airline crew transportation services that help you avoid delays and enhance overall team productivity. It tracks the KPIs to improve individual performance.
You get enough room to gather both qualitative and quantitative metrics to optimize necessary operations. Identifying and resolving potential shortcomings and discrepancies also becomes easy.
4
Delivering Tailor-made Services
Be it first or last-mile transport, intercity ride, or a scheduled airport transfer, you can surely rely on an airport crew transport solution. It facilitates customizable transport services to fulfill the unique requirements of your crew.
The transport management solution allows you to choose a preferred mode of transportation from coaches, luxury vehicles, mini buses, and business vans. Depending on your crew's commute requirements, you can also opt for options like ridesharing or air crew shuttle transit.
5
Addressing Multiple Queries and Unexpected Requests
The airport workforce transportation solution has the capability to handle multiple queries at a given point in time. It helps you accommodate planned as well as unexpected changes to your transportation roadmap in a seamless manner.
It successfully aligns with your existing system to create a simple yet flexible environment that can add or eliminate an ad hoc request to introduce unpredicted changes or make emergency updates.
6
Prioritizing Data Handling and Management
With this solution at your disposal, you get a unified dashboard that helps you store, import/export, manage, and exploit data at convenience. It gives you the ability to highlight data usage issues beforehand and resolve them accordingly.
The solution allows airport authorities, airline companies, and concerned transportation managers to collect mission-critical data without the use of complex software or any other external dependencies.
7
Calculating Transportation Expenses
Air crew transport platform can be your go-to option to define all your expenses related to crew commuting. It can give you a detailed outlook of various aspects such as trip scheduling, chosen vehicles, repair & maintenance costs, and so on.
This helps you calculate your expenses with precision without negatively affecting your overall transport budget. Additionally, you get exposed to areas that need maximum investment.
8
Ensuring Safe and Secure Rides
Adopting this solution helps you follow the necessary regulations and standards that make each ride safe and secure for your crew members. It ensures a comfortable and stress-free commuting experience with minimal effort.
The solution masks the contact numbers of your crew. It allows them to give special instructions, raise a concern, or report any kind of emergency during the ride. This ultimately enables safer journeys for each team member.
How Mobisoft Infotech can Help
Mobisoft Infotech is a digital transformation and innovation partner that is helping businesses across the world to build quality products and solutions. Our 13+ years of experience and technical proficiency enable us to satisfy complex air crew transport requirements with ease.
We expose your business needs to a contemporary airport crew transportation solution offering an array of crew transportation services that automate the entire commuting journey for your team.
Our solution is committed to extending comprehensive airline crew transportation support for better decision-making and simplified transit operations. We also offer dedicated transportation services for passenger airlines, cargo airlines, and cruise lines.
Conclusion
With all the above, we can surely conclude that an air crew transport solution is a way toward better and more efficient crew mobility. When implemented rightly, it brings an array of benefits for airport authorities and airline companies.
It is a data-driven, one-stop solution to modern aircrew transport and scheduling requirements. Adopting it will optimize your existing operations and help you deliver a top-notch commuting experience to your workforce.
If you are planning to automate the entire transportation journey for your aircrew, you can consult our team and have your exclusive solution based on your requirements. Our technology professionals will be more than happy to convert your vision into an epic reality.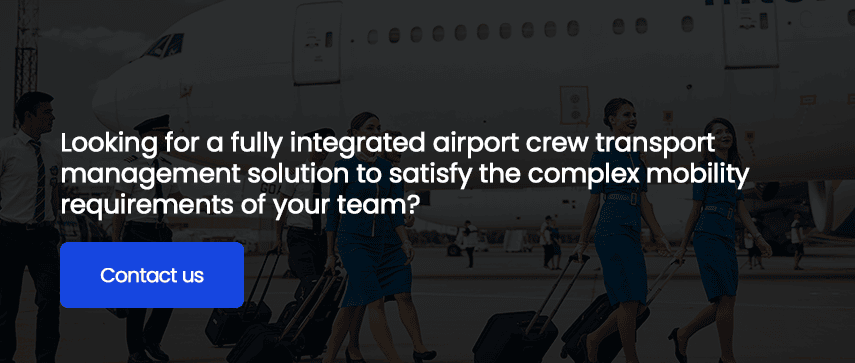 Author's Bio

Nitin Lahoti is the Co-Founder and Director at Mobisoft Infotech. He has 15 years of experience in Design, Business Development and Startups. His expertise is in Product Ideation, UX/UI design, Startup consulting and mentoring. He prefers business readings and loves traveling.