The retail industry has been witnessing steady growth in the last few years, at a rate of over 4%. But with the popularity of digital transformation, consumers are turning to e-commerce to gain more freedom and information when shopping. Adopting scanning solutions for retail can help in-store retailers offer customers an immersive, personalized shopping experience, accelerating in-store operations, and novel solutions to vie with their peers.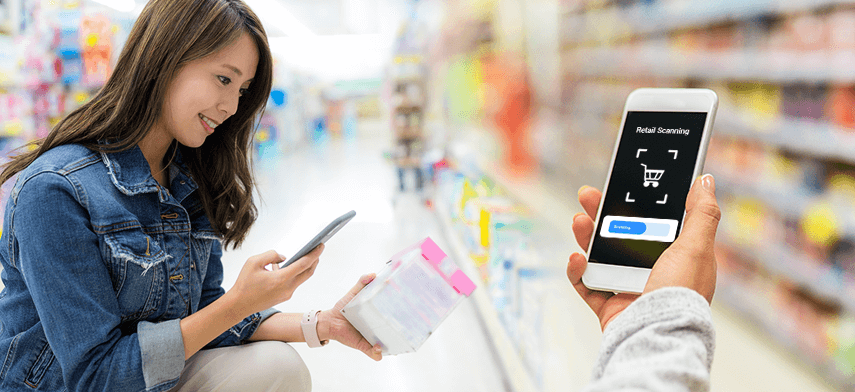 Here is an in-depth study of mobile computer vision-based digital scanning solutions and how it can help retailers improve their business.
Changed Consumer Behavior Amid COVID-19
With the outbreak of COVID-19, consumer buying behavior has been affected profoundly. It has forced retailers to rethink and transform beyond marginal improvements.
Consumers are living differently, thinking differently, and above all, buying differently. According to research, these new habits of customers will endure beyond the crisis, permanently changing the way consumers value, shop, and work.
The global pandemic has witnessed a dramatic shift towards e-commerce, accelerating the need for digital retail solutions. More and more consumers are turning to online platforms to help them work and continue their businesses remotely.
Consumers are embracing e-commerce like never before and revaluing their current lifestyle, choices, making adjustments, and trying to reset their lives. The sudden shutdown of retail stores has shaken the deep-seated shopping habits of consumers.
Brands and retailers are pivoting to D2C (direct to customers) business model, selling items directly through mobile and digital channels. Consumers are bending towards smart retail solutions with automated in-store experiences-with the motive to simply walk into space, buy items, and leave without the need of touching anything at the checkout.
46% of working professionals who have never worked from home plan to continue working at their home's comforts post the pandemic too. In other words, the buying behavior of consumers shifts with this transition.
Future Shopping Trends for Consumer
For the first time in history, no one knows what the future holds, not even experts. This moment of crisis has paved the way for social solidarity, resulting in a permanent effect on consumer behavior and preferences. There will be a significant shift in shopping habits where consumers will become more receptive to brands and retailers that show the ropes to prosocial behavior.
People who had been reluctant previously to shop online will be all in for online shopping and willing to experience an entirely 'hot-off-the-press' customer service. According to statistics, one-stop retailers (whether online or brick and mortar) will witness major success where more than 18% of US plan to shop at online marketplaces-looking for better digital retail solutions.
There has been more than 10% growth in online shopping globally, and consumers are expected to continue with this practice even after re-opening brick-and-mortar stores.
Overall, consumers will look for an improved e-commerce experience of shopping in-store, allowing them to fetch more information and freedom than ever before, improving the speed and efficiency of workflow.
Amplifying Retail Experiences through Mobile Computer Vision Scanning Solutions
There is no doubt on the fact that retailers are searching for innovative and new ways to engage with customers and are turning to mobile computer vision-enabled digital scanning solutions that can work on smart devices.
It is nothing more than using in-built cameras to identify barcodes and other images of thousands of products and services that will provide instant detailed product information.
Digital scanning solutions for retail can bring all the data from your retail store to your fingertips, accelerating in-store operations, and back-of-the-house processes.
Scanning solutions for retail can help meet the needs of today's customers by helping retailers manage their complex retail operations seamlessly.
Here are a few ways how you can take full advantage of scanning works in retail stores.
1
Mobile Point of Sale (mPOS)
With the mobile point on sale software, customers can complete in-store purchasing with their smartphones. They simply need to scan products, check offers, and make payments directly. It is cost-effective for businesses and convenient for customers making it mutually beneficial. Biometrics in mPOS is gradually emerging. According to Research by Juniper, Mobile biometrics in transactions will hit $2 Trillion in Sales by 2024.
2
Clienteling
Integrated digital retail solutions with proper training can help your staff assist the customers in solving all queries related to prices, stocks, location, mPOS of the product, and much more, consequently enhancing customer experience and thus, leading to customer satisfaction.
3
Click and Collect
Retail barcode scanning can help customers know more about any product by simply scanning the QR code and get real-time visibility of the product in the stock room. This will help customers to pick their product from the purchase store easily without any hassle. The potential of QR code exceeds all expectations and eases the entire process significantly.
4
In-store Pickup
A single scan can help the retailers find any particular product from a shelf. This can save a lot of time wasted in finding products and help distribute them as per the customers' convenience and give them a personalized shopping experience. Improved customer satisfaction drives more sales, ultimately.
5
Price Management
Scanning solutions for retail can help eliminate human errors on price markdowns and price changes just with a single scan. That way, efficiency is improved and helps in managing costs systematically.
6
ID Verification
Smart retail solutions can seamlessly scan identity cards, driving licenses of your customers, and process secure and safe purchase. This will also help retailers send personalized advertisements to their loyal customers and eliminate fraudulent activities. Smart technology is the way forward in the retail sector that helps overcome plenty of challenges previously faced. With verification made easier, now authenticating from both ends is more seamless.
7
Shelf Management
Mobile computer vision-enabled digital scanning solutions can help employees easily identify, stock, manage them efficiently, regularise products on the shelf, ensuring planogram compliance. Shelf management is crucial to stock products efficiently and generates more sales. Keeping the stocks up-to-date and managing them was quite challenging but with computer vision-enabled solutions, one need not worry about efficiency.
8
Self-Scanning and Self-Checkout
Given the amount of time spent in endless lines for billing, customers are likely to lose patience affecting the sales. Self-scanning apps can allow your customers to easily find products, check the prices, and even make payments instantly without the need to wait in long queues on checkout and save their time during billing.
9
Rewards and Coupons
You can enhance your customer experience with digital retail solutions and create customized rewards and coupons and share them with your customers on their mobile phones at the time they shop. This will help to increase your sales, gain loyal and happy customers.
10
Augmented Product Information
An AR-powered retail barcode scanning capability can provide your customers with all the needed information, including the ingredients, prices, reviews, availability, and more. Scanning solutions for retail can majorly shift the purchasing experience of customers. Retailers can also integrate retail inventory management and enjoy all the benefits with the best-in-class scanning tools and technologies, equipping all warehouse related information on their smartphones.
11
Search and Find
It's a hassle for customers to search for the products they want once they enter the store. Computer-vision-enabled smart devices can help search items quickly and easily improving visibility with a single scan on your device. With this advanced technology, you can maximize sales and keep your customers happy too.

12
Inventory Audit and Management
Retail barcode scanning can give you a real-time count of the level of inventory with detailed insights into your wholesale and retail channels. You can keep track of your products' location, order fulfillment, know where and when they are being used, and more.
13
Shipping and Receiving
Shipping the products to the customers on time is crucial to building your brand and credibility. Retailers all around the world can verify the shipment of multiple packages with single scabbing barcodes and QR codes and verify them. This helps speed up the warehouse functioning and order fulfillment process.
The Significance of Scanning Solutions for the Retail Industry
There are thousands of reasons why mobile computer vision scanning is gaining popularity and are crucial for the retail industry. We will see more about it here.
An Omnipresent Marketing Strategy

It all starts with an omnipresent marketing strategy that helps retailers automate marketing campaigns, track responses, suggest products based on individual customer experience, and so much more. It's all about simplifying the shopping experience of customers and sharpening marketing plans.

Top-Notch Customer Engagement

This new-age is all about customers who are channel-agnostic; who never rely on a single channel. Smart retail solutions can help retailers establish an enduring customer relationship by facilitating a seamless integration of traditional and digital channels with vital inputs, round-the-clock access transactions, social engagement, and interactions.

Faster and Easier Transactions

Scanning solutions for retail can help retailers fulfill critical processes with absolute precision. It also helps brands to get an insight into customer demands, ratings, and social sentiments. With Barcode and QR code scanning, payments are made easier and faster. That allows for a smooth transaction and overall customer satisfaction. Information regarding in-store operations is readily available on mobile phones, reducing time and increasing efficiency.

Manage and Save Time and Efforts

Mobile computer vision scanning solutions automate the mundane process of retail store employees and help them respond to demanding customer needs and make better decisions. Digitalized infrastructure helps employees get real-time stock information and help to manage complex staffing issues, shift changes, upgrade their skills, and much more. Enhanced digitalization helps retailers nurture a smarter workforce that is empowered and can take up any challenges.

Personalized In-Store Experience

Customers want a personalized in-store experience, and mobile computer vision gives them the same with individually targeted discounts, coupons, and promotions. Scanning solutions for retail help the customers to know how much they are saving with the help of their device with better knowledge and decision. This makes customers feel entreated and looked after with custom interaction and sales.

Transparency and Flexibility in Operations

Digital transformation of in-store retailers adds transparency and flexibility in the supply and helps to add value. It can also help retailers predict demand, mitigate risks, increase efficiency, agility, reliability, and effectiveness.
Wrapping Up,
Retailers adapting to computer vision-based digital scanning solutions have been as important and crucial during this time. This innovative yet proven technology helps consumers get a personalized and convenient shopping experience.
As retailers, it's always necessary to develop a digital maturity to guide your business in this era and accelerate your sales win over your competitors.
So what are you waiting for? Digitize your retail shop today and enjoy all the perks of scanning solutions for retail.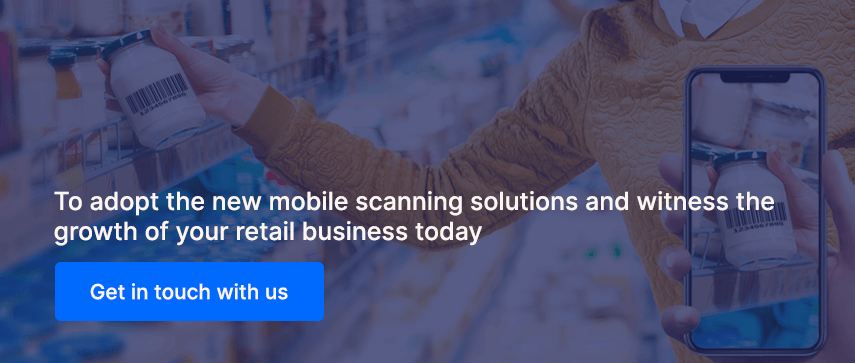 Author's Bio

Nitin Lahoti is the Co-Founder and Director at Mobisoft Infotech. He has 15 years of experience in Design, Business Development and Startups. His expertise is in Product Ideation, UX/UI design, Startup consulting and mentoring. He prefers business readings and loves traveling.