The impact of healthcare in the realm of virtual clinics via digital advancements, dermatological services has been observed to have the least virtual accessibility in digitized clinics. Teledermatology, a subspecialty category utilizes interactive and real-time sessions with patients in regards to skin-related concerns through audio-visual telecommunication services. Mobile health applications enable patients to have access to dermatological information and learn about teledermatology and the existing services.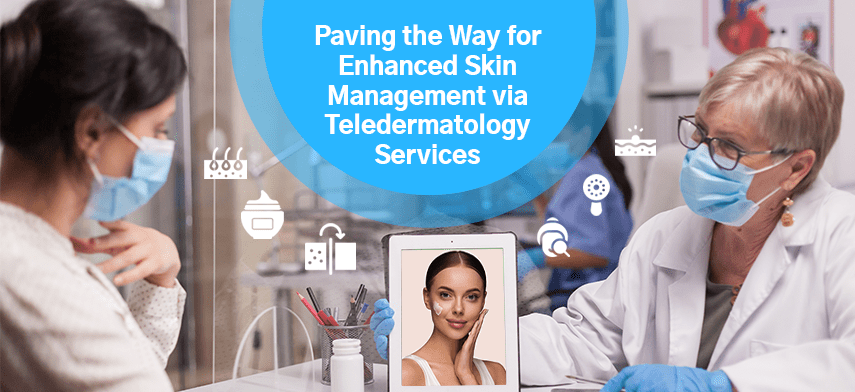 Teledermatology and the Existing Services
Teledermatology services, as mentioned, have become a well-known entity in e-health and telemedicine services. The adoption of telemedicine dermatology within every community, especially in ethnic and racially minor backgrounds is being considered and going beyond the pre-existing social determinants of health inequity. The market size for teledermatology as of 2021 is expected to gain momentum by extending to USD 44.86 billion by the year 2027 with a spectacular CAGR of 24.3%.
Health systems are exploring and overcoming several barriers to implement policies to help facilitate the accessibility of telemedicine in all communities to increase the expansion of teledermatology services. Telemedicine for dermatology has spread over various sectors of healthcare management including online dermatology consultation, patient education, treatment, and more.
Modern technology supporting healthcare services from a distance has been possible due to the integration of telemedicine. A visually dependent specialty like dermatology is well suited for this health care model. Teledermatology has been proven as a feasible, reliable, and appropriate dermatological care service for patients.
Several populations are still struggling with access to proper dermatological care amidst rising skin cancer morbidity. The development in technology is enabling clinicians to cater to a diverse population of patients requiring expertise regarding their skins and it is diminishing overhead expenditure. Teledermatology has been useful for many purposes including:
Enabling health care professionals and workers in providing clinical services to the patient population.

Administering to monitor patient health.

Increasing accessibility for telecommunication with other healthcare providers.

Offering patients with educational resources to learn about the services provided.
Impact of COVID-19 on Dermatological Practices
The pandemic undoubtedly affected the operations of health and healthcare systems. The repercussions were extreme with changes that will stay permanently. COVID-19 has indefinitely exposed the healthcare vulnerabilities and loopholes, enunciating the paradigm shift in healthcare and medical practices. Dermatological practices pre-COVID taught that patient observation needed to be gathered over ample time for figuring the detailed history and provide to the clinical findings of the patient.
As social distancing became the norm, the current dogma was to minimize contact with patients to reduce the transmission of the virus. The patient-doctor communication gaps were exposed and compromised with the strain of the pandemic, and the probable impact of it in the foreseeable future includes: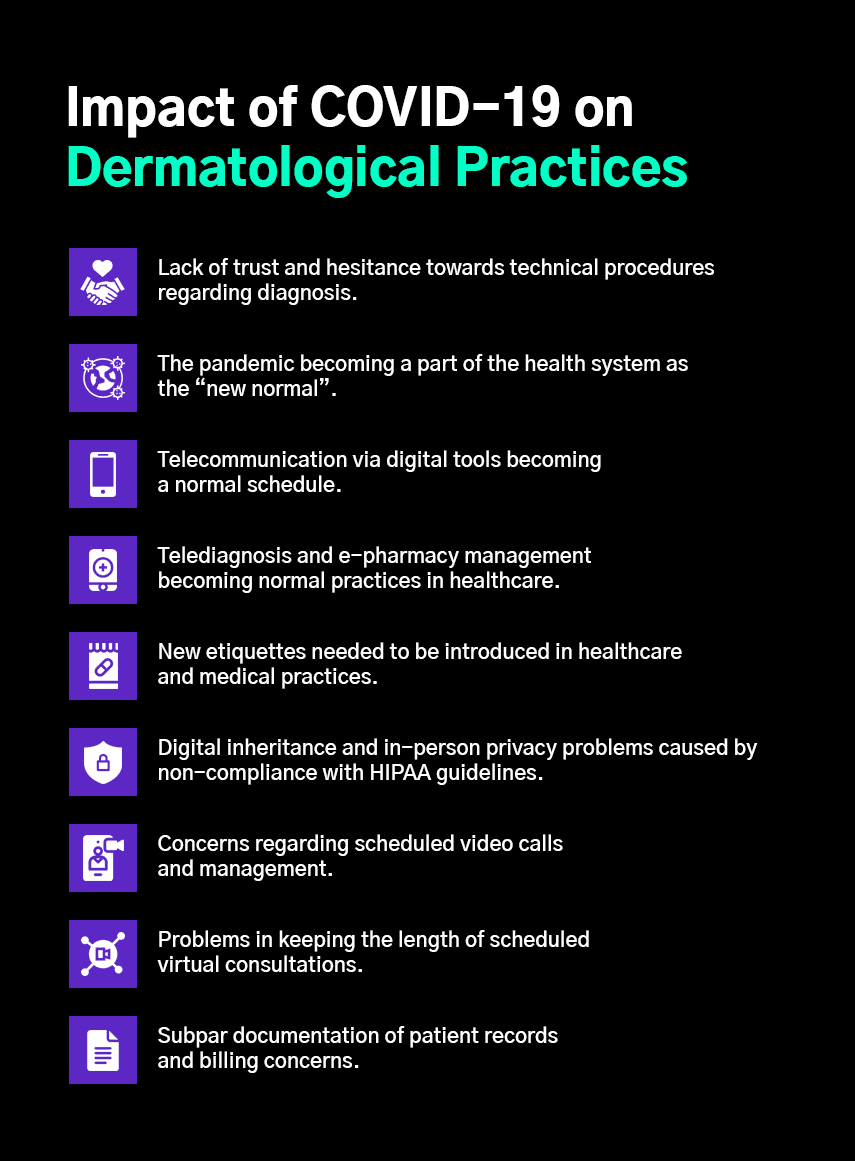 Requirements for Implementing Teledermatological Programs
Before implementing any teledermatology services, there are some basic requirements to keep in mind. There are different modes of data transmission in teledermatology. Two of those concepts that form the basis of teledermatology services include Store and Forward (SAF). SAF and real-time telemedicine in dermatology can be combined to form hybrid models for better data transmission. It also involves:
1
Improving user experience
Digital experience creators emphasize usability, which means the process for patient-provider or the end-user experience has to be well structured and comprehended. This area is usually overlooked since the focus is more on other telehealth aspects. It is crucial to have user experience in place even with teledermatology services. It is important to provide convenient operational practices via mobile or web-based app solutions.
2
Quality commitment
Focusing on the technical implementation quality is important and it helps to provide sufficiency. It is important to understand that the platform needs to ensure the clarity of photos and videos through video streaming or digital images. Online dermatology consultations require proper network connection as poor quality data connections can affect diagnosis and treatment processes.
3
Teledermascopy and store-and-forward solutions
Store-and-forward solutions (SAF) assist dermatologists with proper viewing of lesions or rashes on the skin. Implementing teledermascopy helps specialists receive dermoscopic lesion images via electronic transmissions for proper examination. Attaching a digital camera to the dermatoscope or using a special video camera necessary for dermoscopy assists in the rapid determination of skin conditions including melanoma and skin lesions. Since dermoscopy heavily depends on 2D image examination, it is well-suited for teledermatology and other digital imaging in healthcare.
4
Ensuring data privacy of patients
Patient data protection is necessary for any healthcare organization. It needs to be handled through transparency, accessibility, processing, storage, and the use of private data. Data security and shielding are now enforced to prohibit unauthorized data intrusion. It includes transport and storage encryption, network security, management of identity, secure authentication, immediate breach response, access control, and audit logs. HIPAA Compliance integration can enable better protection of sensitive patient health information.
Teledermatology and its Benefits
Teledermatology appointments excuse patients from trips to the dermatologist's office. This enables patients to attend brief online dermatology consultations and appointments without disrupting day-to-day activities. With teledermatology, the accessibility of having a board-certified dermatologist from a different state or zip-code than the patient can prove to be beneficial.
A few benefits of teledermatology services include:
1
Care continuity
Teledermatology services allow patients to continue their follow-ups and appointments with the same providers or choose a new doctor for their concerns. Teledermatology services in healthcare organizations or facilities simplify remote monitoring dermatological access for patients from the comfort of their homes and continue with their care delivery services. Hence, care continuity amidst patients and providers is more streamlined.
2
The efficiency of teledermatology services
Teledermatology services enable physicians and healthcare professionals in providing accurate and effective care without in-clinic visits. Online dermatology consultations are an efficient health service where diagnosis rates are as high as 80%. The survival of intensive care patients due to eCare systems increases the rate by 26%. As professionals remotely operate to provide patients with quality care delivery, teledermatology helps to reduce the cost of readmissions and saves time.
3
Ensures better homecare services
Telehomecare or home telehealth requires patients to be treated with chronic conditions in remote conditions at their homes. Telehomecare for dermatology is crucial when it comes to treating skin conditions and crural ulcers. It requires continuous follow-up appointments. Teledermatology services can curb the costs associated with these follow-up appointments and visits ensuring better homecare services for patients.
4
Reduces time
Teledermatology platforms are known for their ability to save time for healthcare professionals and patients. The flexibility in patient access and scheduling are key factors in delivering care delivery satisfaction. Offering the patient population immediate access to care is essential in determining and diagnosing early skin conditions to yield higher survival rates, hence saving extreme amounts of time.
5
Profitability
An asset of telemedicine dermatology is the cost of efficiency delivered. The economic value or profitability of teledermatology services is insightfully connected to the efficiency of the services. Hence, offering on-time online dermatology consultations to patients. These details affect the growth of profitability and generate revenue. This infrastructure allows providers to focus more on the patient who requires further care without any hassle.
6
Enables same-day appointment
Skin concerns can be a cause of stress amongst patients. Health and health systems with platforms to integrate same-day appointments can be of immense assistance to patients. Teledermatology services with same-day appointments can help patients via same-day appointment options and deliver better skincare treatments.
7
Enhanced management of chronic conditions
Teledermatology can help to reduce in-person clinic visits for patients with chronic skin conditions, including psoriasis. When the frequency of these visits diminishes, virtual dermatology consultations help to improve the quality of life and also reduce costs. With better management of chronic conditions, it has been observed that teledermatology is an efficient method of screening for skin cancer lesions due to its highly visual process of screening.
8
Improve patient outcomes
Integrating teledermatology services in existing practices assists in attracting newer patients. This is possible without having to accept various ranges of insurance plans or decreasing the care quality of existing patients. Teledermatology offers patients to initiate their first online visits and helps in reducing barriers to choose their doctors. Therefore, giving organizations a competitive edge over their competitors.

Future of Teledermatology
It has been established that the field of dermatology has faced significant impact from the COVID-19 pandemic. The necessary steps to provide quality care delivery during such a crisis have affected the way providers offer care to their patients, staff, and for themselves. Providers are gaining momentum with their experience with teledermatology services and are realizing the many benefits that it adds to their practice.
The ability to provide care via telecommunication tools on any digital device enables patients and providers to fulfill basic needs and reduces time consumption. This includes prescription refills, follow-up appointments, determining if an in-person visit is mandatory, and recommendations of ancillary skin-care products and services. The aesthetic practices to offer virtual dermatology consultations can offer proper patient education and reduce patient discomfort during healing procedures.
Innovative and new technologies are being designed to meet the requirements of dermatologists. Organizations and facilities are also looking into personalized options in addressing several aspects of their practice including generic as well as aesthetic practices. These practices have an option to offer fee-for-service (FFS) cash payments or reimbursement via medical insurance during teledermatology visits. The future of teledermatology looks non-disruptive and the adoption of technology is set to create a systemic change in the entire field of teledermatological practice.
Final thoughts,
Teledermatology services have gained the necessary recognition in the field of healthcare. As technological advancements in delivering care to patients improve, having a teledermatology app for businesses can improve the value-based outcome of an organization. Treatment and diagnosis will be more simplified in the upcoming years. With a proper digital healthcare solutions partner like Mobisoft, implementing an app for teledermatology services can enhance businesses. With newer challenges and better opportunities, teledermatology will keep seeing improvements and enable better health outcomes.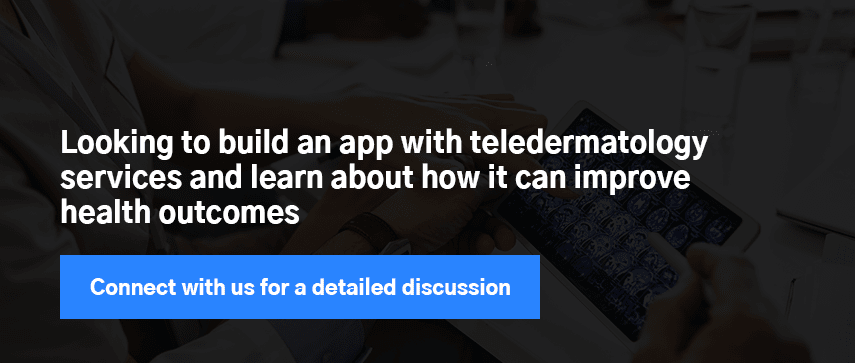 Author's Bio

Shailendra Sinhasane (Shail) is the co-founder and CEO of Mobisoft Infotech. He has been focused on cloud solutions, mobile strategy, cross-platform development, IoT innovations and advising healthcare startups in building scalable products.