A few years ago could anybody predict that daily visits to physicians, physically visiting doctors for common diagnostic procedures like checking blood pressure and blood sugar, a wide range of existing medical monitoring systems and products, will all become conventional methods in healthcare, that more than a million people would buy a watch that not only tells the time but tracks your workouts, too? But that's exactly what happened.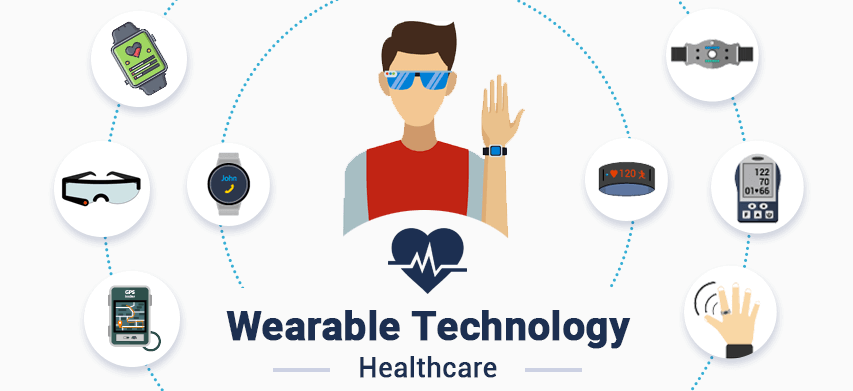 Yes, we are in a world where the role technology plays in our lives is rapidly growing, as we are willing to be more and more dependent on it. The technology's tendency to get faster and smaller at the same time has fueled the rise of wearable technology. No wonder, continuing evolution in wearable technology is paving the way for the emergence of advanced devices in the field of communication and navigation but perhaps, the greatest potential of wearable technology exists in the healthcare sector. Primarily owing to its ease of use and flexibility, wearable healthcare technology is gaining widespread popularity.
Now the Question Arises "What Is Wearable Technology?"
In the fields of health and fitness, wearable technology refers to electronic technologies or computers that are incorporated into items of clothing and accessories which can comfortably be worn on the body. Because it can provide sensory and scanning features not typically seen in mobile and laptop devices, such as biofeedback and tracking of physiological functions, wearable technology tends to be more sophisticated than hand-held technology available in the market today.
Evolution of Wearable Technology in Healthcare
Wearable technology's roots are centuries old though it might feel like a new thing in the town. For us, the term, wearable technology is a reference to fitness trackers, smartwatches, smart clothing, or some more sophisticated tools like smart glasses, or AR/VR headsets, and similar devices. But the truth is that it has existed long back just in a different form and has evolved over time to give us today's high tech wearable devices.
The evolution of wearables dates back to 1788 when Thomas Jefferson introduced the first ever pedometer. Another invention in this area was that of the "Lie Detector". Back in 1921, the lie detector was created which was the first machine to have sensors which could measure Galvanic Skin Response (GSR), pulse rate, and blood pressure which indicated the physiological parameters of deceiving. This instrument was of great use to the police.
With time, innovations in this space were more powerful, stronger. 1961 saw an enthralling innovation – The first Wearable Computer – a time when computers were the size of the rooms. Innovations have been coming around from that point in time, be it of wearable hearing aids or the world's first fully digital pacemaker – Vitatron C-Series in 2003.
Wearable Tech Becoming Pivotal for a Healthy Lifestyle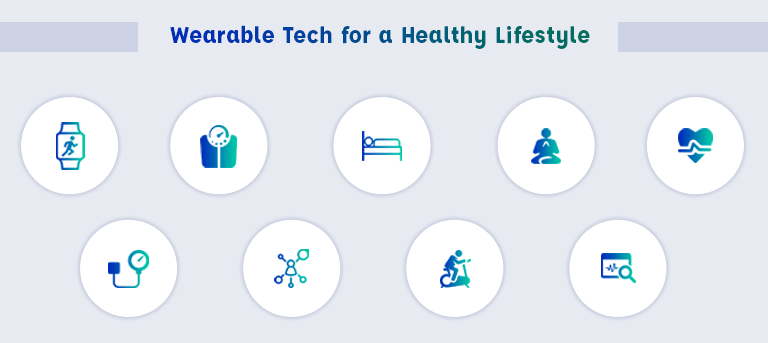 The rise of wearable technology ranges from fitness trackers like Fitbit and the Apple Watch to Google Glass and Microsoft's HoloLens. Let's take a quick glance at some wearables that are hot in the healthcare industry:
Fitness Tracking

The most popular and widely known healthcare wearables are the fitness and sports activity trackers. Most smartphones already have built-in sensors for measuring how many steps you take a day, when you are running or riding a bike. The activity trackers might also measure your pulse rate and create colorful graphs and charts to help you figure out the best ways to keep fit and healthy.

In 2006, Apple and Nike collaborated for Nike+iPod – a fitness tracking device which lets the consumers use their existing technology to keep fit. 2009 again saw the launch of a dedicated fitness tracker Fitbit. This touch-screen wristwatch not only tracks your steps and sleep, but also alerts you to incoming phone calls and text messages, keeps tabs on your heart rate with a built-in optical heart rate monitor, and uses GPS to track outdoor activity. GPS is especially useful, as you don't have to take your phone with you when you run or bike to track exercise. Today many fitness trackers with advanced features are available that can help you make your workout more meaningful.

To Get a Good Night's Sleep

Pebble Time: Developed by Pebble in collaboration with researchers at Stanford University, Pebble automatically tracks when you go to bed, displaying sleep, deep-sleep, and the times when you fall asleep and wake up.

To Get Rid of Stress

PIP: A tiny healthcare wearable device designed to give immediate feedback about your stress levels. Its smartphone app helps you learn how to reduce stress by having you transform a depressing scene into a happy one by actively relaxing, giving you tips along the way. You just hold the PIP device between the thumb and index fingers to measure skin conductivity for a few minutes. The longer you can keep stress low, the faster the scene changes.

To Keep Blood Pressure Optimal

Withings Blood Pressure: One of the earliest connected wearable healthcare devices available in the market. It consists of an app connecting through Bluetooth to the blood pressure monitor itself. The app measures your heart rate, blood pressure, and also counts the steps you take weekly. You can also set up reminders for various issues from taking your blood pressure to taking your medications.

Keeping Track of Your Weight

Fitbit Aria: It is the latest smart gadget of the Fitbit-family. The smart scale tracks your weight and body fat percentage – preferably daily – and uploads the information to a cloud-based account.

Keeping Your Heart Healthy

AliveCor Heart Monitor: A mobile phone-based electrocardiogram. The tiny, slim, and simple wearable healthcare device attaches to your phone case. Its app has three main divisions: ECG recording, collected data, and a great educational portion. A great use for the AliveCor Heart Monitor is during an experience of symptoms that you have described to your physician in the past. Palpitations, for example, can come and go at random, and relevant data from the actual episodes provides helpful insights for healthcare providers.

Wearable Technology for Social Impact

Khushi Baby: Mobile health and wearable technology can also be used for social impact like motivating and monitoring the health care of mothers and children in remote regions of the developing world. KB or Khushi Baby app is a novel mobile app for community health workers that interfaces with a digital necklace worn by patients via Near Field Communication or NFC. All the data is stored on a tiny NFC chip (worn in the form of a pendant) that is synced to the cloud and displayed on an analytics dashboard, where insights can be acted upon by health officials.

Exercising in the Most Effective Way Possible

Some healthcare wearables can help you make the most of your workout.
Gymwatch Fitness Tracker: GymWatch is a fitness tracker that is not about counting steps. Rather, it wants to become your personal fitness coach or your professional performance diagnostician. This is a wearable technology device that is built for the gym, specifically for people that head straight for the weights. The tracker gives you visual and verbal real-time feedback and also connects you with its community of like-minded fitness enthusiasts.

Remote Healthcare Monitoring Systems

Some advanced healthcare wearables also facilitate cloud connectivity where any crucial irregularities in the patient's health will be informed to all concerned medical practitioners treating the patient, and will also update existing electronic medical records through cloud-based accessibility. Eventually, by growing accuracy of remote monitoring offered through wearable medical devices, doctors will be comforted. They will formulate their therapy by thoroughly relying on the data recorded through these devices.
Some Wearable Tech Stats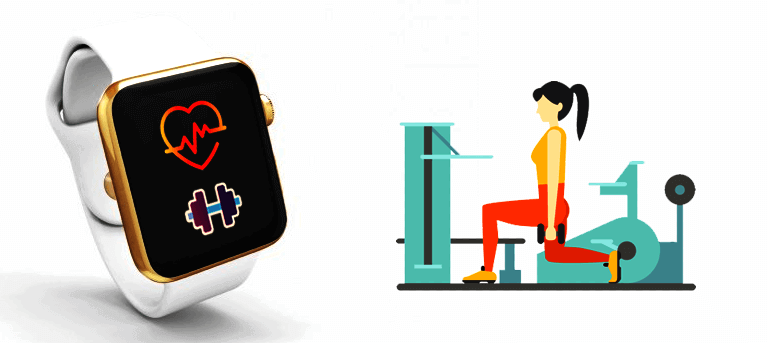 Looking at the advancements in wearable technology especially in the field of healthcare, here are some interesting statistics that have come upfront:
According to the Huffington Post, the number of wearable devices shipped to consumers is expected to reach 130 million by 2018.

"Wearables will become the world's best-selling consumer electronics product after smartphones," CNBC reports, citing forecasts by market research firm Euromonitor. Autonomous or smart wearables are projected to exceed 305 million units in 2020, with a compound annual growth rate of 55 percent.

Healthcare wearables will save as many as 1.3 million lives and the market for the technology will grow to $41 billion by 2020, according to estimates by Soreon Research.
Benefits of "Wearable Technology in Healthcare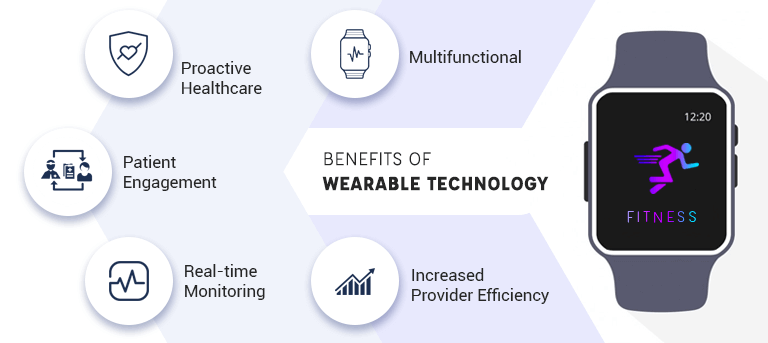 Wearable technology has touched multiple areas but Healthcare has been the major benefiter of this technology. By deploying wearables technologies, hospitals and clinics can achieve benefits across multiple levels and roles. Some such benefits can be enumerated as:
Encourages Proactive Healthcare

With wearable tech, there is potential for a more proactive approach to healthcare. This is because wearables can be used to take action in the early stages instead of reacting to health issues after they begin causing problems. For people that are already prone to health problems, irregularities can be detected before they become problems.

Keeps Patients Engaged

People will become much more engaged with their own health if they are able to use wearable tech to monitor themselves. Users will be able to stay informed about their health condition by getting access to real-time data which is continuously collected from a wearable device.

Performs Many Different Functions

There are many different types of wearable devices already on the market, with different use cases. Consumer-focused devices are the most common, but there are many others, especially in the medical field. As wearables continue to become more common, more medical uses for these devices will surely be developed.

Benefits Healthcare Providers and Employers

Wearable technology has the potential to provide enormous benefits to healthcare providers. By using wearable devices to monitor patient data over a long period of time, medical professionals can get a better view of the issues that are affecting their patient. They can then use the data to make a more accurate diagnosis than they would have been able to without using the device.

Monitors Vulnerable Patients

Healthcare providers can also use wearable tech to monitor vulnerable patients who are prone to medical issues. If they are at risk but not seriously ill enough to be in the hospital, wearable tech can be used to monitor them at home to ensure no problems occur.

Improve Patient Care and Satisfaction

Provide surgeons and physicians with critical information to improve decision-making process while increasing opportunities for patient connection. Examples include using smart glasses to view patient vitals and relevant information during surgical procedures without taking eyes off the patient.

Strengthen Operational Bottom Line

Facilitate cost savings by equipping building and custodial staff with wearable devices that increase productivity.
The Future of "Wearable Technology"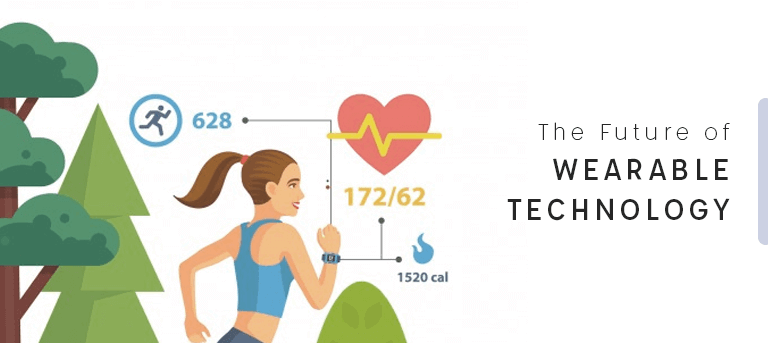 If we can be sure of anything, it's that the future means we'll be wearing our technology on the outside, and, perhaps one day, on the inside, too.
The wearable health industry has exploded in recent years, and the trend isn't slowing down. First-generation wearables, including fitness trackers like the Fitbit and Jawbone's Up, health apps like Walgreen's Balance Rewards, and smartwatches, are very popular with consumers.
And healthcare professionals are eager to get in the game, too, exploring the possibilities for helping patients with chronic illnesses or who live in remote areas manage their conditions. As the cost of wearable devices goes down and the ease of collecting the data improves, the likelihood of seeing wearable technology become commonly incorporated into healthcare services and recognized by health plans goes up.
What's more, patients are ready for wearables. Evidence from the patient engagement survey showed 49 percent of patients globally wear or would be willing to wear technology that measures and tracks both fitness/lifestyle and vital signs.
Conclusion
From a medical standpoint, wearable technology offers exciting possibilities for the digital healthcare industry.
The wearable hardware developers, wearable app developers along with regulators and healthcare service providers, must embrace the potential of wearable technology in providing better patient outcomes.
Mobisoft Infotech is a leading healthcare software development company that partners with startups and healthcare providers to launch novel digital health products like wearables apps to ultimately deliver better healthcare outcomes for patients. Our deep domain expertise, an expert team of healthcare software developers, and a rapidly growing healthcare client base make us an ideal healthcare technology partner.
Let's together build up a long-term relationship to innovate something remarkable in the world of Wearable Health Technology!
Author's Bio

Shailendra Sinhasane (Shail) is the co-founder and CEO of Mobisoft Infotech. He has been focused on cloud solutions, mobile strategy, cross-platform development, IoT innovations and advising healthcare startups in building scalable products.