With the expansiveness of India's landscape and traveling cost, online grocery delivery is a way to go. With a few clicks on your phone, you will receive your preferred grocery at your doorstep in a matter of a few hours or a single day, no more unnecessary time-consuming trips to the supermarket. All you need is a grocery android app to perform all your grocery orders from the comfort of your house. In theory, you can complete your grocery orders in your pajamas! You can see the level of convenience. Online grocery shopping in India is gaining a huge junk of the market.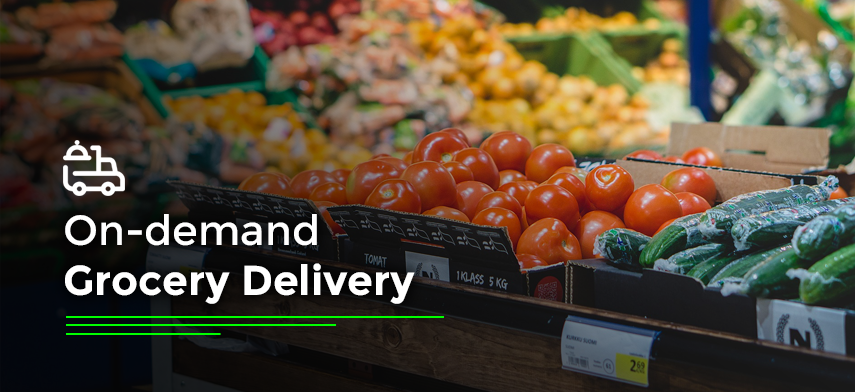 Also, every order is specially treated and carefully sent to clients by trained personnel whose priorities are customer satisfaction. With online grocery delivery, you assured of quality. Quality aside, What of hospitality? The shopping apps provide the customers with telephones and emails, which customers use to raise their grievances or commend the services.
Why On-demand Grocery Apps Are in Demand in India?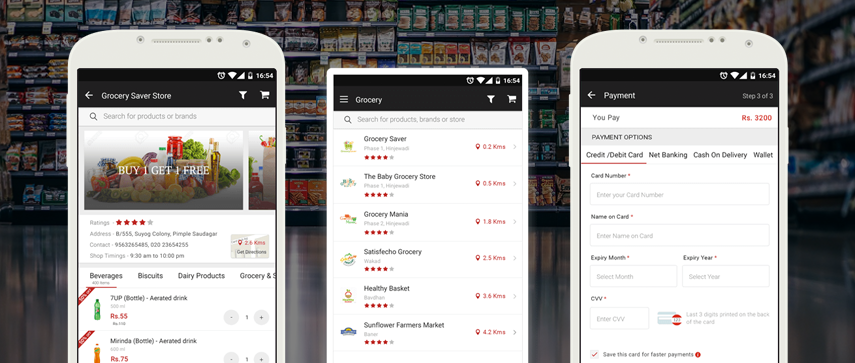 There are various reasons for the steep rise and use of grocery delivery apps in India. Consumers have rapidly adopted the apps because of the following reasons:
No Queues at Check-out Counters
One of the most irritating parts associated with almost all in-store grocery shopping in India. After customers spending a lot of time moving around the store picking goods, they are subjected to check-out counters to pay for the products. With grocery delivery apps payment for goods is made easier. One can use credit and debit card and various online wallet services such as apple pay and Google Wallet to make payment. Therefore, within a blink of minutes payment is done and dusted.
More Comfortable Virtual Selves & Search
In grocery delivery apps, products are listed in categories. The categories work as virtual selves for clients. Customers can easily find their goods using the classes. Also, the search options of the apps make it easier for consumers to see what they want. Hence, customers do not spend a lot of time searching for particular products like in the store.
Grocery Journey
Indians mostly visits groceries in the evening or weekends. These visits eat up their entire evening or half of the weekend. On the other hand, apps allow them to do their grocery shopping at any time and can arrange delivery to their doorstep at their preferred time. Apps save money and time. They can use their spare time for other activities such as leisure and use transportation money on other things.
Reduces Impulse Buying
Grocery stores are offering various offers that easily tempt the customers to buy goods. Lucrative offers and discounts are displayed as soon as one enters the stores. Products with wider business margin are displayed at eye level while cheap kinds of stuff are buried deep down isles. With the grocery apps, it's easy to ignore practical things. You spend money on what you want.
Delivery Charges are Quite Reasonable
Mostly delivery services charge higher delivery fees for small orders. Therefore, the system means to get more groceries at a low price. Compared to transportation fees associated with visiting the store, the system is more straightforward and cost-effective.
Online Specials are Available
By shopping online you can get great deals with online stores. The good thing with it is that instead of driving all the way to town to snag items at various grocery stores, it only takes a single click on your phone to take advantage of best online deals.
Top 12 On-demand Grocery Delivery Apps in India
It is one of the leading online grocery markets in India. The company operates from Bangalore, Mumbai. When you browse it, there are various categories of products. A customer places an order for preferred goods. The ordered goods are delivered at the customer's doorstep at the stipulated time.
Founded Date: Oct 1, 2011
Founders: Abhinay Choudhari, Hari Menon, Vipul Parekh, VS Sudhakar
App Links: For Android
This is a delivery service that connects customers with local merchants in the neighborhood. It offers a wide range of assortments of groceries, fresh fruits, and vegetables. It started its operation in Delhi, but currently, it runs across 17 cities across India. It provides hyper-local logistics that enable smoother transactions between local merchants and consumers.
There are two ways of paying at Grofers. One, cash on delivery, a customer pays once executives deliver goods. With this mechanism of payment, discounts are not availed to consumers.
Founded Date: December 2013
Founders: Saurabh Kumar and Albinder Dhindsa.
App Links: For Android
3 Zopnow
Once you place an order with Zopnow, within three hours you'll have your groceries at your doorstep. The company discourages use of polythene papers in its packaging. It uses plastic containers for large orders and environment-friendly green papers for small orders. Once the goods are dispatched, the customer gets an SMS and email. The two have a link which a customer can use to track the location of the order.
Founded Date: Sep 13, 2011
Founders: Bal Krishna Birla, and Mukesh Singh
App Links: For Android
Nature's Basket is another grocery shopping app in India. When the customer places an order, the product the quality and physical condition f a team of trained staff check the product before it's sent for delivery. The order is delivered at the customer's preferable time. Once the products leave the store for transportation, a notification email and SMS was sent to the client. With the app, you can change your order while the product is on the store.
Founded Date: 2005
Founders: Avani Davda
App Links: For Android
The app has tons of grocery commodities. It's much easier to compare prices of products at your favorite store. In this store, Amazon Prime members can buy groceries and household products through in an easy way.
Founded Date: April 2014
Founder: Jeff Bezos
App Links: For Android
6 Aaramshop
This a hybrid retail platform that focuses on the marketing of FMCG and CPG brands. The platform connects its users with the nearby stores. It also provides prices of the commodities for the customer to compare. Users can shop for groceries under categories like rice, lentils, beverages, water, edible oil and ghee. The user selects the nearest retailer to confirm the order. Payment is only made by cash when the commodities are delivered.

Founded Date: Jun 1, 2011
Founders: Vijay Singh
7 BazaarCart
BazaarCart is an online grocery store that does free doorstep delivery. The app has more than 15k+grocery products in its categories.
Founded Date: March 11, 2016
Founders: Shrenuj Jala
App Links: For Android
This is an online supermarket that enables customers to purchase their groceries, vegetables, and fruits easily. The supermarket grocery products are sold at an affordable price. It also has various offers for its customers. Once the client places an order, the supermarket through its established employees avails the products at the client's doorstep at the stipulated time.
Founded Date: 15 December 2014
Founders: Pramod Ramdas Ingle, Narendra Singh Bapna and Naveen Gupta.
App Links: For Android
The app offers a plethora of high-quality grocery products. The customer's interests are carefully observed. The products are packed as per the requirement of the customer. And the products are transported to the customer using the means the customer preferred. The goodness with this app, it has the loyalty program for its regular clients.
Founded Date: 28 July 2014
Founders: Mahavir Singh and Suresh.
App Links: For Android
Naturally Yours gives clients various options for grocery products. It has both indigenous and exotic grocery products. They ensure the products are in good condition before being delivered. Once a client has the app, it's a matter of browsing. Picking your products and in a few hours, the products will be at your doorstep.
Founded Date: February 2010
Founders: Vinod Kumar and Priya Prakash
App Links: For Android
This app has lots of categories of groceries products for its clients. Customers browse through the products, pick the products they want and the time they want them. The products are then carefully packed and transported to the client's place.
Founded Date: May 1, 2015
Founders: Sanjiv Agarwala
App Links: For Android
This app serves the customer at their convenient time. It has various categories of groceries from indigenous to exotic.
Founded Date: March 2011
Founders: Roger Egan, Vikram Rupani, and Rajesh Lingappa
App Links: For Android
List of Indian Supermarkets that Use Mobile Apps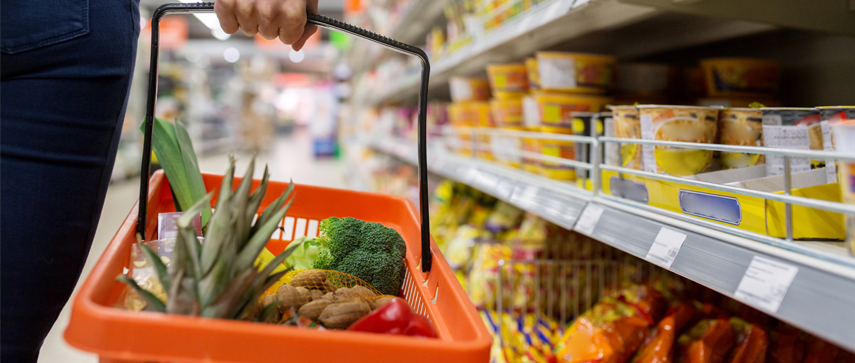 India is one part of the globe where any technology that emerges is immediately consumed. Talk of the banking sector, the security sector, the administration sector, and all other economy departments, useful technology is quickly adopted once it lands on the market. Mobile apps are cutting across the Indian population. They are becoming a necessity for almost every phone in India. This has made some Indian supermarkets to rise to the occasion. There are a couple of supermarkets using various mobile apps to transact their business. They are:
This a one-stop supermarket that offers a wide range of basic and personal home products under one roof. Dmart store products are readily available at a competitive price that customers appreciate, all you need to is install the mobile Dmart app that helps you to shop faster.
Founded Date: 2002
Founders: Radhakishan Damani
App Links: For Android
It is an Indian retail store that offers grocery products. Big Bazaar is one of the leading online store in India that operates as a chain of hypermarkets, discount department stores for customers, and as a grocery store. It is more easy for you when you use Bigbazaar mobile app.
Founded Date: 2001
Founders: Kishore Biyani
App Links: For Android
It has attracted many customers attention. The neatly laid out, brightly colored fresh vegetables, fruits and food products are what keeps the customer coming back to the store. For effective quality service for its consumers, they have introduced a Star Bazaar mobile app that makes you shop online.
Founded Date: 2004
Founders: Jamshed Daboo is the CEO
App Links: For Android
Reliance fresh industry is confident of becoming leading top India's online grocery store. Reliance Fresh store offers online services through mobile phones, websites and mobile app in all parts of Mumbai. Reliance Fresh is top leading consumer store synonymous with freshness and savings. From fresh fruits and vegetables to cereals we have an entire range of your grocery needs covered in one store.
Founded Date: 2006
Founders: Mukesh Ambani and V. Subramaniam
Spencer's store boast of a wide variety of private grocery products that include both foods as well as non-foods products. Spencer's mobile app smart choice is the leading store brand of many products ranging from juices, honey, cookies and all range of vegetables. Across our online stores through the help of a mobile app, we retain a strong consumer relationship approach that meets all your shopping needs.
Founded Date: 1863
Founders: Charles Durrant & John William Spencers
App Links: For Android
Future of the Industry
With smartphones, the online grocery market will continue growing. There is a myriad of variables that make the venture attractive to consumers. The variables include:
Value and quality of products
Easy and secure payment methods
Dependability and reputation of the seller
The flexibility in changing orders
The young generation is glued to the phone and internet. They tend to do everything using their phones. Most of their shopping is done via the phone. They have got internet and web familiarity. This enables them to compare online products, and prices then choose either to buy or not. There are high chances with time the generation will consider online grocery apps.
EndNote!
It's undisputable the online grocery apps are penetrating the market at a rapid rate. Many factors make them hotcakes. Nowadays technology is the leading trend in every human operation. People don't want to make long queues for services; instead, they need them at their doorstep. Our generation wishes to consume their time generating income instead of looking for services. Apps appeal to customers because they solve these issues.
Consumers only browse and key in the categories of the products they want. In a few minutes, the whole grocery shopping is availed at their doorstep. The other good thing with this shopping modality, consumers get what they want, there are no inconveniences associated with them. This makes grocery apps a way to go for the coming years.