The retail ecosystem is undergoing significant transformations, largely due to the impact of digital disruption, which is altering key aspects such as customer perspectives, virtual spending, products, brands, and channels. Staying abreast of the continuous disruptions in the market is crucial to achieving success in today's rapidly growing industry.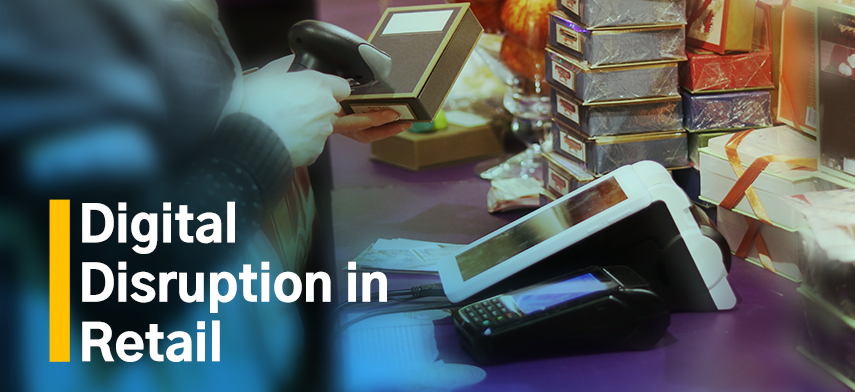 Today, we will delve into the concept of digital disruption in retail and help you navigate the rapidly evolving landscape with ease, poised to conquer and thrive. Let's understand.
Table of Contents
What is Digital Disruption in Retail?
Digital disruption in retail refers to the profound impact that digital technology is having on the retail industry. It transforms the very foundation of consumer behavior patterns and demands, affecting business practices, culture, and the industry as a whole through the use of digital channels and the adoption of innovative ways of buying and selling goods or services.
Digital disruption in retail is characterized by the rise of e-commerce, mobile commerce, omnichannel retailing, and the use of data and artificial intelligence (AI) to personalize the customer experience.
It covers every aspect of the retail value chain. Be it resource gathering, product development, distribution, or marketing, this disruption helps to offer fully functional solutions with complete collaboration and flexibility.
It focuses on retail digital transformation through a tech-enabled combination of resources such as networks, equipment, teams, methodologies, standards, tools, bots, devices, etc., that helps decision-makers make satisfactory data-driven choices.
In a nutshell, digital disruptions intend to optimize the fragmented retail system. It outlines the online-to-offline (O2O) and offline-to-online channels in order to help retailers capitalize on new business opportunities.
These include automation of core operations, value-driven interoperability, hyper-personalization of customer experiences, phygital marketing, and more. Altogether, digital disruption in retail is a way of adapting to constant change and growing exponentially.
Digital Disruption in Retail: Key Role of Emerging Technologies
There are various emerging technologies that will contribute to the digital retail transformation and help business owners overcome complex retail challenges. Let's understand the role of technology in reshaping the retail realm.
Artificial Intelligence/Machine Learning (AI/ML)
Artificial intelligence and machine learning enhance the capabilities of your retail systems to collect, store and exploit data with less to no human intervention. As a retail business owner, you can take full advantage of imperatives like better customer recommendations, facial recognition, demand forecasting, voice-enabled tools (search, bots, and interfaces), and more to track your business activities. You can equip your store as well as a warehouse with retail barcode scanners or QR code scanners in order to manage your inventory, shipping, and delivery process of goods.
Mobile technologies have gone far beyond the implementations in mCommerce. Online retailers now have the privilege to create long-standing relationships with customers by developing custom eCommerce mobile apps. They are moving toward agile retail by interacting with in-store customers via smartphones and offering tailored services like what Decathalon is doing for their valued customers.
Another technology dominating the disruption in retail is IoT. It plays a vital role in helping retailers understand buying behaviors through connected sensors. It establishes a combination of convenience and experiential shopping alongside promoting quick service deliveries. You can turn existing devices into smart IoT-enabled devices and simplify the in-store shopping experience.
Automation is transforming the retail value chain for the better. Retailers can successfully automate customer-facing operations such as self-service checkouts. They can even automate core operations like information gathering, distribution, inventory management, merchandising, and so on by implementing robotic process automation technology.
Metaverse, Augmented Reality/Virtual Reality (AR/VR)
The involvement of AR/VR is taking the digital disruption in retail to the next level. It is helping retailers identify and remove tangible gaps between customers and their pre-purchase experience. These emerging technologies are also creating a strong foundation to unleash the full potential of the metaverse in retail.
Blockchain is helping retailers build a robust digital ledger system that offers better visibility across necessary transactions and payment records. The right implementation of this technology ensures a stringent security environment for inventory, data storage, and monetary flow.
Data stands among the most valuable assets of your online retail business and technologies like Data Science help you make the most out of it. It brings more sophisticated analytics to your table to improve existing operations, prepare a future-ready roadmap, and take data-centric decisions.
Technologies like conversational platforms are taking the center stage by facilitating human-like interactions with computer systems. Retailers are widely adopting chatbots and virtual assistants to accelerate their customer service outcomes and handle multiple user queries with ease.
In addition to the aforementioned, there are some other key retail technology trends that are successfully fostering digital transformation for retail.
How is Digital Disruption Transforming Retail Business Strategies?
Now that you know the basics of digital disruption in retail, let us move forward to understanding its effect on the existing retail strategies and business processes. We have highlighted the most important alterations to give you a better idea of digital disruption.
Effectively Segment Customers
Digitalization in retail is changing the way retailers cater to their target customers. It is helping them explore new horizons in customer segmentation with increased availability and accessibility of data.
They have started categorizing customers based on various segments via advanced data analytics. These segments include past purchase history, products added to the shopping cart, buying behavior, the channel of purchase, timing, budget, and more.
Retailers can reach customers through various channels and platforms where they are most active and accessible. By understanding their customers' preferences and habits, retailers can tailor their messaging and offerings to better engage with them and increase their chances of making a sale.
Solid Positioning with Destination Retail
It is about creating a strong and distinctive brand image that stands out in the market. Usually, destination retail refers to creating a unique shopping experience that draws customers to a specific location. This can be achieved through a combination of a few factors such as the shopping environment, product visibility, post-purchase services, customer experience, community engagement, and marketing efforts.
Destination retail is often associated with specialty and luxury retailers, but any retailer can strive to create a destination shopping experience for their customers. By doing so, retailers can differentiate themselves, build brand loyalty, and drive sales.
Adopt New Business Models
Retail business models can change over time in response to changes in market conditions, customer needs, and technological advancements. To remain competitive and succeed, retailers must constantly evaluate their business models and make changes as necessary. However, the advent of new-age technologies is unlocking an array of opportunities to future-proof retail businesses.
Retailers are integrating these technologies to adopt new business models that best suit their product or service offerings. Some focus on business incubation to withstand market complexities. Whereas others rely on building, partnering, or acquiring new technologies with models like freemium, marketplace, access-over-ownership, pyramid, hypermarket, etc. Flexibility and an openness to change enable retailers to better serve their customers and grow their businesses.
Exposure to Different Operational Formats
As the digital disruption in retail persists, the ability to reinvent on-demand service offerings is taking center stage. Major modifications are happening to right-size the store and create modular operational formats.
Leading retailers are adopting centralized platforms to deliver seamless customer experiences. They are experimenting with various approaches like digital subscriptions, omnichannel format, flash sale services, and more.
Reshoring of Manufacturing Network
Retailers who were working with offshore suppliers are now relying on nearby options to satisfy their business requirements. With digital disruptions in place, their supply chain management (SCM) capabilities have also increased.
Companies are considering reshoring of manufacturing as a viable option to reduce incompetencies across the product life cycle. The resulting benefits include better use of available resources, cost savings, quick turnaround times, etc.
Digital disruption in retail is modifying eB2B initiatives by creating a customer-centric value proposition. Retailers are increasingly consolidating online products and related physical assets to enable convenient delivery.
They are aiming for scalable fulfillment operations to generate profitable outcomes in the long run. Some companies are even implementing scaled deliveries via warehouses or dark stores to minimize costs.

The Impact of Digital Disruption on Retail Operations
Disruptions in retail through digital transformation have a wholesome impact on the entire retail workflow. Here are some key business areas getting the maximum exposure to digitalization and technology advancements.
Companies are shifting from traditional supply chains to digital supply networks (DSNs) in order to improve responsiveness. With real-time analytics in place, retailers can make informed decisions and offer superior solutions.
Exploiting DNSs gives them enough room to create a connected community with complete agility and transparency. They receive dedicated support for intelligent supply, synchronized planning, and dynamic fulfillment.
Logistics and Warehousing
Digital disruption in retail has a potential effect on logistics and warehousing. It is helping retailers cater to a diverse set of customers with enhanced delivery capabilities, shared logistics, and smart inventory management.
As a business owner, it has become easier to optimize a takeaway or deliver required products to customers' preferred locations. How? With the successful adoption of faster delivery techniques, well-consolidated hubs, warehouse automation, RFID-based stock tracking, etc.
Procurement and Vendor Management
The combination of cost-effective computing and data storage along with advancements like connected sensors and mobile technologies are successfully transforming procurement tasks. Some finest examples include automated transactional procurement and predictive strategic sourcing.
As a retailer, you can make the most out of technologies like predictive analytics, collaboration networks, crowdsourcing, robotics, etc., to facilitate eSourcing, eProcurement, electronic catalogs, supplier information management, contract management, and so on.
Assortment Mix and Planning
Retail digital transformation enables business owners to build a customer-oriented assortment optimization strategy that has the potential to satisfy the ever-changing market demands. It encourages the right stock-keeping units (SKUs), product aging, product categorization, stock tracking, on-time replenishment, etc.
Using the right set of technologies, retailers can establish a reliable assortment mix and planning process. They can outline better market analysis, inventory diagnostics, assortment localization, pricing strategies, and more.
Retail digitalization is majorly impacting every aspect of finance and other related capital-intensive tasks. It is creating a unified ecosystem backed by real-time data visibility, innovation, tech-based capabilities, and risk mitigation.
Many companies have started exploiting popular technologies like Robotic Process Automation (RPA), Cloud computing, natural language processing (NLP), cognitive analytics, and big data to optimize cost distribution and create a solid financial roadmap.
Team Engagement and Management
Digital disruptions in retail not only focus on consistent customer experience but covers different employee-related aspects as well. It is pushing retailers to digitize processes for in-store employees so as to improve engagement and efficiency.
Many companies are concentrating on creating a progressive environment that helps manage teams by automating labor-intensive tasks. While others are extending people analytics capabilities with on-demand training.
Business Benefits of Digital Disruption in Retail
Indeed, disruption in the retail industry helps acquire new customers, reduce operational costs, improve employee engagement, and create superior products. But there are some key benefits that it brings to your table. Let's take a look at them one by one.
Unification of Business Sectors
Retail disruption is connecting different components of the ecosystem as one. Boundaries between important areas like payment systems, retail mobile solutions, manufacturing, supply chain management, and information & communications technology (ICT) are collapsing for the better.
Customer-centric Product and Service Delivery
Technology advancements like big data, predictive analytics, AI, ML, etc., are helping organizations remove obsoleteness, study buyer behavior, and customize the entire delivery structure within budget.
Enhanced Collaborative Efforts
Competition is now getting replaced with continuous collaboration and coordination. Retailers and suppliers are now cooperating to deliver value-based products and generate good ROI.
The adoption of modern technologies has a digital impact on retail, where retailers are willingly scaling their products and services by sharing the investment burden with their partners. With this, they get a good opportunity to satisfy the requirements of a particular buyer.
Longstanding Retailer-customer Relationships
Digital disruption in retail enables customers to provide feedback (positive/negative) that helps retailers to redefine their product catalog and delivery models in real time. It helps to create an enduring buyer-seller relationship through shared experiences.
Scope for Continuous Learning
With self-learning systems backed by AI and cognitive modeling, retailers are able to explore the existing and past experiences of buyers. This helps them engage in a progressive learning process and make improvements accordingly.
How Digital Disruption in Retail Helps Enhance Customer Experience
Digital disruptions in the retail industry play a pioneering role in generating positive user experiences across all touchpoints. Here are the most important constituents that help retailers in achieving the same.
Digital interventions In-store and Online
Retailers can monitor the entire buying journey right from inspiration to purchase and beyond. They can complement traditional methods with modern technologies to help shoppers (in-store/online) check product availability, view salient features, and compare pricing thereby accelerating the sales funnel.
Merchandising and Promotions
Digital disruption in retail industry can improve customer engagement with optimal merchandising. 3D scanning technologies can be used to present expected style preferences and specific items. On the other hand, retailers can use promotional hot spots via beacon technology to improve in-store experiences.
The combination of agile transformation in retail and digital disruptions can change the overall customer engagement and loyalty scenario. Retailers can take full advantage of mobile app-based self-service features, VR-enabled pre-purchase options, chatbots, social badging, gamification, blockchain-based loyalty programs, and more.
Pricing and Point of Sale (POS) Solutions
Companies can adopt electronic shelf-edge technology to replace traditional paper-based labels. It helps to execute proactive pricing strategies for multiple stores from a single, preferred location. Moreover, payment integrations like digital wallets, cards, payment apps, and online banking can surely exhibit a better point of purchase ensuring uninterrupted shopping experiences.
Conclusion
The retail industry is going through massive transformations promoting technology adoption, partnerships, collaborations, and network building. The only way to withstand this fast-paced market is to maximize business agility and credibility.
Digital disruption in retail allows companies to improve their core operations and focus on long-term priorities. As a retailer, it helps you rethink your modes of connectivity, offshoring, and capital distribution.
Mobisoft can assist you in taking the right decisions while ensuring dynamic profitability for your retail value chain. Connect with our retail experts now and accelerate your journey of digital transformation in retail.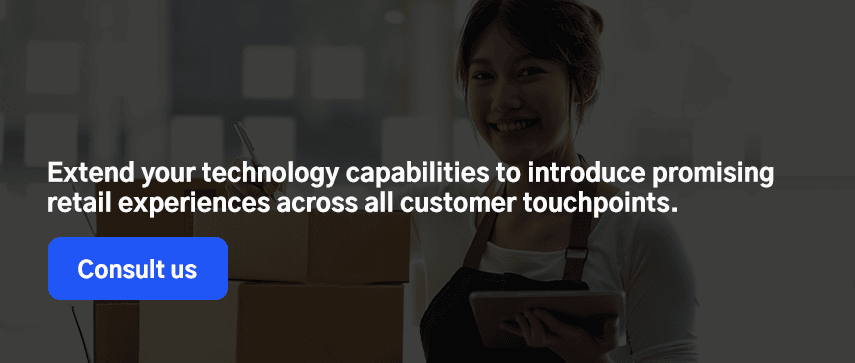 Author's Bio

Nitin Lahoti is the Co-Founder and Director at Mobisoft Infotech. He has 15 years of experience in Design, Business Development and Startups. His expertise is in Product Ideation, UX/UI design, Startup consulting and mentoring. He prefers business readings and loves traveling.