Modern healthcare today isn't the same as it was even a few years ago. Through a winning combination of science, design, and technology, a digital therapeutics solution can significantly improve the efficiency of the modern healthcare sector. In terms of innovative treatment methods, data collection, and cost-effectiveness, it has brought about a revolution in the current medical field.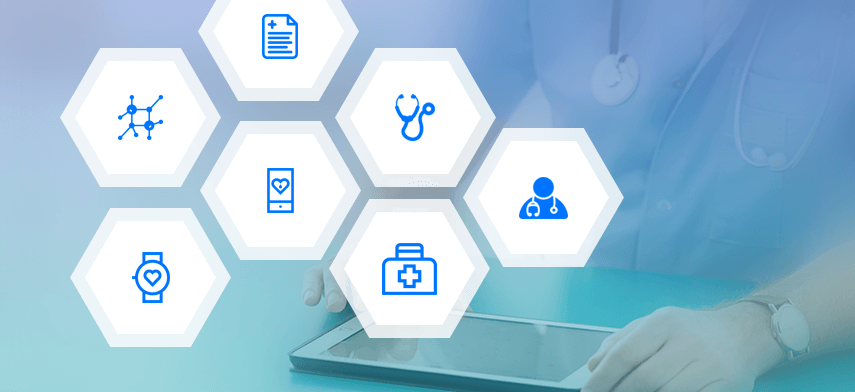 Healthcare and Technology
With the rapid adoption of innovations and technology, the healthcare industry is reshaping and transforming itself in bigger and better ways. The modern healthcare industry employs a multitude of technological innovations to ensure that the patient receives optimum benefits. It uses a wide range of new technology products and devices such as mobile phones and apps, biometric sensors, diagnostic products for this purpose. Health Information Technology (HIT) is a rapidly evolving field that includes electronic medical record systems, digital order entry and prescriptions, and digital therapeutics applications.
Here are some of the latest technical innovations in the medical field:
Mobile Health (mHealth) – includes fitness trackers and nutrition apps.
Personalized Healthcare – includes predictive analytics and clinical decision support.
Telehealth – includes remote patient monitoring and remote care.
Wearable devices and sensors that track and capture data and communicate with patients.
As the demand for patient-centric healthcare increases worldwide, the field of healthcare will undergo a further transformation over the years. The rise of digital therapeutics in healthcare has already set off a marked revolution within the medical sector. The future of healthcare seems to be driven by more technologically advanced products that provide better, customized healthcare programs to the patients.
The Emerging World of Digital Therapeutics
A digital therapeutics solution (DTx) helps make use of different programs to offer better treatment to patients. It looks to ensure evidence-based medications and takes into account everything from possible ways to prevent disease, to its treatment, and management. In turn, it ensures that patients receive the care they expect while achieving better health outcomes.
So, When Did This Technology Originate?
The unique healthcare technology can be said to have emerged in 1995, with the joint initiative of two hospitals called Partners Connected Health, which aimed to explore the application of technology for expanding treatment outside the hospital's custody.
Additionally, a 2002 study proved that a lifestyle-intervention program, which includes diet and exercise, would delay the development of type 2 diabetes in people. This study is considered to be one of the earliest examples of the digital delivery of behavioral interventions. However, the digital delivery of behavioral therapy is not merely limited to diabetes or related lifestyle diseases.
On the contrary, digital therapeutics for mental health solutions have proven especially successful in tackling different mental health issues. For example, digital therapeutics makes use of Artificial Intelligence to provide digital diagnostics as well as personalized therapeutics for pediatric behavioral healthcare.
Moreover, DTx has proven to be particularly useful in treating pathological conditions related to behavioral and psychological factors. With regular and accurate monitoring of behavior, diseases such as Alzheimer's, dementia, substance abuse, ADHD, insomnia, hypertension, anxiety, and depression can be effectively controlled and cured through Digital therapeutics.
Admittedly, it has only been around ten years since digital therapeutics made its way into the market. However, within this short period, this relatively new breed of life sciences technology has already transformed patient care to ensure better medical outcomes.
Challenges Faced by the Healthcare Sector: How to Overcome Them with Digital Therapeutics?
As chronic diseases and conditions are on the rise globally, treatment of these conditions exerts increased demand on health systems. According to Business Insider, the highest share of the USA healthcare is spent on the treatment of chronic diseases. Not only is the treatment of these conditions exceedingly expensive, but they are also highly unreliable. Here, DTx comes into the picture. With the use of available technology such as wearable fitness trackers, this advanced healthcare solution reduces the occurrence of chronic conditions to a great extent.
However, this evidence-based technology faces a few challenges when it comes to further development, as mentioned hereunder:
Data privacy issues

.

The question of adoption

.

Lack of awareness about digital health programs

.

Standing out from the other health and wellness products

.

The question of reimbursement

.

Refusal from healthcare providers and patients

.

Regulatory approvals

.
We will take a look at them in detail below. For one, health insurance companies aren't going to trust any new technology easily, and it can time to accept the idea citing concern about data privacy and security. Digital therapeutics companies in healthcare thus need to do more to earn trust.
The lack of awareness also means that physician adoption can remain low, somewhat the final hurdle to consumer adoption. You need the right marketing strategy and partnerships to bring in more physicians to the fold.
Then, there is the question of how you can distinguish a digital therapeutics solution from the other products in the health and wellness market. Let's take the Apple or Google app store – how do you ensure more people download them?
The question of regulatory approval translates to FDA clearance, and given the body's stringent requirements, many DTx companies look to partner with a pharmaceutical company.
This brings us to the question of reimbursement, which is vital if we are to see the emergence of DTx. The adoption here will depend on the incentives payers, and DTx companies can partner with pharmaceutical companies to explore the different distribution pathways. For instance, if the DTx company can prove that they can help in better monitoring the patients' condition, private health insurers might be interested in partnering with them.
Digital Therapeutics Solution Commercialization: A Look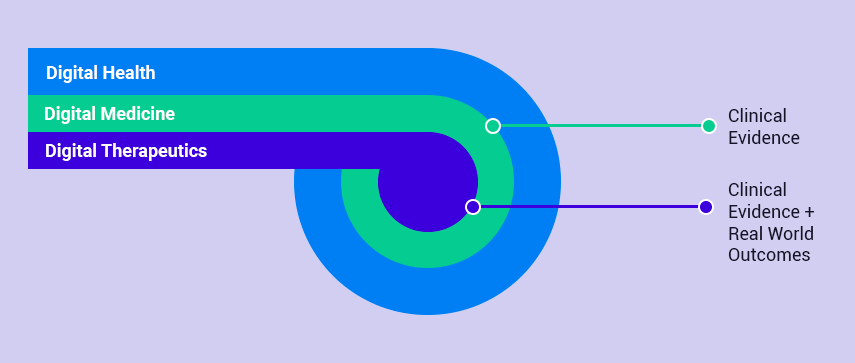 Today, a growing number of start-ups and well-established technology companies are introducing innovative applications designed towards better caring for patients. Unlike traditional treatment methods, these innovations encourage the patient towards higher levels of self-care.
According to reports, the global digital therapeutics market is estimated to grow triple in size over the next six years to almost $9 billion by 2025. The global demand for digitalization of healthcare and effective management of chronic diseases ensures the growth of digital therapeutics further.
In addition to increasing occurrences of chronic diseases, technological advancement, focus towards preventive measures, and growing demand for e-health will also enhance this market growth. Furthermore, the rise in the number of smartphone and internet users worldwide also aids in the growth of the digital therapeutics market.
Let us have a look at a few organizations seeking to explore the potential of digital therapeutics in healthcare:
i
Digital Therapeutics Alliance (DTA)
An international non-profit association founded in 2017, DTA consists of a group of leading manufacturers of clinically approved DTx, intending to integrate evidence-based therapies into the traditional healthcare industry.
ii
EIT Digital
A leading European organization dedicated solely to the purpose of digital wellbeing, EIT Digital aims to support the digital therapeutics through innovation and imparting education in the field of digital entrepreneurship. It aims to create an extensive system of change in digital therapeutics by interlinking around 180 companies, tech startups, universities, and research institutes in Europe.
iii
ACT4Y (Asthma Control For You)
This company incorporates intelligent inhalers and uses data to customize the use of drugs in asthmatic patients.
iv
Pear Therapeutics
This startup collaborated with Sandoz to create reSET, an app that provides treatment for opioid addiction through cognitive behavioral therapy (CBT). Notably, reSET was the first digital therapeutic to be approved by the FDA in the USA.
Best Practices to Implement Digital Therapeutics Solution in Healthcare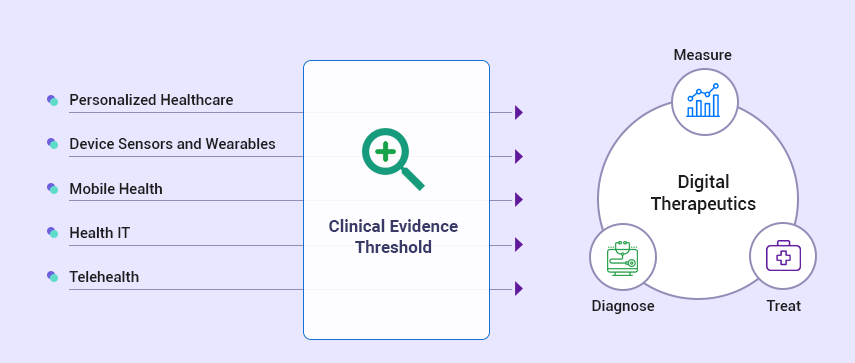 When it comes to ensuring the right quality, it all starts from ensuring the proper methods and strategies. For instance, if you have asthma, the best practice will be to have digital therapeutics mobile apps that can help in your treatment, working with the different drug regimens as prescribed by your doctor.
Similarly, doctors and medical professionals can use digital therapeutics and the technology to track and capture data on wearables, as well as communicate with patients through it. This will ensure the use of cognitive stimulation in the right way, which in turn can lead to a positive behavioral change. This change can help in preventing or delaying the onset of chronic diseases, leading to a better and healthy life for the patient. There is more interest today in digital therapeutics for chronic disease than ever before.
Being updated about when and how much medicine to take will ensure that patients stick to the schedule. It's especially useful in treating diseases like Alzheimer's, asthma, type 2 diabetes, gastrointestinal problems, and other diseases that require monitoring.
Plus, the different technological capabilities can add on a separate edge too. For instance, the patient's wearable can sync in with the medical equipment wirelessly, like a blood sugar machine, and help track sugar levels seamlessly.
The industry-accepted practices for digital therapeutics include:
Compliance with national and international certifications

.

Appropriate security and vulnerability certifications

.

Clinical validation, regulatory status, and marketing authorization

.

Data-driven and informed interventional pathways

.

Human-centered approach, which accounts for the user's core needs, user environment, and device interface

.

Compliance with regional manufacturing requirements

.

Completion of one or more clinical studies

.

Conducting ongoing analysis of real-world evidence and performance data of the product

.

Publication of trial results in peer-reviewed journals

.

Adherence to labeling and advertising regulations under appropriate authorities

.

Registration with the applicable regulatory agency

.

Compliance with relevant electronic protected Health Information (ePHI) regulations.

Benefits of Digital Therapeutics
Innovations in digital therapeutics become incredibly beneficial not only for the patients and caregivers, but also to the healthcare providers and the health system at large.
1
Benefits for Patients and Caregivers Include:
More cost-effective medical treatment compared to traditional methods

.

Reliable, evidence-based, high-quality interventions, which are approved by regulatory bodies

.

Empowerment of patients towards better and regular self-care

.

Increased access to clinically proven and effective therapies

.

Personalized care according to the individual patient's requirements

.

Consistent and reliable progress updates on personalized goals and outcomes

.

Convenient and engaging forms of therapeutic interventions

.

Reduces stigma towards certain traditional therapies – especially those which require sensitive treatment such as depression, addiction, anxiety, and insomnia.
2
Benefits for Healthcare Providers and Health Systems Include:
Innovative treatment methods for patients

.

Prescription of qualified and validated healthcare to patients

.

Reliable and secure data collection and analysis of diseases

.

Clinical decision making and data-driven care management

.

Effective and reliable therapeutic options

.

Increased access to evidence-based medical therapies

.
3
Benefits for Public and Private Payers Include:
Improved clinical and health economic outcomes for a wide range of physical, behavioral, and mental disorders and diseases

.

Accurate analysis of population health outcomes

.

Universal access to evidence-based treatment options for previously untreated or undertreated conditions by traditional medical treatments

.

Increased exposure of patient population towards effective and engaging treatments

.

Decrease in the economic burden of medical conditions by reducing overall costs

.
Conclusion
On the whole, it is safe to say that digital therapeutics has significantly transformed the healthcare sector. Business Insider Intelligence predicts that by 2023, consumer adoption of digital therapeutics will expand to more than ten times the size now. Digital therapeutics can not only be used to replace the current treatment but also to complement it accordingly. As a relatively new class of medicine, digital therapeutics offers unique and innovative means of treating a multitude of diseases around the globe. With the added benefit of cost-effective treatment, digital therapeutics will further facilitate the advancement of healthcare in the future. Get in touch with our representative to adopt our world-class healthcare solutions for better patient care, increase patient engagement, and do more with ease.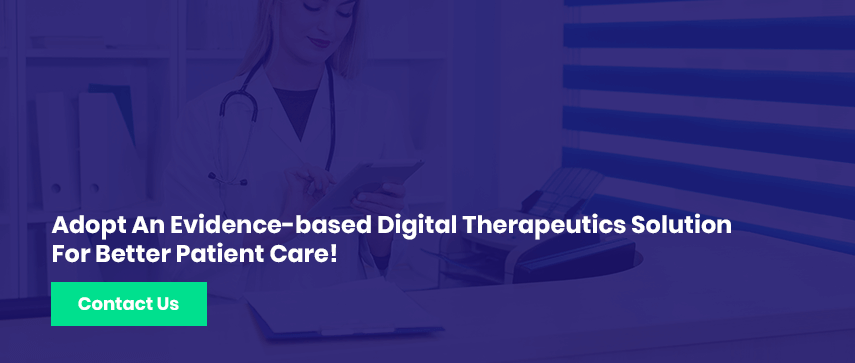 Author's Bio

Shailendra Sinhasane (Shail) is the co-founder and CEO of Mobisoft Infotech. He has been focused on cloud solutions, mobile strategy, cross-platform development, IoT innovations and advising healthcare startups in building scalable products.