As digital health technologies are becoming more prominent, the terminology of FHIR healthcare is also gaining importance. Fast Healthcare Interoperability Resources, also commonly known as FHIR healthcare is one of the standard frameworks created with HL7 interoperability. FHIR healthcare developed through HL7 allows seamless data exchange across healthcare applications swiftly.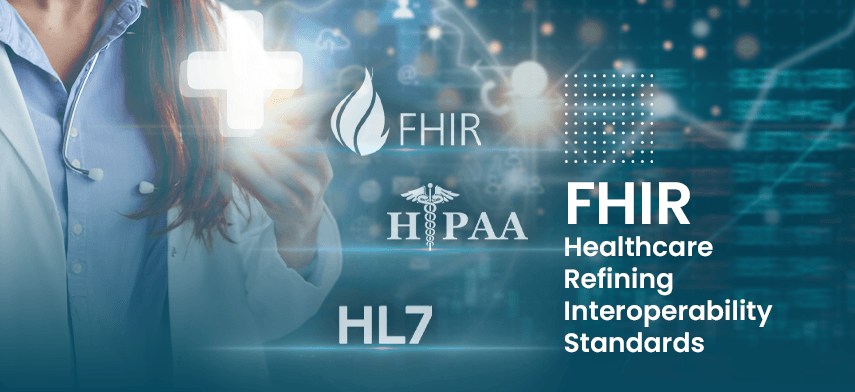 FHIR healthcare being a cloud-based platform has some of the best HL7 features compared to other standards. This includes CDA, V2, and V3 lines of product. FHIR interoperability is a well-considered health data interoperability standard that promotes the Electronic Health Records (EHRs) exchange. The focus of FHIR interoperability is on addressing the emerging technological digitization in the healthcare sector and making medical data more accessible to patients.
Organizations with FHIR healthcare aims to implement consistent mechanism and standards that help administer integrated remote patient monitoring and care delivery services. The combination of best features regarding previous data exchange standards into common specifications is what the FHIR data model offers to the use cases in the healthcare sector.
FHIR Healthcare: Understanding the Relevance of What is Interoperability in Healthcare
Having relevant access to healthcare data, irrespective of where this data was being stored has enormous benefits for healthcare providers, patients, stakeholders, and society at various lengths.
But there is one tough concern that has to be tackled. The extensive healthcare IT systems have evolved across the world, but could not still implement seamless data exchange standards in healthcare. Even till a few years ago, various critical patient information was being stored in data silos and legacy systems.
These systems used emails and faxes to exchange or transmit results, files, and patient records. Providers and clinicians had to treat patients without having the access to their complete medical history and researchers couldn't identify the de-identified information they needed.
The relevance of FHIR healthcare as one of the modern interoperability frameworks has been recognized by governments, software developers, providers, and has become a fast-growing sensation in the online implementation community.
Healthcare data interoperability is now a beneficial solution requiring smooth patient data exchange and integrated healthcare automation. The FHIR standard allows healthcare IT developers to simplify the process of building applications for EHRs and enable exchanging and retrieving data from other apps more swiftly.
Interoperability healthcare with FHIR was initially designed as an experimental project for HL7 healthcare software development. But, it gained extreme support from competitive EHR stakeholders. Therefore, HL7 FHIR standards in healthcare became one of the standardized portals for integrated app development, health IT systems, health informatics management, and a contributor to practicing healthcare and management.
Today, the FHIR healthcare solutions are recognized as cost-effective, fast, and scalable web-based technology development. It also enhances internet-based experiences that improve patient experience, indirectly increasing patient engagement.
FHIR healthcare standards have created opportunities for healthcare organizations and vendors. Let's take a look at the benefits of implementing the FHIR data model.

8 Key Benefits of FHIR Healthcare Standards
Fast healthcare interoperability resources allow health informatics to be safely accessed by patients and healthcare providers. This is the major benefit of FHIR healthcare. Apart from this, there are 8 key benefits of FHIR interoperability. Let's have a look.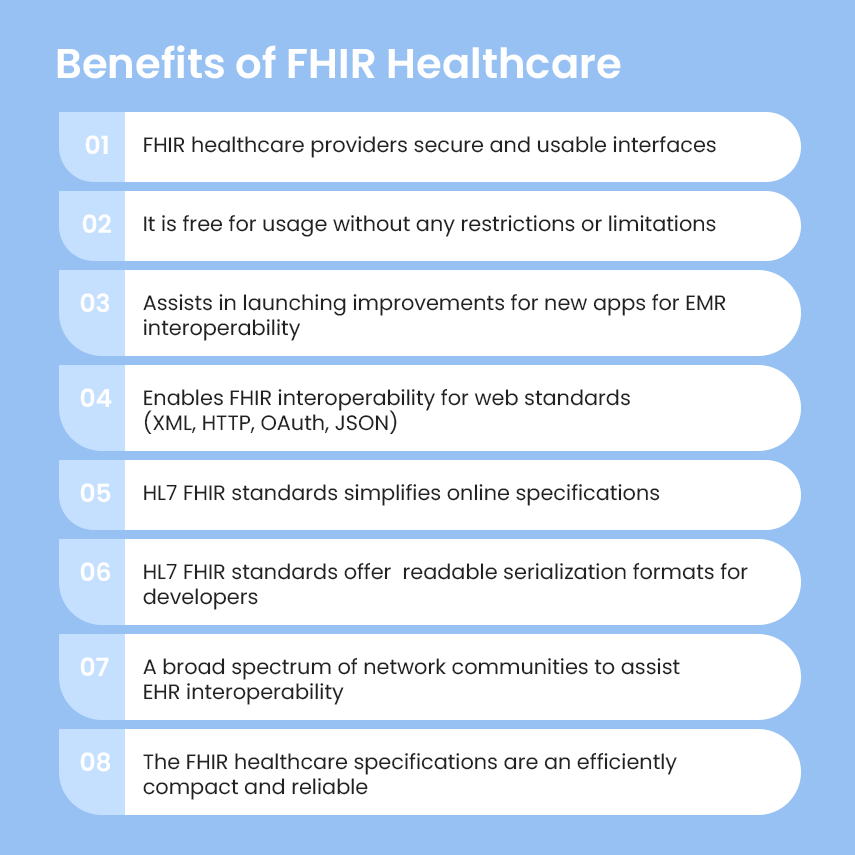 How is FHIR Different from other Data Exchange Interoperability Standards?
It is a common analogy that FHIR healthcare standards in healthcare are more important as compared to other Interoperability and health information exchange standards regarding health analytics. The major difference between FHIR healthcare and other acknowledged interoperability standards in healthcare is because of its flexibility and simplicity. As disparate systems in healthcare, FHIR combines the best previous data exchange standards features and integrates them into a common specification for healthcare providers and patients.
Health information exchange usually meant sending patient details and documents by fax and email. Hospitals and providers previously receives lab results and patient information without having the common knowledge of patient histories that needed to be rekeyed before implementing EHRs.
The healthcare IT sector created various interoperability standards to alleviate this particular problem which reduced the scope of patient information exchange and offer a steep learning curve. FHIR healthcare allows software app developers to build applications that transcend legacy regimes and feed direct information into EHR systems. This enabled a clinical workflow where familiar technologies have been utilized.
When data exchange standards in healthcare systems support FHIR interoperability, providers can treat their patients with full knowledge of their patient histories and medical records in context. This enabled providers to operate without isolated documents or messages. Medical devices acquired from numerous manufacturers can now send data via EHR systems in healthcare organizations and hospital systems. This information that resided in data silos can now be shared via data modules or resources that can be quickly combined with administrative and clinical apps. Thus, reduces the time to market and makes apps more cost-effective.
Every app under the HL7 FHIR standard requires a resource to approach any information model including procedure, medication, and/or immunization. FHIR healthcare is extremely flexible and simple to implement. And it supports four major forms of information exchange methods like software architecture, REST, and other styles that are based on the world wide web. Let's understand the application of FHIR standards in healthcare.
Applications of FHIR Healthcare
FHIR healthcare has various applications in the medical industry. Here are 4 major FHIR healthcare applications in the industry.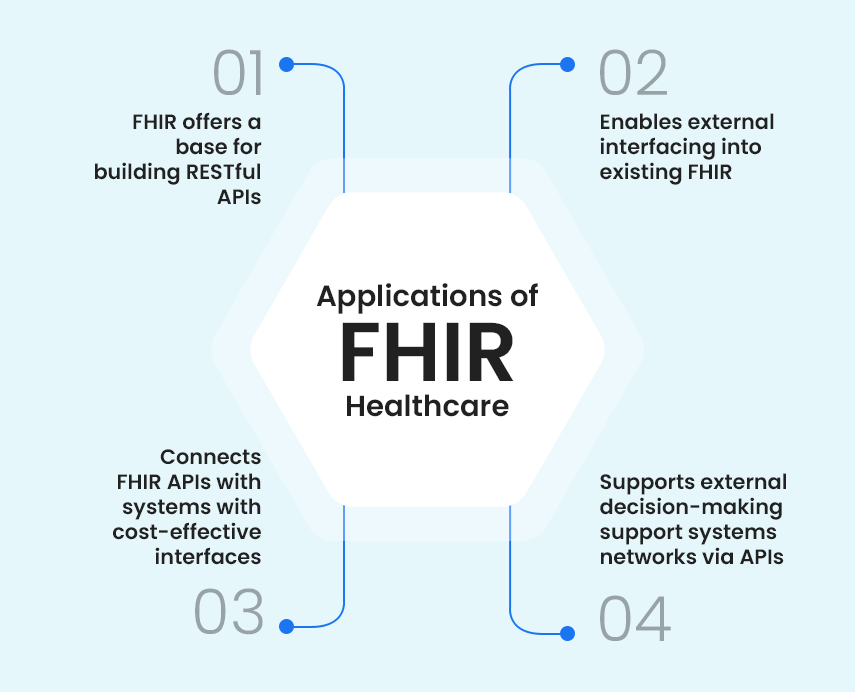 FHIR offers a base for building RESTful APIs

Enables external interfacing into existing FHIR.

Connects FHIR APIs with systems with cost-effective interfaces.

Supports external decision-making support systems independently through multiple end-user networks via APIs.
In Conclusion,
FHIR healthcare is immensely essential in comparison to previous healthcare data exchange standards. But it needs to be implemented consistently. Mobisoft's healthcare compliance app development platform allows FHIR interoperability to be a cost-effective and practical solution that eliminates common interoperability barriers. The need to integrate HL7 FHIR standards is required and we can help the business reach its goals with our customized healthcare software development solutions. Mobisoft will help your healthcare businesses to develop HIPAA-compliant FHIR healthcare interoperability software that enables you to improve your healthcare practice and in turn, enhance patient experiences and outcomes.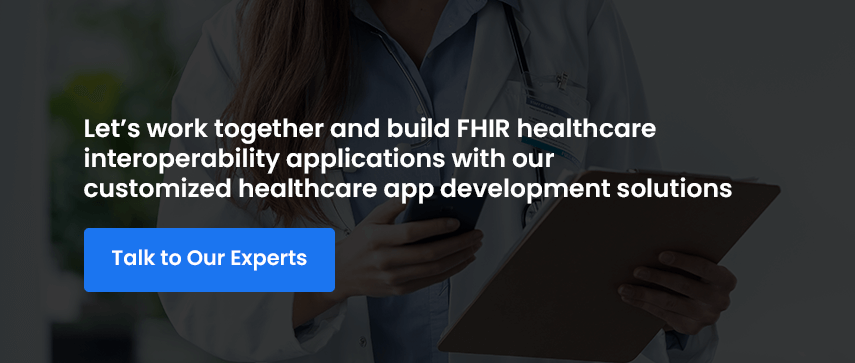 Author's Bio

Dr. Kedar has more than 12 years of experience in the healthcare domain. She advises Mobisoft Infotech in healthcare-related matters.