The healthcare market is known for catering to the well-being of people and it is constantly evolving due to the integration of the latest technology trends. Today, several healthcare products have enhanced innovation due to healthcare app development companies and other stakeholders in the market. Hence, the need for healthcare design trends and good UX has become essential. Having accessible technologies and tools makes healthcare more user-friendly and viable for patients.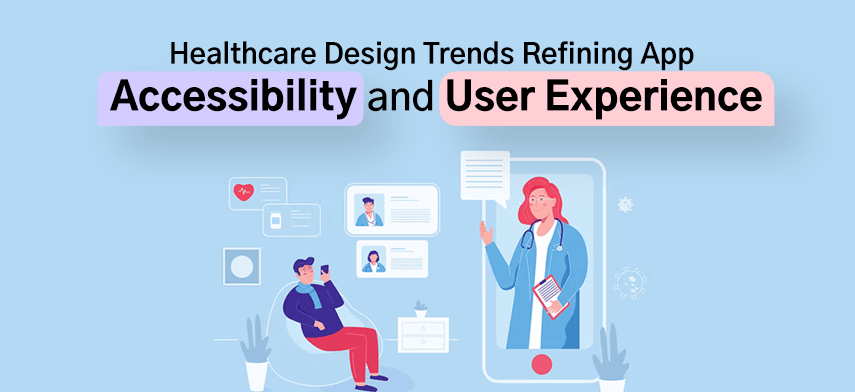 According to the reports, the healthcare industry and the AI and hardware market are set to reach USD 34 billion by 2025. This growth shows vast opportunities in the healthcare growth and medical fields looking towards becoming more patient-centric in their approach. The recent trends in the world of tech and the expectations of users have brought up some serious UX challenges in the healthcare design trends.
The healthcare sector is under more scrutiny and pressure considering the sheer amount of people depending on healthcare applications and devices to have stress-free healthcare accessibility. Before understanding the UX design trends 2022, let's understand the challenges in healthcare app design.
UX Challenges in Healthcare Design Trends
UX design in healthcare has been elevating the simple piece of software that gets the job done and provides convenience to those using it. UX challenges can pave the way towards making better efforts in app design trends in healthcare.
1
Medical wearable technologies
With the global popularity of smartwatches and medical wearable technologies seeping into everyday lives, layering is both useful and functional. The wearable tools have proven this time and again. However, the smaller screens may cause pressing issues when prioritizing what to display on limited spacing. Meanwhile, keeping all necessary stuff within a few clicks. Moreover, avoiding the UX design in healthcare and ignoring the usability can cause severe implications to just users navigating the glitchy interfaces. Confusing displays are common on medical devices and this can interfere with the glucose meter and lead to deadly mistakes if not tested beforehand before launching the tool.
2
Remote patient monitoring (RPM)
Remote patient monitoring is the first part of telehealth that enables doctors to keep an eye on patients from remote locations. Wearable tech and RPM software need to follow the recent intuitive UX design in healthcare applications. The focus on UX revolves around remote patient monitoring tools and doctor's dashboard. Having remote patient monitoring tools giving out unwarranted notifications or useless information can reduce patient-provider communication and directly result in the patient treatment plan.
3
Telemedicine concerns
Telehealth and telemedicine became potentially a lifesaver during the years of the ongoing pandemic. It has presented with it a valuable opportunity for patient-provider communication without in-person visits. Being invaluable in the digital healthcare integrations, healthcare design trends for telehealth has another side to keep up with the healthcare UX UI design to help older generations. The main UX challenge in this healthcare design trend for telehealth solutions is it provides an experience close to in-person doctor visits while remaining accessible and inclusive of all social groups. This can be challenging as it may create a problem in catering to every individual all at once.
4
AR VR in Healthcare UX
Augmented and Virtual Reality are now widely accepted in assessing, training, and testing healthcare app designs in developed regions. The technological advancements have helped providers streamline their skills in practicing healthcare delivery in a virtual environment. Not understanding the targetted implementation, most users of AR and VR experiences challenges that lie within the accuracy of the tools and their targetted audience. This can be a hindrance and challenge when developing AR VR with UX in healthcare.
Healthcare Design Trends in 2022
In the technology world of healthcare, everything is evolving quicker especially in the care delivery service department. The digitization has accelerated healthcare UX design as expected to make it more patient-centric. Let's take a look at the healthcare design trends in 2022.
1
Remote digital help
Telehealth probably is one of the most popularized healthcare UX design trends growing in today's time. This trend will continue as a result of the pandemic. While telehealth and telemedicine may not always be the best solution for every situation, they can help people globally. Additionally, users may find remote situations comfortable and the healthcare design trends for remote digital assistance are exactly that. Telemedicine is also one that has been reducing healthcare costs. UX in healthcare can provide the best ideation to improve app design trends.
2
Patient-centric UI UX
It is an important trend in healthcare to develop UX designs that cater to the patients. The applications are created from a patient's point of view and some apps are yet to be this user-friendly. Patient-centric UX in healthcare is improving to be of better influence in the future. These kinds of improvements are accessible while considering the UX design in healthcare applications. Patients should be able to use these healthcare applications due to their seamless integration of graphics, audio, and visual interpretations.
3
Virtual and augmented reality inputs
AR and VR are well understood as prominent healthcare design trends. This UX design trend 2022 makes smartphones more powerful in delivering care services. Many of these applications are designed to help with visualizing elements with the help of Augmented Reality. These innovations are an important trend in the UX design in healthcare applications as it allows providers to create more 3-dimensional models. This enhances providers to treat patients better.
4
Digital Therapeutics in Healthcare
Digital Therapeutics or DTx is an integrated technology allowing direct benefits for the patients with patient-oriented applications. These can help to determine the patient's treatment, management, and prevention of particular diseases or healthcare concerns. DTx has proven to be a beneficial clinical methodology supporting patient-based treatments by assisting them in self-managing their symptoms to improve overall health and wellbeing. DTx conceived as one of the major healthcare design trends offers sensors and electronic devices that can understand and acknowledge patient behavior and recommend the necessary adaptations. The utilization of DTx's UX design in healthcare is set to be an incredibly valuable asset in the healthcare future.
5
Voice-user Interfaces
The global pandemic proved that touching anything could be dangerous as a serious risk of infection could affect patient healthcare. This was when the voice user interface became safe to use as it eliminated the risk of infection through the feeling of touch and it continues to be a fully effective method of connecting patients and providers for healthcare app design. The voice-user interface on devices facilitated contact-free communication via speech control and voice commands. Today, it is considered ideal for healthcare design trends where operations can run without spreading infections. Having specific and unique advantages with a voice-user interface can become a successful healthcare UX design.
6
Mental health digital products
Mental health is a serious healthcare concern that many people ignore. Every third person is going through a mental health crisis and patients fail to understand the overall consequences of neglecting mental health. Anxiety and depression may be difficult to diagnose through just medications, leading experts are implementing mobile health applications to deal with mindfulness and mental health. These mental healthcare applications have shown incredible results in helping patients. Patients need to just utilize a few minutes of their day for guided mental health practices and helped to keep mental health stresses at bay. Mental health digital products as a UX design trend 2022 can help to maintain better recognition in treatment for patients going through mental health crises.
7
Artificial Intelligence and Chatbots
Future trends in healthcare are inclusive of artificial intelligence and its implementations. The technology has provided result-oriented outcomes for many industries smoothly. In healthcare, human errors can be diminished via AI and healthcare Chatbots. Offering touch-free or contactless solutions and studying the medical history of patients can be conducted via AI. AI and Chatbots being healthcare design trends can provide more clinically accurate data and analysis by using AI to save time and effort for healthcare providers.
8
Vocal Biomarkers
Vocal biomarkers are unique and extraordinary innovations that open several ways to attain opportunities in the healthcare sector and have become major healthcare design trends. Vocal biomarkers can detect a patient's health through the tone, pitch, and intensity of their voice. Researchers are working to create a UX in healthcare technology that can detect healthcare ailments and medical risks just through a person's voice.

Conclusion
Healthcare design trends can help in improving the application's functionalities. Digital healthcare app development companies like Mobisoft can help to improve the app's creation and ideation suited for the needs and requirements of a business. With expertise in the area of digital development, app development companies can help in delivering the right application and help to keep up with the UX trend 2022. Having the right innovation in place can improve patient-centric satisfaction and healthcare design trends can improve business ROI and implementation of innovative healthcare software and app development. Thus, businesses can rely on our services and solutions to gain access to the latest technology that can be integrated to improve healthcare design trends and UX in healthcare as compared to other digital healthcare companies.
Author's Bio

Shailendra Sinhasane (Shail) is the co-founder and CEO of Mobisoft Infotech. He has been focused on cloud solutions, mobile strategy, cross-platform development, IoT innovations and advising healthcare startups in building scalable products.