The healthcare digitization of supply chains has been a steering point for organizations and companies in addressing the recent requirements of the patients and customers. The challenges in the supply chain in healthcare industry also have given rise to supply chain trends 2022 with newfound expectations.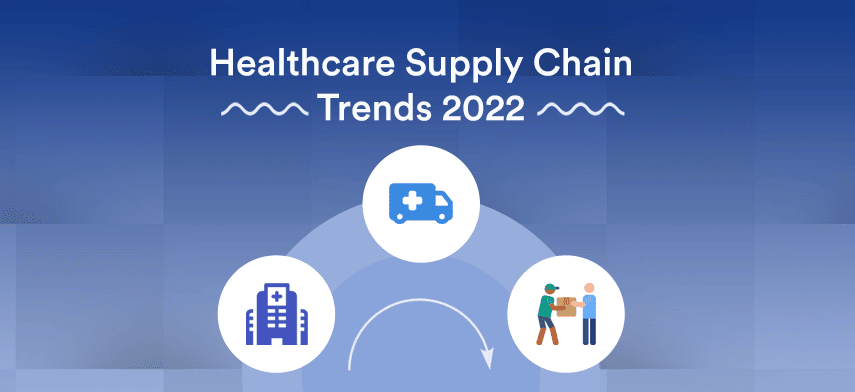 The efficient healthcare supply chain is paramountly helping patients and saving their lives. Embracing digital healthcare technology is a significant step toward building this efficiency even further. The transforming aspect of the traditional healthcare supply chain with a digital health supply chain is creating sustainable value in healthcare organizations. It is giving faster, smoother, affordable, and safer healthcare services to the patients. Additionally, the digitization in healthcare is helping the hospital and healthcare systems in bringing down the costs of operations and finding the right growth opportunities. Among the adopted innovative technologies like AR/VR, Big Data, Blockchain, and more by the healthcare supply chain, how can it help healthcare providers in becoming more resilient and cost-effective for providers?
The Challenges in the Traditional Healthcare Supply Chain
The traditional healthcare supply chain cannot be built on the regular demand and supply in the market. Good health and wellbeing at affordable expenses is a product that cannot be stocked like other services and products in the supply chain. The traditional healthcare supply chain faced various challenges like:
1
Unreliability in inventory data
The inventory data that is maintained with the traditional supply chain in healthcare is often unreliable and inaccurate. Apart from this being a big challenge, it is not updated regularly and it is highly fragmented amongst various stakeholders in the healthcare industry. This is in addition to the poor hospital inventory visibility that leads to information inconsistency. This is one of the biggest challenges in the non-digital traditional supply chain that was faced in the healthcare industry. This is due to the lack of automated tracking mechanisms and systems, real-time sharing of data, and hence the optimal relocation of the supplies.
2
Slow innovation and manufacturing
One of the many ways to gauge the efficiency of the healthcare supply chain is the observation of production in healthcare that matches the demand. It is essential for manufacturing, innovation, and production to be ramped up at the correct pace. With slow-paced manufacturing, it creates another challenge for the traditional healthcare supply chain. This can lead to medication and prescription drug shortages, forcing providers to spend on alternatives that can be more expensive. This can lead to a risk in maintaining a comprehensive backup inventory for the supply chain in healthcare by increasing the management of inventory and the expiration of products.
3
Supply hoarding
The supply chain in healthcare relies a lot on distributors and other third-party logistics providers. Healthcare and hospital systems require to procure essential medicines, medical equipment, healthcare products, and more. But the traditional healthcare supply chain metrics are not necessarily equipped with the adept demands in healthcare products. Poor logistics is yet another misplaced priority and a challenge that often leads to hoarding supplies like masks, ventilators, and other equipment that are not to be stored in warehouses.
4
Wastage of supplies
This can be blamed on the mismanagement in tracking inventories in the traditional healthcare supply chain. This leads to immense wastage causing healthcare providers and hospital systems in wasting hoarded supplies or having excess inventories of expired products, medical devices, and unnecessary shipping expenditures.
5
Lack of digital integration
The practices in healthcare and hospitals are becoming consolidated and expanding. Even then, the traditional supply chains within the siloed organizations continue to remain detached from the system. This is due to the lack of digital integration leading to inconsistent information among hospitals and supply chains.
Digitization in healthcare combines automation, tracking, and analysis and is an integral part of the digital health supply. So what are the opportunities and trends in supply chain healthcare?
Healthcare Supply Chain Trends 2022
Having a smart and digital health supply chain is now one of the pressing priorities. Digitization in healthcare can set to bring forth a supply chain that can enable organizations to address the recent requirements of patients and customers. This can improve the efficiency of the healthcare supply chain.
1
Improvement in patient engagement and care
Adopting new and innovative digital health tools and technologies can build efficiency in the healthcare supply chain. The medical care organizations and hospital systems can help in saving costs by automating the processes. Automating the workflow can lead to better staff productivity. The supply chain in healthcare can redirect the staff time in better utilization of patient care, reduce the wait time for patients, and lessen the number of rescheduled appointments. Improving patient care can redirect priorities to better patient engagement and increased satisfaction.
2
Optimizing cost-effectiveness
The supply chain in healthcare industry is known as a strategic asset as it offers the potential for significant savings on expenses. Automation in the industry is key to propelling this potential. According to recent studies, about 94% of surveyed healthcare providers have identified a direct relationship between the organization and the supply chain's success in finances. Progressing toward digitization in supply chain can build a holistic approach to optimizing cost-effectiveness.
3
Workflow efficiency
Boosting the efficiency of a healthcare organization and healthcare system can help to automate physical planning and tasks. It can be well observed that duplication in the work processes. This is due to the process of making up the supply chain that is disconnected and siloed. When attempting to automate and implement the workflow tasks, stakeholders can share information more efficiently.
4
Accuracy of data
Once the digitization in the supply chain has been achieved, it can be noticed that poor outcomes generate many data errors and inconsistencies. Additionally, the employees get freer time to engage in higher productivity in their activities with the digitization that provides an accuracy of data.
5
Easy to use
The digitization of supply chain can help to improve the healthcare processes to be more standardized. Once that has been achieved, every individual involved can work together to make healthcare services more efficient and easy to use.
Significance of Digital Supply Chain in the Healthcare industry
The supply chain in healthcare generates a large amount of data. For transforming the supply chain, it is necessary to utilize the data correctly. Integrating the best digital technologies can help to increase the performance of the supply chain at every level. The challenges for traditional supply chain management rely a lot on acquiring products and supplies for offering high-quality care for patients. This can also reduce the value and increase the cost.
A digital health supply chain can bring out:
1
Evidence-based decision making
The data on product outcomes can be crucial for the healthcare supply chain. This sort of data is not readily available or accessible. Adopting new products or services that are in demand requires clear clinical-based evidence. This can be collected with the digitization of the supply chain in the healthcare industry. While using the products, it is necessary to verify if the information is available, this can provide improved clinical outcomes in the form of reduced hospital stay lengths, reduce operating room time, reduced use of anesthesia, and/or fewer healthcare complications. Automation offers to acquire valuable data by translating the raw data into actionable and relevant information. This can help to make informed and evidence-based decisions.
2
Involve more cross-functional teams
Digital transformation in supply chain healthcare can transform the efforts and lead to diminishing and breaking down of organizational siloes. This will give a way for forming cross-functional teams. Working together, these teams can improve the digital integration and offer a more holistic situation that consists of shared risks.
3
Increase in acquisition and merger activities
Businesses across the world, healthcare entities, and hospital systems go through a process of acquisition and merger activities. Having this merger and acquisition in place, it becomes essential regarding a large amount of data be transferred safely and seamlessly. The automation in supply chain management will ensure improved integration of data.
4
Adoption of better data standards
The supply chain digitization can standardize the process and workflows that can improve efficiency lower expenses, and improve patient care solutions. With cloud-based solutions, improvement in creating scalable, connected, efficient, and fast supply chains is possible. This will make room for flexibility and transparency around the healthcare system.

In Conclusion
The digitization of the supply chain for the healthcare industry has various benefits that can be cost-saving for the industry. A digital health supply chain brings forth efficiency and streamlined work processes by automating and improving decision-making abilities. Technology-based solutions and operations will simplify the work for the supply chain personnel by allowing them to be more productive. Mobisoft's integrated digital health system can help to build a system that can help to eliminate any manual effort and receive real-time information when decision-making is necessary.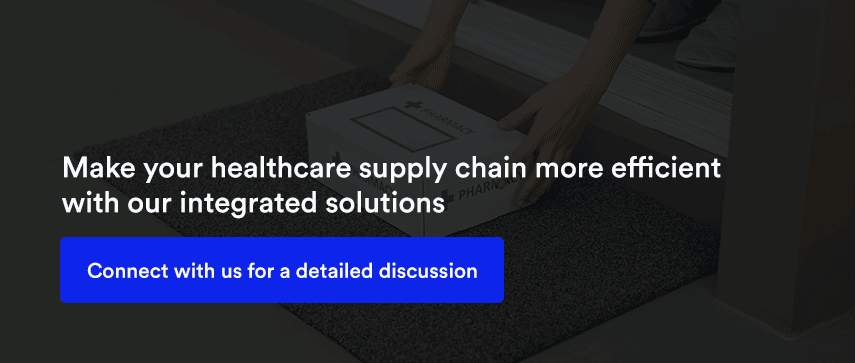 Author's Bio

Shailendra Sinhasane (Shail) is the co-founder and CEO of Mobisoft Infotech. He has been focused on cloud solutions, mobile strategy, cross-platform development, IoT innovations and advising healthcare startups in building scalable products.