Waking up to an early alarm, counting steps on your Fitbit, prepping meals, drawing workout plans through the week; we are hooked to keeping ourselves fit and will go to great lengths to achieve the same. There is no denying the fact that application programming interface or API is the secret recipe behind the curtains.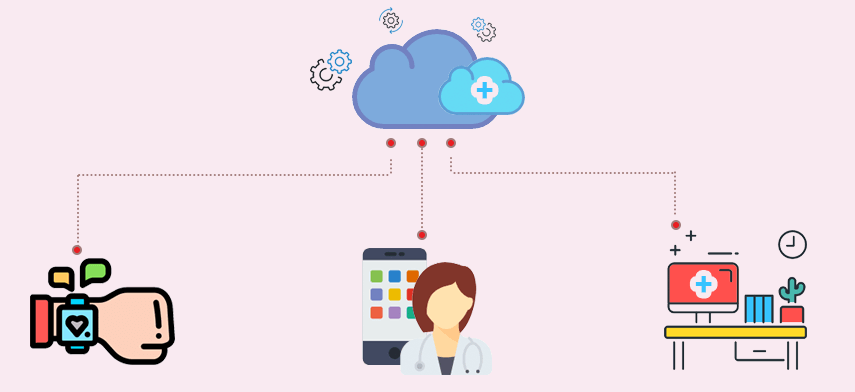 Right from reminding us to keep hydrated, to delivering medicines at our doorsteps, counting calories before we even eat the cake and managing doctor's appointments; health connectivity is now a global phenomenon helping people lead fuller lives every day.
In recent years, the global healthcare industry has seen radical changes, right from finding cures to previously incurable conditions, to finding better means for streamlining modes of treatment. Science and technology have worked together to create a better doctor-patient experience and healthcare APIs play a key role in it.
What Is Healthcare API?
API stands for Application Programming Interface enables unrelated software to connect with one another. APIs act as a bridge between applications, allows data to flow freely regardless of how apps were initially designed.
Why API?
Enabling trust in the minds of the patients, and confidence in the minds of healthcare providers, APIs have paved the way for innovative development in the health sector. Several healthcare companies have found a use for mobile and web applications, to be able to work more efficiently with their partners, insurance firms, patient support groups, government firms and to provide vital information to patients. Let's take a quick look at the benefits of APIs.
Investor Magnet
API is a game changer in the healthcare industry, bringing together significant investors like Google and Apple who have started focusing towards creating integrated Android and iOS health and fitness apps. APIs in healthcare facilitates the seamless integration of these health apps to ecosystems as well as individual devices, which ensures the safety of the access and storage of health data.
Easy Real-Time Analysis
Whether you are a healthcare provider who wishes to obtain and provides more up to date patient information, or a healthcare company that wants to create a platform for the better exchange of health information, APIs are equipped to help you achieve everything you need
Healthcare API aims at being able to facilitate vitals-monitoring for patients which they can then report to their doctors in real time. For example, if you are diabetic, you can record your blood sugar levels in real time and consult your doctor for further line of treatment. This procedure will lead to quick and efficient diagnosis and treatment in the times to come; making things easier for patients as well as healthcare professionals.
How Is Healthcare API Going to Bring upon Change?
There are several analogies adrift explaining the functionality of APIs. However one of the most relatable ones is the 'Wall-socket' analogy. Instead of having to connect a new appliance to an energy source, one is only required to plug it to acquire energy. One doesn't require learning anything about the notion of electricity and its deliverance. All they need to know is whether the plug fits the socket right or not.
Here the acquiring of energy from the socket is symbolic to the information that the software contains. The socket here represents the API that facilitates making a request and obtaining an answer to the same. The appliance here is symbolic to the new piece of developed software which will use the acquired information in a befitting way.
Going by the previous records of closed IT systems in integration with the healthcare industry, most subject-matter experts, as well as innovators, are of the view that widespread use of API can be potentially beneficial for enabling health data exchange as well as interoperability.
In the words of the White House Policy Advisor Maya Uppaluru and Professor Robert Huckman, "In a healthcare market where APIs are commonplace, patients could have easy and efficient access to their data, which would help them understand their health and make more informed choices."They are of the view that innovative analytics platforms and user interfaces could empower them in being able to make better clinical decisions in the future.
Besides the aforementioned revolutionary health benefits, APIs could also mean opening new horizons for IT development for those developers and investors who wish to enter the healthcare industry having no prior experience.
The availability of data through these APIs would help create a new league of healthcare developers, who may not have the particular, relevant expertise, when equipped with secure clinical data, can create tools of immense value. This would help the healthcare industry realize the maximum potential of the enormous data resource efficiently.
Poor documentation has been a hindrance in being able to adapt to a new API in its full potential. With the help of well-documented guides for developers, app development firms, as well as IT departments of hospitals will be willing to combine their services with healthcare APIs better.
Benefits of APIs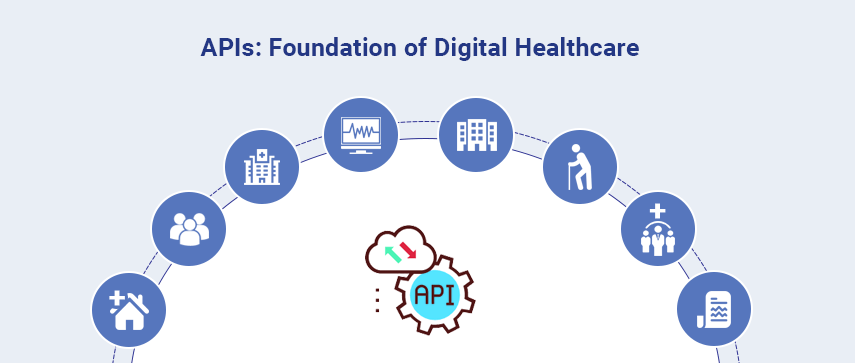 For Healthcare Providers
Facilitating better healthcare management for patients, APIs can help in the maximum utilization of EHRs or electronic health records with the help of third-party software. The ease of being able to retrieve all patient data from one place cannot be undermined — the ability to be able to generate online bills and schedule appointments better, save much time and ensure that the doctor handles a more significant number of patients.
For Patients
Being able to control your health data better is nothing short of a blessing. Besides dealing with the stress of being ill, one has to manage several records and bills and appointments etc. With the help of efficiently placed APIs, this can be taken care of quickly. When changing your healthcare provider, APIs are immensely helpful. You won't have to delay making unnecessary phone calls or rummaging through old files; you will have everything you need to know at a single click.
For Researchers
APIs are going to be able to revolutionize clinical research to another level altogether. Many times researchers aren't able to draw viable conclusions from their studies because the number of subjects involved in them is minimal. With the help of efficiently placed health APIs to access records of many patients with a particular type of diagnosis, increasing their gyre of research material, hence ensuring that they obtain the most accurate results. What is to be noted here is that the patients can choose to remain anonymous, so even though their identity is hidden, they will be able to contribute to research vastly.
A very prime example of one such API platform, GluVue provides medical data related to chronic medical situations such as diabetes, offering a massive database for healthcare professionals to analyze and derive conclusions.
Challenges Faced by Healthcare Providers While Using API
With the use of a complicated mix of systems, apps, and technology, the healthcare operating systems are even more averse to change. Things become difficult as they become more obsolete with time due to usually being non-interoperable with modern technology.
Another major setback faced in the development of healthcare APIs is the lack of proper testing, designing, and monitoring tool; besides the lack of continuous feedback. This holds the developers from creating the most potential healthcare API which would be an absolute marvel innovation.
Some of The Best Modern-Day APIs for Application Use
There are several modern-day APIs which have proven their mettle in being the industry's best in providing adequate support to healthcare professionals, patients as well as researchers. Have a look at some of these:
Human API
Offering a plethora of useful features and providing some medical wellness blocks, Human API delivers expertise in the management of reviewing prescriptions, storage of test results, patient profiles as well as providing adequate access to vital records. You get to skip the queues, save time and money, and get only the most authentic information on whatever you wish to find out, what could be better?

Doximity

Connecting patients and doctors, Doximity aims at synchronizing the whole process to perfection. One of their verticals is running appropriate background checks on the doctors that register with various platforms. This means that a patient can be assured that their health is in the hands of experts who are qualified, experienced, and reliable. Even though this may seem like a challenge, Doximity efficiently retrieves full information on the practices and records of the said doctor, so that it can run you through a list of their colleagues.

BetterDoctor

Ideal for locating and selecting the right healthcare professional according to your specific requirements, BetterDoctor enables patients to know their healthcare providers better, resulting in better decision-making. It helps you approach any given situation more prepared.

Drchrono

This API facilitates doctors to collecting data about their colleagues as well as patients, handle prescriptions, read and revert messages in the doctors' messaging center and review clinical notes.

APIs In the Future

The future of healthcare innovation, FHIR or Fast Healthcare Interoperability Resources is the inevitable leader of tomorrow. Created by Health Level Seven International or HL7, FHIR is capable of being a crusader in the healthcare industry.

"FHIR uses the same technology as Google", reveals the CEO of HL7, Charles Jaffe, MD, Ph.D. He is of the view when one asks for the best restaurants in a city; there isn't a database of the restaurant. Google does the searching on the web, for relevant information, using a complex algorithm to get you the desired results, before efficiently assembling the information for you.

Even though there are several technical challenges that FHIR exhibits such as lack of standardization and non-ability to provide results matching the patient's needs, there is unfathomable scope for the growth and development of API in the future, which can benefit healthcare industry immensely in the times to come.

Wrapping Up,

Most internet-based businesses understand how important it is to use open APIs to expand the global reach of their operations in the future. If the healthcare industry chooses to take the same route; it would result in significant positive impacts for the cost and quality of patient care, patient experience in general as well as innovative development for the future. Open, standardized APIs would be even more beneficial.

Being of indispensable use when it comes to keeping the patient informed, helping in the coexistence of healthcare providers while exchanging vital information and improving patient-doctor relationships, API is undoubtedly the future of the healthcare industry.

Even though creating an integrated healthcare API is a tough nut to crack, there is growing demand of the market for the storage and exchange of medical data as well as applications that work in harmony with these APIs.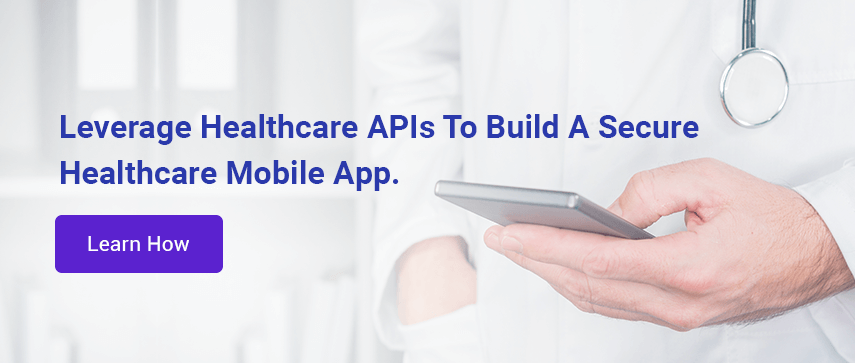 Author's Bio

Shailendra Sinhasane (Shail) is the co-founder and CEO of Mobisoft Infotech. He has been focused on cloud solutions, mobile strategy, cross-platform development, IoT innovations and advising healthcare startups in building scalable products.