Gone are the days when building apps compatible with multiple devices and operating systems was a difficult task. Today, companies can design cross platform apps in a hassle-free way. Thanks to advanced UI frameworks like Flutter that are evolving continuously and presenting countless opportunities in the cross platform app development landscape. Adaptability and high performance are some of the reasons behind its growing adoption among businesses worldwide.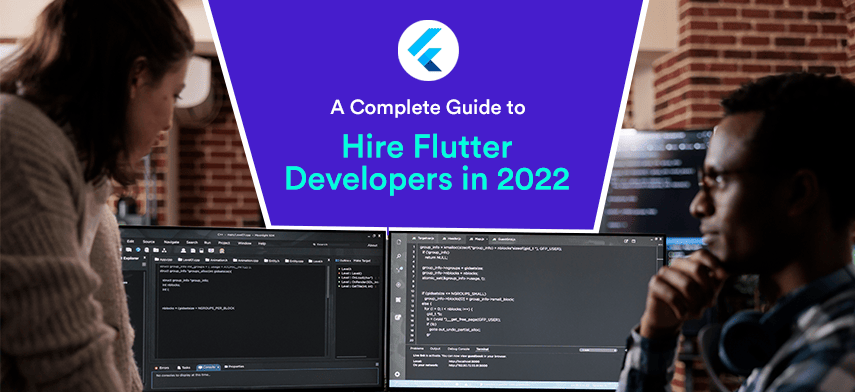 However, to take full advantage of this framework, you need to hire Flutter developers who have the potential to satisfy your unique business requirements. You have to understand what Flutter developers exactly do and why you need them in the first place. That's why our experts have come up with this interesting blog that will give you detailed insights into the significance of Flutter developers and share some essential tips to onboard the best.
You will get an in-depth overview of the hiring process and the skills you need to consider while doing so. But first, let's take a look at the characteristics, new advancements, and key stats of Flutter and its increasing popularity.
All about Flutter
We already know that Flutter can create cross platform apps from a single codebase. But there are many other characteristics that it brings to the table, including hot reload, rendered UI, advanced SDKs, and so on.
Apart from developing mobile-friendly cross platform apps, Flutter provides dedicated support to create web and embedded apps. You can easily use this framework to add new features and functionalities to your existing Android or iOS apps. To know more about the significant benefits of Flutter app development, check out our previous blog.
Independent research states that the use of Flutter by software developers has increased from 30% in 2019 to 42% in 2021. The Stack Overflow 2021 Survey shows that 13.35% of professional developers choose Flutter over any other frameworks in existence. In addition, it is backed by Google, which helps attain the needed credibility and popularity. Altogether, we can surely conclude that this framework is here to stay.
Why do Enterprises Need Flutter Developers?
Flutter developers help to build enterprise-grade applications that meet specific project requirements head-on. Here're some key reasons why startups, SMEs, and legacy businesses need them in the first place.
Access to a responsive and scalable user interface that is compatible with a variety of platforms.
Quick and easy upgradation and migration from Android or iOS apps to Flutter apps, and full support for the newly created apps.
Integration of the latest technologies such as machine learning and artificial intelligence to make the apps future-proof.
360-degree Flutter app development services to deliver quality-driven software products and solutions.
Ensure maximum security for Flutter apps, and protect the privacy of customers and their data.
Detailed analytics to track the right metrics and KPIs of the app to make necessary improvements and modifications.
Customize apps for all platforms as and when required.
Maintain apps post-release, fix bugs and potential app vulnerabilities to generate the best user experiences.
Update apps regularly to leverage the latest trends in the software development world.
All You Need to Know about Flutter Developers
Now that you know what the Flutter developers mean for your app development, we can move forward to understanding their ability and how they can make your project a huge success.
What Does a Flutter Developer Do?
A Flutter developer builds highly scalable cross platform applications with the help of Flutter SDK. Performing testing and maintenance activities to design user-friendly UIs are some other tasks they look into.
Here're some of their roles and responsibilities to give you a better idea.
Design and develop cross platform applications from scratch. Integrate essential features as and when required.
Perform tests (automated and manual) to analyze the performance of the app in a real, controlled situation.
Write clean and readable code. Follow the best coding practices, protocols, and principles for the same.
Identify potential bugs, issues, and app vulnerabilities. Take necessary measures to resolve them with utmost immediacy.
Keep up with the latest tools and technologies in the Flutter development niche to suggest improvements around apps' architecture.
Collaborate with cross-functional teams of UI/ UX designers, QA experts, Project Managers, and others to monitor the entire app development life cycle.
Follow the latest trends and market expectations to introduce updates and modifications.
Take ownership of product delivery within budget and stipulated timeline without compromising on quality.
Top Tools Used by Flutter Developers
Along with the duties of Flutter developers, you also need to understand the importance of some tools and technologies used by them that can help your project thrive. Let's take a look at them one by one.
1
Visual Studio Code
It is a powerful and lightweight code editing tool that offers good debugging support. This tool makes coding with Python, JS, C++, or Node JS much easier. Its other benefits include code refactoring, syntax highlighting, and embedded Git to name a few.
2
Android Studio
Android Studio can be the go-to option for your Flutter web development. It offers template-based wizards to preview layouts on multiple screen configurations. Its emulator has rapid debugging capabilities to verify version compatibility, utility, and overall app performance with ease.
Essential Skills that Flutter Developers Should Have
You can only convert your app ideation into a full-fledged product when you hire Flutter developers with the right skill set. Here're the skills you need to look for while selecting the developers or a development team of your choice.
1
Adequate Know-how of Native Programming Languages
Your chosen developers should have a good understanding of at least one major app development platform using native code, for example, Android with Kotlin or iOS with Swift. Their know-how of these platforms is necessary to make the most out of Flutter for app development.
2
Good Command over Dart
Dart is the programming language launched by Google that is used in Flutter. Any project that requires the use of Flutter also demands prior experience in Dart. It is a multidimensional language used for server development, mobile and web development, and much more. Hence, the developers must be well aware of this language and its basic concepts.
3
Familiarity with Agile and Waterfall Methodologies
Agile methodology is nothing but a compilation of development practices and frameworks that are backed by the 12 principles mentioned in the Agile Manifesto. On the contrary, Waterfall refers to the easy implementation of a sequential life cycle in the development process. The workflow in Flutter is driven by these methodologies and you need to choose developers who have hands-on expertise in utilizing them to their full extent.
4
Knowledge of Git
Over the years, Git has been successfully contributing to the development progress of developers worldwide. With Flutter developers, it is no different. Any Flutter developer needs to get aligned with Git early on because it has become the most common and useful platform to support the software development life cycle.
5
Experience in SQLite
SQLite is a platform that helps store continuous data and effectively loads it when required. Having good knowledge of this platform is paramount as it allows developers to work with multiple framework development settings. Thus, you need to hire Flutter app developers who have experience handling projects that involve SQLite and managing large amounts of data.

6 Easy Steps to Hire Flutter Developers the Right Way
Considering all the above will help you choose the best candidates for your app development project. Just make sure that you follow the below step-by-step process to make the best use of your hiring strategy.
1
Assess Your Requirements
Assess your software development needs before approaching Flutter developers for hire. Evaluate the position based on several criteria, such as the experience, qualification, and skill set of the candidate. The more specific profile, the better.
2
Create a Job Description
Create a job description, which includes the details of the project and the necessary qualifications that the developer should have. You can also include the specific roles and responsibilities of the developer based on your project.
3
Start Screening Candidates
When you identify and reach out to potential hiring resources, you will receive applications from a number of developers. Screen every candidate that applies, and eliminate the ones that do not match your requirements.
4
Set up an Interview
Once you have discarded the applicants that are not fit for the job, you will be left with the ones that match your project needs. Now, you need to reach out to these applicants and set up an interview with them.
5
Choose the Best Ones
Ask them about their previous projects and work experience. You must ensure that the skills on their resume match the ones they actually possess. You can now choose the best fit for the profile of all the people you interview.
6
Onboarding
When you complete all these steps as specified, you will have a team of Flutter developers that you can count on. The final step is to host a smooth, secure onboarding process and provide all the needed infrastructure, resources, and knowledge transfer sessions.
Engagement Models to Hire Flutter Developers
You need to choose an engagement model that offers the required services within budget. The other factors to consider are specific project requirements, collaboration, control, and management.
As a business owner, you can opt for any of the following engagement models in accordance with the preceding factors.
1
Full-time Engagement Model
If you have a long-term project and a flexible budget, then you should not look beyond the standard full-time engagement model. When you hire full-time Flutter developers, they are responsible for assisting your company on all your software-related issues. This model also requires you to carry out an effective onboarding process to get the right fit for the job profile.
Some of the other aspects to keep in mind while doing so include accommodation costs, taxes, social security, employee benefits, insurance, costs for providing necessary working conditions, etc. As a result, hiring a full-time developer becomes a costly and time-consuming process.
2
Freelance Engagement Model
Hiring freelancers is the easiest way to gain access to a flutter developer. You can hire these developers online on freelancing sites such as Fiverr, Upwork, etc. This type of engagement is the best for companies with short-term projects and a limited budget.
However, this model has the most risk as the developers are hired part-time. Their level of engagement is also lower since they are catering to several clients simultaneously. In this scenario, receiving quality and quantity becomes difficult.
3
Outsourcing Engagement Model
Outsourcing combines the best of both the above models. It helps your company align with the best talent from all over the world. In this model, you partner with a reliable software development company that can help you hire certified developers while avoiding the complexities of hiring. You just need to share your project requirements and you will be all set to onboard vetted developers. Outsourcing is the most cost-effective solution for companies, regardless of their size. Besides, you get 24X7 support to resolve potential errors and recurring issues.
You can take advantage of their dedicated Flutter development services via a retainer or hourly/monthly model. While the retainer model is the most preferred option for large-scale and long-term projects with a monthly billing cycle, the hourly/monthly model is best suited for small-sized or short-term projects where you only have to pay for the time and resources spent.
4 Important Tips to Hire Flutter Developers
Indeed, partnering with a Flutter app development company is the most competitive option to employ the best global talent. Just make sure to not miss out on the below aspects of hiring.
1
Conduct a Coding Assessment
Conducting a coding assessment is one of the best ways to evaluate the skills of candidates that apply. This also helps you ensure that the skills of the programmers on their CVs are bonafide. You will also get a good idea about the time they take and the approach they follow to solve a particular problem.
2
Check the Online Presence
Don't only rely on the application you receive from the developer. When you are evaluating potential candidates, you should go beyond their applications and work samples. Check their online presence. This includes sites like GitHub and Stack Overflow, which developers often consult.
3
Be Aware of the Product Development Cycle
Before you choose Flutter developers, you need to be aware of the product development cycle and its individual stages. You need to have a brief idea about the upgrades and bug fixes related to your app. You need to figure out where exactly the product falls in its development cycle. This will help you determine whether you need a short-term or a long-term solution.
4
Don't Compromise on Quality
For startups and new businesses, budget is an important factor. And while you shouldn't go way overboard with your spending, you shouldn't compromise on quality either. Low-cost Flutter developers might appear more enticing, but they may also offer a low-quality solution. Hence, you should never prioritize low costs over quality.
Conclusion
Flutter development is one of the best solutions for businesses that want to create applications for both Android and iOS platforms quickly and efficiently. It can satisfy all your cross platform development needs and help you generate profitable outcomes in the long run. Just make sure that you hire Flutter professionals committed to delivering what is expected within budget and estimated timeline. You can also choose our team augmentation services to overcome skill deficits and extend your in-house capabilities right away.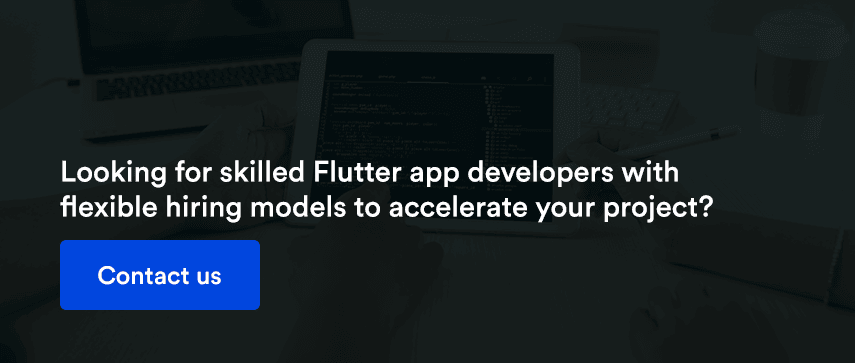 Author's Bio: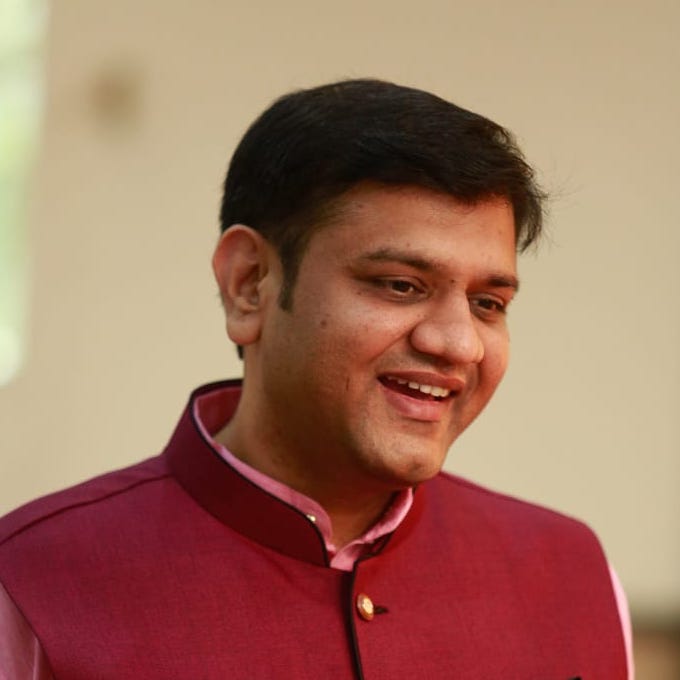 Pritam Barhate, with an experience of 14+ years in technology, heads Technology Innovation at Mobisoft Infotech. He has a rich experience in design and has been a consultant for a variety of industries and startups. At Mobisoft Infotech, he primarily focuses on technology resources and develops the most advanced solutions.