When it comes to mobile applications, monitoring user data for every business owner is really necessary to gain a competitive edge and observe a consistent growth trajectory. Many businesses are already practicing it to boost their user engagement and traffic.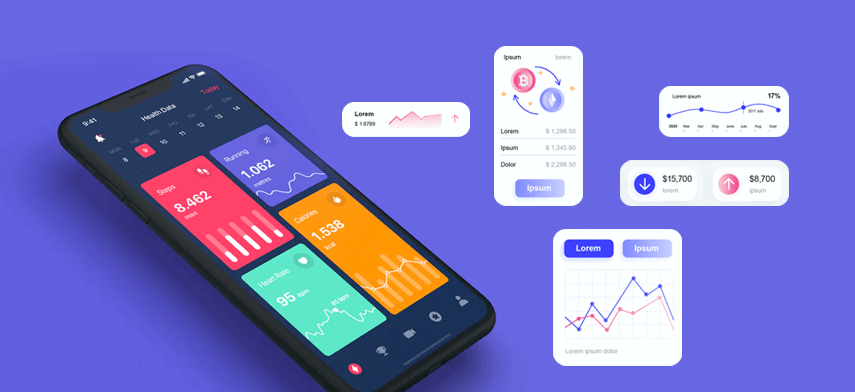 However, with a whopping 7.10 billion smartphone users and 8.9 million mobile apps across the globe, getting a hold of your mobile app analytics becomes a tough job.
But not to worry, this blog shall cover all the major aspects of these analytics, how they work, their advantages, and why they're necessary for your app retention and engagement. You'll also learn about some tools and technologies that can help you track the right data in real-time. But first, let's understand what mobile application analytics exactly means.
What is Mobile Application Analytics?
Analytics for mobile apps is a practice to gain insights into your overall app progress. They give you all the needed information related to user behavior that helps to determine intent from those metrics, optimize your app, and reach the expected goals. Without these analytics, you would fall for assumptions and end up making unprofitable decisions. But by tracking the right set of analytics, you can back up your marketing strategies or other experiments with realistic data.
How does it work?
Mobile app analytics gives a clear picture of user-generated data. Every user click gets converted into detailed insight like page views, user location, age, gender, preferences, total time spent on the app, etc. For instance, if you have a mobile eCommerce application, your analytics would be based on abandoned shopping carts, user-generated queries, and total sales figures.
In a nutshell, you gain access to all the desired information to effectively promote user engagement and retention. This information is captured from the frontend, user-side, and backend, and is represented as numbers and percentages.
Here're some factors that you can clearly define with your app tracking analytics.
Information related to existing and potential customers

Details of app launch frequency

The total number of app users

Specific page information within the mobile app

Device-specific user information

Loading time for the mobile app
Why Mobile App Analytics is a Must-have Prerequisite?
Focusing only on the app store user reviews and download numbers to track the market presence is not good practice. Those figures and comments don't highlight the complete scenario of the app experience. You need crystal clear adoption and usage rates to understand how your users are interacting with your app.
For this, your business strategists need to ensure that you have a dedicated mobile app analytics platform onboard to maximize the brand value and growth. Incorporating mobile analytics relevant to your business objectives shall boost your software development life cycle. These analytics would come out as an asset for your organization by augmenting continuous data-centric decision-making.
What makes them more important is that they help you quantify your mobile app strategy. And with such a multifaceted analytics plan, your live app in production would be able to gather useful business intelligence to improve user engagement, increase retention, and accelerate the overall user experience like never before. hre
Major Benefits of Tracking Mobile Application Analytics
Now, as you know the importance of analytics for your mobile apps, let's move forward to understanding some of the key benefits that it brings to the table.
1
Drive Return Of Interest (ROI)
Generating good revenue and return of investment is the topmost priority of most businesses. However, getting enough visibility across the app store is nothing less than a challenge. This is where app analytics help you create a strong App Store Optimization (ASO) strategy that boosts your ranking and ROI, eventually.
2
Track Business Goals
Concretely, app marketers focus on preferred channels instead of active channels. Hence, analytics integration can enable marketers to observe the acquisition channels that offer the highest customer Lifetime Value (LTV) and in-app messages. This helps in tracking business goals and making essential strategies to fulfill the subsequent budget requirement accordingly.
3
Deliver Personalized Solutions
Targeting the right app analytics can help your brand in outlining customer preferences in a better manner. Analyzing the in-app user behavior and user data would bring you closer to personalization and elevate your entire sales funnel. You can deliver solutions that perfectly suit your user base. Even promoting a new product or service would be easier with customized push notifications.
4
Collect the Accurate Data
With the help of mobile app analytics, you have access to real-time data that highlights what the users exactly want or need. You get the information about the most-liked features and functionalities. Receiving customer-specific feedback becomes easier. Later, this accurate data collection helps you in addressing the right issues, planning upgrades, and making relevant app additions/ subtractions.
5
Attain a Global Reach
When you have enough user data to identify potential loopholes in your existing delivery, you ultimately end up satisfying the pain points via unique solutions. You can harness the power of this data to reach the remotest of locations across the globe. By making the most out of your app analytics, you can extend your reach and cater to the requirements of wider demographics at ease.
6
Optimize Marketing Campaigns
By monitoring the correct analytics for apps, your marketing team can target potential users and successfully contribute to the overall product-specific campaign optimization. You can plan your marketing campaigns according to small groups at the individual level and spend your money wisely. You can cover all the required acquisition channels to satisfy existing and gain more users.

Essential Tools to Track Mobile Application Analytics
To utilize all the above benefits to their best, you need to integrate your app with the right analytics tool. But finding a suitable one out of the various options available in the market doesn't come in handy, as every tool comes with different user guidelines and metrics.
To finalize a tool, you can check out these essential tools and also go through the below compilation of powerful mobile app analytics tools to get optimal results.
Localytics

If you are looking for a cloud-based analytics and marketing platform, this tool will be a good choice. Experts recommend it for lifestyle, travel, and retail apps. The best USP of this mobile analytics tool is to identify the cause for low conversions and client retention.

Firebase

This tool is backed by Google, and it helps in developing apps. This tool also helps in growing the user base on both iOS and Android platforms. It can be used as a centralized platform for managing databases, crash reporting, and messaging.

Application Performance Management

It's a platform powered by Cisco that offers app mapping, code-level diagnostics, and dynamic baselining. It also helps you with DevOps adoption, activity tracking, cloud migration and monitoring, auditing, and much more.

UXCam

This tool is specifically designed for mobile app developers, which helps them in identifying the cause of app crashes or emerging bugs affecting the app experience. The tool proves beneficial for tracking iOS as well as android app analytics.

Adjust

It's an effective tool to understand and analyze the in-app customers. You can use this platform to divide customers based on set goals and criteria. It also helps with cross-promotional marketing and supports A/B testing as well.

Smartlook

This platform offers a customizable dashboard to analyze user data at ease. It helps you to discover why users are not taking the next step. You can easily monitor your iOS app analytics with Smartlook or integrate it with popular platforms like Slack.

AppsFlyer

It's a feature-rich mobile app marketing analytics tool that caters to the requirements of your app marketers. With this tool, you can get detailed performance metrics, smart banners, user acquisition attribution, etc., for iOS, Android, and other platforms.

App Annie

App Annie is a data-centric mobile analytics platform that helps you track competitors in real-time. You can also view the leading marketing activities alongside monitoring user demographics, revenue, usage, and more.
The Final Words
Being a business owner, it's crucial for you to understand the key necessities of your customers to offer them compelling services via your app. You can achieve this ability with mobile app analytics and uplift your customer loyalty to its core. Just make sure that you keep your eyes on the data constantly and stay up to date with all the new trends, requirements, and expectations of your users. You can also contact Mobisoft to plan your analytics strategy and optimize the overall user engagement metrics.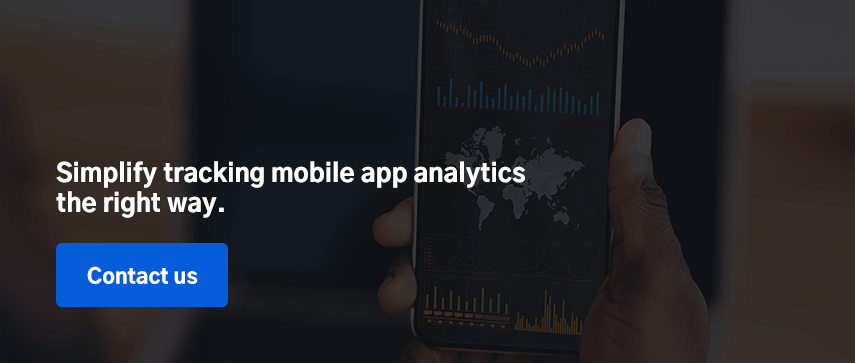 Author's Bio

Nitin Lahoti is the Co-Founder and Director at Mobisoft Infotech. He has 15 years of experience in Design, Business Development and Startups. His expertise is in Product Ideation, UX/UI design, Startup consulting and mentoring. He prefers business readings and loves traveling.